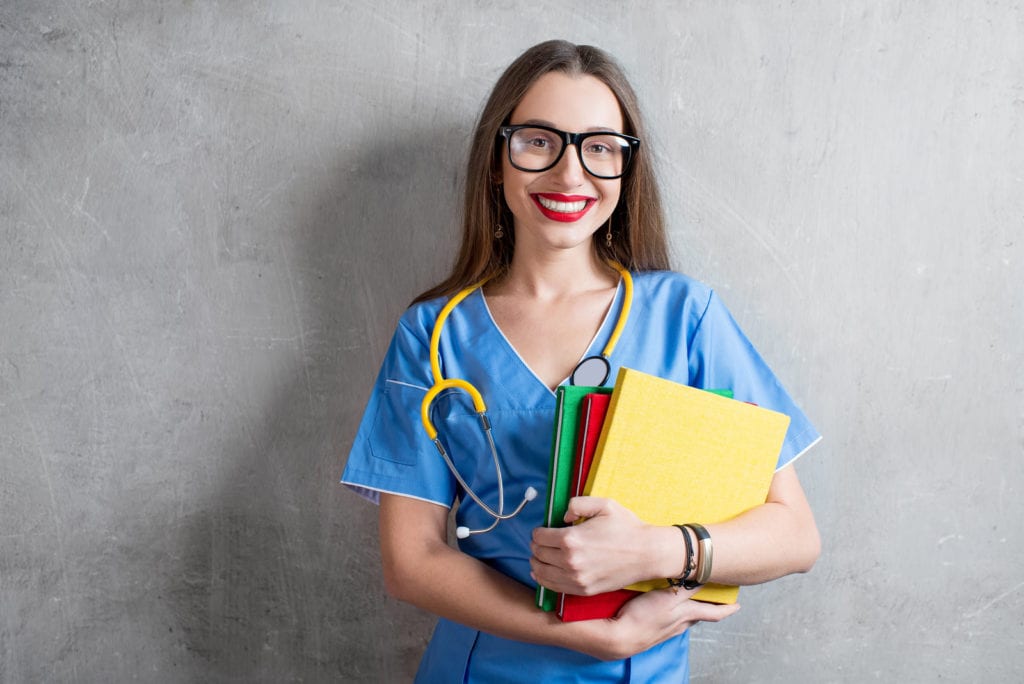 The question of the ADN vs. the BSN is one that every prospective nurse must answer. The extra steps needed to get the bachelor's of science in nursing might seem pointless, when you can become a registered nurse and begin working in just two years. But there are several reasons why the BSN is gaining popularity as evidenced from the rise in enrollment in the program. The extra time you spend in school will give you a wider skill set in areas such as organization, advocacy, communication, collaboration, coordination, and change. Clinical skills are a critical part of the nurse's skill set, but these additional skills will help you interact with others, function as a knowledge leader, and create an environment where every member of the health care team can work collaboratively for the best interest of the patient. Put simply, with the BSN, you'll be better prepared to care for patients and assume a key role as a member of leader of the professional team.
Graduates of the BSN program will begin a rewarding career as a registered nurse where they'll fulfill a range of duties at the bedside and beyond. They'll have opportunities to lead, be considered for promotions and pay raises, and can prepare to serve in specialty units. As worthwhile as these are, a BSN-prepared nurse can enroll in a master's or doctorate program to assume an even greater role in nursing. There's a great need for nurse practitioners and nurse midwives and other specialty nurses to meet the needs of patients in rural communities. The BSN curriculum provides the foundation for success in the graduate programs that prepare nurses for advanced practice, nurse educator, and nurse leadership roles.
There's been an increase in the demand for BSN nurses since the Institute of Medicine published a recommendation for 80 percent of nurses in the clinical setting to hold a BSN or higher by 2020. Challenges within the health care system demand the contributions of nurses who are prepared to patients of all ages and promote health and the prevention of diseases within the community. Employers actively seek out BSN nurses because of their abilities to deliver care in inpatient and outpatient settings. In terms of future employment, BSN nurses have the advantage due to the value they add to the workplace.
From a financial perspective, those who complete the BSN program will most likely earn more in the long run. One study found that registered nurses with a BSN degree earned $79,000 per year as compared to those with an associate's degree who earned an annual salary of $71,000. The BSN requires two additional years and costs more in the short term, but the financial and professional benefits are clear.
Magnet hospitals prefer BSN nurses. They value the leadership, critical thinking, communication, case management, and organizational skills of BSN RNs, so these graduates are more likely to secure employment in leading hospitals. When comparing the benefits of the ADN versus the BSN, the answer is clear. The BSN will provide a broader education and help you to develop the skill set that employers want. Moreover, it will prepare you for practice in the 21st century and supply financial gains and opportunities that will enrich your experience as a registered nurse.
Your education and clinical experience will determine your point of entry for the BSN program.
LPN to BSN: While there may not be a specific LPN to BSN program in Alaska, a licensed practical nurse may submit transcripts from an accredited LPN program to be evaluated for transfer credits. Credits transfer can reduce the time to complete the BSN by one semester.
RN to BSN: Registered nurses can submit their credits from an accredited associate degree or diploma in nursing to qualify for advanced placement in the BSN program at the University of Alaska Anchorage. Students must complete at least 120 credits to meet the BSN requirements, but with the transfer of 60 or more credits, a registered nurse can complete the requirements in 12 to 18 months – depending on the outcome of the credit evaluation. Some RN to BSN programs are offered online to give nurses the flexibility to balance work and study. Admission to the RN to BSN program requires an registered nursing license and an associate's degree in nursing.
Traditional BSN: The traditional path to the BSN takes students through the sequential steps to prepare for a career as a registered nurse. Students will complete general education and science courses followed by the core nursing courses, which will include both theoretical and clinical components. Like typical bachelor's degree programs, the BSN requires completion of 120 or more credits that full-time students will cover in three to four years.
Fast-track BSN: The surplus of opportunities for registered nurses in Alaska may draw interest from professionals trained in another field who may be eager to prepare for a career in nursing. An adult with a bachelor's degree in a non-nursing field may transfer the general education requirements and enter the bachelor's degree program at the University of Alaska Anchorage. The program is different from the fast-track programs offered in other states as it won't have the accelerated pace that lets students complete the BSN requirements in 12 months.
At the conclusion of the BSN, graduates will become eligible to take the NCLEX-RN to become a registered nurse in Alaska.
Traditional BSN Programs
The BSN curriculum offers present benefits to those who successfully complete the program but it also provides opportunities for graduates to further their studies. Courses such as technology and nursing informatics, nursing management, nursing research and nursing therapeutics prepare students for management positions as well as job diversification. Concentration in clinical nursing and health disruptions are just some areas of study that make better bedside nurses but those who feel a call to administration, will also receive the opportunities to refine their leadership and organization skills.
In today's health care system, nurses bear a lot on their shoulder. The BSN curriculum includes theory and practical instruction that will motivate and give students the confidence to meet challenges head on. Hands-on instruction in a simulated lab and through clinical experiences in a various health care settings will develop bedside skills, perception, critical thinking, and professional judgment.
At the University of Alaska Anchorage, students must complete 126 credits for the degree – 42 of those will be completed in the upper division. General education and pre-major requirements will account for 62 credits and will include topics like critical thinking, biomedical ethics, introduction to logic, biomedical ethics, nutrition for health sciences, lifespan development, and written communication. The program is designed to be completed in four years.
The following is list of requirements for entry into a BSN program at UAA.
Prospective students must:
Meet the requirements for admission to the to the University
Attend a group advising session
Secure admission as a pre-nursing major
Complete the pre-requisite courses with a grade C or higher
Meet with an advisor from the nursing department and complete the application for the nursing major
Complete the pre-admission test
Provide three letters of recommendation
Provide a complete Plan of Study signed by a nursing advisor
Complete HIV testing, immunization, CPR certification and a nation level criminal background check for participation in the clinical courses.
How Much Do BSN Programs Cost?
The total estimated cost for completing the BSN program at UAA is $40,413. The cost includes tuition, books, fees, supplies, immunization, parking, and equipment. UAA scholarships may be available. The application deadline for consideration is February 15 prior to the academic year in which you're seeking funding. Funding is available for Alaskan Natives through the Recruiting and Retention of Alaska Natives into Nursing (RRANN) Program.
BSN Programs and NCLEX-RN Pass Rates Alaska:
Anchorage, AK BSN programs:
University of Alaska Anchorage
3211 Providence Drive, Anchorage, AK 99508
(907) 786-1800
NCLEX-RN Pass Rate: 87.9%
Fairbanks, AK BSN programs:
University of Alaska Fairbanks
604 3rd Ave, Kotzebue, AK 99752
907-442-3400
NCLEX-RN Pass Rate: N/A