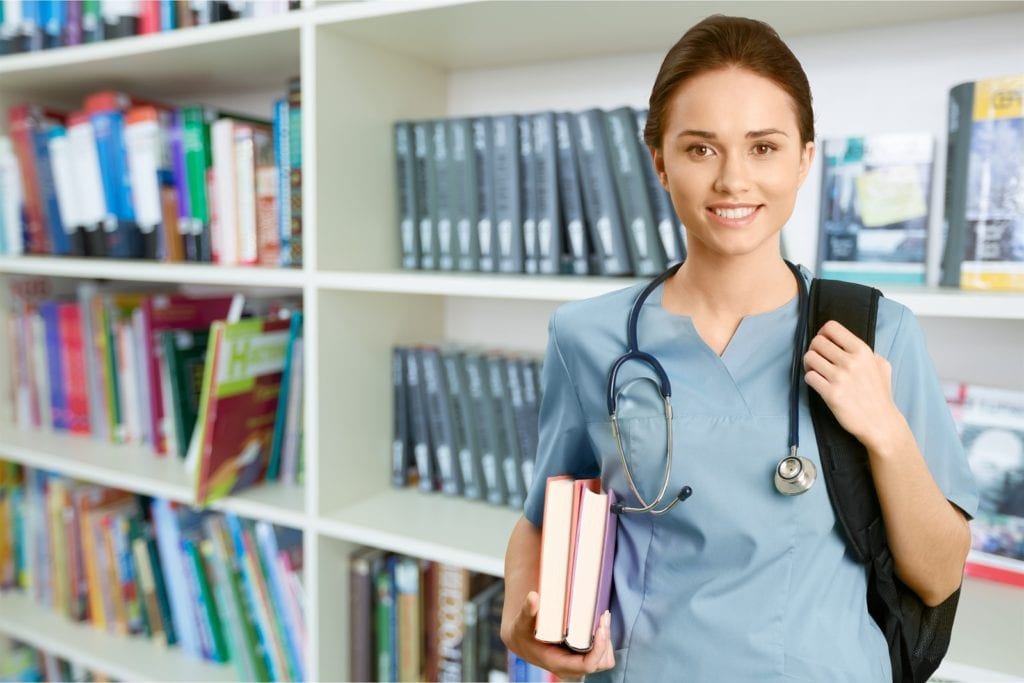 As the U.S. population ages, the number of health care problems escalates, especially with the increasing levels of long-term obesity and related maladies. Many health conditions become chronic, needing ongoing health care, and courses of treatment. Whilst this is a tragic situation for those affected, it does create a real need within the nation's hospitals for highly qualified nursing staff who can provide exemplary patient care.
Licensed practical nurses, registered nurses, and other medical professionals may have seen the future possibilities for their career in nursing. A renewed focus on further education to increase their knowledge and usefulness on the medical ward can pay dividends later. A Bachelor of Science in Nursing (BSN) degree program better prepares graduates for the demands of the nursing profession. This type of degree program also opens up more avenues for further study and greater specialization in areas like working in intensive care wards, severe burn units, or pediatrics.
One of the current realities in the medical profession is not only that the population is aging and becoming increasing sicker as a nation, but that the teaching faculty is also maturing and in need of fresh blood to replenish the ranks. This opens up a second career or a future career option in a teaching role for nurses who feel they may have a knack for it.
When looking at the job market today, graduating a regular college or university with a business or a marketing degree is no guarantee that the graduate will be able to find full-time employment. In fact, a growing number of graduates with student loans discover that finding employment is no easy task.
This is not the case in the nursing field when taking a Bachelor of Science in Nursing because there are many potential employers who are looking for young (and older), enthusiastic nursing graduates who can apply their new knowledge in supporting nursing colleagues in providing a level of nursing, and perhaps holistic, care that is required.
One of the alternatives to the BSN is to undertake an ADN-RN Registered Nursing degree. However, it has been found that ADN graduates enjoy less flexible working conditions, have a harder time being accepted for the positions they apply for, and have a lower earning power than their BSN graduate colleagues. Employers look for the highest caliber nurses with the best degrees and highest scores to ensure their facility is held in the highest regard.
The largest proportion of the medical personnel is, in fact, nurses. Patient care is vitally important, and all medical staff is being held to account for the level of care, professionalism and the appropriateness of their actions while on the job.
Nurses stand on the front-line with patients providing both a caring and supportive role beyond purely medical assistance. Positive medical outcomes are, of course, the goal of all medical treatment, yet nurses are increasingly required to ensure that their professional judgment and actions are beyond reproach. For talented nurses, this is actually good news because it means employers are looking for the most qualified and discerning nursing applicants with the best nursing degree.
As the healthcare profession evolves, the type and level of care are changing to keep pace. Prevention of diseases, rather than only being reactive, has a greater focus than ever before. Registered Nurses are taking on further responsibility and are using the latest digital technology, clearer communication, and, at times, a leadership role, as they evolve with their profession. Accordingly, the modern BSN curriculum in Minnesota has been updated to support teaching that covers the latest medical innovations, equipment, and procedures.
There are 24 universities and colleges in Minnesota that teach the Bachelor of Science in Nursing BSN curriculum. Twenty-three schools teach the Licensed Practice Nurse qualification, and 9 schools teach the ADN-RN Registered Nurse qualification. Also, for qualified nurses who wish to go on to their Master's degree in Nursing in Minnesota, there are currently 6 schools where the Masters of Science in Nursing MSN course is taught.
The list below highlights only the programs approved by the Board of Registered Nursing. Review every program for accreditation status because being approved by the Board doesn't mean the educational school is also accredited by the Commission on Collegiate Nursing Education (CCNE) or the Commission for Education in Nursing (ACEN).
Licensed practical nurses, registered nurses and newcomers to the medical profession may enroll in a BSN degree using the options laid out below:
LPN to BSN: Both experience and educational achievements as a licensed practice nurse will be a positive within a BSN program. Some schools have the option to go from LPN to BSN via a credit system (for LPN programs completed at an accredited institution) that quickens the completion of the degree.
RN to BSN: An RN has already put in two years of study and will have some on-the-job experience too. Some colleges already offer an RN-to-BSN option which can cut the time it takes to complete the BSN qualification. The Registered Nurse must have an active RN license and qualify to enroll in the BSN program. This option can reduce the BSN study time to 1-2 years.
Traditional BSN: Some students are skipping LPN or RN steps and going directly to a BSN due to its greater employment potential and higher remuneration. For these students, the BSN will include basic science courses and other introductory courses in the curriculum that must be completed before going on to the nursing-specific course material. The course duration is likely to be 3-4 years.
Fast-track BSN: For students who already hold a Bachelor's degree in another subject, it may be possible to enroll in a school that offers a fast-track BSN course. They may also prepare the student for the NCLEX-RN to become a registered nurse. The previous educational institution must be accredited and the usual study time is reduced to 1-2 years.
All BSN graduates (except previous Registered Nurses who have undertaken a specific RN-to-BSN course of study) must take and pass the National Council Licensure Examination (NCLEX-RN), plus have completed an accredited program, to be licensed in Minnesota.
Traditional BSN Programs
The usual four-year curriculum results in a Bachelor of Science degree in Nursing. Through real-world and academic learning, nursing students acquire a body of knowledge and clinical nursing abilities that prepare them to pass the licensure exam and work in the nursing profession. This degree will qualify graduates to work in local and regional hospitals, health clinics, long-term care facilities, the public school system, and in the local community.
The first two years of BSN study includes courses that don't specifically relate to nursing but provide a foundation to build upon. The nursing courses often include ones in adult health, child care, birth and after care, leadership, health assessment, and more.
The educational requirement for entering a course of study varies between institutions. However, prospective students must:
Be admitted to the school as a degree-seeking student.
Complete the prerequisite course requirements.
Pass the entrance exam.
Submit an application and official transcript to the nursing department.
Maintain a 3.0 and above cumulative GPA for prerequisite and general education courses.
With most programs, the educational institution requires new students to complete the BLS for Healthcare Providers course, confirm through documentation that they have been properly immunized, secure background clearance(s), and complete a physical health exam.
Second Degree BSN
Some educational institutions offer accelerated second degree BSN to students already with a college degree. The student can study the upper-level courses for nursing, with the understood objective to qualify and be working in the nursing profession within a year. It may also be possible to study online for some or all of the course requirements for this type of program.
With this program, students get the opportunity to work alongside nurse preceptors in medical facilities, rather than just staying in a classroom setting. This forms a major part of the curriculum and comprises 250 hours in a variety of medical settings. On the academic side, this is traditionally taught either in the classroom or online through live sessions including Q&A periods. Once the training is complete, graduates will have successfully learned the most important nursing procedures and will be ready to work as a registered nurse.
The enrollment requirements are not much different to students studying for their first degree. The applicant must have a bachelor degree outside of the nursing field from an accredited educational institution and have passed the prerequisite courses, where necessary. Clearances, including the BLS for Healthcare providers, a drug screening, immunization, TB clearance and a criminal background clearance are all necessary. Once complete, the graduate may apply for the NCLEX-RN to qualify to work as a registered nurse in Minnesota.
How Much Do BSN Programs Cost?
The total cost of getting a nursing education includes expenses for tuition, personal costs, room and board, books, supplies, and other fees. It is impossible to compare the total cost of attendance for each school without getting the full picture. The cost per credit, published on most sites, won't provide sufficient information to get the true cost of enrollment. So it would difficult to compare without developing a rate sheet. Find out if the school includes books and fees in the tuition as administration and student fees can add up quickly. Schools that use a quarter-based system may seem affordable at first; those costs will quickly add up when you pile on the volume of credits needed to graduate.
The total cost of tuition will be determined by the number of credits you will need to complete the baccalaureate degree requirements – RNs and LPNs will need to complete fewer credits than a new nursing student. In general, the total estimated cost of tuition for the entire 4-year program is $47,551 for residents – does not include health insurance, books, and supplies for nursing students.
Check out the BSN programs and NCLEX-RN pass rates in Minnesota to improve your job prospects and lay the foundation for advanced study.
Bemidji, MN BSN Programs:
Bemidji State University
1500 Birchmont Dr NE
Bemidji, MN 56601-269
218-755-2001
NCLEX-RN Pass Rate: 88.57%
Bloomington, MN BSN Programs:
National American University
7801 Metro Parkway, Suite 200
Bloomington, MN 55425
605-394-4800
NCLEX-RN Pass Rate: 70.59%
Duluth, MN BSN Programs:
College of St. Scholastica
1200 Kenwood Avenue
Duluth, MN 55811-4199
(218) 723-6000
NCLEX-RN Pass Rate: 80.12%
Fairmont, MN BSN Programs:
Presentation College
Fairmont Campus
115 South Park Street, Suite 102
Fairmont, MN 56031
605-225-1634
NCLEX-RN Pass Rate: 59.09%
Minneapolis, MN BSN Programs:
University of Minnesota – Twin Cities Campus
5-160 Weaver-Densford Hall
308 Harvard Street SE
Minneapolis, MN 55455-0342
612-625-5000
NCLEX-RN Pass Rate: 88.14%
Mankato, MN BSN Programs:
Minnesota State University, Mankato
Wissink Hall 360
Mankato, MN 56001-8400
507-389-1866
NCLEX-RN Pass Rate: 84.42%
Moorhead, MN BSN Programs:
Concordia College Nursing Program
901 8th Street South
Moorhead, MN 56562
218-299-4000
NCLEX-RN Pass Rate: 88.24%
Northfield, MN BSN Programs:
St. Olaf College
1520 St. Olaf Avenue
Northfield, MN 55057-1098
507-786-2222
NCLEX-RN Pass Rate: N/A
Richfield, MN BSN Programs:
Globe University/Minnesota School of Business
1401 West 76th Street
Richfield, MN 55423
651-730-5100
NCLEX-RN Pass Rate: 81.58%
Rochester, MN BSN Programs:
University of Minnesota – Rochester Campus
111 South Broadway Suite 300
Rochester, MN 55904
NCLEX-RN Pass Rate: 88.14%
St. Bonifacius, MN BSN Programs:
Crown College
8700 College View Drive
St Bonifacius, MN 55375-9002
952-446-4100
NCLEX-RN Pass Rate: 65.38%
St. Cloud, MN BSN Programs:
St. Cloud State University
228 Brown Hall
720 4th Avenue S
St. Cloud, MN 56301-4498
320-308-0121
NCLEX-RN Pass Rate: 86.59%
St. Joseph, MN BSN Programs:
College of St. Benedict/St. John's University
37 College Avenue South
St. Joseph, MN 56374-2099
320-363-2011
NCLEX-RN Pass Rate: 69.81%
St. Paul, MN BSN Programs:
Bethel University
3900 Bethel Drive
St. Paul, MN 55112-6999
651-638-6400
NCLEX-RN Pass Rate: 79.45%
Metropolitan State University
700 East Seventh Street
Saint Paul, MN 55106-5000
651-793-1300
NCLEX-RN Pass Rate: N/A
St. Catherine University
2004 Randolph Ave
St. Paul, MN 55105-1794
651-690-6000
NCLEX-RN Pass Rate: 79.09%
University of Northwestern – St. Paul
3003 Snelling Ave. N
St. Paul, MN 55113
507-258-8000
NCLEX-RN Pass Rate: 100.00%
St. Peter, MN BSN Programs:
Gustavus Adolphus College
800 W College Avenue
St. Peter, MN 56082
507-933-8000
NCLEX-RN Pass Rate: 76.60%
Winona, MN BSN Programs:
Winona State University
175 W Mark St.
Winona, MN 55987-5838
507-457-5000
NCLEX-RN Pass Rate: 85.35%