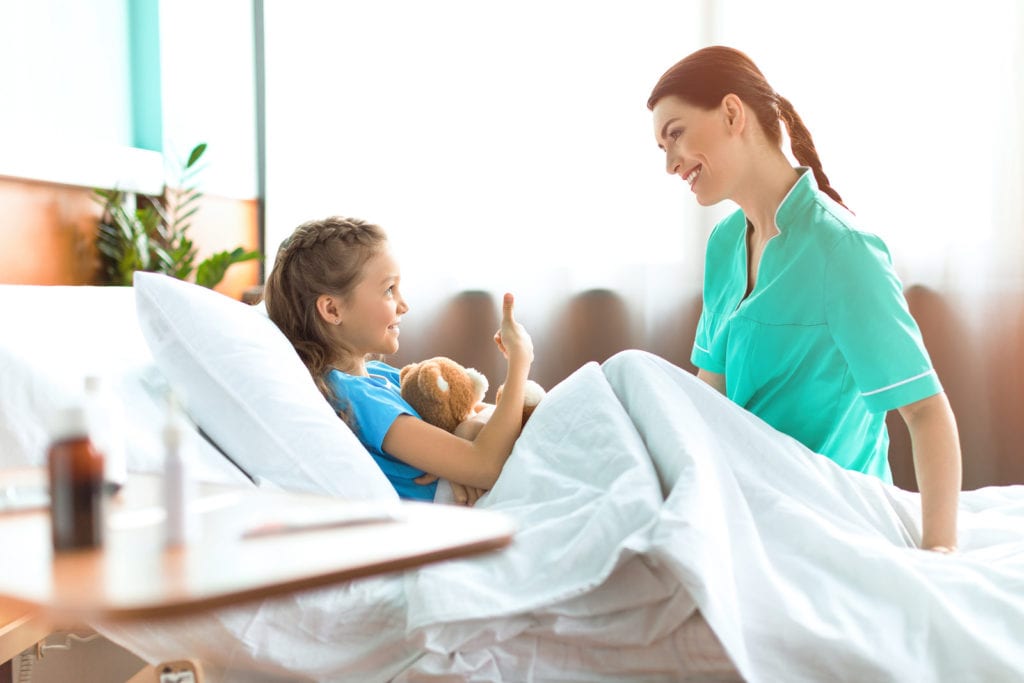 The Louisiana State Board of Nursing recognizes two primary forms of educational preparation for licensure as a registered nurse: the Associate Degree in Nursing (ADN) and a Bachelors of Science in Nursing degree (BSN). Graduates of both programs take the same exam, the NCLEX, to become a registered nurse. At the entry-level, both graduates work in similar situations and receive almost the same salaries. The lack of distinction in titles, salaries, and responsibilities lead many nursing students to select the ADN to begin practicing without the time and financial commitments of the BSN program. However, there are key differences in the educational preparation for both groups that guarantees longevity for BSNs and better pay and salaries in the long run. According to the American Association of Colleges of Nursing (AACN), the BSN program includes preparation in patient education, nurse management and leadership, community education, humanistic skills, and clinical decision-making, which are essential for safe practice and better patient outcomes in the complex health care environment.
The RN-BSN program is specially designed to give associate's degree nurses the opportunity to enhance their skills beyond the basics and gain a broader perspective of patient care. It also includes preparation for graduate study for those who are considering advanced practice. The emphasis on research, interdisciplinary coursework, and writing gives students the mindset and skills to succeed in a graduate level program.
A key benefit of the RN-BSN program is that it takes the unique position of working registered nurses into account. Most programs are offered online to accommodate RNs who cannot be on campus all the time. The flexible schedule will let you arrange your studies around your commitments. Keep in mind that the program is rigorous and comprehensive, so you must examine your personal schedule and make sacrifices to meet your educational commitments and succeed in the program.
Benefits of Progressing to a BSN Degree
A BSN degree will open up new career opportunities and help you to stay on top of the changes in the complex health care environment. Completing the requirements to obtain a BSN degree is a major undertaking that you should never underestimate, but you should not let it hold you back. Going back to school will affect your career and life, but the rewards will make it all worthwhile.
Like anything worth having, the RN-BSN program requires time and effort. Most programs require an investment of 15 to 25 hours per week, so map out a schedule and stick to it. The online delivery format will save time, as you won't have to commute to class or meet at set hours. With the flexibility of the schedule confirmed, you can now focus on all the reasons that a BSN degree will enrich your practice and profession of nursing.
Technology plays a critical role in healthcare. More than ever before, health professionals are using technology to administer care, collaborate with other team members, and make critical on-the-spot decisions. If you're an older nurse, technology may not have played a prominent role in your educational preparation to become a new. The RN-BSN program covers technology in nursing and how to use it in clinical decision-making. Even the delivery format of the program encourages the use of technology to receive and disburse information for the duration. At the conclusion of the program, you will have the confidence to use and adapt to new technologies to improve practice and produce better outcomes for your patients.
Whether you're just starting out or well into your career, continued education will always be worthwhile. The Institute of Medicine (IOM) published the Future of Nursing report to advocate better education for nurses. The report calls for 80 percent of nurses to hold a BSN by 2020. As employers and other leading association lean toward the BSN as the minimum educational preparation for nurses, it will be easier to maintain longevity in the profession if you pursue the BSN degree. The degree combined with your experience in nursing will give you a decided edge and almost immediate professional benefits.
The AACN recognizes the contributions that ADNs make to bedside nursing and the alleviation of the shortage of the professional nurses. However, the Association supports the BSN as the minimum preparation for practice for several reasons, including the need for nurses to be prepared for the expansive professional role they must play in an ever-increasing complex health care environment. The AACN also believes that the BSN program will prepare nurses to work outside the inpatient setting, especially in the areas of primary and preventative care, case management, and in-home care.
In the clinical setting, team leadership opportunities often arise. While upper-level leadership calls a master's degree at a minimum, mid-level positions may be available for experienced nurses who hold a baccalaureate degree. In fact, the Magnet designation, available for hospitals to demonstrate their commitment to excellence in nursing, requires nurse managers to hold a BSN at a minimum. As hospitals seek to acquire Magnet Status, new and existing nurse managers must have the BSN or higher degree. If leadership plays a part in your professional goals, you must complete the BSN. Graduate study may be your next step to qualify for upper-level leadership, and the BSN will provide just the foundation to make a success of the advanced coursework.
Advanced practice provides an alternative route to leadership but requires graduate study all the same. The BSN is usually the first step to graduate study, which is a necessity for those hoping to become an advanced practice registered nurse (APRN), nurse educator, or nurse executive. There's a growing demand for APRNs to provide the services the population needs. These highly trained specialized nurses provide a level of personal care services that range from mental health to geriatric care and the treatment of common illnesses. Nurse practitioners perform many of the duties of a physician and bring relief and affordable care to those in medically underserved areas. The BSN program sets the groundwork for graduate specialty clinical training to prepare adults for the specialized role.
Obviously, there are other excellent reasons outside of the career mobility, career requirements, and industry pressure to obtain a BSN. Research clearly outlines the relationship that exists between education and better quality care and patient outcomes. One study by the Robert Wood Johnson Foundation found that increasing the number of BSN prepared staff in hospitals helped to lower instances of hospital acquired infections, pressure ulcers, post-operative deep vein thrombosis, and post-surgical mortality. These and other results explain the drive by many hospital administrators to encourage their nurses to go back to school.
Fear and concern surrounding the challenges about undertaking another nursing degree are natural. However, if you acknowledge and evaluate the reasons for your fears, you may be able to overcome them and develop a positive perspective on the benefits that higher education will have on your career.
Requirements for Enrollment in an RN to BSN Program
The RN to BSN program provides the opportunity for registered nurses to complete the BSN degree and advance their career. There's a growing need for nurses with a BSN who are capable of assuming leadership opportunities in nursing. The RN-BSN curriculum prepares students to apply nursing theory to make clinical decisions, evaluate evidence and apply its findings to care for individuals, collaborate with the interdisciplinary health team for the patient's best interest. Students will focus on the care and management of vulnerable populations and participate in projects designed to develop skills in evidence-based practice and quality improvement.
The RN-BSN program offers flexibility to meet the schedules of practicing nurses.
Applicants must have an associate degree in nursing from a regionally accredited program. Some programs will admit registered nurses with a diploma in nursing. An active RN license is also necessary for admission to the program.
Here are the common requirements for enrolling in an RN-BSN program.
An associate's degree or diploma in nursing from an accredited college or university
An active and unencumbered registered nursing licensure
Official transcripts of all college coursework
Transcripts of the prerequisite and supporting courses – minimum grade C
A GPA of 2.8 or above on a 4.0 scale
Attend an interview with a representative of Nursing Department
Contact the school for specific requirements for admittance.
The RN-BSN degree is a financial investment that will add value to your career as a nurse. Fortunately, there are resources available to reduce your out of pocket costs. Federal financial aid is available to most students. Ask for tuition assistance at your place of work and research scholarship opportunities for nurses. Remember, your BSN degree should give your salary a boost, so keep that in mind as you work out your finances. The average cost of completing the RN-BSN requirements is $7,790 but will vary based on the evaluation of transfer credits.
Louisiana RN to BSN Programs:
Baton Rouge, LA RN-BSN Programs:
Our Lady of the Lake College
5414 Brittany Drive, Baton Rouge, LA 70808
225-768-1700
Monroe, LA RN-BSN Programs:
The University of Louisiana at Monroe
700 University Avenue, Monroe, LA 71209
318-342-1640
New Orleans, LA RN-BSN Programs:
Dillard University
2601 Gentilly Boulevard, New Orleans, LA 70122
504-283-8822
Louisiana State University Health Sciences Center School of Nursing
1900 Gravier Street, New Orleans, LA 70112
504-568-4200
William Carey University
4103 Chef Menteur Highway, New Orleans, LA 70126
504-286-3275
Pineville, LA RN-BSN Programs:
Louisiana College
1140 College Drive, Pineville, Louisiana
318-487-7259
Shreveport, LA RN-BSN Programs:
Northwestern State University
1800 Line Avenue, Shreveport, LA 71101
1-800-454-9567