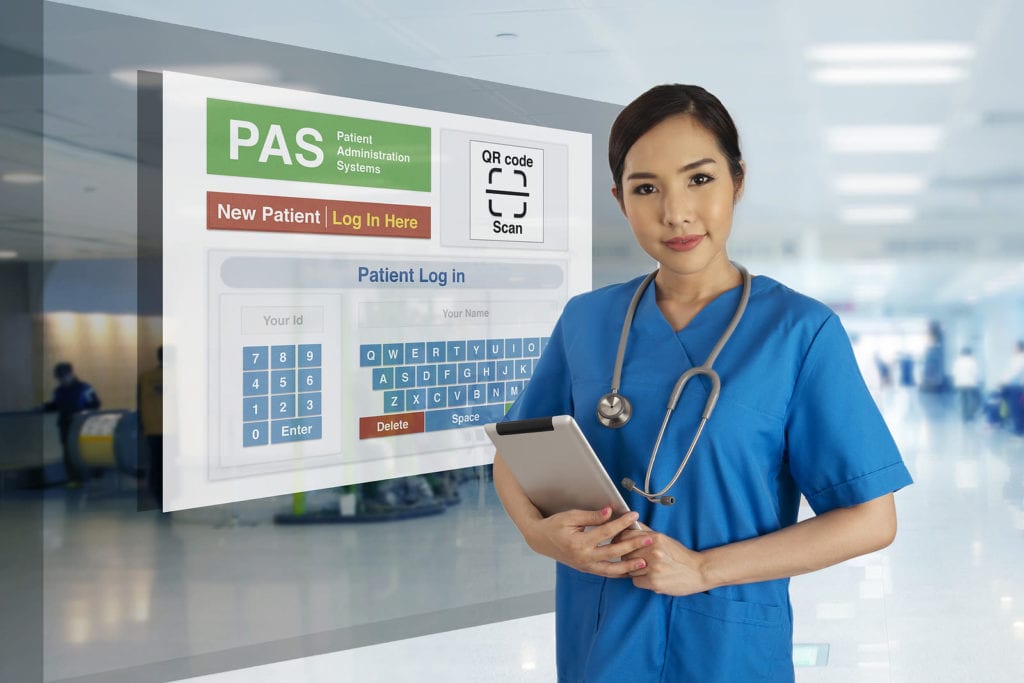 A registered nurse has a multitude of responsibilities in the healthcare system, but a key responsibility is to be an advocate for patients. According to the Bowen Center for Health Workforce, there were 104,475 licensed RNs in the state and 67,554 were actively working. In the same report, BCHW highlights the impact of the nursing shortage on the community and the healthcare system. The need for more registered nurses will expand as baby boomers require more medical attention. Nursing schools, even those facilitating the shorter-term Associate Degree in Nursing program, have been unable to keep pace with the demand for new nurses. Colleges in Indiana, such as Ivy Tech, offer various entry-routes for Licensed Practical Nurses and Paramedics to transition to registered nursing in 12 to 16 months.
Fortis College
The Associate Degree in Nursing (ADN) program offered by Fortis College includes academic and clinical instruction offered in hybrid format. The curriculum covers 1,500 hours of general instruction and core nursing courses to prepare students for entry-level employment as a Registered Nurse. Students will learn how to respond to the community's continuing healthcare needs and become lifelong learners. At the conclusion of the program, graduates will be able to analyze data to provide holistic client-centered care, use the nursing process, critical thinking, and evidence-based information to make sound clinical decisions, communicate effectively in verbal and written forms, use the nursing process to provide safe and compassionate care, and collaborate with individuals, families, and members of the healthcare team to provide individualized patient care. Graduate will be eligible to take the NCLEX for Registered Nurses.
Program Outline
Quarter credits: 106 credits
Duration: 96 instructional weeks
Clock hours: 1500
Method of instruction: Hybrid
Course titles:
General education courses – Anatomy and Physiology I, Anatomy and Physiology II, General Biology, Microbiology, Introduction to Informatics, Effective Communication, English Composition, College Mathematics, General Psychology, Human Growth and Development, Sociology
Core courses – Pharmacology, Health Assessment, Foundations of Nursing, Medical-Surgical Nursing I, Maternal-Newborn Nursing, Pediatric Nursing, Leadership and Management, Community Nursing Concepts, Mental Health Nursing, Medical Surgical Nursing II, Transition to Practice – Capstone, Fundamentals of Human Nutrition
Admission criteria:
Meet with an admission representative to learn the admission process, details of the curriculum, and school policies and procedures
Must be a high school graduate or have a recognized equivalent
Must be 18 years of age or older
Must complete an applicant information form
Attend an interview with an admissions representative
Take and pass the Wonderlic Scholastic Level Exam (SLE) with a score of 16 or above. Applicants who have completed the Practical Nursing program at Fortis College are exempt from the Wonderlic exam
Pay the enrollment fee and meet the program's financial obligations
Must agree to and sign the Fortis College Enrollment Agreement
Must submit to and pass a drug screen
Must submit to and pass a criminal background check
Complete a criminal background check and drug screen
Submit a signed Allied Health and Nursing Program waiver
Health insurance may be required for practice at some clinical sites
Provide a valid form of identification
Must have Basic Life Support (BLS) for Healthcare Providers certification by the American Heart Association
Must have current hepatitis B immunization series
Take and pass the HESI A2-RN exam with combined scores of 150 on Grammar and Vocabulary, 75 on Reading Comprehension, and 75 on Math
Program Cost:
The total estimated cost of the program is $49,412. It includes tuition, enrollment fee, reference books, student kit, laptop computer, uniforms, textbooks, ebooks, background check, drug test, and licensing exam.
Website: https://www.fortis.edu/campuses/indiana/indianapolis/associate-degree-in-nursing.html
Address: 9001 N. Wesleyan Rd. Suite 101 Indianapolis, IN 46268
Phone: (317) 808-4800
NCLEX-RN Pass Rate: 68.9%
Ivy Tech Community College
Ivy Tech Community College gives nursing students the opportunity to learn in the classroom and through a variety of hands-on practice in simulation labs and clinical sites. The simulation labs offer opportunities that are not available at clinical sites, so students will be prepared to make critical decisions and analyze the results in a controlled environment. Instructors will use innovative teaching strategies to reach students with different learning styles. The fast-paced program prepares students for employment in less than two years if they choose. The consistently high pass rate on the licensing exam should give applicants confidence in the nursing program. Due to the volume of applicants, Ivy Tech employs selective admission. Candidates are accepted into the Healthcare Specialist program with a concentration in Nursing while they complete the prerequisite courses.
Graduates will receive an Associate of Science in Nursing (ASN) and will be eligible to apply for the NCLEX-RN licensure examination to qualify for entry level nursing positions in a wide variety of health care setting or continue their education to the BSN and MSN degrees.
Program Outline
Semester credits: 65 credits
Duration: 5 semesters
Method of instruction: Traditional
Course titles:
General education courses – Anatomy and Physiology I, Anatomy and Physiology II, English Composition, Introduction to Psychology, College Algebra, Fundamentals of Public Speaking, Lifespan Development, Advance Human Physiology, General Microbiology
Core courses – Fundamentals of Nursing, Medical Surgical Nursing I, Medical Surgical Nursing I Clinical, Pharmacology for Nursing, Medical Surgical Nursing II, Medical Surgical Nursing II Clinical, Nursing Lab, Mental Health Nursing, Mental Health Nursing Clinical, Complex MS for ASN Clinical, Nursing Care Childbearing & Childbearing Families, Nursing Care Childbearing & Childbearing Families Clinical
Admission criteria:
Complete the requirements for admission to Ivy Tech
Must have a minimum cumulative GPA of 2.0 on the prerequisite courses
Transfer students may be eligible based on the grades achieved
Must complete the ACCUPLACER exam and signed waiver on file at the Registrar's Office
Complete all required remedial courses and co-requisite courses prior to admission
Must score at the Proficient level or higher on the ATI exam
Submit copy of high school transcript from a state-approved high school or equivalent
Complete the general education courses with a grade of C or higher
Participate in a mandatory Nursing Information Session
Submit a completed online application to the nursing program before the deadline
Additional points will be granted to application who hold CNA certification in Indiana
Pass a criminal background check and drug screen
Program Cost:
The cost of the program is $14,827 for in-state students and $23,841 for out-of-state students. It includes tuition, technology fee, ATI Testing Package, ATI NCLEX Live Review, nursing fee, books, physical exam, immunizations, CPR certification for Health Care Provider, background check, drug screen, clinical document manager, uniforms, and other supplies.
Website: https://www.ivytech.edu/nursing/
Address: 9301 E. 59th Street, Indianapolis, IN 46216
Phone: 317-921-4428
Email: indianapolis-schoolofnursing@ivytech.edu
NCLEX-RN Pass Rate: 89.6%