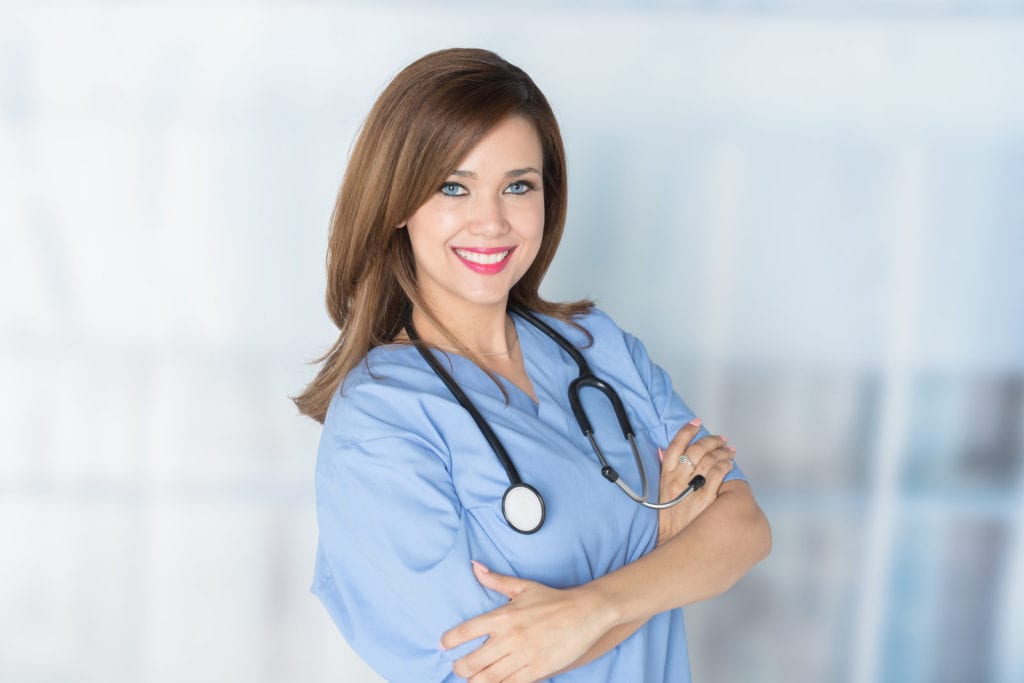 Traditionally, the Associate Degree in Nursing program has been the most common educational path to a career in nursing. The ADN remains an approved option to gain eligibility to sit the Nurse Council Licensure Exam, but the Bachelor of Science in Nursing (BSN) is the preferred degree among health care employers and leaders. The complexity of health care attributed to the multiple chronic illnesses prevalent in the aging population is one of the leading reasons for the preference shown to BSN-prepared nurses. The BSN curriculum provides rounded training that prepares nurses to deliver optimal patient care.
BSN students spend two additional years in college to prepare for their role in the complex health care environment. Despite the additional time and cost, more students are choosing this option after the Institute of Medicine (IOM) published a report, The Future of Nursing: Leading Change, Advancing Health, recommending an increase in the number of nurses holding a BSN to 80 percent by 2020. Soon after the 2010 publication of the report, employers took steps to hire more BSNs and encourage their existing staff to return to school to earn the BSN through RN to BSN programs.
A BSN-prepared nurse earns more than a nurse with an ADN. A salary comparison on Payscale.com shows that a BSN may earn an average annual salary of $61,713 while the ADN-prepared nurse takes home approximately $57,282 annually. Opportunities to assume leadership roles or pursue graduate study will give BSN graduates a further advantage over ADN nurses. At the entry-level, BSN graduates have a better chance of employment in hospitals than ADN graduates. This trend is especially visible in Magnet hospitals and those pursuing Magnet status as they must maintain a percentage of BSN nurses in their workforce. A poll by the American Association of Colleges of Nursing found that 79 percent of employers preferred BSN nurses as they recognize the significance of more educated staff.
The American Association of Colleges of Nursing (AACN) shared some of the benefits BSN will offer to employers in the area of patient outcomes. Reduced failure-to-rescue and patient mortality rates, higher proficiency in diagnoses, and better integration of research in practice. Post-surgical patients also saw a reduction in hospital infections, decubitus ulcers, pulmonary embolism, and deep vein thrombosis when attended to by BSN nurses. The improvement in patient outcomes is the natural consequence of the additional knowledge students receive in the BSN program.
Nurses have a lot riding on their shoulders. They receive very little of the credit when health in restored but take most of the flak when care goes wrong. Patient outcomes and patient satisfaction for a large part depend on nurses. The BSN program gives students the confidence to make life or death decisions, coordinate care across the health care teams, lead and motivate other nurses, mentor health care staff, and apply the results of research in practice. A BSN is essential for leadership positions, career advancement, and specialized care through the completion of a graduate program of study.
Following is a list of the various types of BSN programs available in District of Columbia.
LPN to BSN: A licensed practical nurse can broaden his or her scope of practice, earn more, and secure career advancement opportunities by studying to become a registered nurse. It is possible to secure advanced placement in an associate degree in nursing programs, so the LPN can enjoy better prospects by completing a BSN program. Using the credits from an accredited LPN program and experience as an LPN, the candidate will eliminate a semester or two in the BSN program. The school's administration will evaluate the credits that are eligible for transfer and determine the placement in the program. The student will need to complete general education courses, prerequisite courses, and core nursing courses. Upon completion of the program, graduates will be eligible to sit for the NCLEX to practice as a registered nurse.
RN to BSN: If you hold an associate degree in nursing (or diploma in nursing) and want to take the next step in nursing, you should enroll in the flexible RN to BSN program. A BSN will open the door to better opportunities, higher salary, confidence in practice, and better patient outcomes. The bridge RN to BSN program helps nurses get the skills to improve their practice in the complex health care system. The emphasis of the program is skill building to improve practice and care for a wider variety of patients, professional development to communicate well, lead teams, and use critical thinking to improve outcomes, and cultural sensitivity to understand the racial, socioeconomic, and religious factors that influence the delivery of care. Graduates of accredited ADN program can earn 75 to 80 credits towards the BSN degree through the transfer of eligible courses – dependent on the admission's department evaluation of credit. With the transfer of credits, nurses can complete the requirements for a BSN in just 12 months. The course content is delivered in a convenient online format to give nurses the flexibility to balance work and study. In addition to a degree from an accredited program, the candidate must have an unencumbered registered nurse license.
Traditional BSN: The traditional BSN program can be completed in 4 years and gives graduates a competitive advantage in the job market. The training will include classroom theory covering general education and nursing courses and practical learning experiences in a skills lab and health care facilities. The clinical rotation at health care facilities will reinforce the academics covered in the classroom. Students who successfully complete the program will be eligible to apply to the DC Board of Nursing for authorization to sit for the NCLEX. Using their communication, leadership, communication, and public health skills, BSN nurses can apply for positions in various health care facilities and continue their education at the graduate and post-graduate levels.
Fast-track BSN: Adults who have previously completed a BSN degree in a program unrelated to nursing can apply for admission to an accelerated BSN program and get the training needed to take the NCLEX and practice as a registered nurse. This program appeals to professionals who need a change of career. The field of nursing is especially attractive due to the availability of jobs and opportunities to advance quickly. Through the ABSN, students will commence the core nursing courses almost immediately and complete the requirements in 15 to 18 months. ABSN programs are intensive, so applicants will need to demonstrate their academic ability. The intensity of the curriculum typically requires full-time attendance. Graduates will need to apply to sit the NCLEX-RN for licensure as a registered nurse.
Traditional BSN Programs
Graduates of the BSN program are nurse generalists who will manage the health care needs of patients, families, communities, and populations across the lifespan. They will qualify for registered nursing positions in hospitals, nursing homes, clinics, hospices, and other health care agencies. In the freshman and sophomore years, the emphasis will be on liberal arts, social sciences, and applied sciences that students must complete with a passing grade to be eligible for the nursing courses covered in the junior and senior years. In the final two years, students will also participate in clinical rotations to build technical skills and integrate the classroom theory into practice.
Upon successful completion of the BSN requirements, students will be eligible to apply to the DC Board of Nursing for authorization to sit for the NCLEX-RN. The BSN education also serves as a foundation for graduate study to become an advanced practice nurse, nurse educator, nurse leader, executive or administrator.
Due to limited resources, faculty shortages, and the need for maintaining student/instructor ratios for the clinical rotations, the entry to BSN programs can be competitive. Nursing programs deny hundreds of eligible candidates each year due to these and other factors. Use the general outline below to determine the basic requirements for entry to the nursing program, but review and meet the specific requirements of your program of choice to improve your chances of admission.
Admission criteria:
Apply for general admission to the college or university
Have a high school diploma or GED. It is recommended that students complete high school biology and chemistry
Meet the math and English requirements or complete placement testing
Letters of reference
Attend a personal interview
Upon conditional acceptance to the program, students may have to complete additional requirements for participation in the clinical rotation. These requirements include up-to-date immunizations, a health exam completed and signed by a licensed physician, nurse practitioner, or physician assistant, criminal background check, liability insurance, TB clearance, and CPR for Healthcare Providers.
Second Degree BSN
Through the Accelerated Bachelor of Science in Nursing (ABSN) program, students who hold a bachelor's degree in a non-nursing field can prepare for a professional nursing career in 15 to 18 months. Students learn how to use research in practice, analyze patients and complexities, and respond in a most effective way to health problems. Using the nursing program, graduates will commit to supporting and promoting the health of patients, families, communities, and populations.
To back up the core nursing theory, students will gain hands-on experiences in a simulation lab. These experiences will prepare students for the patient care in a clinical setting, which will be directed by an experienced instructor. The curriculum will facilitate exposure to medical-surgical nursing, pediatrics, psychiatric nursing, obstetrics, geriatrics, and public health.
Candidates for the program must complete the prerequisite coursework, which might include ethics, nutrition, statistics, microbiology, human anatomy and physiology, math, natural sciences, and humanities and social sciences. Along with a completed application, candidates may need to submit official transcripts, documentation of completing a bachelor's degree from a regionally accredited program, letters of recommendation, a current resume, personal statement, and a scholastic GPA or 3.0 or above.
Following is a list of Board-approved BSN programs in District of Columbia with the NCLEX-RN pass rates.
District of Columbia BSN Programs and NCLEX-RN Pass Rates
Washington, DC BSN programs:
The Catholic University of America
620 Michigan Avenue, Northeast, Washington, DC 20064
202-319-6462
NCLEX-RN Pass Rate: 88.61%
Georgetown University- School of Nursing and Health Studies
3700 Reservoir Road, Northwest, Washington, DC 20057
202-687-0100
NCLEX-RN Pass Rate: 96.43%
Howard University Division of Nursing
Address: 2041 Georgia Avenue, Washington, DC 20060
202-865-6100
NCLEX-RN Pass Rate: 96.00%
Trinity Washington University
125 Michigan Avenue, Northeast, Washington, DC 20017
202-884-9000
NCLEX-RN Pass Rate: 64.71%