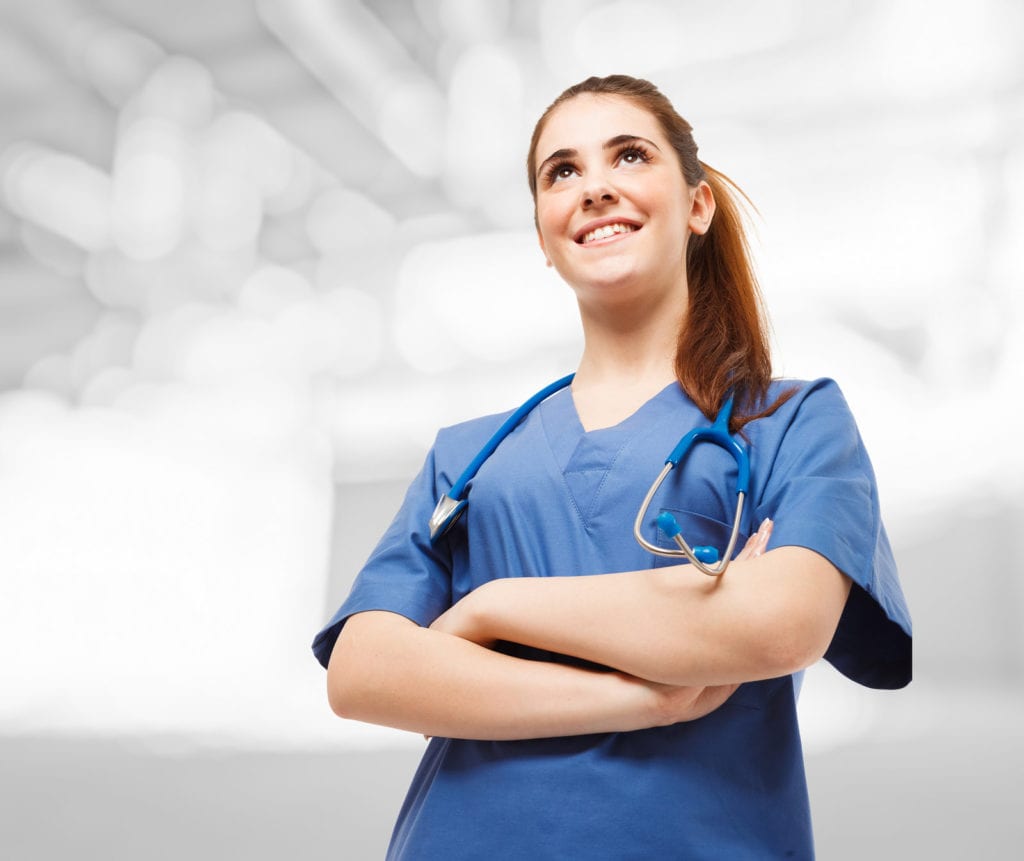 It's an ideal time to become a nurse. The profession is both challenging and exciting, and as the Baby Boomer generation calls for continuous care, there will be numerous opportunities for well-prepared nurses. New technology and innovations have changed the face of healthcare, allowing nurses to care for patients in a way they never did before. Nurses should have a passion for helping others to add to the knowledge and technical skills they will obtain in BSN degree programs. Strong critical thinking skills, effective communication, and an ability to work with a team are some other vital requirements for working in a healthcare setting.
In Nevada, a registered nurse is someone who has either a bachelor's degree in nursing or an associate's degree in nursing who also passed the NCLEX-RN for licensure by the Nevada State Board of Nursing. The two-year associate degree is the most common point of entry as it prepares students for practice in the shortest possible time. However, the growing need for BSN-prepared nurses, as evident in help-wanted ads, should be cause for concern for prospective nurses. The Institute of Medicine's recommendation to increase the proportion of nurses with a bachelor's degree has employers changing their hiring strategies, especially as there's evidence to support improved patient outcomes when BSN nurses are in the majority.
Pursuing the ADN route may be the quicker and more affordable option, but it may not be the wisest choice in the long-term, especially if you don't have a plan to advance your education in the years following licensure. The promise of abundant employment opportunities for nurses is not so much a reality for ADN-educated nurses who face fierce competition as more BSN graduates vie for the same positions.
For the employer, a nurse with a BSN degree represents a professional capable of managing patients' complex needs, analyzing data, and making critical clinical decisions. A BSN-educated nurse can also coordinate care in alternative healthcare settings.
Anyone interested in a BSN degree should research the available programs of interest. Accreditation, access to faculty and essential resources, delivery format, and the program's curriculum are some areas to compare. Due to the long-term commitment and accompanying costs, it helps to shadow other nurses or work as a Certified Nurse Assistant or Licensed Practical Nurse before making a commitment. Develop a career goal to work towards even as you commit to successfully completing the program.
The paths to preparing for nursing practice are as diverse as the profession itself. While most students enter the BSN program through direct entry with no background experience and education, there are other points of entry that depend on your prior education and learning.
LPN to BSN: A licensed practical nurse has valuable education and experience that will qualify her/him for advanced placement in a BSN program. The credit given for the prior education/experience will depend on the school's policy. The credit from accredited LPN programs could cut the time required to complete a BSN degree to 3 years.
RN to BSN: With the transfer of 60 or more credits into the bridge RN to BSN program, a registered nurse can earn a BSN in one to two years. There are strict requirements for pursuing this course, as the school would accept credits from a regionally accredited program only. The RN will need to have an active and unencumbered license to practice. The lower division courses transferred should include any prerequisite course requirements, and a 3.0 GPA is a standard requirement for admission.
Traditional BSN: The BSN degree prepares students for nursing practice from start to finish. The curriculum starts with general education requirements and progresses to the nursing courses which follow a defined sequence. Full-time students can complete the degree requirements in 3 to 4 years.
Fast-track BSN: The fast-track BSN is growing in popularity as professionals with degrees in other areas turn to nursing for the abundant employment opportunities that it offers. Nursing graduates are fortunate to begin working within months of graduating. The market is not as kind to other graduates, who return to school increase their employment prospects. Students enrolled in the second-degree program can complete the degree requirements in 1 to 2 years.
All graduates (with the exception of RN-to-BSN graduates) must take the NCELX-RN to practice as a registered nurse in Nevada.
Traditional BSN Programs
The bachelor's degree in nursing program equips high school graduates, as well as those with an ADN degree, with the knowledge and skills to practice as a registered nurse. The curriculum includes preparation for nursing practice and leadership positions. Graduates will qualify for nursing positions in hospitals, schools, and public health facilities after successfully passing the NCLEX-RN. Program graduates will also qualify for admission to graduate programs.
Patient-centered care is at the core of the curriculum. Students learn how to integrate leadership concepts and skills to deliver high-quality care, demonstrate sound clinical judgment in the delivery of evidenced-based nursing, and use their knowledge of health care policy in nursing practice. Course modules will include family and community nursing, nursing care of adults, case management of vulnerable populations, mental health nursing, health assessment, communication, pathophysiology, and pharmacology.
The following list of requirements is for informational purposes only. They reflect the general requirement for traditional BSN students. Each school may have requirements that exceed those listed below.
Admission to the main college and the nursing department.
A GPA of 2.5 or above in the prerequisite general education course.
A criminal-free background.
TB clearance, drug screen, and CPR for healthcare providers.
Graduation from an accredited or approved high school with a 2.0 GPA.
Prerequisite course requirements may include natural sciences, such as biology, chemistry, or physics, English composition, trigonometry, probability, and statistics.
Second Degree BSN
Students entering the second-degree program have a chance at another career where demand is explosive. Graduates are eligible to apply for the NCLEX-RN to become registered nurses. The fast-track program is specifically designed for persons with a BSN degree in a non-nursing field. Applicants are given advanced entry once the school confirms completion of the prerequisite course requirements.
The program is approximately 3 to 4 semesters based on schedule and transferred courses. Clinical experiences in various settings provide opportunities for direct patient care, interaction with other medical professions, and the development and use of clinical judgment and critical thinking skills.
Nursing courses are sequential and include medical-surgical nursing, geriatrics, health assessment, pharmacology, epidemiology, introduction to professional nursing, community health, psychology and mental health, childbearing and family nurse, pediatrics, and leadership and management in no particular order. Before enrolling in the core nursing courses, students will need to complete prerequisite courses in microbiology, chemistry, and human physiology.
Eligibility requirements will include completion of an accredited bachelor's degree in a non-nursing discipline, an undergraduate GPA of 3.0 and above, a minimum grade C on the prerequisite courses, letters of recommendation, a resume or letter of intent. Prospective students will need to attend an information session to get details of CPR certification requirements, background check, physical clearance, immunization requirements, and other enrollment requirements.
How Much Do BSN Programs Cost?
Three to four years as a BSN student will add up to a hefty sum. In Nevada, the average cost of tuition for nursing students is $32,855. Other essentials, such as textbooks, college fees, insurance, uniform, clinical supplies will increase the final cost. Nursing students can reduce their final out-of-pocket costs with the help of grants, scholarships, and financial aid. Grants and scholarships require advanced preparation, so you must plan well before submitting your application to nursing school.
If you're employed in some capacity in the healthcare industry, your employer could be a great source of help. Tuition assistance or tuition reimbursement will take a chunk off your total costs. There may be a cap on the assistance offered as well as grade requirements, but those pale in comparison to the help you'll receive.
Don't overlook grants if there's any chance you can qualify for them. They provide a smart way to fund your tuition as you won't have to repay any money you receive. It takes time to search out, qualify, and apply for grants, but the money you receive is well worth the effort.
Nursing students have access to scholarship opportunities from numerous sources. Check the Board of Nursing and the American Association of Colleges of Nursing to find a list of valuable resources for obtaining free money to pay down your college costs.
After exhausting all the options for free funding, you can use federal and private loans to cover the rest of the cost. With your educational training in an in-demand profession, your investment in your education will provide big dividends in the future.
Benefits of a BSN Degree
As the healthcare industry prepares to meet the increased demand for healthcare, brought on by the aging population and healthcare reforms, nurses will face increased responsibilities. The Institute of Medicine, in anticipation of the expanded role of registered nurses, recommends that 80 percent of nurses should have a BSN by 2020.
The four-year preparation that it takes to obtain the RN designation demonstrates your capacity for and commitment to exceptional care in the eyes of your prospective employer. Employers prefer BSN-prepared employees, especially if they're seeking Magnet status. Therefore, your BSN degree will increase your employment opportunities. Although there's an extreme shortage of nurses, employers are unwilling to hire nurses with an associate's degree until they indicate a willingness to acquire a BSN degree in the short-term.
More than 30 percent of nurses improve their employment prospects, earn better salaries, and have a more involved role in patient care, policy making, administration, or in the education of future nurses by pursuing a master of science in nursing or a DNP degree. The BSN education provides the foundation for further study.
Check out the BSN programs and NCLEX-RN pass rates in Nevada to improve your job prospects and lay the foundation for advanced study.
BSN Programs Nevada
Henderson, NV BSN Programs:
Nevada State College
1125 Nevada State Drive, Henderson, NV 89015
702-992-2000
NCLEX-RN Pass Rate: 98.80%
Roseman University of Health Sciences
11 Sunset Way. Henderson, NV 89014
702-990-4433
NCLEX-RN Pass Rate: 95.40%
Touro University
874 American Pacific Dr. Henderson, NC 89014
707-638-5270
NCLEX-RN Pass Rate: 100.00%
Las Vegas, NV BSN Programs:
University of Nevada – Las Vegas
4505 S. Maryland Pkwy., Las Vegas, NV 89154
702-895-3011
NCLEX-RN Pass Rate: 97.48%
Arizona College
2320 S. Rancho Rd. Las Vegas, NV 89102
(877) 612-9316
NCLEX-RN Pass Rate: N/A
Chamberlain College of Nursing
9901 Covington Cross Dr. Las Vegas, NV 89144
702-786-1660
NCLEX-RN Pass Rate: N/A
Reno, NV BSN Programs:
University of Nevada – Reno
1664 N Virginia St, Reno, NV 89503
775-784-1110
NCLEX-RN Pass Rate: 95.24%