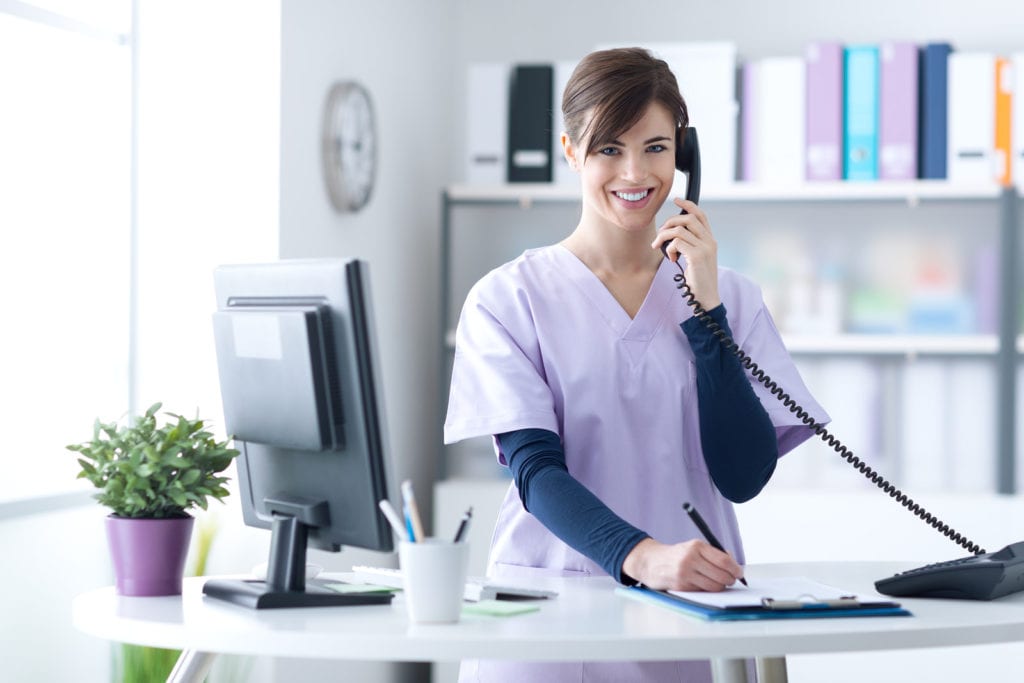 Nurses are needed all over the United States to care for an aging population who are in need of extra care. The bachelor's degree in nursing (BSN) prepares students to meet the explosive need for health care professionals in hospitals, nursing homes, physicians' offices, government agencies, and other health care settings. The degree requires a greater time and financial commitment than the associate's degree in nursing (ADN), but it yields terrific career opportunities for graduates. While more than 60 percent of nurses enter the profession with the ADN degree, the BSN degree has become the standard for practice as medical administrators support the "BSN in 10" initiative. The initiative requires all registered nurses, who enter the profession with a diploma or BSN degree, to achieve a BSN within 10 years of becoming active.
Government agencies, hospital employers and a growing list of health care providers require a bachelor's degree in nursing. It shows that nurses and prospective nurses should be proactive and not wait until the BSN degree becomes a standard requirement. Even with the current projected shortage of professional nurses where employers are eager to snap up new graduates, BSN holders are way ahead of the curve.
Education makes a difference in how nurses practice. Policymakers, researchers, and other influencers believe that nursing research, nursing leadership, the humanities, and community health nursing that the BSN covers contributes to the professional development RNs need to understand how cultural, social, and economic issues influence patient care. Furthermore, the inverse relationship between the proportion of nurses and the mortality rate of hospitalized patients is of special interest to administrators who want to keep mortality down.
Following is a list of the various types of BSN programs available in New Jersey.
LPN to BSN: The paradigm shift in the nursing workforce commands as much attention as the reported shortages. Hospitals need an adequate nursing workforce, comprising of nursing assistants, licensed practical nurses, and registered nurses to address patient care needs. In spite of the push to recruit more nurses, policies limit hiring to nurses who have acquired the education that meets standards. As a result, licensed practical nurses are going back to school to keep up with the fast-paced hospital environment. LPN-BSN programs facilitate an easy transition from the LPN diploma to a BSN degree.
RN to BSN: RN-BSN programs also promote a seamless transition to a BSN degree and represent one the fastest means of boosting the health care system. The advancement of existing nurses is essential as they're called upon to fill leadership roles left vacant by retiring nurses. The RN-BSN program also supports the realization of the BSN in 10 initiative allowing nurses to enroll and complete the requirements in flexible online formats in 18 months or less.
Traditional BSN: Education influences nursing care. That thought should be foremost on the mind of any prospective nurse. The BSN costs more and takes more time to complete than an associate's degree, but patient care outcomes should always trump economy and expediency. Depending on the program, earning an associate's degree followed by a bachelor's degree may cost more in money and time. Even overcoming the resistance to return to school after settling into a nursing position should be factored in. Therefore, enrolling in a traditional BSN program at the onset may be worthwhile.
Fast-track BSN: The accelerated BSN program facilitates a career change. The program admits persons who have a baccalaureate degree who may be interested in a career in nursing. The student will transfer in courses and complete the core nursing courses in approximately 12 months – may be more if the student needs to complete prerequisite courses.
To qualify for licensure, BSN graduates must apply for and pass the NCLEX-RN and meet other state requirements.
Traditional BSN Programs
The BSN program prepares students to supply nursing care to individuals and families anywhere health care is required. The curriculum will include laboratory experiences and off-site patient care that run concurrently with the classroom lectures. High school graduates can complete the program within 4 years of full-time study.
The goal of the program is to help students develop the leadership and critical thinking skills that will make them an asset to employers and the profession on the whole. It also sets a solid foundation for graduate study and the assumption of a leadership role in the profession. Students enrolled in the traditional BSN must complete at least 120 credits including general education and core nursing courses.
Prerequisite courses may include human anatomy and physiology, microbiology, chemistry for health sciences, introduction to psychology, and statistical thinking.
General admission requirements include:
A completed enrollment application.
Completion of the prerequisite courses with a grade C or better.
An acceptable score if an admission test is administered.
A personal interview with a representative from the Nursing Department.
Official transcripts of high school and college-level courses.
Professional or academic letters of recommendation.
All programs will include a clinical aspect, which will take place in a hospital, medical lab, nursing home, or other health care facility. Therefore, students will need to complete a background check and meet the health requirements for participation in the clinical practicum. Criminal convictions may affect future licensure and participation in the clinical experience.
Health requirements may include a TB test, immunization, and a physical exam report. Students may also need to obtain CPR certification and malpractice insurance.
Second Degree BSN
The second-degree accelerated BSN targets individuals who already hold a non-nursing bachelor's degree. The 60 to 64-credit program prepares students to practice in a range of medical settings, including long-term care facilities, ambulatory care, and community health agencies. The curriculum will focus on the provision of evidenced-based care using clinical judgment and critical thinking skills. The legal and financial aspects of care as well as cultural competency are other critical aspects of the program. Other key areas of study include adult nursing, pharmacological therapies, health assessment, pathophysiology, acute adult nursing, dying with dignity, maternal newborn nursing, synthesis practicum, legal aspects of nursing, community health perspectives, research in nursing, and the business of healthcare. Clinical experiences at local health care institutions and skills labs both emphasize hands-on training.
Due to the intensive nature of the program, full-time or even part-time employment is not recommended. The program takes approximately four semesters to complete with a full-time schedule. Graduates are eligible to take the NCLEX-RN for licensure as a registered nurse.
For entry into the fast-paced BSN program, the applicant must have a non-nursing bachelor's degree from an accredited program. Prerequisite courses may include chemistry, medical terminology, anatomy and physiology, psychiatry, and microbiology. A criminal background check, health clearance, TB clearance, CPR certification, and liability insurance may be required for the clinical practicum.
How Much Do BSN Programs Cost?
The cost of tuition for completing a four-year nursing program in New Jersey's public universities is approximately $4,057 per semester. The tuition at private universities ranges from $18,400 to $37,200 per semester. In addition to tuition, nursing students must budget for fees, textbooks, uniform, insurance, admission costs, and the licensure exam.
Summary
Nurses today are tasked with a wide range of health care responsibilities. They manage patients with complex needs as they work in heavily understaffed hospitals. The bachelor's degree in nursing prepares students to meet these and other challenges. Apart from patient care, nurses are collaborating with other colleagues within and outside of health to promote wellness for individuals, families, and communities. In light of the weighty responsibilities, it is clear that registered nurses educated at the BSN level will have access to the best jobs, wages, and opportunities in healthcare.
Following is a list of Board-approved BSN programs in New Jersey with the NCLEX-RN pass rates.
BSN Programs and NCLEX-RN Pass Rates New Jersey:
Bloomfield, NJ BSN Programs:
Bloomfield College
467 Franklin Street, Bloomfield, NJ 07003
973-748-9000
NCLEX-RN Pass Rate: 100%
Caldwell, NJ BSN Programs:
Caldwell College
120 Bloomfield Ave, Caldwell, NJ 07006
973-618-3000
NCLEX-RN Pass Rate: 100%
Ewing, NJ BSN Programs:
The College of New Jersey
2000 Pennington Road, Ewing, NJ 08628-0718
609-771-2591
NCLEX-RN Pass Rate: 93.55%
Galloway, NJ BSN Programs:
Richard Stockton College of New Jersey
101 Vera King Farris Drive, Galloway, NJ 08205-9441
609-652-1776
NCLEX-RN Pass Rate: 90.63%
Jersey City, NJ BSN Programs:
New Jersey City University
2039 John F. Kennedy Boulevard, Jersey City, NJ 07305
(877) 652-8472
NCLEX-RN Pass Rate: 0%
Saint Peter's University
2641 John F. Kennedy Boulevard, Jersey City, NJ 07306
888-772-9933
NCLEX-RN Pass Rate: 90%
Mahwah, NJ BSN Programs:
Ramapo College of New Jersey
505 Ramapo Valley Road, Mahwah, NJ 07430
201-684-7500
NCLEX-RN Pass Rate: 100%
Newark, NJ BSN Programs:
Rutgers- College of Nursing
Ackerson Hall 180 University Avenue, Newark, NJ 07102
973-353-5293
NCLEX-RN Pass Rate: 96.67%
Rutherford, NJ BSN Programs:
Felician College
One Felician Way, Rutherford, NJ 07070-1612
201-355-1465
NCLEX-RN Pass Rate: 100%
South Orange, NJ BSN Programs:
Seton Hall University
400 South Orange Avenue, South Orange, NJ 07079
973-761-9000
NCLEX-RN Pass Rate: 74%
Teaneck, NJ BSN Programs:
Fairleigh Dickinson University
1000 River Road, Teaneck, NJ 07666
800-338-8803
NCLEX-RN Pass Rate: 50%
Trenton, NJ BSN Programs:
Thomas Edison State College
101 W State St, Trenton, NJ 08608
888-442-8372
NCLEX-RN Pass Rate: 0%
Wayne, NJ BSN Programs:
William Paterson University
300 Pompton Road, Wayne, NJ 07470
973-720-2000
NCLEX-RN Pass Rate: 90.32%