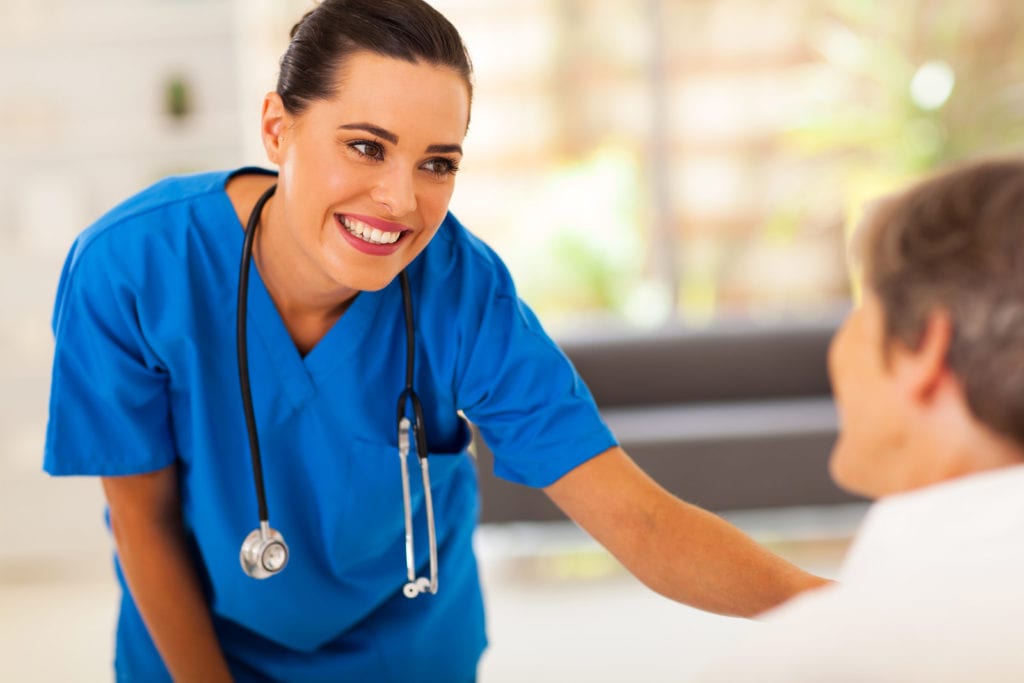 Several research studies link a highly educated nursing workforce to higher quality, patient-centered care. A key recommendation of the Future of Nursing report published by the Institute of Medicine is to increase the education of the nursing workforce where at least 80 percent of practicing nurses will have a bachelor's degree or higher by 2020. If you're considering a career in nursing, enrolling in a BSN program from the onset will improve your chances of employment, job satisfaction, professional advancement, and professional achievement. Although the associate's degree is the most common route to practice, nurses with this degree frequently express dissatisfaction with the job and often return to school to complete the requirements for a BSN degree. Nurses with an associate's degree have less flexible working hours, lower earning power, and a harder time getting the positions they want.
The aging patient population requires a highly educated workforce to manage increasingly complicated conditions. The health system today, relies heavily on information technology to store, share, and analyze health information and improve patient care. BSN students receive the training to provide quality care in this complex system, and employers seek them out to ensure the service the institution provides is held in the highest regard. Although time and cost may pose major barriers to completing the 4-year degree, the added knowledge distinguishes BSNs on the medical ward and will pay dividends later on. A significant body of research proves that BSNs are more likely pursue graduate study, which will help to alleviate a growing concern for a shortage of qualified faculty to teach future generations. A graduate degree in nursing opens the option for a second career in a teaching role for many nurses.
As professionals on the front-line of patient care, nurses make up the largest proportion of the medical team. Therefore, positive medical outcomes depend heavily on nurses' professionalism, judgment, and actions. In light of a nurse's role on the medical team, it's evident that employers will want the most qualified and highest caliber nurses to render medical treatment and provide a caring and supportive role in the health care system. With their command of digital technology and exemplification of communication and leadership skills, BSN-prepared nurses are the future of the industry.
There are approximately 35 universities and colleges in New York that facilitate the BSN program with varying points of entry. Registered nurses with a diploma or associate's degree and licensed practical nurses may benefit from advanced placement. This page highlights those programs that are approved by the NYSED. However, it is important that you choose a program that is also accredited by the Commission on Collegiate Nursing Education (CCNE) or the Commission for Education in Nursing (ACEN).
Following is an outline of the various points of entry into to the baccalaureate program for newcomers, registered nurses, licensed practical nurses, and professionals with a bachelor's degree in another discipline.
LPN to BSN: An LPN diploma and practical nursing experience are beneficial when applying for entry in a BSN program. If you completed your nursing education at an accredited institution, you may be able to get your degree faster through the LPN-BSN credit system.
RN to BSN: More than 15 RN-BSN universities in New York cater to registered nurses who want to complete the BSN degree. The associate's degree in nursing provides the foundation for continued learning and cuts the time and effort required to earn a BSN. The applicant must have a valid registered nursing license to enroll. Online RN-BSN programs may be completed in 1 to 2 years.
Traditional BSN: The BSN graduate benefits from higher salaries and more employment opportunities that a graduate with an associate's degree in nursing. For this reason, a growing number of students are taking the high road and enrolling directly in a BSN program. Preparatory courses in mathematics and science will prepare the student for the rigorous journey ahead. The duration of the program is 3 to 4 years to complete the general education and core nursing courses.
Fast-track BSN: For persons who already have a bachelor's degree in a non-nursing discipline, the fast-track BSN is the way to go. With the transfer of general education and science courses from an accredited institution, the student will dive right into the core nursing courses and complete the fast-track program in 1 to 2 years.
BSN graduates, except those enrolled in the RN-BSN program, must register to take the NCLEX-RN to become a registered nurse.
Traditional BSN Programs
The BSN major prepares students for a rewarding career as a professional nurse. The curriculum will combine the arts and science so students acquire the tools to practice in the complex health care environment. The initial non-nursing courses provide a foundation that life-long learning is built upon. The nursing courses, such as contemporary issues in nursing, nursing leadership, nursing care for older adults, acute care of the adult patient, and spiritual and cultural competence in the delivery of care, give students a body of knowledge and clinical abilities and prepare them for success on the NCLEX-RN exam.
Graduates are eligible to work in hospitals, schools, correctional facilities, nursing homes, health clinics, and the local community.
The entry requirements may include:
A 3.0 GPA in prerequisite courses.
A passing score on the entrance exam.
A high school diploma – official high school transcripts or GED.
Entrance to the college as a degree-seeking student.
Nursing students must meet additional requirements such as CPR for Healthcare Providers, a clean bill of physical and mental health, a good moral character, and confirmation of immunization and TB clearance.
Second Degree BSN
If you're looking to switch careers and enter the in-demand field of nursing, the second degree BSN will set you on the path to making a difference in the lives of others in the fastest possible time. The accelerated program is specially designed for college graduates who want to student nursing. Students will complete the program in 1 to 2 years and will be eligible to take the NCLEX-RN for licensure as a registered nurse.
There will be prerequisite course requirements for students enrolling in the accelerated program. Examples include chemistry, human anatomy and physiology, statistics, psychology, and microbiology. Other requirements are similar to the traditional BSN and will include a bachelor's degree from an accredited institute, drug screen, health exam, immunization, BLS for Healthcare Providers, TB clearance, and criminal background check.
How Much Do BSN Programs Cost?
Your total cost of earning a BSN degree will include tuition, room and board, personal expenses, books, clinical supplies, admission costs, and school fees. Before you begin comparing nursing schools based on tuition costs alone, you must get the full picture. Does the published cost per credit include fees, which could significantly inflate the cost? Administration and student fees add up quickly, so you must gather all the information to determine the real cost of the program. Tuition based on the quarter-based system may initially appear attractive, but those costs add up quickly when you consider the volume of credits you'll need by the end of the program.
Instead of comparing tuition based on published costs, tally the total number of credits you'll need to graduate and factor in all other costs you'll never to cover for the duration. Meeting with a financial aid officer at the school will help you to identify sources of aid that will lower your out-of-pocket costs. The average cost of completing the BSN degree in New York is $53,655 for resident students enrolled in traditional BSN program. The cost does not include health insurance, admission costs, books, and nursing school supplies.
Here's a list of NYSED-approved BSN programs in New York State.
BSN Programs and NCLEX-RN Pass Rates New York:
Albany, NY BSN Programs:
Excelsior College
7 Columbia Circle, Albany, NY 12203-5159
888-647-2388
NCLEX-RN Pass Rate: 80.0%
Bay Shore, NY BSN Programs:
Touro College School of Health Sciences
1700 Union Boulevard, Bay Shore, NY 11706
631-665-1600
NCLEX-RN Pass Rate: 50.0%
Brockport, NY BSN Programs:
The College at Brockport
350 New Campus Drive, Brockport, NY 14420
585-395-2211
NCLEX-RN Pass Rate: 86.7%
Bronx, NY BSN Programs:
College of Mount Saint Vincent
6301 Riverdale Avenue, Bronx, NY 10471
718- 405-3267
NCLEX-RN Pass Rate: 47.6%
Herbert H. Lehman College
250 Bedford Park Boulevard West, Bronx, NY 10468
718-960-8000
NCLEX-RN Pass Rate: 81.2%
Bronxville, NY BSN Programs:
Concordia College
171 White Plains Road, Bronxville, NY 10708
914-337-9300
NCLEX-RN Pass Rate: 88.2%
Brooklyn, NY BSN Programs:
Medgar Evers College
1650 Bedford Avenue, Brooklyn, NY 11225
718-270-4900
NCLEX-RN Pass Rate: 55.6%
New York City College of Technology
300 Jay Street, Brooklyn, NY 11201
718-260-5500
NCLEX-RN Pass Rate: 85.0%%
Brookville, NY BSN Programs:
Long Island University
700 Northern Boulevard, Brookville, NY 11548
516-299-1926
NCLEX-RN Pass Rate: 76.3%
Buffalo, NY BSN Programs:
D'Youville College
320 Porter Avenue, Buffalo, NY 14201
716-829-8000
NCLEX-RN Pass Rate: 81.3%
University of Buffalo
12 Capen Hall, Buffalo, NY 14260-1660
716-645-2000
NCLEX-RN Pass Rate: 90.6%
Canton, NY BSN Programs:
SUNY Canton
34 Cornell Drive, Canton, NY 13617
315-386-7011
NCLEX-RN Pass Rate: 58.7%
Elmira, NY BSN Programs:
Elmira College
One Park Place, Elmira, NY 14901
800-935-6472
NCLEX-RN Pass Rate: 79.0%
Farmingdale, NY BSN Programs:
Farmingdale State College
2350 Broadhollow Road, Farmingdale, NY 11735-1021
631-420-2000
NCLEX-RN Pass Rate: 90.0%
Garden City, NY BSN Programs:
Adelphi University
1 South Avenue, P.O. Box 701, Garden City, NY 11530-0701
516-877-3050
NCLEX-RN Pass Rate: 79.4%
Jamaica, NY BSN Programs:
York College
94 – 20 Guy R. Brewer Boulevard, Jamaica, NY 11451
718-262-2000
NCLEX-RN Pass Rate: 72.2%
Morrisville, NY BSN Programs:
SUNY Morrisville State College
P.O. Box 901, 80 Eaton Street, Morrisville, NY 13408
1-800-258-0111
NCLEX-RN Pass Rate: 81.4%
Newburgh, NY BSN Programs:
Mount Saint Mary College
330 Powell Avenue, Newburgh, NY12550
845-561-0800
NCLEX-RN Pass Rate: 79.0%
New Rochelle, NY BSN Programs:
College of New Rochelle
29 Castle Place, New Rochelle, NY 10805
914-654-5000
NCLEX-RN Pass Rate: 80.5%
New York, NY BSN Programs:
Columbia University
116th Street and Broadway, New York, NY 10027
212-854-1754
NCLEX-RN Pass Rate: 86.9%
Hunter-Bellevue School of Nursing
425 East 25th Street, New York, NY10010
212-772-4000
NCLEX-RN Pass Rate: 89.1%
Pace University
163 William Street, 5th Floor, New York, NY 10038
866-722-3338
NCLEX-RN Pass Rate: 100.0%
NYU College of Nursing
726 Broadway, 10th Floor, New York, NY 10003
212-998-5300
NCLEX-RN Pass Rate: 85.0%
Niagara, NY BSN Programs:
Niagara University
5795 Lewiston Rd, Niagara Univ, NY 14109
716-285-1212
NCLEX-RN Pass Rate: 25.0%
Nyack, NY BSN Programs:
Nyack College
1 South Boulevard, Nyack, NY 10960
845-358-1710
NCLEX-RN Pass Rate: 87.5%
Old Westbury, NY BSN Programs:
New York Institute of Technology – Old Westbury Campus
Northern Boulevard, P.O. Box 8000, Old Westbury, NY 11568-8000
516-686-1000
NCLEX-RN Pass Rate: 89.5%
Oneonta, NY BSN Programs:
Hartwick College
P.O. Box 4020, Oneonta, NY 13820
607-431-4000
NCLEX-RN Pass Rate: 85.4%
Orangeburg, NY BSN Programs:
Dominican College
470 Western Highway, Orangeburg, NY10962
845-359-7800
NCLEX-RN Pass Rate: 61.5%
Plattsburgh, NY BSN Programs:
SUNY Plattsburgh
101 Broad Street, Plattsburgh, NY12901
518-564-2000
NCLEX-RN Pass Rate: 89.3%
Rochester, NY BSN Programs:
Nazareth College
4245 East Avenue, Rochester, NY 14618
585-389-2525
NCLEX-RN Pass Rate: 94.0%
Roberts Wesleyan College
2301 Westside Drive, Rochester, NY 14624
800-777-4792
NCLEX-RN Pass Rate: 82.2%
St. John Fisher College
3690 East Avenue, Rochester, NY14618
585-385-8000
NCLEX-RN Pass Rate: 91.7%
University of Rochester
601 Elmwood Avenue, Rochester, NY14612
585-275-5452
NCLEX-RN Pass Rate: 82.6%
Rockville Center, NY BSN Programs:
Molloy College
1000 Hempstead Avenue, Kellenberg Hall, Rockville Centre, NY 11571-5002
516-323-3000
NCLEX-RN Pass Rate: 78.6%
Staten Island, NY BSN Programs:
College of Staten Island
2800 Victory Boulevard, Staten Island, NY 10314
718-982-2000
NCLEX-RN Pass Rate: 79.3%
Wagner College
One Campus Road, Staten Island, NY 10301
718-390-3100
NCLEX-RN Pass Rate: 82.4%
Stony Brook, NY BSN Programs:
Stony Brook University
100 Nicolls Road, Stony Brook, NY 11794
631-632-6000
NCLEX-RN Pass Rate: 92.2%
Troy, NY BSN Programs:
The Sage Colleges
65 1st Street, Troy, NY 12180
518-244-2000
NCLEX-RN Pass Rate: 86.8%
Utica, NY BSN Programs:
SUNY Institute of Technology at Utica/Rome
100 Seymour Road, Utica, NY 13502
315-792-7500
NCLEX-RN Pass Rate: 77.8%
Utica College
1600 Burrstone Road, Utica, NY 13502
315-792-3111
NCLEX-RN Pass Rate: 77.8%