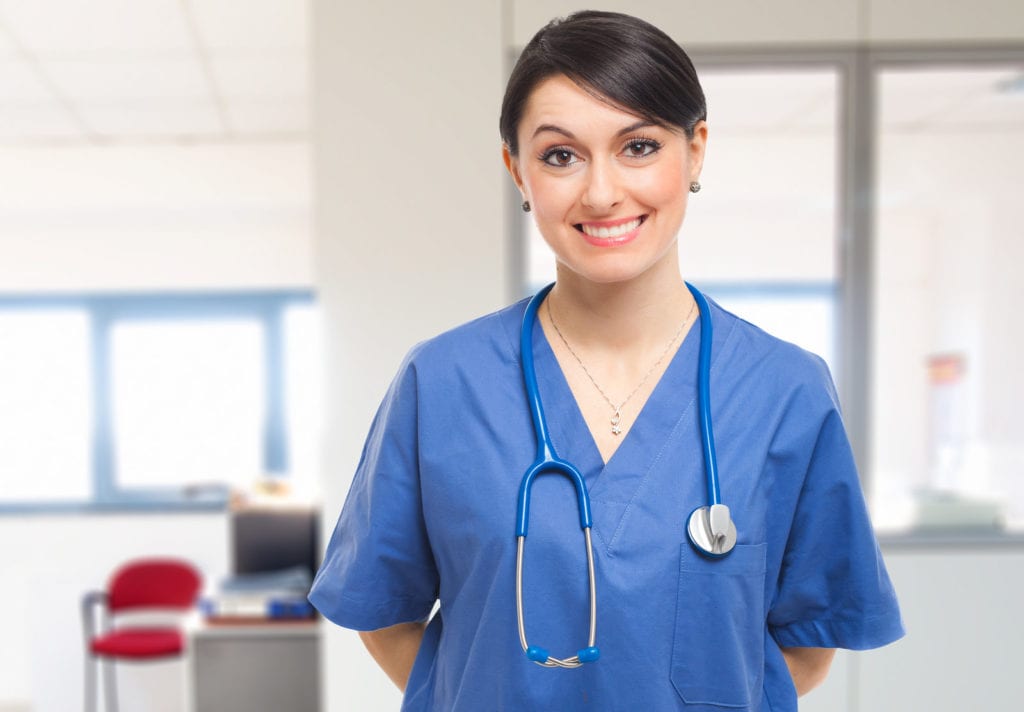 Graduates of a Doctor of Nursing Practice (DNP) degree program benefit from career advancement opportunities, better pay, and educational achievement. The terminal, clinical based degree is different from other advanced degrees for nurses, including the Doctor of Nursing Science (DNSc) and the Doctor of Philosophy (Ph.D.). In 2004, the American Association of Colleges of Nursing (AACN) recommended the DNP as the new standard for entry into advanced practice nursing. The Association recognized that nurses must collaborate with other health care professionals, in their field of practice, who had significantly more education and advanced skills. The DNP places nurses on an even footing with other health care professionals.
Other reasons for the recommendation, according to the AACN, are improved health care outcomes and the opportunity to earn a higher degree for the same cost and efforts that go into completing a master's program. The growing need for safe and affordable health care, a shortage of faculty to educate future leaders, industry demands for an expansion of a nurse's function, the increasing complexity of the healthcare system, and a rise in specialist programs are some concerns that the DNP degree will address. In light of the AACN's concerns, specialty nursing organizations voiced their support for increasing the preparation level from a master's to a doctoral degree.
Since the California Board of Registered Nursing, along with other state boards, has not yet adopted the new educational recommendation, registered nurses can move to advanced practice with a master's degree. But as institutions improve the cost-effectiveness and appeal of DNP programs, nurses may opt to spend the additional time to earn a doctoral degree in preparation for future changes. If the AACN's recommendation comes into effect, nurses will need to acquire a DNP degree for specialty education. The master's degree option will remain for advanced generalist practice.
How to Choose the Right DNP Program
California is home to eleven DNP programs at the state's leading universities. While nurses in California will have more choices than nurses in other states, they can also opt for an online program from another state's university, thereby, widening their options. The programs' curriculum should be guided by the AACN's recommendation. However, teaching styles, program outcomes, accreditation, and the program format will vary, so check around to choose a program that meets your needs.
Check the program's accreditation to ensure it meets the Commission on Collegiate Nursing Education (CCNE) or the Accreditation Commission for Education (AACN) requirements. As more schools include the degree as part of their course offerings, their accreditation may be in process. The important thing is to ensure the school achieves accreditation by the time you graduate.
The DNP is a clinical-based program which requires nurses to complete 1,000 clinical hours to prepare for the DPN competencies. If you graduated from a master's program, your documented clinical hours would count towards the requirement. Some nurses skip the master's degree and move from a baccalaureate to the DNP program. In this instance, you'll need to collaborate with faculty to identify your options for clinical practice, which will prepare you to function in an executive role.
Many programs deliver the coursework using online technology which allows for flexible course completion. Read the fine print as you may need to be present on campus for the DNP orientation and to defend your DNP project.
The program faculty should express their commitment to your success. Members of the faculty who are actively engaged in research, practice, and teaching will have a wealth of experience in patient safety, leadership, and advanced clinical practice from which you can benefit.
Upon graduation, it is expected that you'll have a broad understanding of the eight key areas outlined by the AACN. These include health care advocacy, collaboration with other professionals, advanced pharmacology, advanced health and physical assessment, and advanced physiology.
The DNP project that comes at the end of the program – or over the course of several semesters, depending on the school- will demonstrate your ability to synthesize knowledge to produce favorable outcomes in your practice. The DNP faculty will be a valuable source of mentorship throughout the project.
DNP Admission Requirements California
The DNP program prepares nurses to serve as leaders and managers of change in the complex healthcare system. Upon graduation, you'll have the advanced knowledge and skills to optimize health in your chosen field and demonstrate the humanistic, ethical reasoning, and advocacy for your patient population. There are two primary paths for entry into the DNP: the post-bachelor's entry or the post-master's entry.
Admission Requirements – Post-Master's Entry
The post-master's DNP program is designed for registered nurses and advanced practice registered nurses who are seeking to take their practice to a new level. You'll need to choose a specialty track, which varies by school. General admission requirements include:
A Bachelor's Degree (from an accredited nursing program)
A Master's Degree from an accredited program. You should have a minimum 3.0 GPA. A degree from a non-nursing discipline may or may not be accepted.
Certification/licensure as an RN and APRN in California or from a state where you'll complete the capstone courses.
Official transcripts from all colleges/universities you attended.
Letters of recommendation (two or three).
A current resume/CV
Personal statement outlining your goals and project proposal.
An interview with a member of faculty.
Completion of graduate level biostatistics.
Admission Requirements – Post-Baccalaureate Entry
The post-baccalaureate entry to the DNP program is targeted to registered nurses with an entry-level degree in nursing, such as the BSN. The DNP will help them to expand their scope of responsibility and improve health care outcomes. The BSN-DNP option is one way to complete the terminal degree seamlessly and expeditiously by bypassing the master's degree. To qualify for enrollment in California's DNP programs, the applicant must provide:
Evidence of completing a BSN degree from a nationally accredited institution.
Official transcripts from all colleges and universities attended.
An active and unencumbered RN license in California or another state where the student will complete the clinical requirements.
A current resume/CV.
A personal statement outlining personal goals and project proposal.
Successful completion of undergraduate statistics.
Letters of professional and academic recommendations (two or three may be required).
At an average cost of $1420 per unit, post-baccalaureate students will pay approximately $115,000 to complete the DNP requirements (82 units). The degree will cost approximately $48,200 for post-masters students to complete 34 units. There are many factors that will determine your final costs. For example, additional associated fees not included in the cost of tuition will increase the cost while scholarships, grants, tuition reimbursement, and financial aid will reduce your out-of-pocket expenses.
DNP Programs California
Azusa, CA DNP Programs:
Azusa Pacific University
901 East Alosta Avenue,
Azusa, CA 91702-7000
626-969-3434
Fresno, CA DNP Programs:
California State University – Fresno
2345 E. San Ramon, M/S MH25,
Fresno, CA 93740
559-278-2041
Fullerton, CA DNP Programs:
California State University- Fullerton
800 N. State College Blvd.
Fullerton, CA 92831
657-278-3336
Irvine, CA DNP Programs:
Brandman University
16355 Laguna Canyon Road,
Irvine, CA 92618
949-341-9800
La Jolla, CA DNP Programs:
National University
11255 North Torrey Pines Road
La Jolla, CA 92037
(800) NAT-UNIV
(800-628-8648)
Loma Linda, CA DNP Programs:
Loma Linda University
11175 Campus Street,
Loma Linda, CA 92354
909-651-5029
Los Angeles, CA DNP Programs:
California State University- Los Angeles
5151 State University Drive,
Los Angeles, CA 90032
323-343-3000
University of California, Los Angeles
700 Tiverton Avenue,
Los Angeles CA 90095
310-825-4321
Oakland, CA DNP Programs:
Samuel Merritt University
3100 Telegraph Ave
Oakland, California 94609
1 800-607-6377
510-869-6511
Pomona, CA DNP Programs:
Western University of Health Sciences.
309 East Second Street,
Pomona, CA 91766-1854
909-623-6116
San Diego, CA DNP Programs:
University of San Diego – Hahn School of Nursing and Health Sciences
5998 Alcalá Park,
San Diego, CA 92110
619-260-4600
San Francisco, CA DNP Programs:
University of San Francisco
2130 Fulton Street,
San Francisco, CA 94117-1080
415-422-5555