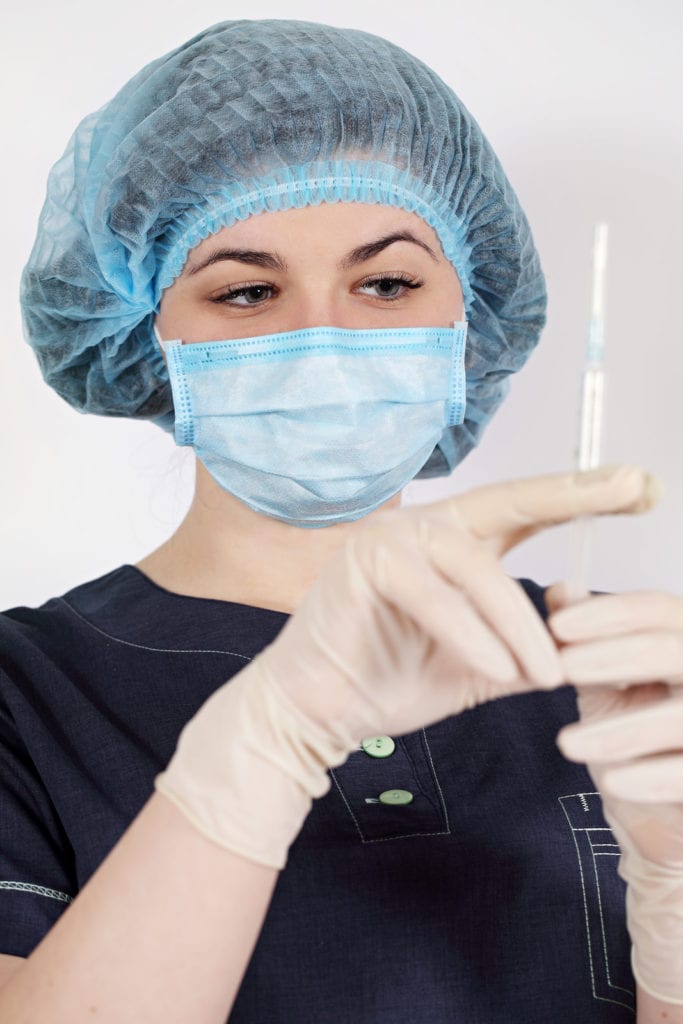 Take your practice to the next level by building on your knowledge and strengthening your clinical and leadership skill through the Doctor of Nursing Practice (DNP) degree program. The DNP coursework covers quality improvement, healthcare policy, patient advocacy, information systems and technology, evidence-based practice, and organizational and systems leadership that will help nurses improve patient outcomes and make a difference in the lives of patients, families, communities, and populations. The emphasis on these areas exceeds the capacity of instruction offered in the master's level education. The goal is to produce experts in a specialized area of advanced care who will utilize evidenced-based, innovative practice based on the credible application of research findings.
As the American Association of Colleges of Nursing (AACN) and advanced practice specialty associations such as American Association of Nurse Practitioners recommend the doctoral degree for advanced practice, it is essential to heed the recommendations for career advancement. After completing the program, you will have the expertise to take up additional responsibilities in practice and leadership, translate research to improve patient outcomes and improve efficiency in the healthcare system. In this capacity, you'll not only achieve your personal and professional goals but also use your experience and expertise to positively influence the healthcare system at the individual and organizational levels.
The DNP program is targeted to individuals with a master's degree in nursing, particularly nurses who have acquired certification in an advanced practice specialty. Some DNP programs in Maine offer additional entry options, such as through the BSN to DNP pathway and for those pursuing a second degree.
Reasons to Get A DNP
As the complexity of health care increases, advanced practice nurses need to demonstrate leadership across the healthcare continuum. Nursing organizations support the development of nurses, in the areas of evidence-based care, transdisciplinary communication, and information, to improve the effectiveness and efficiency of the health care system. The modernization of the healthcare system drives the need for nurses prepared at the advanced level to improve efficiency. At the advanced level of practice, nurses take a specialized approach to care as it is difficult for individuals to master the numerous advanced practice roles. The DNP serves this function as it prepares students with the expertise, mastery, and advanced knowledge to take up a specialized role in one area of nursing.
The DNP is a practice-focused degree that represents the highest level that nurses can attain. Nurses prepared at this level will have the expertise to translate evidence and implement quality improvement processes in various settings, populations, and systems to boost health outcomes. Graduates are capable of leading at the organizational and systems levels to develop and then evaluate new models and effect change at these levels.
Performing at the highest level of practice, DNP-prepared nurses also receive the best salaries for their competencies and expertise. The positive outlook for registered nurses is not expected to slow down – at least in the decade, especially as more than 50 percent of the workforce is expected to retire over this period. In some states, salaries for registered nurses can be as high as $72,000 according to 2016 figures from the United States Bureau of Labor Statistics. While compensation for registered nurses is higher than many professions educated at the same level – the BSN- advanced practice nurses can get the best returns on their educational investment. The DNP is the ticket to executive level positions at renowned hospitals and health care associations across the country. DNPs also have the option to set up their own clinics and other establishments to boost their income and help others. Certified Registered Nurse Anesthetists earn a median annual salary of $140,608, with a high of $184,700 for experienced CRNAs. Clinical nurse specialists had a median annual salary of $86,187 and earned $114,724 on the high end according to Payscale.com. Some other high paying positions include nurse administrators, informatics nurse, nurse practitioners, and certified nurse midwives.
The DNP curriculum strengthens leadership skills as much as it does the clinical expertise. It requires strong leadership to translate evidence-based knowledge and have it implemented effectively in a clinical setting. For this cause alone, the DNP opens multiple doors for graduates who have the confidence, commitment, and leadership to motivate changes at the bedside and improve outcomes for patients under their care. Most DNP students enter the program after completing the Master of Science in Nursing and practice as advanced nursing professionals. As APRNs, their focus would be on the individual and family populations. The DNP prepares them for a role transition from the individual to population and organizational leadership. The program supports the development of skill sets, broader perspectives, and new approaches to practice that will give students the confidence to direct quality and efficient care at the individual and organizational levels.
In the rapidly changing field of healthcare, nurses may also advance their education to stay competitive. There is a growing need for more nurses with a DNP. In fact, nursing associations are pushing for the DNP as the minimum educational preparation for practice as a nurse practitioner and certified registered nurse anesthetist. The degree is essential for nurses who plan to pursue a role in executive leadership. In response to the need, many universities are offering the BSN to DNP and direct entry DNP to help nurses obtain the degree in two to three years depending on their starting point. Those who hold the degree are not likely to be overlooked for executive leadership positions when they're available.
Advanced practice nurses are taking on more responsibilities, even working without a physician's supervision in some states. The added duties validate the push for a doctorate degree for educators, researchers and clinical leaders. DNP graduates can champion change within the complex healthcare environment, optimize health in a specialized area of nursing, advocate for selected populations, influence health care policy, and meet the demand for nurses prepared at the doctorate level.
DNP Admission Requirements Maine
The challenge of completing a DNP while working full-time is not for the faint of heart, yet the outcome is more than worth the investment. Experienced nurses practicing on the merits of the MSN will gain more than they imagined possible as the degree will enrich their lives and that of the patients they care for. Graduates will have the opportunity to lead and make decisions that will directly influence the healthcare system.
While balancing studies with a full-time work schedule may be a challenge for some, others face the challenge of finances. Post-graduate study is costly and almost out of reach for a nurse already struggling with the debt of graduate study. One option to pay for the program is through tuition reimbursement from an employer. Many employers today are willing to invest in the education of their nursing staff as the investment will result in numerous rewards.
It is vital to research the available programs to find one that aligns with career goals. Some programs are delivered exclusively online in addition to the clinical studies in various healthcare settings. Other programs combine online coursework with on-campus studies to bring students and faculty together to create a supportive environment and the exchange of experiences and knowledge. Whatever your decision, the program must fit your schedule and budget. Efficiency and organization are critical to your success in the program. Work out a schedule with your employer, and make arrangements for study time and practice immersion if necessary.
Know what's involved in the DNP program before taking the final plunge. Guidance from a faculty member or a DNP who completed the program will provide much-needed insight that will help you to prepare for the road ahead. Nursing education is always beneficial. At the DNP level, the education involves preparation for leadership that will open the door to numerous opportunities and change your life for the better.
Admission Requirements
Since the requirements for admission vary by program, especially if you are considering programs outside of Maine, it is also best to check your program of interest to determine specific requirements. General requirements typically include a registered nursing license, and master's degree in nursing, and a passing grade in graduate statistics.
For programs that permit entry to BSN-prepared nurses, there may be a requirement to take the GRE or MAT exam – which may be waived for MSN graduates.
Like other nursing programs, admission to the DNP program is competitive. Candidates may demonstrate their ability to be successful in the program through educational preparation at the master's level, professional experience, scholastic achievement, motivation, and stellar recommendations.
MSN-to-DNP Requirements
Following are the requirements for admission to the University of Southern Maine.
A master's degree in nursing from a program accredited by the Commission on Collegiate Nursing Education or the National League for Nursing
A graduate cumulative GPA of 3.25 or above
A grade B or above in graduate statistics – taken within 5 years of applying to the DNP program
A completed application to the DNP program and fee
An essay describing the motivation for the degree and goals for the role chosen
A current resume or CV that outlines professional, community, and volunteer experience
Attend a formal interview with graduate faculty
TOEFL or IELTS scores if English is not the first language
Official transcripts from all colleges or universities attended
Provide three letters of reference from professionals acquainted with your academic and professional work and capable of discerning your ability to pursue graduate study in the chosen profession
Copy of an unencumbered valid registered nurse license
Copy of certificate of advanced practice specialty issued by a recognized national certifying body – if applicable
Verification of post-baccalaureate clinical and practice hours
The DNP degree is an investment that will pay dividends in the future. Planning is an essential step as it will help you to save and determine upfront what you can afford. Reevaluate your budget or make a budget if you don't have one. Identify ways to cut back on your living expenses to contribute to your tuition. Take advantage of tax credits, grants, and scholarships. Choose an online program, which will let you study without affecting your full-time work schedule. Federal and state aid and may also help with the cost of the DNP education. Finally, tap into your workplace resources. Your employer may value the benefits of your DNP degree and might be willing to help. Find out what tuition assistance may be available in your workplace. The average cost of tuition and fees for post-graduate study in Maine is $512 per credit hour for in-state residents.
DNP Programs Maine

Augusta, Maine DNP programs:
Perdue Global University
14 Marketplace Drive, Augusta, ME 04330
800-987-7734
Biddeford, Maine DNP programs:
University of New England
11 Hills Beach Road, Biddeford, ME 04005
207-283-0171
Portland, Maine DNP programs:
University of Southern Maine
PO Box 9300, Portland, ME 04104
1-800-800-4USM