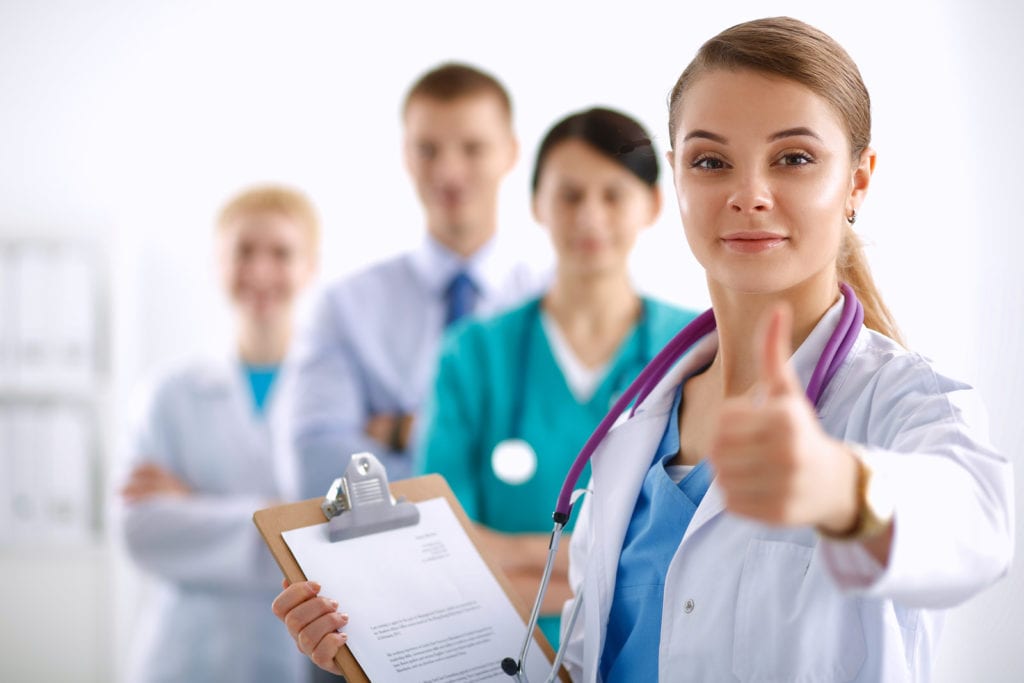 Primary care in the United States has a new face as nurse practitioners' (NPs) assume more of a physician's role. Over 40 percent of adults in rural areas who are suffering from one or more chronic conditions are already receiving care from registered nurses and advanced practice registered nurses. The widening gap between the demand for primary care and the availability of primary care physicians would be a lot worse if it were not for the contributions of APRNs. There's a sharp contrast in the number of new primary care physicians and nurse practitioners entering the workforce each year. At approximately 18,000, the number of yearly entrants for nurse practitioners is more than twice that of primary care physicians, which is approximately 8,000. Although there's evidence of growth in the number of new physician assistants, it is not as explosive as the growth in the NP workforce.
DNP degree programs facilitate the expansion of the APRN workforce. It prepares students to deliver high-quality care that is at least comparable to that of physicians. Quality assurance surveys reveal patient satisfaction scores that are similar for NPs and physicians. In addition to the quality and the availability of the services, patients have another reason to be satisfied: NPs are more affordable than physicians. Medicare payments for NPs are almost 30% lower for office visits and inpatient costs. Since NPs more likely than physicians to settle in rural areas, their services in these areas provide a welcome relief to residents there.
The central role that NPs play in primary care is without question, but there are obstacles to performing their role. Fortunately, Maryland State permits full practice for NPs, which removes a major obstacle faced by those in reduced practice states. Nursing organizations, including the AACN, are making a strong call for NPs to hold a DNP at minimum to practice at this advanced level. However, slower enrollment and growth in DNP programs means a greater percentage of the workforce are not trained at the highest level of practice. Not all nurse practitioner graduates move into primary care. Lower salaries compared to those who move into other areas of practice could present an obstacle to building the primary care workforce. Despite the obstacles, the prevalence of chronic diseases and decline in primary care physicians will require greater participation from NPs. Consumer education and state legislature will go a long way to improve the acceptance of the NPs role in primary care.
Reasons to Get a DNP
Healthcare reforms have a significant bearing on the provision of preventative and primary care. A shortage of primary care physicians is creating new opportunities for APRNs to have an active role in primary care and to strengthen preventative services. To assume this leading role, the APRN workforce must be adequately educated to meet the complexities in the provision of care. The AACN believes that increasing the number of nurses with a doctoral education will ensure that nurses can provide high-quality care in the areas of primary and preventative care. More than just supplying primary care services, APRNs educated at this level are prepared to work in academia, direct patient care, administration, and clinical research throughout the healthcare system. By granting nurse practitioners full practice authority, the State of Maryland supports NPs in the delivery of high quality and affordable to vulnerable residents.
Almost every nurse struggles with the decision to continue his/her education. Completing a doctoral degree takes a lot of time and money, and there's no guarantee of a substantial increase in salary at the conclusion of the program. Adding the intense DNP curriculum to family and professional obligations will call for some sacrifice, but it may be worth the pain and effort if it aligns with your personal and professional goals.
Nursing provides job security for nurses at almost every level. But as new nurses join the workforce at the lower levels, there's a growing demand at the top. The Future of Nursing report proposed some recommendations for improving the quality of the workforce, citing the need better-prepared nurses to fill advanced practice, teaching, research, and clinical specialties. The demand for DNP-prepared nurses to fill these positions fast outpace supply, so graduates can be confident of finding a position in line with their training.
The shortage of nursing faculty is alarming and directly impacts the number of students admitted to nursing programs each year. Having a wider pool of DNP prospects will improve the chances of recruiting new faculty since only 30 percent of graduates will consider a part-time or full-time position in education. Educating the future workforce is a sacrificial duty, as educators do not earn the salaries of top-level clinicians. However, academia offers worthwhile rewards, including an opportunity to boost the workforce through the development of more new nurses to meet current demands.
The DNP curriculum prepares students in the field of leadership, administration, research, economics, and policies, to name a few, so they're better prepared to deliver care in an environment that is politically charged. Graduates are better patient advocates, but they can also use their clinical insight to pioneer change at the top to improve the lives and practice of the nurses at the lower end of the spectrum.
The DNP levels the playing field for nurses who must collaborate closely with other healthcare professions. The terminal degree represents the highest clinical level of education a nurse can attain, and it is essential for collaboration with interdisciplinary groups. Since physicians, dentists and other professionals are prepared at the doctorate level, it is worthwhile for nurses who are providing this type of care to be also prepared at the doctorate level.
The decision to pursue a DNP is a personal choice for many. Others may complete the program for job security and continuity on the advanced practice role. With time, nursing organizations' influence on nurse educational requirements and public awareness and satisfaction could drive demand for APRNs to be educated at the highest level, which will leave no option for existing and incoming nurses. In the meantime, forward-thinking professionals are completing the program and recognizing the rewards of professional development, higher salaries, better opportunities, and the chance to build the workforce through the education of student nurses.
DNP Admission Requirements Maryland
Having a DNP opens an abundance of opportunities in the field of nursing. Graduates can engage in the decision-making process in most health care settings. They also have the confidence to collaborate constructively with those in positions of power to effect change in the workforce. The DNP curriculum includes instruction in clinical research, informatics and patient care technologies, organizational leadership, systems leadership, health care policy, evidence-based practice, and other specialty courses so students become experts in their field.
There are three avenues to admission:
The Post-Baccalaureate program is designed for a registered nurse who holds a BSN degree and has at least one year of practice.
The Post-Master's program is designed for an advanced practice nurse who wants to expand her practice.
The post-MSN certification is targeted to those who want to prepare for another practice role.
Admission Requirements – Post-Baccalaureate Entry
The post-baccalaureate DNP program lets BSN-prepared registered nurses enter directly into doctoral study. This curriculum requires full-time study for students to complete approximately 80 credit hours in four years. DNP students must complete 1000 clinical practice hours during the program.
General enrollment requirements include:
A BS from a nationally accredited program.
Proof of basic undergraduate statistics.
A cumulative GPA of 3.0 or above.
Current licensure as a registered nurse.
Official transcripts of all college courses.
A current resume or curriculum vitae.
A personal statement of professional and academic goals.
Two professional/academic references with original signatures.
Admission Requirements –Post-Master's Entry
The Post-Master's to curriculum requires students to complete 35-48 credits for graduation. The total credit hours depend on the specialty. It is designed for working professionals who need to balance professional and family commitments while they study. The program is usually delivered in a convenient and flexible online format.
Applicants must have:
An MS from a nationally accredited program.
Proof of completing graduate level statistics.
Current unencumbered license to practice as a registered nurse and APRN.
A current resume or curriculum vitae.
Official transcripts from all colleges and universities attended.
Academic and professional references.
A personal statement of professional and academic goals.
Tuition for the DNP program is approximately $28,900 per year and does not include fees and expenses.
DNP Programs Maryland
Baltimore, MD DNP programs:
Johns Hopkins University
525 North Wolfe Street, Baltimore, MD 21205
410-955-7548
University of Maryland- School of Nursing
655 West Lombard Street, Baltimore, MD 21201
410-706-3100
Bethesda, MD DNP programs:
Uniformed Services University
4301 Jones Bridge Road, Bethesda, MD 20814
(800) 772-1747
Salisbury, MD DNP programs:
Salisbury University
1101 Camden Avenue Salisbury, MD 21801
410-543-6000