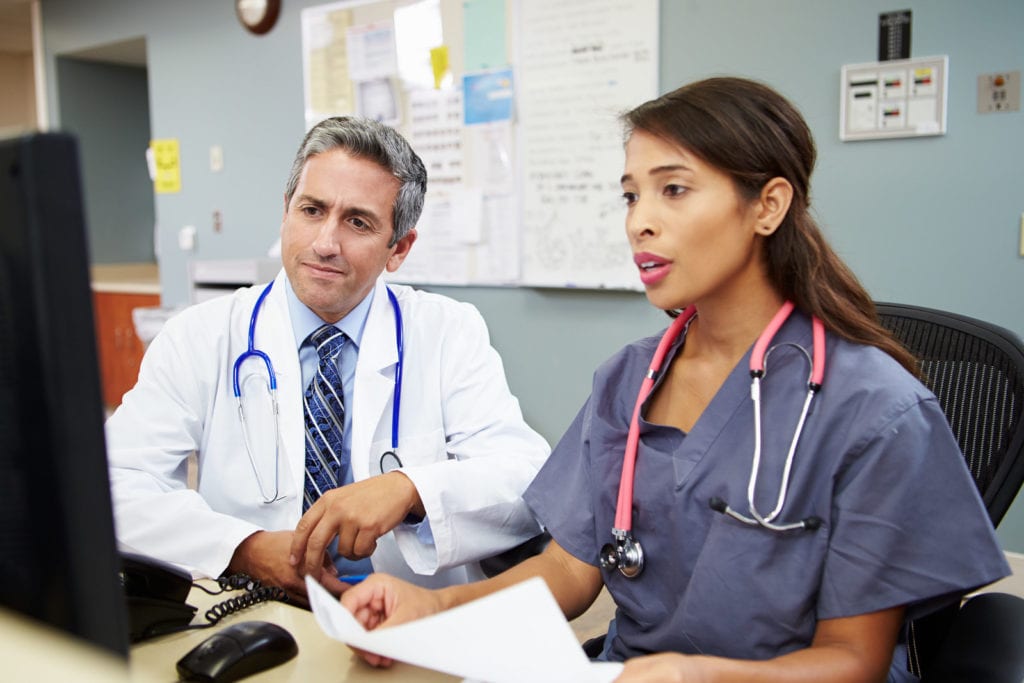 The master's degree in nursing prepares registered nurses to take on more advanced roles in nursing. The degree program allows nurses to enter specialized fields, such as nursing education, midwifery, or family practice. Program graduates also have the foundational education to pursue doctoral-level study. With additional training and certification for specialized roles, MSN graduates typically earn more than traditional RNs. Nurse practitioners in Illinois earn a median annual salary of $86,86, according to data from the Bureau of Labor Statistics. Nurse midwives and nurse anesthetists earn an impressive $91,240 and $154,900 respectively.
There were 5,057 Certified Nurse Practitioners, 1,014 Certified Clinical Nurse Specialists, 1,715 Certified Registered Nurse Anesthetists, and 413 Certified Nurse Midwives in Illinois in 2013. The prevalence of chronic diseases, increasingly diverse population, and health disparities call for more advanced practice nurses to provide high quality, cost-effective care in medically underserved areas.
Specialized Learning
The Master of Science in Nursing (MSN) program helps baccalaureate-prepared registered nurses broaden their knowledge base and practical skills to assume a leadership role in healthcare or pursue doctoral study. Students develop, test, and assess the efficacy of ideas and apply them to nursing practice. Graduates use their learning and research techniques in practice to meet the dynamic needs of a diverse population. In their advanced practice role, they become instrumental in promoting health, maintain health, and restoration of health. In clinical settings, an advanced practice nurse becomes instrumental in refining the science of nursing.
The specialized curriculum supports critical examination of health-related concepts and theories and nursing practice in multiple roles. Students will attain the leadership skills and understand the complex healthcare environment to make recommendations that will impact the lives of patients, nurses, health care providers, and communities.
A general and core curriculum is designed for students to incorporate the concepts of advanced practice in healthcare, develop and demonstrate leadership strategies, analyze issues at the societal and individual level that influence health care, form collaborative relationships with other healthcare professionals, and communicate effectively. At the conclusion of 35 to 48 credit hours, graduates will have the general and specialized abilities to become nursing faculty at colleges and universities, quality coordinators in the insurance sector, directors of departments in hospitals, and directors of ambulatory care centers. The graduate will have the tools to succeed on a national certification exam in their area of specialty and/or pursue doctoral study. The specialized area of study will determine the type of practice the graduate pursues.
To obtain an MSN degree, you'll have to choose from one of the following options:
RN to MSN: Registered nurses with an associate's degree can take the fast-track to a master's degree with the RN to MSN program. The program offers value for money as nurses skip the bachelor's degree, and get the graduate education they need to assume a leadership role in nursing administration or nursing education in less time than it would take to complete separate BSN and MSN programs. Some universities award students the BSN degree after they complete the requirements. Others focus exclusively on the MSN curriculum after the student completes the study undergraduate courses that are a prerequisite for graduate study. The RN's former education and training may be eligible for credit, which will further reduce the time it takes to graduate.
Direct Entry MSN: The direct entry route for registered nurses who have a bachelor's degree is ideal for professionals who need to balance work and study. The online learning option offered with most programs are convenient and affordable, giving nurses the option to learn at their own pace. Students have the option to study 5 hours a week or 20 hours a week if they prefer a fast-paced approach. Even with part-time study, an RN can complete the degree requirements in just 18 months. Applicants must have a registered nursing license to practice. The direct entry route may also be available to individuals with a non-nursing bachelor's degree. However, the candidate may need to complete undergraduate-level nursing courses before beginning graduate study.
Post-Master's Certificate: The post-master's certificate program enables a nurse who already hold a master's degree to become prepared as a specialist in another area of study. The area of specialty will determine the curriculum and the duration. Graduates are eligible to take a national exam in the focus area. Once admitted to the program, the student will meet with the director of the program to work out a plan of study, which will determine the total number of credits, based on previous education, and duration of the program.
The competitiveness of admissions to MSN programs is in part due to lack of qualified faculty and limited availability of clinical spots. The proliferation of online programs will only, in part, alleviate the long waiting lists to enroll in a graduate degree program. Submit your application and all the requested documents on time. Once admitted, you must take the time to meet with a faculty advisor to review any additional requirements you'll have to fulfill to gain full admittance to the graduate courses. Other requirements for clinical placement should be fulfilled early as your failure to complete the requirements will affect your ability to complete the program.
Consider the following criteria for enrolling in an MSN program in Illinois:
Summary of Enrollment Criteria
A current license to practice as a registered nurse in the U.S.
A bachelor's degree from an accredited institution
A written personal goal statement
Two to three professional references
A minimum cumulative GPA of 3.0 for a portion of your bachelor's degree program
Approval from the graduate admissions department after a personal interview
A specified number of clinical hours in your designated area of specialty.
Requirements for clinical placement may include a criminal background check, health requirements, CPR, and drug screen.
How Much Do MSN Programs Cost?
Despite the astronomical costs of completing the MSN degree, 7% of registered nurses in Illinois pursue it for a number of reasons. The MSN paves the way for more career opportunities as a growing number of positions in nursing require a master's degree for entry. Apart from opening doors, an MSN degree increases a registered nurse's earning potential. But going back to school presents a mountain of expenses that could place you in debt for several years. Fortunately, there are numerous options to reduce your costs, especially as the state seeks to increase the number of advanced practice nurses to relieve a shortage of workers in primary care. Search for "free money" wherever possible because it's money you won't have to repay. Employer tuition reimbursement, grants, fellowships, and scholarships fall into this category. Federal and private loans will help to cover the balance after you deduct any free money you receive. These must be repaid and come with various interest rates.
On a positive note, Illinois has several graduate programs, which you can compare to find the most affordable. Public schools are more affordable than private schools, but make sure to calculate the full cost of attendance to get the best value for money. The base rate for graduate study at the University of Illinois at Chicago is $5,740.
Requirements For Advanced Practice Nurses Illinois
The Illinois Center for Nursing in collaboration with the Illinois Department of Financial and Professional Regulation authorizes the approval of advanced practice nursing licenses in Illinois. There are four categories of APN licenses issued: certified nurse midwife, certified nurse practitioner, certified registered nurse anesthetist, and certified clinical nurse specialist.
As a candidate for APN licensure, you must have a current Illinois RN licensure.
Guidelines for APN Licensure
On page one of the application, you must specify the category of advanced practice nursing for which you're applying. A separate fee applies for each category if you're applying for more than one. Complete the entire application and submit with the following supporting documents:
Document CCA – Health Care Workers Charged With or Convicted of Criminal Acts. Your application will be returned if you do not complete this document.
Document CT-APN – Certification by Licensing Agency/Board. Complete this applicant section of the form and forward to the state where you may already be certified as an Advanced Practice Nurse. Use this form only if you're certified in another state or hold another certification in Illinois.
A document confirming your national certification. A copy of your certification or pocket card will be acceptable. For specific national certification for each category, refer to the application packet.
The APN application fee of $125. Enclose a separate fee for each category for which you're applying. The non-refundable fee should be in the form of a check or money order and made out to the Department of Financial and Professional Regulation.
Your Registered Nurse license number.
Official transcripts to substantiate your completion of a graduate degree. The school must send the transcripts, with school seal affixed, directly to the Department. The area of study must be in the area of specialty.
You may be eligible to receive a temporary permit, which is valid for six months from the date of issuance or notification of a denied licensure – whichever comes first. You must complete the APN licensure process before the temporary permit expires to continue practice. A temporary permit does not include provisions for prescriptive authority. Complete the TP-APN Form and submit with the Application for Advanced Practice Nurse Licensure to be considered. The temporary permit fee is $25.
Applications submitted to the Department will remain valid for three years from the date of receipt.
Prescriptive Authority
A collaborating physician can delegate prescriptive authority to an advanced practice nurse with a written collaborative agreement. If prescriptive authority includes Schedule II, III, IV, or V controlled substances, you must apply for a mid-level practitioner controlled substances license using the instructions below:
Complete the Application for Advanced Practice Nurse Mid-Level Practitioner License.
Complete Supporting Document CCA.
Complete Pasts II through V on the application form.
Enclose the $5 licensure fee. Check or money order for the non-refundable fee must be made out to the Department of Financial and Professional Regulation.
Include an official transcript indicating 45 hours of graduate study in pharmacology if applying for schedule II prescriptive authority.
You must have a current advanced practice nurse license to receive a mid-level practitioner controlled substances license. Include the written collaborative agreement indicating that the collaborating physician has delegated prescriptive authority for legend drugs and Schedule II, III, IV, and V controlled substances.
APN Renewal Requirements Illinois
APN licenses expire on May 31 of even-numbered years. You may renew online or print the renewal form and mail with the renewal fee and copy of your national certification and registered nursing license to the Department.
Advanced practice nurses must complete 50 hours of continuing education units within each two-year renewal period. Additional CE requirements for maintaining national certification may apply.
Contact the Board of Nursing
Department of Financial and Professional Regulation
Attn: Division of Professional Regulation
320 West Washington, 3rd Floor
Springfield, IL 62786
Phone: 1-800-560-6420
MSN Programs Illinois
Aurora, IL MSN Programs:
Aurora University
347 South Gladstone Avenue, Aurora, IL 60506-4892
630-892-6431
Chicago, IL MSN Programs:
DePaul University
1 East Jackson, Chicago, IL 60604
312-362-8000
Rush University
600 South Paulina Street, Suite 440, Chicago, IL 60612
312-942-5000
University of Illinois at Chicago
1200 West Harrison Street, Chicago, IL 60607
312-996-4350
North Park University
3225 West Foster Avenue, Chicago, IL 60625-4895
773-244-6200
Loyola University Chicago
1032 West Sheridan Road, Chicago, IL 60660
773-274-3000
Saint Xavier University
3700 West 103rd Street, Chicago, IL 60655
773-298-3000
Resurrection University
1431 North Claremont Avenue, Chicago, IL 60622
773-252-6464
DePaul University
1 East Jackson, Chicago, IL 60604
312-362-8000
Rush University
600 South Paulina Street, Suite 440, Chicago, IL 60612
312-942-5000
University of Illinois at Chicago
1200 West Harrison Street, Chicago, IL 60607
312-996-4350
Decatur, IL MSN Programs:
Millikin University
1184 West Main Street, Decatur, IL 62522
800-373-7733
Millikin University
1184 West Main Street, Decatur, IL 62522
800-373-7733
DeKalb, IL MSN Programs:
Northern Illinois University
1425 West Lincoln Highway, DeKalb, IL 60115-2828
815-753-1000
Downers Grove, IL MSN Programs:
Chamberlain College of Nursing
3005 Highland Parkway, Downers Grove, IL 60515
877-751-5783
Edwardsville, IL MSN Programs:
Southern Illinois University-Edwardsville
State Route 157, Edwardsville, IL 62026
888-328-5168
Elmhurst, IL MSN Programs:
Elmhurst College
190 Prospect Avenue, Elmhurst, IL 60126-3296
630-279-4100
Joliet, IL MSN Programs:
University of St. Francis
500 Wilcox Street, Joliet, IL 60435
800-735-7500
Normal, IL MSN Programs:
Mennonite College of Nursing
Campus Box 5810, Normal, IL 61790-5810
309-438-7400
Peoria, IL MSN Programs:
Bradley University
1501 West Bradley Avenue, Peoria, IL 61625
309-676-7611
Saint Francis Medical Centre College of Nursing
511 Northeast Greenleaf Street, Peoria, IL 61603
309-655-2201
Quincy, IL MSN Programs:
Blessing-Rieman College of Nursing
PO Box 7005 11th & Oak, Quincy, IL 62305-7005
800-877-9140
Rockford, IL MSN Programs:
Saint Anthony College of Nursing
5658 East State Street, Rockford, IL 61108-2468
815-395-5091
Romeoville, IL MSN Programs:
Lewis University
One University Parkway, Romeoville, IL 60446-2200
815-838-0500