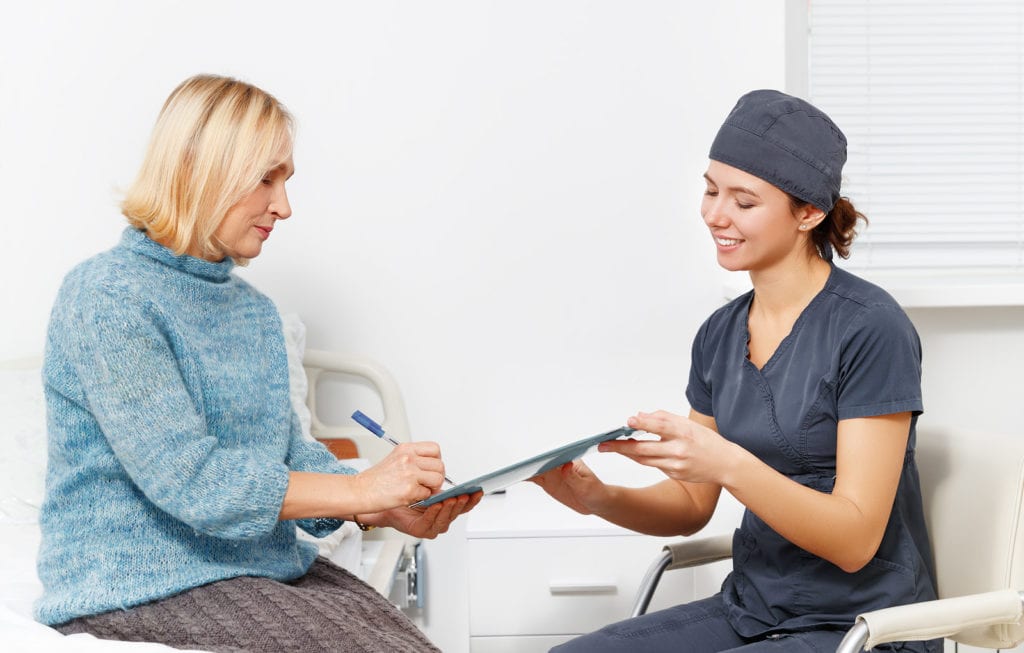 Advanced practice registered nurses who complete the master's of science in nursing are prepared to fill the void of primary care providers in Kentucky and across the nation. Although more Americans have access to health insurance, there has been no corresponding increase in the physician workforce to tend to their needs. Nurse practitioners can help fill this need by assessing, diagnosing, and treating patients the same way a physician would. They provide much of the same care as a physician – with some limitations. Nurse practitioners in Kentucky must establish collaborative agreements with licensed physicians to diagnose and treat patients and prescribe medications. Even so, the public is gaining greater awareness of their abilities and trust them to provide the same or greater quality care as a physician.
The shortage of primary care providers varies by location. According to an Association of American Medical College report, the shortage of primary care particularly impacts populations in rural areas and inner cities. The Kentucky Cabinet for Health and Family Services identifies at least three counties severely affected by the shortage: Jefferson, Spencer, and Bullitt. Nurse practitioners bring care to patients directly in their communities – where they need it most. Their role is not to replace the physician, but to work collaboratively with them to bring relief and affordable care to patients in the comfort of their own communities.
The 2016 Occupational Outlook Handbook from the Bureau of Labor Statistics projects a 31 percent growth in employment for APRNs between 2014-2024, which is much faster than the average for all occupations.
Specialized Learning
The Master of Science degree in nursing program builds on the baccalaureate nursing education to prepare students for advanced practice in the complex health care system. Upon completion of the program, graduates will be eligible to take a national certifying exam based on their role and population foci.
The online format of the program gives students the flexibility to complete the master's degree on their schedule. Flexible full-time or part-time options make it possible for a working nurse to take his or her career to the next level without compromising work schedules. Specialized training serves the unique needs of each individual. Core nursing courses precede the educational requirements for the advanced practice role. They might include advanced nursing research, health promotion and disease prevention, health policy and advocacy, ethical issues, professional role development, and cultural diversity in healthcare. Combined with the specialized courses of study, these core courses will help students develop the skills provide care in the complex health care system, assume leadership positions, use research to improve care, and easily transition to the Doctor of Nursing Practice program.
Clinical rotations form an essential part of the program as it gives students the opportunity to apply their newly-developed skills in real-world situations to prepare for their practice role. Examples of clinical settings include primary care facilities, specialty departments in hospitals, pediatrics, and women's clinics. Students will complete at least 500 clinical hours in an approved facility. Clinical courses will correlate with the didactic courses and will help students develop clinical competency to assess data to meet the needs of patients in multiple health care settings.
Most programs require a minimum baccalaureate degree for admission. However, some universities accept registered nurses who are prepared at the associate's level. These applicants must complete prerequisites before commencing graduate courses.
To obtain an MSN degree, you'll have to choose from one of the following options:
RN to MSN: The RN to MSN is designed for applicants with an associate degree in nursing. The bridge program features a curriculum that bridges the knowledge gap between the educational requirements for the ADN and master' program. This pathway may require on-campus attendance during the first year. Those accepted into the program must complete the undergraduate prerequisite courses with an approved grade before enrolling in their chosen MSN program. The program gives RNs a time and cost-saving means of obtaining a master's degree.
Direct Entry MSN: The traditional pathway is designed for RNs who already hold a baccalaureate. It prepares them for advanced practice as a nurse-midwife, nurse practitioner, clinical nurse specialist, or a nurse anesthetist. Graduates also have the preparation to transition seamlessly to the Doctor of Nursing Practice degree. They will receive the MSN degree and be fully prepared to take the national certification exam to begin a career in advanced practice.
Post-Master's Certificate: The post-master's certificate option prepares advanced practice registered nurses for national certification and licensure in a new or additional specialty area of practice. The curriculum requires completion of 15-27 credit hours that focuses strictly on the student's area of interest. It requires didactic instruction, mostly completed online, and extensive clinical rotation to prepare for the specialty role.
The MSN curriculum is flexible, personalized, and designed with the working nurse in mind. Admission typically requires a baccalaureate degree, but some programs will accept an associate's degree prepared nurse who will have to complete prerequisite courses before commencing graduate studies. Applicants who hold a baccalaureate degree in another discipline may also be accepted into the program, but will need to take the NCLEX-RN at some point in the course. Graduates will receive a master's degree and will be eligible to sit a national certification exam for licensure in their area of specialty.
Consider the following criteria for enrolling in an MSN program in Kentucky:
Summary of Enrollment Criteria
Documentation of scholastic achievement demonstration a GPA of at least 3.0 on a 4.0 scale.
Official transcript of education from an accredited BSN (or ADN) program.
A current license to practice as a registered nurse in the United States.
Letters of reference indicating ability to meet the educational requirements of the master's program.
A statement of your professional goals.
Experience as a registered nurse.
How Much Do MSN Programs Cost?
The average cost for tuition for the Master of Science in Nursing program is $455 per credit hour. Additional fees may be added to the tuition. Additional costs such as textbooks, criminal background check, nursing supplies, immunizations, insurance, and certification exams are the responsibility of the students. Scholarships and grants are some sources of free funding that could help to cut your costs. Financial aid will help cover the rest of the tuition after you've deducted funding from other sources.
Requirements For Advanced Practice Nurses Kentucky
Practice as an APRN in Kentucky requires current licensure to practice as a Registered Nurse in Kentucky and national certification in a population foci that is approved by the Kentucky Board of Nursing. It is a violation of Kentucky's Nursing Law to practice without active APRN licensure and national certification. Offenders will be subject to disciplinary action.
There are several routes to gain eligibility to practice as an APRN in Kentucky:
You hold an active RN license from a compact state and wish to endorse your APRN license from another state.
You hold an active RN license from a compact state and wish to apply for an initial APRN license in Kentucky.
You hold an active RN license in Kentucky and wish to apply for initial APRN license in Kentucky.
You hold an active RN license in Kentucky and wish to reinstate a lapsed Kentucky APRN license.
You hold an active RN license in a compact state and wish to reinstate a lapsed Kentucky APRN license.
All applicants must submit their fingerprints for a criminal background check. Fingerprint and fees must be submitted to the Kentucky State Police in Frankfort, KY.
The Kentucky Board of Nursing will review all submitted applications and fees within 14 days. If you respond "yes" to the disciplinary or conviction questions, your application can take up to 3 months to process.
Guidelines for APRN Licensure
The application for licensure as an APRN in Kentucky must be submitted online. You'll need to provide your social security number in accordance with state laws. Select one of the four APRN Designations – Nurse Anesthetist, Nurse Midwife, Nurse Practitioner, and Clinical Nurse Specialist. Declare your primary state of residence.
It is your responsibility to include all the following required documents with the submitted application:
The application fee of $165 for initial licensure or $135 for reinstatement of your license.
Request a fingerprint card and follow the instructions for completing the card. Mail the completed fingerprint card and $12 fee, using a check or money order, to the KSP. Fingerprinting processing and confirmation from the FBI may take up to 4 weeks. If the Board requests a second set of fingerprints, you must submit another card without the fee.
Request a state background check from the Administrative Office of the Courts (AOC). The request may be submitted online – processing time is approximately 2 weeks. For an online request, an electronic copy of the report will be sent directly to KBN. Keep a copy of the email report for your records. Paper requests can take 4 to 6 weeks to process. Mail or fax a copy of the report to the KBN once you receive it.
Request an official transcript with degree and date posted to be sent directly from the nursing program director to the KBN if you were originally licensed as an RN in Connecticut, California, Kansas, Illinois, and Washington. The KBN may request official transcripts from all others as needed.
Provide evidence of completing an organized post-basic education and clinical experience according to the guidelines listed in 201 KAR 20:056. If you completed post-basic APRN education after January 1, 2005, you must request an official transcript indicating the date issued and type of degree from the nursing program to be sent directly to the KBN. A master's degree or a post-master's certificate represents the two degrees eligible for APRN licensure.
Provide proof of current certification with a national certifying organization that is approved by the KBN to be eligible for permanent registration in Kentucky. All documents must indicate the name of the certifying organization, your name, certification number, and the expiration date. You may provide a copy of your national certification card or a copy of your national certification certificate.
KBN-approved national certifying organizations:
American Association of Critical-Care Nurses Certification Association
National Board of Certification & Recertification for Nurse Anesthetists
American Association of Nurse Practitioners
American Midwifery Certification Board
American Nurses Credentialing Center
National Certification Corporation
Oncology Nursing Certification Corporation
Pediatric Nursing Certification Board
KBN-approved APRN Certification Population Foci
The following population foci have been approved for the APRN-NP and APRN-CNS designations.
Acute Care
Adult
Adult Psych Mental Health
Child/Adolescent Psych Mental Health
Family
Family Psych Mental Health
Gerontological
Medical/Surgery
Neonatal
Pediatric
Women's Health
You must maintain current national certification to continue to practice as an APRN. Monitor the status of your application online to determine what requirements are necessary to complete the application.
Authorization to Prescribe Controlled Substances
You may apply to prescribe controlled substances in Kentucky, after you've completed the following requirements:
Held a license to practice as an APRN for at least one year.
Entered into the Common Collaborative Agreement (CAPA-NS) with a licensed physician.
Submitted a copy of all DEA licenses held in Kentucky and other states.
Set-up and maintained a Kentucky ALL Schedule Prescription Electronic Reporting System (KASPER) account.
You must notify the Board immediately if you rescind a CAPA-NS or change your practice site address.
APRN Renewal Requirements Kentucky
Renewal of APRN licenses begin on September 15 and runs until midnight October 31. Renewal must be completed online, and you'll receive email notification of the completed renewal to the address you listed with KBN. You can also validate your renewal by checking the status of your license online. Licenses not renewed by October 31 will lapse at midnight. Working on a lapsed license is a violation of the Kentucky Nursing Law and will be subject to disciplinary action.
If you answered "yes" to the discipline, criminal, or revocation of national certification questions, you will not be able to renew your license until the Board reviews the required documents. Depending on your answers, you'll need to submit certified court records and letters of explanation, Board certified orders and letters of explanation, or documentation from your APRN national certifying organization.
The renewal fee for each APRN designation is $40 plus $50 for the registered nurse renewal. Submitting your renewal application is an attestation that you completed the continuing competency requirements.
Continuing Competency
APRNs in Kentucky must fulfill the continuing competency requirements as mandated by the Board as well as those of the national certifying organization. The KBN requires completion of 14 contact hours annually, five of which must be in pharmacology. Continuing education providers recognized by the Board are available online.
Contact the Board of Nursing
Kentucky Board of Nursing
312 Whittington Parkway
Suite 300
Louisville, KY 40222
Phone: 502-429-3300 or 1-800-305-2042
Fax: 502-782-2752
MSN Programs Kentucky
Highland Heights, KY MSN Programs:
Northern Kentucky University
Nunn Drive, Highland Heights, KY 41099
859-572-5100
Hyden, KY MSN Programs:
Frontier Nursing University
195 School Street, Hyden, KY 41749
606-672-2312
Lexington, KY MSN Programs:
University of Kentucky
South Limestone, Lexington, KY 40506
859-257-9000
Louisville, KY MSN Programs:
Bellarmine University
2001 Newburg Road, Louisville, KY 40205
502-272-8131
Spalding University
845 South Third Street, Louisville, KY 40203
502-585-9911
University of Louisville
2301 S 3rd St, Louisville, KY 40292
502-852-5555
Morehead, KY MSN Programs:
Morehead State University
150 University Boulevard, Morehead, KY 40351
1-800-585-6781
Murray, KY MSN Programs:
Murray State University
102 Curris Center, Murray, KY 42071
800-272-4678
Richmond, KY MSN Programs:
Eastern Kentucky University
521 Lancaster Avenue, Richmond, KY 40475
859-622-1000