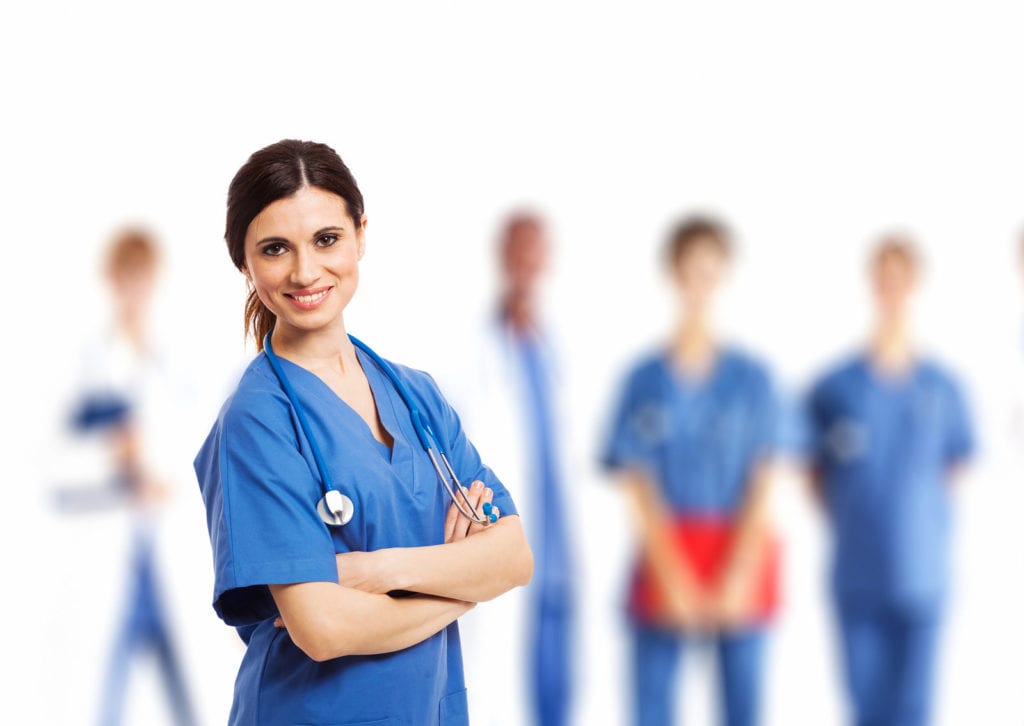 Nurses form the largest single profession within the health care sector. As such, their education is critical to the delivery of high-quality care. The Master of Science Degree in Nursing (MSN) provides registered nurses with the specialty education to deliver care tailored to specific populations. They are empowered to make high-level judgments that will change the lives in patients in the evolving industry.
In the Institute of Medicine's (IOM) published report, "The Future of Nursing: Leading Change, Advancing Health," is depicted the growing demand for highly trained and educated nurses to meet the growing complexities within the system. Another organization, the National Advisory Council on Nurse Education and Practice, also advocates higher education for nurses. Due to the recommendations of these and other organizations and employer trends, the U.S. Bureau of Labor Statistics projects that more that 31 percent of nursing positions will require a master's degree or minimum by the year 2022.
A growing number of Magnet hospitals are not only actively hiring nurses who hold advanced degrees but are also setting the trends in hiring practices at other health care facilities. Participation in Magnet recognition program confirms their commitment to excellence in nursing, and one of the best demonstrations is to hire specially trained nurses to take patient care to the next level.
The MSN program opens a world of new opportunities for graduates. They can assume leadership roles or function in a specialty role for which they're trained and certified. The curriculum seeks to develop the key competencies that students need to practice at an advanced level. Apart from the general courses, students will complete electives designed for the acquisition of specialty knowledge in patient-centered care, safety of healthcare systems, evidence-based practice, and collaborative care. Graduates are able to use research practices and scholarly inquiry to improve healthcare, adopt and modify informatics systems and technologies to make informed decisions and improve positive outcomes, promote health and prevent diseases to improve the quality of patient lives, model leadership through the formation of healthy working relationships, and advocate for ethically sound polices that will meet the needs of consumers.
Specialized Learning
The MSN program prepares students to improve healthcare outcomes and the quality of patients' lives. As more Americans gain access healthcare, there will be an increased need for highly skilled and competent providers. Advanced practice registered nurses are specially trained to deliver this type of care, so there's a huge demand for them to deliver care in a variety of categories.
The curriculum delivers theory and practical knowledge and skills in the areas of health assessment, pathophysiology, health policy, research design, quality healthcare improvement, advanced pharmacology across lifespan, advanced nursing concepts, and leadership. In addition to classroom theory, students will develop their skills through field practicums that run concurrently with the classroom sessions. Nursing courses may follow a specified sequence, requiring students to pass one course before proceeding to the next course in the sequence. The combination of the theory and clinical evidence-based practice prepares students to achieve their life and career goals as they apply the knowledge, skills, and judgment gained throughout the program.
Graduates of the program can assume the role of clinical experts and leaders in their specific category and population focus. In clinical settings, they will have the professionalism and competency to translate evidence for the optimization of outcomes. Through collaboration with interdisciplinary teams, the APRN will develop solutions to the complex challenges that plague the sector.
The MSN program also prepares the way for doctoral study. Graduates can enroll in Doctor of Nursing Practice, which builds on the foundation set by the MSN degree and prepares nurses to function at the highest level of practice.
Here are three options to pursue an MSN degree:
RN to MSN: Nurses who hold an active registered nursing license based on the completion of an associate's degree in nursing and passage of the NCLEX-RN can speed up their acquisition of the master's degree through the accelerated curriculum. This pathway eliminates duplication, although some programs require completion of the BSN requirements before students commence the graduate level courses.
Direct Entry MSN: Registered nurses who hold an active and unencumbered license to practice and completed an accredited bachelor's degree in nursing program can seek direct entry to the MSN program and immediately commence graduate nursing courses. The curriculum is built to deliver theory and clinical experiences that run concurrently. The nursing courses follow a defined sequence that students must follow from start to finish. Graduates have the knowledge, skills, professional judgment and competencies to transform healthcare.
Post-Master's Certificate: The program of study for post-master's students vary based on the chosen track and the applicant's preparation at the master's level. Faculty will develop an individualized plan of study for the clinical preparation. Additional coursework may be required based on the volume of clinical coursework in the master's program. Post-master's certificate programs require completion of 19 or more credits which can take up to two years to complete – based on the schedule.
Requirements for admission:
Students applying to the MSN program must:
Complete and submit a graduate application
Provide a professional resume
Provide a statement of professional goals
Request official transcripts from all colleges and universities attended to be sent to admissions
Attend a nursing information session
Provide two or more profession references
Provide documentation of holding an active unencumbered RN license
MSN Cost New Hampshire
MSN graduates can earn up to $20,000 or more than nurses practicing on the merits of an associate or baccalaureate degree in nursing. Obtaining an MSN degree can be a costly investment that might involve going into debt. However, in light of the demands and projected salaries for APRNs and nurse educators, the investment is a worthwhile one that will pay off in the long run. Tuition costs $6,920 per semester for New Hampshire residents.
Requirements For Advanced Practice Registered Nurses New Hampshire
The New Hampshire Board of Nursing administrates the licensing and regulation of advanced practice registered nursing. Licensure if available for nurses in the following categories:
Nurse Practitioner
Certified Registered Nurse Anesthetist
Certified Nurse Midwife
All applicants for licensure must complete a Federal Bureau of Investigation record check. The check may be conducted using livescan or inked fingerprints. Fingerprint cards, if used, must be filled in completely. The "ORI" code will be NHNSP0800 STATE POLICE CONCORD, NH. On the "Reason for" indicate "BOARD OF NURSING NH RSA 326-B:15." Place your inked fingerprints or live scan images on the card.
The candidate must call the NH State Police in Concord to schedule an appointment for fingerprinting. Other required documents include:
Photo identification
A completed Criminal Record Release Authorization form
The processing fee – $47 for inked or livescan fingerprinting.
Digital prints are kept on file for a maximum of 30 days. Therefore, all paperwork must be submitted within this period.
Application process for New Hampshire APRN License
To be licensed, you must submit the following documents to the Board's office:
Complete the application for APRN licensure
A current registered nursing license issued in New Hampshire or by a state within the compact agreement.
A criminal record report that is in compliance with the Board's FBI fingerprint and NH background check requirements.
The payment for the fee of $100. Check or money order must be made out to Treasurer, State of New Hampshire.
Compact RN license holders must register with NURSYS and provide verification of original nursing license. If the state does not participate, the verification must be completed using the paper verification form.
Final official transcript of a graduate or post-masters graduate degree in an accredited nurse practitioner education program.
Completed an advanced nursing educational program that includes 225 hours of theoretical nursing and 480 hours of clinical nursing practice, including pharmacological interventions and precepted experience.
All candidates must be capable of providing activities specific to their category.
A copy of current national certification – for newly graduated APRNs.
Licensed APRNs for Two or More Years Prior to Application Date
Submit the following to the Board's office:
A copy of current national certification in area of specialty.
Evidence of completing 30 educational hours, including 5 pharmacology hours, within the two years prior to submitting an application.
Have at least 400 hours of advanced practice in the area of specialty for the past four years.
Documentation of active DEA # for N.H. to registered with the NH Prescription Drug Management Program within 90 days of licensure. This requirement includes submission of 3 of the 5 contact hours in opioid prescribing, pain management or substance abuse disorder.
Temporary License
The Board of Nursing may issue a temporary license for APRNs who provide verification of intention to sit the first national certifying exam in their category following the completion of a nursing educational program to prepare for an advanced practice role.
The application for permanent licensure must be submitted before the application for temporary licensure. Candidates must limit their practice to that of a registered nurse until the Board issues a Temporary APRN license.
Submit the following to the Board's office:
Evidence of a documented date to sit for the first scheduled national certifying exam in your category.
Current New Hampshire Registered Nurse license or a current RN license from a compact state.
Completed the fingerprinting for a Criminal Record Report.
A completed application for permanent licensure as an APRN in New Hampshire with the check or money order or $100.
A completed Temporary License Application.
A check or money order in the amount of $20 made payable to Treasurer, State of New Hampshire.
Official transcript from the educational program verifying successful completion of study. This must include 225 hours of theoretical nursing content, 480 hours of clinical nursing practice including a precepted practicum with an APRN or physician, and pharmacological interventions.
Documentation of oversight by an APRN practicing in the same practice category.
Candidates must limit their practice to the Registered Nurse scope of practice until the Board issues an APRN license.
Applications not completed within 120 days will be purged.
Credentialing Organizations
American Academy of Nurse Practitioners
Adult Nurse Practitioner
Family Nurse Practitioner
American Nurses Credentialing Center
Acute Care Nurse Practitioner
Adult Nurse Practitioner
Adult Psychiatric and Mental Health Nurse Practitioner
Family Nurse Practitioner
Family Psychiatric and Mental Health Nurse Practitioner
Gerontological Nurse Practitioner
Pediatric Nurse Practitioner
Pediatric Nursing Certification Board
Pediatric Nurse Practitioner
National Certification Corporation for the Obstetric, Gynecologic, and Neonatal Nursing Specialties
Neonatal Nurse Practitioner
Women's Health Nurse Practitioner
ACNM Certification Council
Council on Certification of Nurse Anesthetists
Certified Registered Nurse Anesthetists
AACN Certification Corporation
Acute Care Nurse Practitioner (Adult-Gerontology)
Acute Care Nurse Practitioner (Adult)
APRN Renewal Requirements New Hampshire
APRN licenses expire every two years with the RN license. As a licensee, you must renew your license before midnight on your birthday. Renewal requires acknowledgment of completing the continued competency requirements. The Board of Nursing will mail a postcard notice approximately 6 weeks prior to the license expiration. Online renewal is encouraged. The renewal postcard will contain instructions for accessing your code during the online process. If you decide not to use the online renewal, you must return the postcard to the Board to request a paper renewal form.
The renewal fee for the APRN license is $100. Payment may be submitted using a credit card during the online renewal.
Upon completion of the renewal, licensees can verify and print verification of their license through the online licensing system. The Board of Nursing does not issue paper licenses.
Continuing Competence
Specialty certification accounts for 30 of the 60 required hours. Licensees must also complete the additional 30 hours, including 5 hours of pharmacology. Those who hold an active DEA # for prescribing must complete 3 out of the 5 pharmacology hours in opioid prescribing, pain management, or substance abuse disorder. Documentation of completing the continuing competence must be sent to the Board's office.
In addition to completing the continuing competence, candidates must meet the active in practice requirements. These include 400 hours in practice specialty in the four-year period preceding the date of application. For new graduates (within the previous 2 years), the program coursework and clinical will be acceptable for the first renewal.
Contact the New Hampshire Office of Professional Licensure and Certification
New Hampshire Board of Nursing
121 South Fruit Street
Concord, NH 03301
Phone: (603) 271-2152
MSN Programs New Hampshire
Durham, NH MSN programs:
University of New Hampshire- College of Health and Human Services
Hewitt Hall, 4 Library Way, Durham, NH 03824
603-862-1177
Manchester, NH MSN programs:
Southern New Hampshire University
2500 North River Road, Manchester NH 03106
1.800.668.1249
Nashua, NH MSN programs:
Rivier College
420 South Main Street, Nashua, NH 03060
1-800-44-Rivier