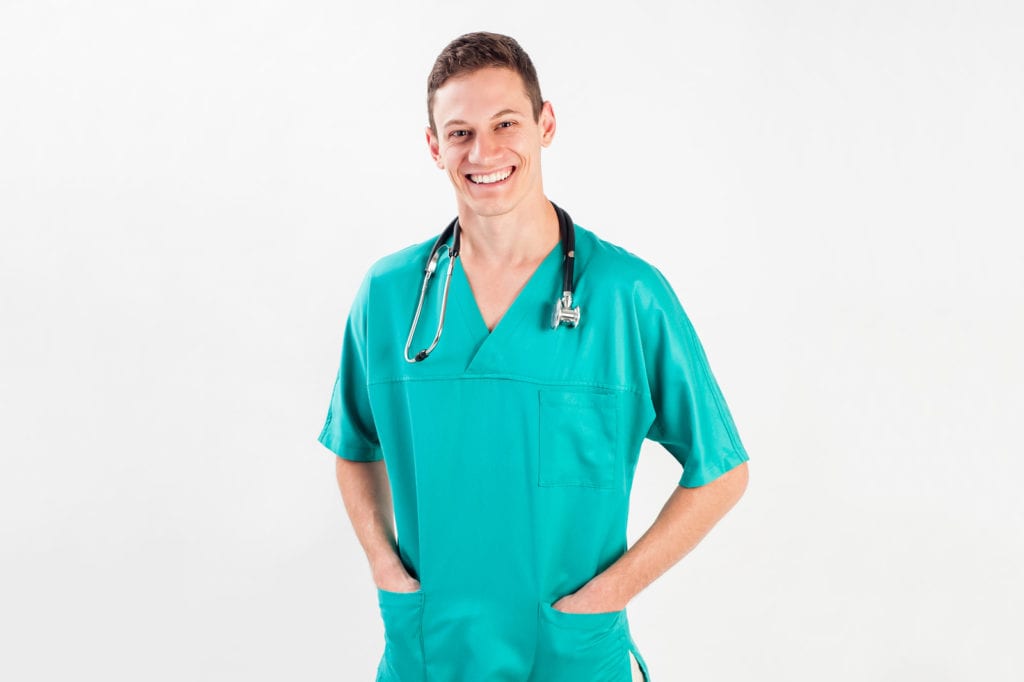 Advanced practice registered nurses (APRNs) are registered nurses with additional education. Master of Science (MSN) and Doctor of Nursing Practice degree programs prepare registered nursing professionals to perform physical exams, order labs and analyze results, prescribe medication, and educate patients. APRNs specialize by population, and their titles may be Certified Nurse Practitioners, Certified Nurse-Midwives, Certified Registered Nurse Anesthetist, and Clinical Nurse Specialist. Apart from catering to a specific patient population, APRNs may also work in academia or research.
As health officials prepare for a drastic shortage of health professionals over the coming decade, APRNs will improve a population's access to healthcare, lower health care costs, and provide quality care in medically underserved areas. By teaching and counseling patients, coordinating care in the complex health care system, and referring patients to physicians and other health care providers, these in-demand professionals will contribute to positive outcomes in health care. The Bureau of Labor Statistics projects that the demand for APRNs will increase by 31 percent through the year 2024 – a growth rate that is five times the national average. This translates to approximately 53,400 new positions. The high demand for APRNs in primary care and underserved and rural areas means plenty of jobs, excellent pay, and job security for well-trained professionals. Aside from educational and clinical preparation, APRNs must have good communication skills and clinical judgment to share information with patients in a clear and effective way.
Specialized Learning
With the implementation of newly discovered best practices, innovation, and technology, education is an ongoing process for registered nurse professionals. RNs and APRNs must be educated to meet the opportunities and challenges that arise in service areas that extend beyond the hospital walls. A commitment to lifelong learning helps nurses stay current and pursue higher levels of education to improve patient care and embrace opportunities to practice in an advanced role.
MSN programs prepare nurses to fill the critical shortages of primary care and specialized care providers in the U.S. Graduates become expert care managers in clinical settings but also assume roles as educators to the next generation of nurses.
The number of tracks and duration of the MSN program depends on the university, but could include Clinical Nurse Leader, Family Nurse Practitioner, Primary Care Nurse Practitioner, or Nurse Educator. Common courses may include advanced health assessment, pharmacology, pathophysiology, and innovations in community health practice.
At the conclusion of the 18 to 21-month program, the graduate should be able to integrate the specialized learning into practice, use evidence—based knowledge to promote health and prevent diseases, maintain collaborative relationships with other healthcare professionals, assume legal and ethical accountability in practice, and execute duties in the role of an advanced practice nurse while demonstrating compassion, respect, and cultural sensitivity.
To obtain an MSN degree, you'll have to choose from one of the following options:
RN to MSN: The RN to MSN program gives registered nurses with an associate's degree the opportunity to earn a graduate degree on an expedited timetable. The accelerated program provides fantastic value as students complete their education past the BSN degree to become a leader in hospital nursing administration or education in less time than it would take to complete the BSN and MSN separately. Some universities award the BSN degree when the student meets the undergraduate requirements. Other schools guide students towards the MSN curriculum and do not award the BSN degree. Nursing courses completed in the ADN program may count toward the degree, reducing the time it takes to graduate.
Direct Entry MSN: Texas universities give registered nurses the option to advance their education at their own pace through online learning. By committing at least 20 hours per week for studies, students can complete the degree requirements in just two years. The direct entry route is open to a registered nurse who have a BSN degree and a current, unencumbered license. An applicant with a bachelor's degree in a non-nursing discipline may also be allowed to enroll after meeting the additional enrollment requirements.
Post-Master's Certificate: Individuals who have a master's degree in nursing may apply for admission to a post-master's certificate program. The student will choose a certificate track based on desired specialty and complete the didactic and clinical requirements to take the national exam in the focus area. Applicants must have a master's degree, an RN license, and the Board's approval to practice as an advanced practice nurse.
General requirements for enrolling in an MSN degree is an associate's degree for RN-MSN entry or a bachelor's degree for direct entry. Limited space and a shortage of qualified faculty lead to competitive enrollment. However, the emergence of online programs brings the advanced degree to nurses in rural and metropolitan areas. Students must have the educational preparation necessary to succeed in the program but would also need to demonstrate their commitment to healthcare. Consider the enrollment requirements for the university of your choice and submit the application and required documents well before the application deadline.
Summary of Enrollment Criteria
Students must apply and be accepted for graduate studies.
Bachelor's degree or associate's degree from an accredited nursing program.
Overall GPA of 3.0 or higher.
Personal statement describing personal and professional goals, experience in nursing, and commitment to the chosen field of study.
A curriculum vitae (CV) or resume.
Official transcripts of college-level coursework.
Academic and professional references.
A current, unencumbered license to practice as a registered nurse.
S citizenship or residency.
Current CPR, current health insurance, drug screen, and evidence of meeting the immunization requirements are needed before the clinical courses.
Your area of concentration may require additional submissions. Prerequisites courses will depend on your prior education and experience.
How Much Do MSN Programs Cost?
Demonstrate mastery of the nursing competencies that employers want, and your nursing education will pay for itself. MSN graduates see an average 35 percent increase in their salaries after graduation – compared to their salaries before the MSN degree.
Preparation will help you to avoid unnecessary financial difficulties and burdensome debt after you graduate. Compare MSN schools to find a credible program that meets your budget. Research sources of financial aid to cut costs. Scholarships and grants will make earning the degree more affordable. A current list of scholarship opportunities for nurses is available on the AACN's website. The school's financial aid office may also have information for internal scholarships for students.
The average cost of tuition for the MSN program in Texas is $11,922 for resident students.
Requirements For Advanced Practice Registered Nurses Texas
Before applying for a license to practice as an APRN in Texas, you must be licensed as a Registered Nurse in the state or have a current RN license with multistate privilege from a participating compact state. You must apply for APRN licensure as a Nurse Anesthetist, Nurse Midwife, Nurse Practitioner, or Clinical Nurse Specialist.
Guidelines for APRN Licensure
Submit the following to the Board of Nursing:
A completed, correct, and signed application online or you can use the paper application. Read the "Attestation" portion of the document carefully before signing the application.
The required fee for APRN. The fee is $100 for APRN licensure only or $150 if requesting prescriptive authority with the application. Fees are payable using a check or money order. The application fee is non-refundable.
A copy of your compact RN license if applying using multistate privilege. Do not submit a copy of your license if you're licensed in Texas.
Official final transcript of your advanced practice nursing education. The transcript should indicate the date the degree was awarded and type of degree conferred.
Evidence of current certification in an advanced role and population focus area. The certificate should show the expiration date. The Board would not approve your request if you did not obtain national certification.
The signed Consent to Release Information located in Part II of the application.
Submit all the required documents together to expedite the review and processing of your application. Incomplete, illegible, or incorrect applications will cause delays. The average processing time for applications is 30 business days based on the volume of applications the Board receives.
Request the 120-day Interim Approval by answering "yes" to question nine on the application if you plan to begin working within 60 days of submitting the application. The interim approval will give you temporary authorization to practice if you meet all the eligibility requirements. The approval cannot be renewed or extended. The Board no longer issues interim approval to new graduates who have not successfully completed a national certification exam.
Prescriptive Authority is an option if you meet the qualifications and wish to write prescriptions. The educational/training requirements for prescriptive authority are outlined in Rule 222.2.
APRN Renewal Requirements Texas
Renewals can be initiated 60 days before the license expiration date. The normal processing time for application is 15 business days.
To renew your license, you must:
Submit a completed application and pay the renewal fee.
Have practiced for a minimum 400 hours in each advanced specialty that you're renewing.
Complete the continuing competency requirements and hold current national certification or recertification.
Complete at least 20 contact hours of continuing education if you're not required to be certified.
Have a current and valid RN license.
You may continue to practice for one month from the license expiration date if you submit a timely application and payment postmarked no later than the last of the month that license expires. If you do not submit the application and fee on time, you must follow the delinquent renewal process and cease practice until the Board confirms the successful renewal of your license.
Renewal fees are payable using a cashier's check or money order, and the fees are as follows:
RN and APRN license renewal fee – $110
Prescriptive Authority – No Fee
Contact the Board of Nursing
Texas State Board of Nursing
333 Guadalupe Street, Suite 3-460
Austin, TX 78701
Phone: (512) 305-6483
MSN Programs Texas
Abilene, TX MSN Programs:
Abilene Christian University
1600 Campus Ct, Abilene, TX 79699
325-674-2000
Hardin-Simmons University
2200 Hickory, Abilene, TX 79698
325-670-1000
McMurry University
1 McMurry University, Abilene, TX 79697
325-793-3800
Patty Hanks Shelton School of Nursing
2149 Hickory Street, Abilene, TX 79601
325-671-2399
Austin, TX MSN Programs:
The University of Texas at Austin
1710 Red River Street, Austin, TX 78701
512-471-7913
Beaumont, TX MSN Programs:
Lamar University
4400 Martin Luther King Boulevard, Beaumont, TX 77710
409-880-8817
Belton, TX MSN Programs:
University of Mary Hardin-Baylor
900 College Street, UMHB Station Box 8015, Belton, TX 76513
254-295-4662
Brownsville, TX MSN Programs:
The University of Texas at Brownsville
One West University Boulevard, Brownsville, TX 78520
956-882-8200
Canyon, TX MSN Programs:
West Texas A&M University
2501 4th Ave, Canyon, TX 79016
806-651-0000
Denton, TX MSN Programs:
Texas Woman's University
304 Administration Drive, Denton, TX 76204
940-898-2000
Edinburg, TX MSN Programs:
The University of TX Pan American
1201 West University Drive, Edinburg, TX 78539
956/665-UTPA
El Paso, TX MSN Programs:
University of Texas at El Paso
500 West University Avenue, El Paso, TX 79968
915-747-5000
Fort Worth, TX MSN Programs:
Texas Wesleyan University
1201 Wesleyan Street, Fort Worth, TX 76105
817-531-4444
Texas Christian University
2800 West Bowie Street, Fort Worth, TX 76109
817-257-7650
Galveston, TX MSN Programs:
The University of Texas Medical Branch
301 University Boulevard, Galveston, TX 77555
409-772-2222
Houston, TX MSN Programs:
University of Texas School of Nursing at Houston
6901 Bertner, Houston, TX 77030
713-500-2100
Laredo, TX MSN Programs:
Texas A&M International University
5201 University Boulevard, Laredo, TX78041-1900
956-326-2001
Lubbock, TX MSN Programs:
Texas Tech University Health Science Centre
3601 4th Street, Lubbock, TX 79430
806-743-2730
Prairie View, TX MSN Programs:
Prairie View A&M University
P.O. Box 519 – Prairie View, TX 77446
936-261-3311
San Antonio, TX MSN Programs:
Angelo State University
2601 West Avenue North, San Angelo, TX 76909
1-800-946-8627
The University of Texas Health Science Center at San Antonio
7703 Floyd Curl Drive, San Antonio, TX 78229
210-567-7000
Wayland Baptist University
11550 IH 35 North, San Antonio, TX 78233
210-826-7595
University of the Incarnate Word
4301 Broadway, San Antonio, Texas 78209
210-829-6000
Tyler, TX MSN Programs:
The University of Texas at Tyler
Braithwaite Building, 3900 University Boulevard, Tyler, TX 75799
903-566-7320
Waco, TX MSN Programs:
Baylor University
Waco, TX 76798
1-800-229-5678
Wichita Falls, TX MSN Programs:
Midwestern State University
3410 Taft Boulevard, Wichita Falls, TX 76308
940-397-4352