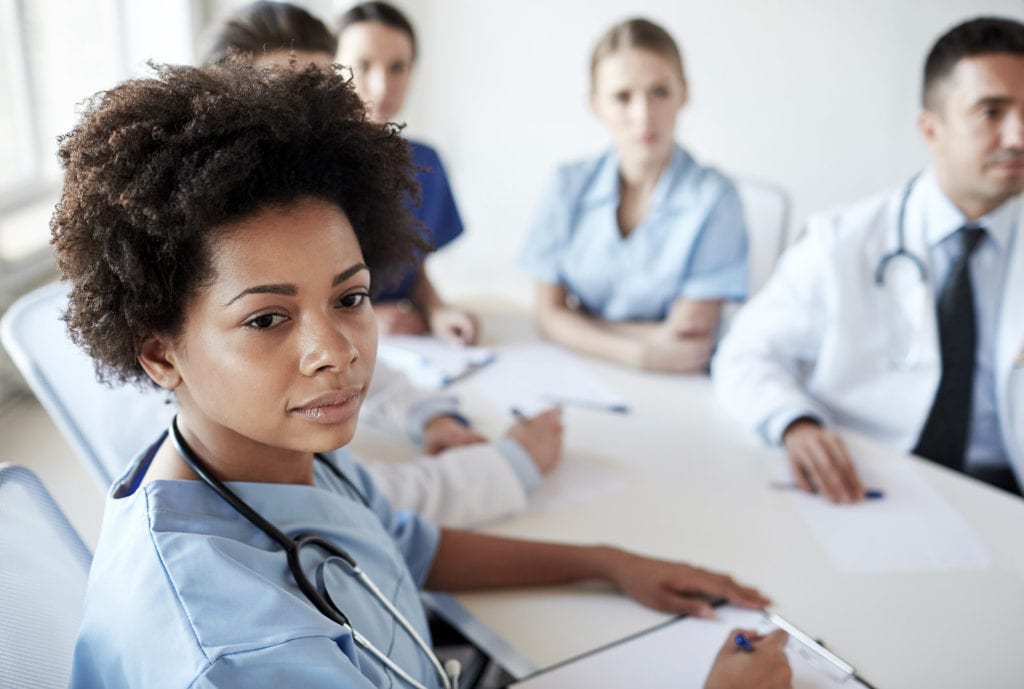 Health care employers and national nursing organizations stress the importance of nurses earning a baccalaureate degree. At the same time, the profession as a whole faces a growing number of pressures, including workforce shortages and quality of care. As the Institute of Medicine seeks to increase the educational level of 80% of nurses to the baccalaureate degree and double the number of nurses with a doctoral degree, the shortage of nurses can only be met with a constant cycle of new nurses injected into the workforce each year. An Associate degree program may be completed in 21 to 24 months and represents the fastest way to enter nursing. However, graduate RNs must see the degree for what it is: a first step on the ladder of their nursing career.
Advanced nursing education, whether it is a baccalaureate degree or doctorate, offers many benefits, including the ability to find the best jobs or become an advanced practice nurse. In the fast-paced health care environment, where nurses play a critical role, a baccalaureate degree not only opens the doors to meaningful positions but also ensures professional longevity.
RN-to-BSN programs are mostly delivered online, removing the major obstacles of time and flexibility that nurses need to balance work and study. Wisconsin RNs have the option to study from home and travel to a nearby host to complete the clinical requirements. Online programs are especially attractive to nurses serving in rural communities who do not have access to local universities.
ADN-prepared nurses can acquire positions in organizations that offer tuition reimbursement and other incentives for returning to school. This removes the obstacle of finances, which many nurses face in their pursuit of advanced education. The prospect of tuition reimbursement or tuition paid upfront shows the importance of researching potential employers. Flexible working schedules, paid sabbaticals to facilitate study, pay differentials, and promotions are just a few other incentives that make returning to school worthwhile.
Benefits of Progressing to a BSN Degree
For a working registered nurse, returning to school may be a life-changing decision. While it is important to weigh the positives against the negatives, it is difficult to overlook employers' demand for BSN nurses, which takes the decision-making out of the hands of most nurses. Employers' hiring practices arise from mounting pressure from national organizations and policy-makers who want nurses to have at least a BSN to practice. The ADN serves its purpose in providing an entry into nursing, but it is only the beginning of a longer journey. The Institute of Medicine and other national organizations are calling for a more educated workforce as studies reveal a link between education and a decrease in patient mortality rates. BSN nurses are better prepared to meet the complex patient needs that the healthcare system faces today.
Most RNs do not believe that returning to school will change their practice. However, several studies indicate that a baccalaureate degree will raise a nurse's potential and change provide a broader perspective of a nurse's role. RNs are generally skilled and knowledgeable professionals, even without a baccalaureate degree, but going back to school will prepare them to become better patient advocates and agents of change. Patient care improves as BSNs develop the confidence in their leadership to implement solutions in practice.
The American Nurses Association backed their support for better-educated nurses by developing the Magnet Recognition Program to promote excellence in patient care in hospitals. To earn the coveted Magnet status, hospitals must have a greater percentage of BSN nurses than nurses with an associate's degree. The quest for Magnet Recognition is a prime contributor to the change in hiring practices in hospitals. Nurses with a BSN are more likely to fill vacant positions, relegating ADNs to positions in long-term care facilities, clinics, and other medical settings.
If you are keen to advance your education with a graduate degree, a BSN may be your first step. Nurses with advanced preparation are in demand. Many of them enjoy fulfilling careers as leaders in nursing specialties, administration, education, or research. In Wisconsin, as in other parts of the nation, there's a huge demand for nursing professors, which are in short supply. The plans to alleviate the shortage of nurses can only be met if there's sufficient faculty to prepare the future generation of RNs.
BSNs not only enjoy a competitive advantage in the job market but are also able to command better salaries with their advanced knowledge and training. Initially, ADNs and BSNs may earn similar salaries at the entry-level. However, BSNs eventually take on a wider scope of practice and may be rewarded with compensation to match the greater responsibility. RNs who enroll in BSN completion programs may be rewarded a pay differential upon completion of the program.
Decision makers are all for producing a more educated nursing workforce as they realize it will positively impact patient care. In Wisconsin, approximately 55% of RNs are prepared with an associate's degree. Only 35% of those graduates return to school to pursue a BSN degree. However, changes in the industry, including employer demands, will drive enrollment in BSN completion programs. Further efforts to remove barriers to education and increasing incentives will make it easier for students to seamlessly continue their nursing education to the BSN degree and beyond.
Requirements for Enrollment in an RN to BSN Program
The bachelor's degree completion program lets RNs can earn their BSN in preparation for graduate study or to improve their job prospects. Primarily offered online, RN-BSN programs are flexible, allowing nurses to complete the requirements at their own pace. The BSN@Home program is one such program that is offered cooperatively by campuses within the University of Wisconsin System. Designed for nurses with an associate's degree, the curriculum covers upper-level nursing and general education courses for students to meet the requirements of a BSN degree.
The duration of the program will depend on the number of credits the student takes each semester. Students can work out a plan with a program counselor to arrive at the best schedule for balancing work and studies while completing the requirements in the shortest possible time to reap the benefits from an advanced education.
Online classes remove the barrier of scheduling and makes learning accessible to nurses in rural areas. However, the program requires discipline. Students must log in daily to check updates, complete assignments on time, study the reading materials, and make time for group projects.
Eligibility requirements:
A registered nurse with an associate degree in nursing from an accredited program. A graduate from a three-year nursing program may also qualify for admission.
A minimum GPA of 2.5 to 3.0 – varies by program.
Meets the requirements for admission to the university.
An active license to practice.
Transcript of all college-level courses.
Current CPR for Health Care Providers card.
Professional and academic references
Specific requirements will be available on the university's website. Information sessions may also be available where the program expectations and requirements for entry will be outlined in detail.
The BSN-Linc online RN-BSN program costs $415 per credit for schools within the University of Wisconsin System. A processing fee of $10 applies for each class. A one-time application fee, graduation fee, and background check fee will also apply.
Wisconsin RN to BSN Programs
Eau Claire, WI RN-BSN Programs:
University of WI Eau Claire
Nursing 101, Eau Claire, WI 54702-4004
715-836-5287
Fond du Lac, WI RN-BSN Programs:
Marian University
45 South National Avenue, Fond du Lac, WI 54935
1-800-262-7426
Glendale, WI RN-BSN Programs:
Columbia College of Nursing
4425 North Port Washington Road, Glendale, WI 53212
414-326-2330
La Crosse, WI RN-BSN Programs:
Viterbo University
900 Viterbo Dr, La Crosse, WI 54601
608-796-3000
Manitowoc, WI RN-BSN Programs:
Silver Lake College of the Holy Family
2406 South Alverno Road, Manitowoc, WI 54220-9319
920-686-6175
Mequon, WI RN-BSN Programs:
Concordia University Wisconsin
12800 North Lake Shore Drive, Mequon, WI 53097-2418
262-243-5700
Milwaukee, WI RN-BSN Programs:
Cardinal Stritch University
6801 North Yates Road, Milwaukee, WI 53217
800-347-8822
Milwaukee School of Engineering
1025 North Broadway, Milwaukee, WI 53202-3109
800-332-6763
University of WI Milwaukee
P.O. Box 413, Milwaukee, WI 53201
414-229-2222
Oshkosh, WI RN-BSN Programs:
University of WI Oshkosh
College of Nursing, 800 Algoma Boulevard, Oshkosh, WI 54901 8660
920-424-1234