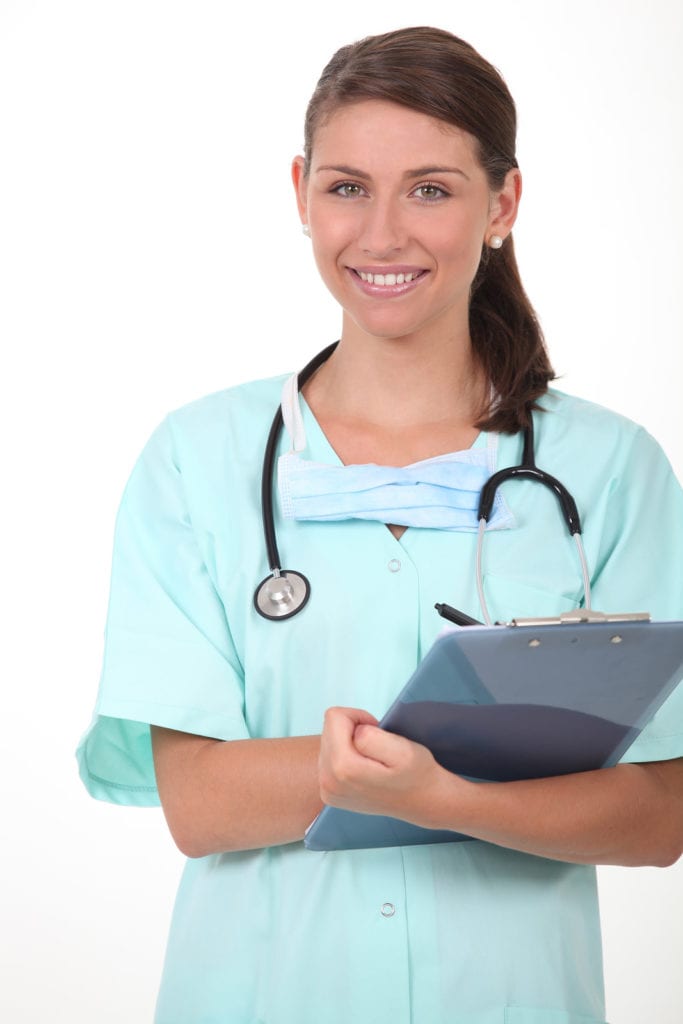 According to the IOM's report on the Future of Nursing, "nurses should achieve higher levels of education and training." One recommendation is to make the path to continued education as seamless as possible. Nursing is different from other professions in that it has several educational paths to entry-level licensure to practice. Hospital-based programs still have a place in Indiana, but the primary pathway to licensure is the associate's degree and the baccalaureate degree. While academics and professionals continue to debate the minimum education that nurses should have, the IOM clearly states that they need higher levels of education to meet the new models of care.
In a detailed report, the IOM cites a number of reasons for better-educated nurses. In the report, the Institute recommends the baccalaureate degree as the minimum for entry-level practice and the DNP for advanced practice. In the past, a nurse's primary duties did not extend beyond bedside care. However, nurses today need to have a sound knowledge of research, evidence-based practice, geriatrics, public health, and health policy. They are often called upon to make life-saving decisions in the care of patients who are sicker and frailer than years ago. As the primary providers of care, nurses care for patients with chronic illness, helping them in the management and prevention of disease. As part of the multi-disciplinary care team, nurses collaborate with other professionals to improve positive patient outcomes.
Efforts to increase the percentage of nurses that hold a BSN degree to 80 percent by the year 2020 have resulted in an increase in RN-to-BSN (BSN completion) programs. Nurses who completed the associate's degree for faster entry into practice can enroll in the program to seamlessly upgrade their education and offer a better level of care. Graduates will earn the right to conduct more complex responsibilities in direct care and to supervise other nursing professionals. In Indiana, approximately 38.6% of nurses held a BSN degree in 2015.
Benefits of Progressing to a BSN Degree
The associate's degree in nursing isn't enough for nurses to face the challenges of a complex healthcare system head-on. It provides a great start for entry-level practice, but there are several reasons why you should consider getting a BSN degree in the shortest possible time.
The shortage of nurses comes and goes. Right now, Indiana is experiencing an overwhelming shortage of competent direct care providers so it's possible for nurse graduates to confirm employment well before graduation. The scramble for trained and competent providers does not lessen the value of the BSN in employers' estimation. The BSN degree will open doors, so the process will be easier and more rewarding if you're looking to change jobs. It will also open doors in areas that are not accessible to associate degree nurses. A BSN degree, at minimum, is necessary for specialty positions or management roles. For hospital administrators, the BSN might be mandatory for entry-level employment. The practice of hiring only BSNs, even for bedside care positions, is becoming increasingly common for hospitals and other healthcare facilities. You'll need to upgrade your degree to get your foot in the door.
Like anyone other profession, nurses must begin at the entry-level and work their way up. The hierarchy is vital to locate nurses according to their training, education, and experience. If you're eyeing that position in management or some higher-level staff position, you must evaluate your education. Enrolling in an RN to BSN program to earn the BSN is an essential step to career advancement. As a nurse manager, you'll have the authority to positively impact the future of nursing through the recruiting, retaining, and directing other nurses and using your voice to address the issues that impact the profession. Advocacy is also critical to patient satisfaction and wellness. The BSN degree will help you to develop the skills to use critical thinking and collaborate with others for the best interest of the patient.
Nurses have an intrinsic desire to help patients recover. They want to use all their training and experience to improve health and wellness. The associate's degree nurse can do much for patients but there are limitations set by the level of training. Several independent studies reveal that nurses who hold a BSN degree have lower instances of mortality rates and failure-to-rescue rates and better proficiency at diagnosing and initiating nursing interventions. The impressive results confirm the results of higher education in nursing – it gives nurses the tools to be proficient at their jobs, which will promote better patient outcomes and save lives.
A comparison of the median salaries for associate degree and baccalaureate degree RNs indicate that BSNs are better paid. Out of college, only 10% of BSNs outpace ADN prepared nurses in terms of salary. But with time and experience, BSNs fall into nurse manager positions, assume specialty positions, and take on more responsibilities to earn an increase in salary. If your salary is not meeting your expectations of nursing, the solution may be found in returning to school instead of searching for another job. After you complete the program, you could use your skills to negotiate a salary bump from your employer.
As more and more hospitals go after the American Nurses Credentialing Center's (ANCC) Magnet Recognition, there will be a major shift in the volume of ADN-prepared nurses in the hospital system. In many states where the shortage of nurses is not as dire as Indiana, nurses prepared at the associate's level are facing challenges to secure employment in hospitals. Many have resorted to long-term care facilities where the pay is lower. Hospitals seeking Magnet Recognition have to bump the percentage of nurses holding a BSN degree, especially those functioning as nurse managers. If your desire is to work in the fast-paced environment of a hospital, you must consider the BSN degree.
Very soon, the decision to complete the BSN degree may be out of your hands. If you're sitting on the fence because you're comfortable with your current salary and position, you might still wind up in school if state legislation mandates it. Top hospitals and nurses have already made tough decisions in their hiring practices and the effect will trickle down to other healthcare employers. Moreover, the push to improve the nursing workforce may soon affect the licensure process and requirements for continued practice. The volume of nurses who hold a BSN has been increasing steadily over the last decade. As the BSN becomes the majority, it will affect the movements and longevity of ADN-prepared nurses in the marketplace. Don't wait to have the decision taken out of yours. Enroll in the RN-BSN to stay ahead of the curve.
Confidence in care is as essential as your training. The BSN instills leadership, communication, critical thinking, and confidence is a direct response of acquiring these skills. It will prepare you to meet front-line challenges and consumer expectations to produce the best possible patient outcomes. Your commitment to lifelong learning will reap lasting rewards. Through the flexible RN-to-BSN program, you will have the opportunity to continue your studies on your terms.
Requirements for Enrollment in an RN to BSN Program
The online RN-to-BSN responds to the continuing education needs of practicing registered nurses. It offers registered nurses an alternative path to the BSN degree where they can complete the additional credits without repetition of courses. The program flows seamless from the associate's degree in nursing, so students are able to complete the additional 35 to 40 credits at a pace that suits their needs.
The program will cover key topics to enhance the skills of registered nurse students. Examples of topics covered include the transition to professional nursing practice, community health nursing, comprehensive health assessment, reflective nursing practice, professional nursing synthesis, nursing leadership, and healthcare informatics. The goal is to prepare graduates for the provision of indirect and direct nursing care, to become effective communicators, educators, and advocators, and to assume leadership roles.
Admission criteria include:
An associate of science degree in nursing from an accredited program.
A current license to practice as registered nurse
A cumulative GPA of 2.5 or above – or a GPA determined by the school.
A minimum grade C on the prerequisite courses.
An official transcript of all college-level courses.
Other requirements might include insurance, CPR certification, good physical health, good moral character, and professional references.
The average cost of tuition at public universities, such as Indiana State University, is $396 per credit hour for online courses. The rate applies to Indiana residents only. You must budget for additional expenses related to the program of study. These will include books, instructional materials, clinical fee, and assessment fees.
Indiana RN to BSN Programs:
Bloomington, IN RN-BSN programs:
Indiana University Bloomington
107 South Indiana Avenue, Bloomington, IN 47405-7000
812- 855-4848
Evansville, IN RN-BSN programs:
University of Evansville
1800 Lincoln Avenue, Evansville, IN 47722
800-423-8633
University of Southern Indiana
8600 University Boulevard, Evansville, IN 47712
812-464-8600
Fort Wayne, IN RN-BSN programs:
University of Saint Francis
2701 Spring Street, Fort Wayne, IN 46808
800-729-4732
Goshen, IN RN-BSN programs:
Goshen College
1700 South Main Street, Goshen, IN 46526
574-535-7000
Hammond, IN RN-BSN programs:
Purdue University Calumet
2200 169th Street, Hammond, IN 46323
219-989-2400
Huntington, IN RN-BSN programs:
University Huntington University
2303 College Avenue, Huntington, IN 46750
260-356-6000
Indianapolis, IN RN-BSN programs:
Harrison College
6300 Technology Center Dr, Indianapolis, IN 46278
317-873-6500
University of Indianapolis
1400 East Hanna Avenue, Indianapolis, IN 46227
317-788-3368
Western Governors University
10 West Market Street, Suite 1020, Indianapolis, IN 46204
1-877-435-7948
Indiana University- Purdue University Indianapolis
420 University Boulevard, Indianapolis, IN 46202
317-274-5555
Kokomo, IN RN-BSN programs:
Indiana University Kokomo
2300 South Washington Street, Kokomo, IN 46904-9003
765-453-2000
Mishawaka, IN RN-BSN programs:
Bethel College
1001 Bethel Circle, Mishawaka, IN 46545
800-422-4101
Muncie, IN RN-BSN programs:
Ball State University
2000 West University Avenue, Muncie, IN 47306
765-289-1241
Notre Dame, IN RN-BSN programs:
Saint Mary's College
149 Le Mans Hall, Notre Dame, IN 46556
574-284-4000
Terre Haute, IN RN-BSN programs:
Indiana State University
200 North Seventh Street, Terre Haute, IN 47809-1902
800-468-6478
Valparaiso, IN RN-BSN programs:
Valparaiso University
LeBien Hall 103, Valparaiso, IN 46383
219-464-5289
Vincennes, IN RN-BSN programs:
Vincennes University
1002 N 1st St, Vincennes, IN 47591
800-742-9198