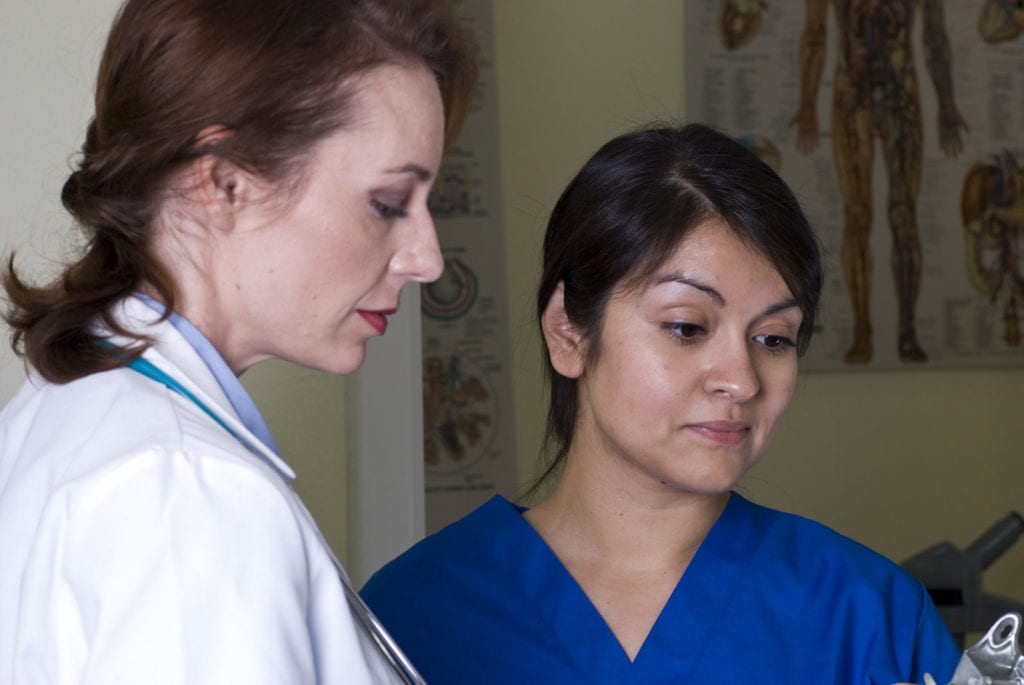 While the Bureau of Labor Statistics projects that employment for nurses will grow 15 percent by 2026, there's also the suggestion that registered nurses with more education and greater competencies will have the best job prospects. One of the best ways to improve your practice, boost your marketability, and advance your career is to pursue the Bachelor of Science in Nursing through the bridge RN to BSN program.
Entry-level credentials won't take you far in the competitive field of nursing. The associate degree or diploma in nursing won't elevate your status nor help you to move forward in your career. Through the BSN, you'll widen your knowledge base, broaden your clinical skill set, and enhance your critical reasoning. The emphasis on leadership will help you to function efficiently under pressure and drive you towards continued development to succeed in the profession. Professionalism, confidentiality, and interpersonal relations are also key areas of study that boost the nurse-patient relationship.
The BSN program is an entry-level program for some nurses who chose this option as the pre-licensure program of choice. For RNs prepared at the level of the associate's degree, it gives an opportunity to improve critical thinking, professionalism, and leadership competencies that will serve well in making informed decisions surrounding patient safety and outcomes. The BSN is the degree preferred by nurse leaders, so graduates have the best opportunities in the job market. It is also essential for entry into the Master of Science in Nursing (MSN) to prepare for specialized roles. With the nationwide initiative to increase the BSN workforce to 80% by 2020, it is vital that you take a step towards the BSN to ensure your longevity and success in the profession.
If you entered nursing through the pre-licensure ADN program, you could obtain the BSN through the RN-to-BSN online program. Your career path after completing this step will depend on your motivation and level of commitment to the profession. Consider your goals and motivations. If you see specialized care in your future, the BSN will provide a strong foundation for your graduate or post-graduate studies.
Benefits of Progressing to a BSN Degree
The trend of hiring more registered nurses with a bachelor of science degree in nursing have convinced a large segment of the nursing workforce to return to school in pursuit of the BSN. In doing so, they've not only improved their career prospects but also gained a wider perspective of the practice of nursing that served to improve their practice. Consider some other benefits of the BSN degree in the practice of nursing.
The associate degree in nursing has a critical role in preparing adults for entry-level. The estimated completion time is two years, which supports the industry's goal of preparing more nurses for the workforce. The contributions of ADN-prepared nurses cannot be underrated – without their practice, the healthcare system will fall far short of meeting the public demands. While the training includes intensive clinical preparation, graduates do not have the leadership skills to assume management positions and are less equipped to work in public health and other healthcare settings as the BSN graduate.
The complexities in the delivery of healthcare call for nurses to exhibit resourcefulness, taking charge of situations – sometimes without intervention from other medical professionals. Their optimism, support, skills, and counsel help improve patient outcomes and give patients some confidence in their transition from the hospital to their homes. The expanded role of nurses improves access to health care, especially with limited numbers of physicians and other health care professionals. Nurses make up the majority of a health care workforce, so expanding their role helps fill the rising needs of the aging population. The BSN prepares the nurse to manage high-risk patients, lead teams in the communities, and emphasize disease prevention and health promotion. As the focus shifts to care in the community, the additional training in the BSN program supports the development of key competencies required to treat patients on the outside to reduce hospital admissions and readmissions. Through counseling and other support services, nurses lower the need for healthcare services and empower families to manage specific diseases.
Patient outcomes depend heavily on the work of nurses. Since patient outcomes influence patient satisfaction, a major goal is to boost outcomes and ultimately improve patients' satisfaction with the services received. While ensuring the patient's experience is positive has always been a goal of the health care industry, it has become increasingly critical, as it is a factor in Medicaid and Medicare reimbursement. The influence of nurses weighs heavily on the outcome since patients' interactions are primarily with the nursing workforce. Nurse engagement is emphasized in the BSN program to awake nurses to their responsibilities, not only in patients' comfort, care, and recovery, but also the necessity of engagement since it directly impacts the former outcomes. The digital world empowers consumers to share their experiences – both good and bad. Patients who are not happy with the level of care provided will voice their opinions and take their business elsewhere. Positive experiences boost credibility and income and sustain a provider's longevity in the healthcare sector.
A major contributor to the expansion of the BSN workforce comes from the Future of Nursing report published by the Institute of Medicine in 2010. In the report, the IOM emphasized the need for better-educated nurses going so far as to suggest that 80 percent of the workforce hold a BSN by 2020. Meeting this goal will improve health care delivery and boost patient outcomes and experiences.
Responding in part to the industry's trend, Magnet hospitals are hiring more BSN nurses who are capable of improving patient outcomes and filling nurse manager positions when they are available. Magnet status is designated to hospitals that have demonstrated a commitment to patient outcomes, patient safety, and patient satisfaction, and other standards. The BSN improves the chances of getting hired in Magnet hospitals. Nursing teams not only have the highest standards in health care delivered but are inspired to do so as they collaborate with the best talent in the industry and practice in an environment where the emphasis is on quality. In support of existing staff, Magnet hospitals may offer incentives for nurses to return to school. These incentives include tuition reimbursement, career advancement opportunities, and higher pay rates. Those seeking nurse manager roles must have a BSN at a minimum.
A natural tendency to care for others combined with a compassionate nature and a knack for the science of nursing are all great characteristics for a career in nursing. However, the best nurses must know how to think critically. Critical thinking includes the identification of a problem, determining solutions, and choosing the best way to respond to that particular challenge. But it doesn't stop there. A critical thinker will evaluate the method used to determine if there could have been a better response. When nurses think critically, the healthcare system and patients benefit and nurses succeed. Rational decision-making is essential for nurses as every decision directly impacts patient outcomes. Some decisions involve life or death, so nurses must demonstrate an analytical mindset to apply all they've learned. The BSN program builds critical thinking in the nursing process through the application of assessment, diagnosis, planning, implementation, and evaluation. As students recognize multiple solutions to problems, they learn to select the most effective one that will provide the most benefit to the patient. Technological advancements have replaced much in health care delivery, but they cannot take the place of a nurse who thinks critically. They cannot make astute observations to anticipate changes in a patient's condition nor compassionately meet their needs. With the help of the BSN program, graduates will be well on their way to strengthen their critical thinking skills until it becomes natural to do so with both simple and complex problems.
As a registered nurse, you've probably seen that the ADN will only take you so far in nursing. The emphasis on critical thinking, professional development, community health, and communication in the BSN program prepare students for careers in hospitals, community health, and long-term care. BSN graduates have the best opportunities in the job market. They're also considered to supervisory roles with greater responsibilities and higher salaries than nurses holding the associate's degree. Recent figures from the American Association of College of Nursing revealed that 39 percent of hospital employers their staff to hold a BSN. In actuality, more than 77 percent of these facilities indicated a strong preference for BSN nurses as they help improve patient outcomes and stay on top of the latest innovations to improve their practice.
Through continuing education, nurses acquire new knowledge and broaden their competencies that will help patients and aid their success in the profession as they are afforded more opportunities in care. Through the online RN to BSN program, registered nurses can continue their education without sacrificing their careers. Online delivery of the content lets nurses study at their own pace and fit their educational goals seamlessly into their work schedules.
Requirements for Enrollment in an RN to BSN Program
Through the RN to BSN program, registered nurses have a unique opportunity to improve on their basic nursing education, enhance their leadership potential, widen their perspective of nursing practice, and prepare for graduate study. Through the transfer of applicable credits, nurses can complete the BSN in just four semesters. An administrator will evaluate your credits to determine eligibility for transfer.
The coursework is delivered online. The required precepted hours will be scheduled in your local area. Through the delivery of the coursework online, nurses have the opportunity to study in a way that best fits their work schedule.
Admission criteria:
Meet the general admission requirements as a degree-seeking student
Provide documentation of completing an Associate Degree or Diploma in Nursing from an accredited program
Have current licensure to practice as a registered nurse
Complete the prerequisite courses with a grade C or better
Have a GPA of 2.5 or better
Complete the general education requirements with satisfactory scores
Complete a criminal background check and drug screen
The average cost of tuition for resident students enrolled at a public university in North Carolina is $3,594 per semester. Nursing students can expect to incur additional costs for clinical/lab fees, liability insurance, CPR certification, physical exam, drug testing, and books and supplies.
North Carolina RN to BSN Programs:
Asheville, NC RN-BSN programs:
South College – Asheville
140 Sweeten Creek Road, Asheville, NC 28803
1-828-398-2500
Boiling Springs, NC RN-BSN programs:
Gardner-Webb University
110 South Main Street, P.O. Box 997, Boiling Springs, NC 28017
704-406-4000
Boone, NC RN-BSN programs:
Appalachian State University
Suite 318, ASU Box 32151, Boone, NC 28608
828-262-7460
Charlotte, NC RN-BSN programs:
Pfeiffer University
4701 Park Road, Charlotte, NC 28209
844-842-4134
The University of North Carolina at Charlotte
9201 University City Boulevard, Charlotte, NC 28223-0001
704-687-8622
Queens University of Charlotte
2025 Selwyn Avenue, Charlotte, NC28274
704-337-2314
Cullowhee, NC RN-BSN programs:
Western Carolina University
1 University Way, Cullowhee, NC 28723
828-227-721
Durham, NC RN-BSN programs:
North Carolina Central University
1801 Fayetteville Street, Durham, NC 27707
919-530-6180
Fayetteville, NC RN-BSN programs:
Fayetteville Technical Community College
PO Box 35236, 2201 Hull Road, Fayetteville, NC 28303
910-678-8433
Methodist University
5400 Ramsey Street, Fayetteville, NC 28311
910-630-7000
Greenville, NC RN-BSN programs:
East Carolina University
600 Moye Boulevard, Greenville, NC 27858-4353
252-744-6372
Hickory, NC RN-BSN programs:
Lenoir-Rhyne University
625 7th Avenue Northeast, Hickory, NC 28601
828-328-7300
Pembroke, NC RN-BSN programs:
The University of North Carolina at Pembroke
PO Box 1510 Pembroke, NC 28372-1510
910-521-6000
Wilmington, NC RN-BSN programs:
The University of North Carolina at Wilmington
601 South, College Road, Wilmington, NC 28403
910-962-3000
Wilson, NC RN-BSN programs:
Barton College
P.O. Box 5000, Wilson, NC 27893
800-345-4973
Winston-Salem, NC RN-BSN programs:
Winston-Salem State University
601 South Martin Luther King Jr. Drive, Winston-Salem, NC 27110
336-750-2000