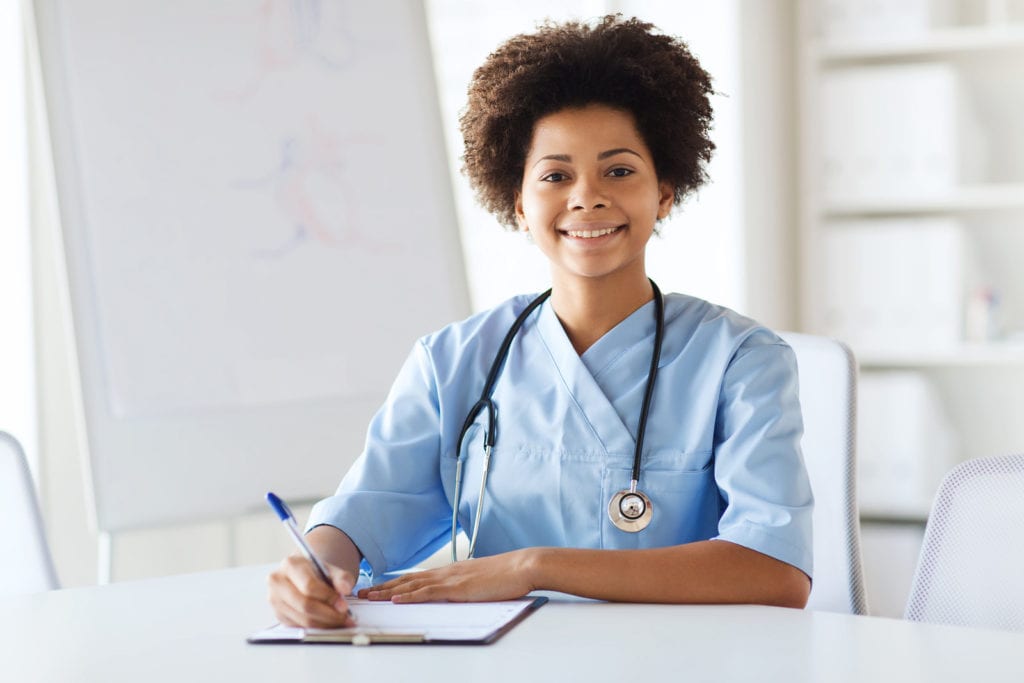 Recent statistics coming out from the Texas Center for Nursing Workforce Studies reveal that the supply ratio of RNs in Texas lags behind that of other states and the national supply ratio. Even with a shortage of registered nurses, employers are unwilling to draw from a pool of available associate-degree graduates. Seeking every opportunity to promote patient safety, many hospitals are beginning to hire only BSN RNs, leaving the ADNs and LVNs with no choice but to seek employment in home health, hospice, and other community settings. The preference for BSN RNs arises from the perception that the ADN workforce is not adequately prepared to meet the healthcare challenges in non-traditional settings.
RNs enter the workforce through education at different levels: the diploma (10.8%), the associate's degree (49%) and the bachelor's degree (39.6%). After entering the workforce, 17.7% of RNs, whose basic degree was an associate's degree, go on to earn a bachelor's degree. State bodies and administrators are employing strategies to encourage ADN RNs to go back to school. At the college level, faculty emphasize that the associate's degree is not the end point and encourage students to continue their education. Some colleges in Texas took measures to phase out the associate nursing programs to adopt the four-year baccalaureate program. Recognizing the volume of ADN RNs in the state, colleges like Alvin Community College develop partnerships with local universities for graduates to transition seamlessly into a bachelor's program. By offering evening schedules and hybrid classes along with all-day formats, nursing schools make it easier than ever for working RNs to get additional training and increase their demand and earning potential.
Employers are also doing their part to encourage nurses on the path to enhanced leadership, research, and critical thinking skills. Tuition reimbursement, RN scholarship programs, and loan repayment programs are just a few incentives employers use to help nurses on the path to higher education.
The job outlook for RNs in Texas is very good. But the real benefits of nursing, including the opportunity to lead out in patient care in community settings, experience growth, and increase earning potential are available for nurses with a BSN and above.
Benefits of Progressing to a BSN Degree
RNs, who already earn a decent living, have long debated the necessity of going into debt to earn a Bachelors of Science in Nursing. Both ADN and BSN RNs serve on the frontlines of healthcare, caring for patients and promoting health and wellness. They also work at the same level and earn similar salaries, so what's the point? In today's complex healthcare environment, a BSN is more of a necessity than an option, especially for nurses who plan to remain relevant in the fast-evolving landscape of health care.
RNs, who continue their education, receive the preparation needed to work in a variety of health care settings. The additional training geared to develop their clinical skills, communication, management skills, leadership, and critical thinking prepares them for a supervisory role. BSN graduates are the nurse case managers and team leaders of tomorrow.
One benefit of the BSN will hit you where you need it most. The immediate bump in your paycheck will make the effort one you won't regret. ADN RNs in Texas earn an average of $66,570 depending on position. After completing the requirements for a BSN degree and accepting a supervisory position, an RN can earn as much as $78,580 with a BSN degree. Furthermore, with a foundation for graduate study that the BSN provides, you can go back to school and earn a masters or doctorate degree to become a clinical nurse specialist, nurse midwife, nurse practitioner, or nurse anesthetist and earn even more.
Hundreds of hospitals around the country require BSNs from their nurses, and Texas employers are no exception. The Consortium for Advancing Baccalaureate Nursing Education in Texas (CABNET) is actively working with colleges and universities to implement the IOM's recommendation to increase the percentage of BSN RNs. When nurses advance their education, patient outcomes will improve, and nurses will be prepared to fill the shortage of faculty at universities and primary care providers in community medical centers. Hospitals are eager to hire nurses with a BSN to receive Magnet Recognition from the American Nurses Credentialing Center. Employer hiring trends alone should provide a solid reason to get your BSN.
To show their support and gently nudge nurses in the direction of the BSN, many hospitals are paying staff to work towards the degree. Tuition reimbursement, stipends, paid leave, and flexible hours are just some incentives available for employed nurses. RN to BSN programs are almost completely online, giving students the flexibility to set their own pace as they work toward the degree with balancing work and family commitments. The online program at Texas Tech University and the University of Texas-Arlington are just a few of many flexible online programs you can investigate.
A BSN will prepare you for what's ahead. As the industry seeks to emphasize primary and preventative care, the role of nurses will expand like never before. Demands for advanced practice nurses exceed supply as these professionals help to fill the shortage of primary care providers in medically underserved areas. You can use your BSN degree as a stepping stone to a graduate degree to fill the demand for advanced practice experts. Whatever your specialty, you can be certain there will be a demand, and the BSN will provide the foundation for all future study.
Requirements for Enrollment in an RN to BSN Program
The post-licensure RN to BSN program is a BSN degree completion program for registered nurses who hold a current license and have a diploma or associate degree in nursing. The curriculum builds upon the nurse's education and experience as a practicing nurse and covers a deeper study of nursing research, social sciences, humanities, nursing leadership, and community health than the former education provided. The program will increase your understanding of the cultural, social, and economic issues that influence patient care.
When choosing a school, make sure the program is approved by the Texas Board of Nursing and accredited by the Accreditation Commission for Education in Nursing (ACEN) or the Commission on Collegiate Nursing Education (CCNE).
Accreditation is vital if you want to earn employers' respect, apply for federal loans to fund your education, and pursue graduate study. The RN to BSN program requires students to have a current RN license and a diploma or associate's degree in nursing.
Admission requirements for the online degree are stringent but are necessary to maximize your chances of success as a professional nurse:
As an RN to BSN applicant, you must:
Have a GPA of 2.5 or above on undergraduate coursework.
Submit official transcripts of all your college coursework.
Submit letters of recommendation (2 or 3) from academic or professional sources.
Hold a current, unencumbered Texas RN license.
Have an associate's degree or diploma from a regionally accredited school.
Submit a completed application and application fee to the school of nursing.
The number of transferable credits will depend on the school's administration. If you transfer in the general education requirements, you can complete an accelerated RN to BSN program in as little as one year.
The estimated cost of completion for Texas residents is $15,821 including tuition, books, fees, transport, and miscellaneous expenses.
Texas RN to BSN Programs:
Abilene, TX RN-BSN Programs:
Patty Hanks Shelton School of Nursing
2149 Hickory Street, Abilene, TX 79601
325-671-2399
Austin, TX RN-BSN Programs:
National American University
13801 Burnet Rd, Austin TX, 78727
512-651-4728
The University of Texas at Austin
1710 Red River Street, Austin, TX78701
512-471-7913
Western Governors University
221 West 6th Street, Austin TX 78701
801-428-5304
Beaumont, TX RN-BSN Programs:
Lamar University
4400 Martin Luther King Boulevard, Beaumont, TX 77710
409-880-8817
Belton, TX RN-BSN Programs:
University of Mary Hardin- Baylor
900 College Street, UMHB Station Box 8015, Belton, TX 76513
254-295-4662
Brownsville, TX RN-BSN Programs:
The University of Texas at Brownsville
One West University Boulevard, Brownsville, TX 78520
956-882-8200
Bryan, TX RN-BSN Programs:
Texas A&M Health Sciences Centre
8447 State Highway 47, Bryan, TX 77807-3260
979-436-0110
Canyon, TX RN-BSN Programs:
West Texas A&M University
Canyon, TX 79016
806-651-0000
Corpus Christi, TX RN-BSN Programs:
Texas A&M University- Corpus Christi
6300 Ocean Drive, Corpus Christi, TX 78412
361-825-5700
Denton, TX RN-BSN Programs:
Texas Woman's University
304 Administration Drive, P.O. Box 425589, Denton, TX 76204
940-898-2000
Edinburg, TX RN-BSN Programs:
The University of TX Pan American
1201 West University Drive, Edinburg, TX 78539-2999
956/665-UTPA
Galveston, TX RN-BSN Programs:
The University of Texas Medical Branch
301 University Boulevard, Galveston, TX 77555-0144
409-772-2222
Houston, TX RN-BSN Programs:
University of Texas School of Nursing at Houston
6901 Bertner, Houston, TX 77030
713-500-2100
Chamberlain College of Nursing
11025 Equity Drive, Houston, TX 77041
713-277-9810
Houston Baptist University
7502 Fondren Road, Houston, TX 77074
281-649-3000
Huntsville, TX RN-BSN Programs:
Sam Houston State University
200 Drain Building, Huntsville TX 77341
936-294-2369
Keene, TX RN-BSN Programs:
Southwestern Adventist University
100 West Hillcrest Street, Keene, TX 76059
800-433-2240
Laredo, TX RN-BSN Programs:
Texas A&M International University
5201 University Boulevard, Laredo, TX78041-1900
956-326-2001
Lubbock, TX RN-BSN Programs:
Texas Tech University Health Science Centre
3601 4th Street, Lubbock, TX 79430
806-743-2730
Nacogdoches, TX RN-BSN Programs:
Stephen F. Austin State University
1936 North Street, Nacogdoches, TX 75962
936-468-3401
Prairie View, TX RN-BSN Programs:
Prairie View A&M University
P.O. Box 519, Prairie View, TX 77446
936-261-3311
Round Rock, TX RN-BSN Programs:
South University
1220 W Louis Henna, Round Rock, TX 78681
512-516-8680
San Angelo, TX RN-BSN Programs:
Angelo State University
2601 West Avenue North, San Angelo, TX 76909
1-800-946-8627
San Antonio, TX RN-BSN Programs:
University of the Incarnate Word
4301 Broadway, San Antonio, Texas 78209
210-829-6000
Wayland Baptist University
11550 IH 35 North, San Antonio, TX 78233
210-826-7595
Stephenville, TX RN-BSN Programs:
Tarleton State University
Box T-0600, Stephenville, TX 76402
254-968-0636
Tyler, TX RN-BSN Programs:
The University of Texas at Tyler
Braithwaite Building, 3900 University Boulevard, Tyler, TX 75799
903-566-7320
Victoria, TX RN-BSN Programs:
University of Houston – Victoria
3007 North, Ben Wilson, Victoria, TX 77901
361-570-4848
Wichita Falls, TX RN-BSN Programs:
Midwestern State University
3410 Taft Boulevard, Wichita Falls, TX 76308
940-397-4352