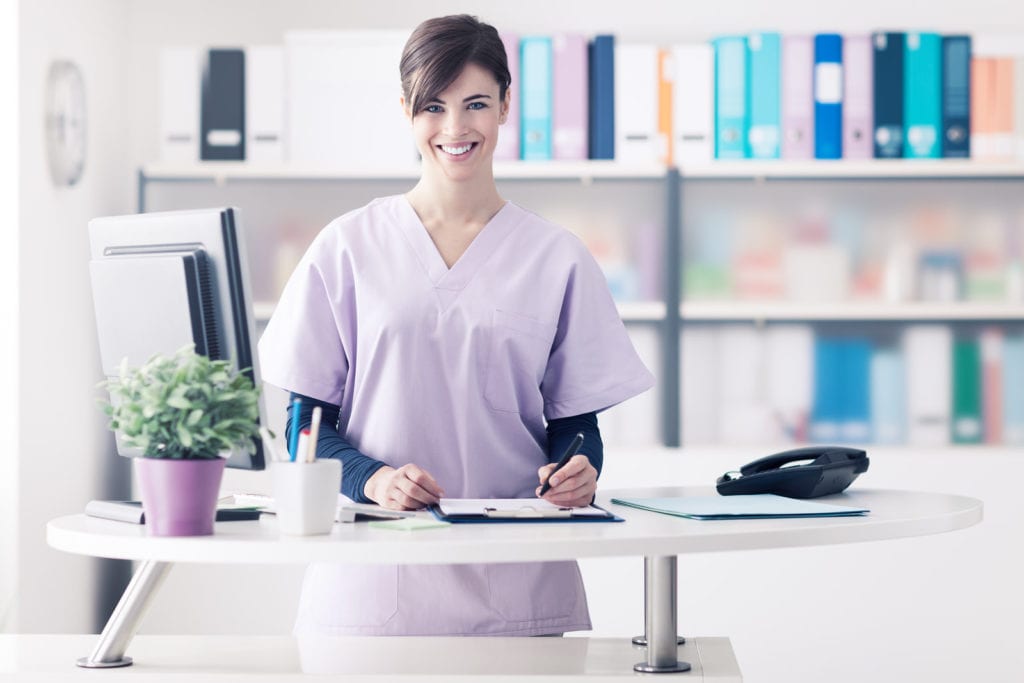 When you decide to become a nurse, you'll have several tough decisions. One of them is the path you'll take to becoming a registered nurse. The Associate Degree in Nursing (ADN) and the Bachelor of Science degree in nursing are the most common paths to entry. Diploma programs offered at teaching hospitals are less common but still available. Graduates of the three pathways must all pass the NCLEX licensing exam to practice as a registered nurse. While employers are likely to show a preference for BSN nurses, they do not differentiate in the titles, responsibilities, and compensation at the entry level.
In 2010, the Institute of Medicine (IOM) made a ground-breaking contribution to the profession in the report, The Future of Nursing: Leading Change, Advancing Health. A key recommendation was to increase the percentage of registered nurses holding a BSN to 80 percent by the year 2020. Almost a decade later, workforce statistics reveal that the IOM's goal is within reach. More nurses are enrolling in pre-licensing BSN programs. Additionally, enrollment in RN to BSN programs has more than doubled in the past decade. These statistics reveal that more nurses and employers recognize the necessity of advanced education for nurses. Hospitals are hiring more BSNs and rarely hire entry-level ADNs. Take this practice into consideration if you desire to practice in the fast-paced hospital setting.
While current trends and hiring practices should lead your decision, there are other factors to weigh in when you're trying to decide on a path to registered nursing. Your finances will obviously be a deciding factor. The BSN program will be two years longer than the associate degree and will cost more. As you assess your finances, consider what it will cost money and time wise to get the BSN later on in your career. Would it impede your momentum if you plan to go all the way to the top? If you desire to work in a hospital, then the BSN will open the door to such a position. The BSN is also essential if you want to pursue graduate or post-graduate study.
A comparison of the curriculum for both programs will reveal greater preparation in the areas of leadership, humanities, research, and communications for BSN students, which makes them well-rounded clinicians capable of working in public health and other settings. It is for this reason many health care organizations will no longer hire nurses with an associate's degree. This trend underscores the impact of the IOM's report on the future of the profession – the BSN is becoming the new entry-level nursing degree. Enrolling in the program will not only give you a competitive edge but also increase your earning potential and career advancement opportunities in a profession with unlimited possibilities.
Following is a list of the various types of BSN programs available in North Dakota.
LPN to BSN: The LPN to BSN program is an excellent opportunity for licensed practical nurses to earn a Bachelor of Science Degree in Nursing. The program meets the needs of LPNs as it gives them the chance to complete a bachelor's degree in just 36 months based on full-time study. They will qualify for advanced placement in the program and could receive up to 20 credits based on an evaluation of their coursework. At the completion of 120 credits, graduates will be eligible to take the NCLEX-RN and use their communication, advanced clinical, and management skills to strengthen their position in the job market.
RN to BSN: Most RN to BSN programs are offered fully online to help registered nurses secure a bachelor's degree without putting their career on hold. The flexible schedule helps nurses obtain the advanced credential required for career advancement and longevity. The curriculum is designed to be completed in three semesters as students receive credit for courses completed in the pre-licensure diploma or associate degree in nursing program. Although the coursework is delivered online, students must be prepared to complete the clinical aspects of the course, which will include practice in various health care environments. The academic and practical experiences are critical to the reinforcement of current skills and the acquisition of new skills and competencies that will produce skilled leaders and critical thinkers. Graduates have the option to enroll in a graduate or post-graduate program to become advanced practice nurses.
Traditional BSN: The mission of the traditional BSN program is to prepare students with no previous experience in nursing to become professional nurses capable of promoting excellence in care. The curriculum will provide the academic foundation and practical learning opportunities to succeed in the complex health care environment. Graduates should be able to demonstrate a commitment to the profession of nursing and the use of legal and ethical principles, lifelong role development, evidence-based practice, and management of information. They will be prepared for success on the NCLEX licensure exam for registered nurses.
Fast-track BSN: The fast-track BSN is an abbreviated program for students who hold a baccalaureate degree in another discipline. Applicants must already have a bachelor's degree in another field of study. The intensive program is designed to be completed in 12 months and contains all the elements for a mature and professional adult to prepare for a career change. Graduates are eligible to take the NCLEX to begin a career as a registered nurse.
BSN graduates can apply for the licensure exam to practice as a registered nurse in North Dakota.
Traditional BSN Programs
The rigorous BSN curriculum includes academic and clinical components to prepare students as generalists who will be capable of working in various medical settings. Graduates are prepared for success on the NCLEX-RN licensure exam and graduate studies in nursing at the masters or doctoral level.
The core nursing courses help students develop the knowledge and professional skills to help patients and clients achieve optimal health. The curriculum incorporates critical thinking, communication, leadership, and decision-making skills with the moral, ethical, and legal principles necessary for the provision of quality care in a healthcare setting.
Nursing courses approximately 65 to 75 credits of the 120 credits required for graduation. Areas of study include fundamentals of nursing, pharmacology, lifespan growth and development, adult health nursing, geriatric nursing, psychiatric nursing, maternity and newborn nursing, medical surgical nursing, community nursing, and evidence-based practice. In addition to classroom sessions, students will participate in hands-on learning opportunities in various acute and long-term care settings. These clinical exercises cover the nurse's role in numerous clinical settings, such as schools, home health, hospitals, long-term care facilities, clinics, and mental health facilities.
Due to the nursing shortage, program graduates will benefit from numerous career opportunities in pediatric and adult ICUs, schools, clinics, hospitals, and community settings. They may also go into research or enroll in graduate programs to prepare for specialty roles in nursing. After successful completion of the NCLEX-RN exam, the nurse will be eligible for licensure in North Dakota provided all the requirements are met.
To be admitted to the department of nursing, students must:
Apply for admission to the college as a degree-seeking student
Submit official transcripts from all post-secondary schools attended
Complete all the prerequisite courses prior to the application deadline
Apply for admission to the School of Nursing
Complete ATI TEAS for nursing exam and submit the scores to the nursing department
Achieve a minimum cumulative GPA of 2.75 on the prerequisite courses
Provide at least three professional or academic references
Attend an entrance interview
Nursing programs have a clinical component that will have specific requirements as determined by the clinical affiliate. These requirements may include but are not limited to criminal history clearance, health exam, immunization report, current CPR certification, TB clearance, and drug screening.
Second Degree BSN
The Second-Degree or Accelerated Bachelor of Science in Nursing program gives students a fast track to a nursing degree. Applicants must hold a bachelor's degree or higher in a non-nursing field.
The program is intensive so may be completed in 15 months. It is typically offered on a full-time schedule. The rapid pace of the program demands a full-time commitment, so part-time or full-time employment is not recommended. Students will gain hands-on experience in a simulated lab before taking up practice in a clinical setting. The clinical practice will provide invaluable exposure to various aspects of nursing, including medical surgical nursing, pediatric nursing, maternal child nursing, community health, and psychiatric nursing as students practice in top-rated medical facilities.
The graduate of the ABSN program is prepared to complete the national licensure exam (NCLEX-RN) to become a registered nurse and practice in all health care settings.
Students interested in enrolling in the program must have a bachelor's degree in a non-nursing field and meet the minimum requirements for admission. Completion of prerequisite courses, CPR certification, criminal background clearance, a health exam, immunization record, and drug screening may be required for participation in the clinical experience.
How Much Do BSN Programs Cost?
The cost of tuition will depend on your residency status, the point of entry, and the total number of credits required for completion. The average cost of tuition for full-time students enrolled at the University of North Dakota is $4,169 plus fees and supplies.
Following is a list of Board-approved BSN programs in North Dakota with the NCLEX-RN pass rates.
North Dakota BSN Programs and NCLEX-RN Pass Rates:
Bismarck, ND BSN programs:
Sanford College
300 North Seventh Street, Bismarck, ND 58501
701-323-6000
NCLEX-RN Pass Rate: 80%
University of Mary
7500 University Drive, Bismarck, ND 58504
701-355-8030
NCLEX-RN Pass Rate: 91.23%
Dickinson, ND BSN programs:
Dickinson State University
291 Campus Drive, Dickinson, ND 58601
701-483-2507
NCLEX-RN Pass Rate: 100%
Fargo, ND BSN programs:
North Dakota State University
1401 Albrecht Boulevard, Fargo, ND 58102
701-231-7395
NCLEX-RN Pass Rate: 95.76%
Grand Forks, ND BSN programs:
University of North Dakota
430 Oxford Street, Grand Forks, ND 58202
701-777-4555
NCLEX-RN Pass Rate: 94.74%
Jamestown, ND BSN programs:
University of Jamestown
6000 College Lane, Jamestown, ND 58405
1-701-252-3467
NCLEX-RN Pass Rate: 82.05%
Minot, ND BSN programs:
Minot State University
500 University Avenue West, Minot, ND 58707
1-800-777-0750
NCLEX-RN Pass Rate: 92.86%