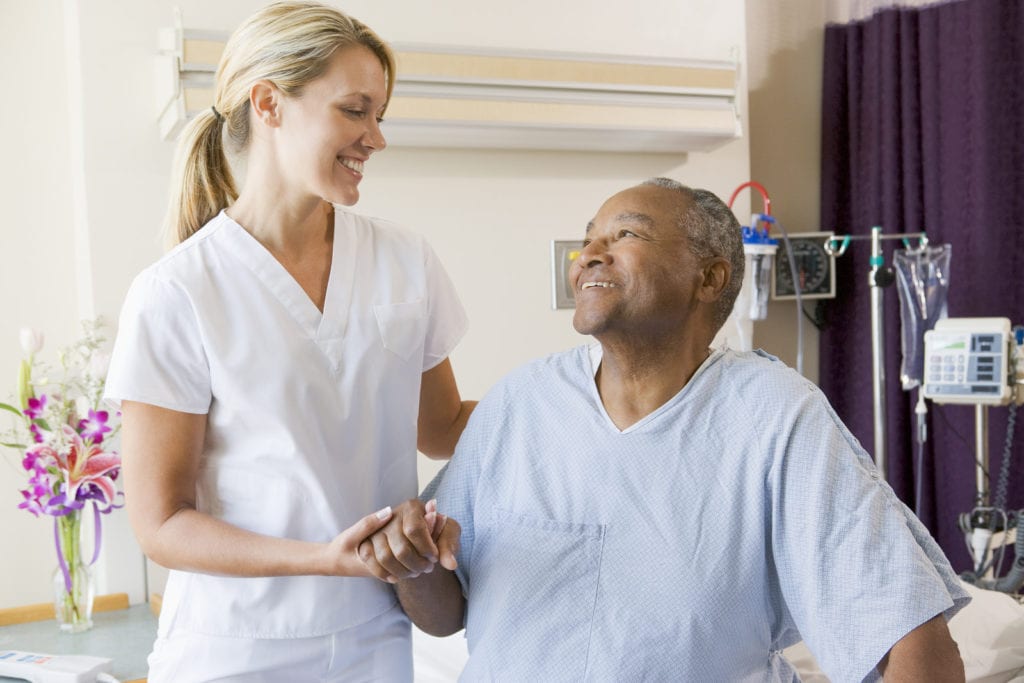 A BSN is the choice of an increasing number of students interested in making nursing a career. The Bachelor of Science in Nursing offers a wide range of benefits, from better pay to more job choices. It also meets the current need in healthcare for nurses comfortable with technology, aware of evolving best practices and able to assume leadership positions in the delivery of patient centered healthcare. The U.S. population is aging, the Affordable Care Act has made medical care more accessible and chronic health conditions are on the rise. Added to this is the predicted shortage of healthcare professionals in the next decade. All of this means there is a huge need for highly trained nurses.
Nurses with a BSN are better able to navigate the changing environment of healthcare, where advances in science and technology are a constant. An education leading to a BSN gives nurses the ability to use the new technology to guide their professional judgment, help with interventions and increase the number of positive outcomes in patient care.
Entry level nurses often blanche at the thought of the four years of expensive college education that a BSN requires. But looking at its cost effectiveness, it is an obvious choice. Nurses with a BSN receive better pay, more professional recognition, expanded chances for advancement, the opportunity for graduate school and increased job mobility. In fact, many hospitals no longer hire nurses without a BSN, in an effort to gain magnet status.
BSN programs emphasize coordination of care, collaboration and communication with other healthcare professionals. They learn how to work outside the hospital setting, delivering care in a variety of environments in the community. They know how to help with disease prevention, patient education and the promotion of health. Students still learn that the core of nursing is the physical and emotional welfare of each patient. In aid of that, they also learn advanced methods of delivering quality patient care in a range of settings, working as part of a team.
In Ohio, there are approximately 35 schools offering baccalaureate degree programs in nursing, leading to a BSN. The list that follows focuses on those that have the approval of the Board of Registered Nursing. It is necessary to check each school's program on an individual basis to make sure it is accredited by the Accreditation Commission for Education in Nursing, ACEN, and the Commission on Collegiate Nursing Education, CCNE.
You can enroll in programs leading to a BSN degree, as a licensed practical nurse, registered nurse or entry level student through the paths outlined below.
LPN to BSN: About 29 schools offer LPN to BSN programs in Ohio. This type of program makes use of your LPN training by reviewing your credits and transferring them to the new program, a process that can appreciably shorten the time you need to complete the degree.
RN to BSN: About 37 schools offer RN to BSN programs in Ohio. These programs make use of an RN's two years of general education and nursing classes, which helps to shorten the time needed to about 18 months to get a BSN. Many classes are often offered online, making it easier for working nurses to complete the training. Students applying for these programs need to have an active RN license and meet all the standard requirements for the school.
Traditional BSN: Many newcomers to nursing are choosing to start their careers with a BSN to take advantage of the greater opportunities open to nurses with this degree. Their earning potential is higher, career is more mobile and chances for professional advancement and recognition greater. The curriculum includes the standard general education and science courses for the first two years, before the nursing modules begin. The degree program lasts for three or four years.
Fast-track BSN: This program, offered at approximately 12 schools in Ohio, lets people with a non-nursing Bachelor's degree get a BSN in 12 to 18 months. The first degree must be from an accredited institution so the general education and science courses can be transferred to the BSN program. At the end of the program, the graduate is eligible to take the NCLEX-RN and become a registered nurse.
Traditional BSN Programs
Newcomers to nursing can go through the traditional four-year curriculum to earn a Bachelor of Science in Nursing degree. Graduates learn in classroom and clinical settings, developing the range of knowledge and skills to make them effective nurses. After taking the licensure exam, they can practice in hospitals, community settings, long-term care facilities, home healthcare, public schools and clinics.
By the end of the program, nurses will have the skills to deliver expert patient care to diverse populations, demonstrating critical thinking, sound decision making, leadership and effective communication skills. They will know how to provide patient centered care in a variety of situations.
The first two years of the traditional BSN program are devoted to general education classes that provide a firm foundation for the nursing coursework to come. In the final two years, classes include adult health, child and family health, mother and family health, community health, informatics and technology, evidence-based practice, nursing leadership, pathophysiology and pharmacology.
Each school has its own individual entry requirements, but most have five that are standard. Prospective enrollees must:
Be admitted to the institution as a degree-seeking student.
Finish the prerequisite requirements.
Successfully pass the school's entrance exam.
Apply and provide an official transcript to the nursing department.
Maintain a 3.0 cumulative GPA or above for the prerequisite and general education courses.
When accepted, the student needs to complete a BLS for Healthcare Providers course, document that they have met the immunization requirements, pass a background check and complete a physical exam.
Second Degree BSN
For people wanting to make a career change into nursing, the accelerated BSN, or second degree BSN, is the quickest pathway. Graduates from an accredited institution with a non-nursing bachelor's degree can finish the program in 12 to 18 months. The program starts with upper-level nursing coursework, streamlining the process of getting a BSN degree and starting a nursing career. Many schools offer the program partly or entirely online.
Great emphasis is placed on clinical experience, over 250 hours, during which the students work closely with experienced nurses. This helps them develop the needed clinical skills in a range of settings. Academics are delivered online and in the classroom. At the end of the program, the student will have the critical skills expected of registered nurses.
The enrollment process is like that of a traditional degree program. The student must complete all prerequisite classes that are required and the non-nursing degree must be from an accredited institution. The student must successfully pass a background check and drug screening, be cleared for TB and immunizations, and complete a BLS for Healthcare Providers. Graduating from the BSN program makes the student eligible for the NCLEX-RN and practicing as a registered nurse.
How Much Do BSN Programs Cost?
Attending college is expensive but the payoff is a boost in your finances that will benefit you throughout your life. Nursing students leave college with more than $25,000 in student loan debt. However, you can avoid the financial burden by using innovative strategies to keep your costs down. Planning is essential. For instance, if you're determined to pursue a career in nursing, you can begin taking advanced placement courses while in high school to earn college credit. With some effort, you can reduce your college attendance by 6 months to a year and save several thousand dollars. Taking a college course or two while in high school will have a similar effect and is especially good if you do not qualify for advanced placement courses.  The tuition at community colleges is significantly lower than the tuition at universities. So while you're eager to dive into to university life, you can save money by completing the required general education and science courses at a local community college and transferring credits into the BSN program.
Scholarships and grants offer free money that you don't have to repay, but due to mass appeal, they can be highly competitive. Start with the scholarship opportunities listed on the AACN's website, but don't neglect to search for the less publicized opportunities which are less competitive. Don't limit yourself to one scholarship either, the more you earn the greater the dent in your tuition. If you're employed in the health sector, you'll have a better chance of convincing your employer to pay your tuition or even offer partial reimbursement of your costs.
Compare BSN programs in Ohio. There are close to 40 schools offering the program. Tuition may be as low as $23,455 or as much as $43,780. By making a detailed comparison, you'll get the best value for your money. Also, take more credits per semester if your schedule allows. Some schools offer a flat rate for 12 to 21 credits. More credits per semester mean greater savings and the opportunity to graduate early.
Summary
Compared to a two-year ADN degree, completing a BSN degree may seem like an unnecessary burden on your time and resources. But be assured, the investment will result in huge rewards in the long-term. There may not be a differentiation in salary and responsibilities between ADN and BSN RNs. They both provide bedside care and conduct similar duties at the entry-level. However, in time, BSN nurses will be afforded opportunities to take on additional responsibilities in line with their training. When opportunities for promotion are available, they are considered first. They also have the option to pursue graduate study to become a nurse educator or administrator in various areas of nursing.
Check out the BSN programs and NCLEX-RN pass rates in Ohio to improve your job prospects and lay the foundation for advanced study.
BSN Programs and NCLEX-RN Pass Rates Ohio:
Ada, OH BSN Programs:
Ohio Northern University
525 South Main Street, Ada, OH 45810
419-772-2000
NCLEX-RN Pass Rate: 100%
Akron, OH BSN Programs:
The University of Akron
Akron, OH 44325
330-972-7111
NCLEX-RN Pass Rate: 81.52%
Ashland, OH BSN Programs:
Ashland University
401 College Avenue, Ashland, OH 44805
419-289-4142
NCLEX-RN Pass Rate: 87.50%
Berea, OH BSN Programs:
Baldwin Wallace University
275 Eastland Road, Berea, OH 44017
440-826-7473
NCLEX-RN Pass Rate: 100%
Cedarville, OH BSN Programs:
Cedarville University
251 North Main Street, Cedarville, OH 45314
1-937-766-7700
NCLEX-RN Pass Rate: 83.33%
Cincinnati, OH BSN Programs:
The Christ College of Nursing
2139 Auburn Avenue, Cincinnati, OH 45219
513-585-2107
NCLEX-RN Pass Rate: 82.24%
Xavier University
3800 Victory Parkway, Cincinnati, OH 45207
513-745-3000
NCLEX-RN Pass Rate: 88.24%
Mount St. Joseph University BSN Program
5701 Delhi Road, Cincinnati, OH 45233-1670
(513) 244-4511
NCLEX-RN Pass Rate: 84.31%
Cleveland, OH BSN Programs:
Case Western Reserve University
10900 Euclid Avenue, Cleveland, OH 44106
216-368-2000
NCLEX-RN Pass Rate: 89.90%
Cleveland State University
2121 Euclid Avenue, Route 915, Cleveland, OH 44115-2214
216-687-3598
NCLEX-RN Pass Rate: 84.73%
Columbus, OH BSN Programs:
Capital University
1 College and Main, Columbus, OH 43209-2394
614-236-6011
NCLEX-RN Pass Rate: 93.59%
Chamberlain College
1350 Alum Creek Drive, Columbus, OH 43209
614-252-8890
NCLEX-RN Pass Rate: 75.89%
Ohio State University
Newton Hall, 1585 Neil Avenue, Columbus, OH 43210
614-292-4041
NCLEX-RN Pass Rate: 93.36%
Mount Carmel College of Nursing
127 South Davis Avenue, Columbus, OH 43222
614-234-5800
NCLEX-RN Pass Rate: 89.92%%
Dayton, OH BSN Programs:
Wright State University
3640 Colonel Glenn Highway, Dayton, OH 45435
937-775-3440
NCLEX-RN Pass Rate: 89.70%
Euclid, OH BSN Programs:
Notre Dame College
4545 College Road South, Euclid, OH 44121-4293
1-877-632-6446
NCLEX-RN Pass Rate: 91.30%
Hamilton, OH BSN Programs:
Miami University- Hamilton
1601 University Boulevard, Hamilton, OH 45011
513-785-3000
NCLEX-RN Pass Rate: 87.14%
Hiram, OH BSN Programs:
Hiram College
P.O. Box 67, Hiram, OH 44234
330-569-5246
NCLEX-RN Pass Rate: 68.00%
Kent, OH BSN Programs:
Kent State University
800 East Summit Street, Kent, OH 44240
330-672-3000
NCLEX-RN Pass Rate: 86.71%
Kettering, OH BSN Programs:
Kettering College
3737 Southern Boulevard, Kettering OH 45429
937-395-8619
NCLEX-RN Pass Rate: 84.42%
Mount Vernon, OH BSN Programs:
Mount Vernon Nazarene University
800 Martinburg Road, Mount Vernon, OH 43050
740-392-6868
NCLEX-RN Pass Rate: 87.88%
New Concord, OH BSN Programs:
Muskingum University
163 Stormont Street, Montgomery Hall 118, New Concord, OH 43762
(740) 826-6134
NCLEX-RN Pass Rate: 90.91%
North Canton, OH BSN Programs:
Walsh University
2020 East Maple Street, North Canton, OH 44720
800-362-9846
NCLEX-RN Pass Rate: 97.70%
Malone University
2600 Cleveland Avenue, Northwest Canton, OH 44709
1-800-521-1146
NCLEX-RN Pass Rate:
Parma, OH BSN Programs:
Bryant and Stratton College
12955 Snow Road, Parma, OH 44130
216-265-3151
NCLEX-RN Pass Rate: 33.33%
Pepper Pike, OH BSN Programs:
Ursuline College
2550 Lander Road, Pepper Pike, OH 44124
440-449-4200
NCLEX-RN Pass Rate: 84.52%
Portsmouth, OH BSN Programs:
Shawnee State University
940 Second Street, Portsmouth, OH 45662
800-959-2778
NCLEX-RN Pass Rate: 66.67%
Steubenville, OH BSN Programs:
Franciscan University of Steubenville
1235 University Boulevard, Steubenville, OH 43952
740-283-3771
NCLEX-RN Pass Rate: 92.31%
Sylvania, OH BSN Programs:
Lourdes University
6832 Convent Boulevard, Sylvania, OH 43560
800-878-3210
NCLEX-RN Pass Rate: 85.87%
Toledo, OH BSN Programs:
Mercy College of Ohio
2221 Madison Avenue, Toledo, OH 43604
419-251-1313
NCLEX-RN Pass Rate: 89.13%
The University of Toledo
2801 West Bancroft, Toledo, OH 43606-3390
1-800-586-5336
NCLEX-RN Pass Rate: 81.36%
Westerville, OH BSN Programs:
Otterbein University
1 South Grove Street, Westerville, OH 43081
614-890-3000
NCLEX-RN Pass Rate: 87.70%
Youngstown, OH BSN Programs:
Youngstown State University
One University Plaza, Youngstown, OH 44555
330-941-3000
NCLEX-RN Pass Rate: 87.64%