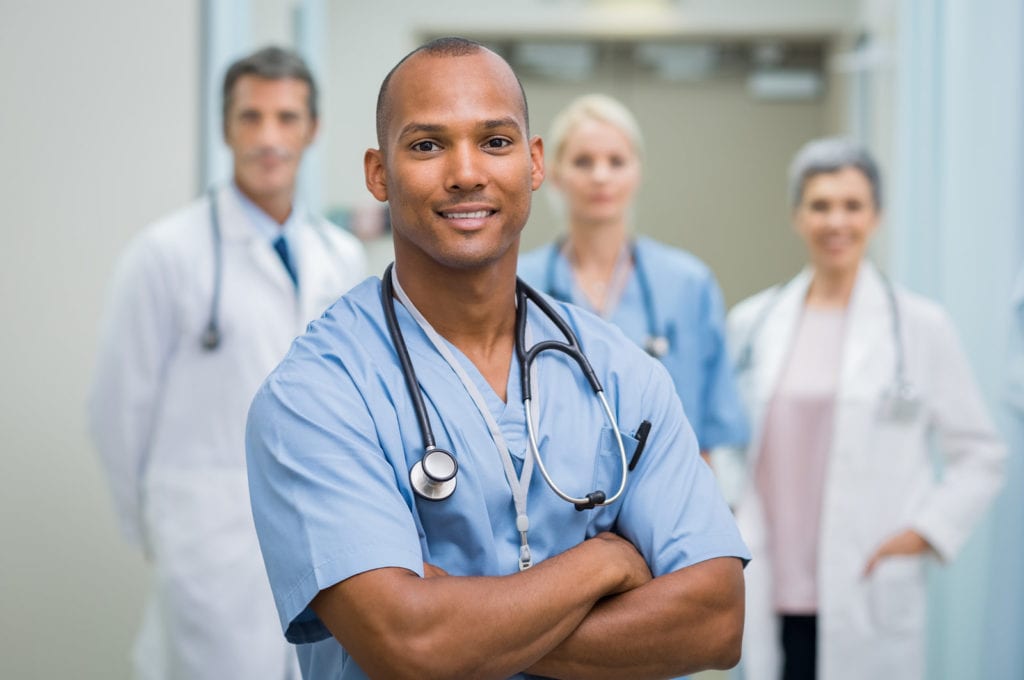 The challenges of caring for the large group that makes up the baby boom generation have been the topic of discussion for more than a decade. Approximately 3 million baby boomers will hit retirement each year for the next 20 years. This incremental increase will affect health care policy and the health care system for decades to come. Bigger than the challenge of adding new nurses to the workforce, employers will have to devise methods for replacing the boomers who will leave the workforce and create voids in clinical care and management.
More than the challenge of expanding the workforce to meet the needs of a burgeoning population, health care experts have to prepare the workforce to care for patients who are sicker than the generations before. Life expectancy has increased due to technological advances and the wider availability of medications and treatments. Although people are living longer, the overall rate of hypertension, diabetes, obesity, cancer, and high cholesterol has gone up by more than 47 percent in the last two decades. This new challenge requires professionals who have the educational preparation to use research, clinical judgment, technology, and leadership to improve patient outcomes. They must also have the competency to promote healthy lifestyles in this critical age group.
Since nurses form the largest group of professionals in the health care team, the bulk of responsibility falls upon them to provide clinical care, educate patients on lifestyle choices to prevent diseases, and develop plans to restore health. Often, patients are admitted with multiple chronic conditions, which require care from a team of specialized and knowledgeable nurses. The bachelor's of science degree in nursing prepares nurses to take their practice from the bedside to the community and beyond. The degree covers additional study in leadership, evidence-based inquiry, health care systems, community and mental health, contemporary approaches to nursing, and information technology that enables graduates to better practice within the complex health care system.
Nursing requires a commitment to lifelong learning. The changes in the industry, including the methods used to deliver care, is constant. Nurses must, therefore, embrace new technologies and pursue advanced education to stay abreast of the changes. The BSN sets the foundation for graduate study that is an essential part of the preparation for advanced practice nursing. Those who graduate from the program are more likely to enroll in a graduate level nursing program and help fill the gap in the delivery of primary care in rural and medically underserved areas. Since employers seek to hire the best talent, BSN graduates receive better opportunities than ADN graduates. Hospital administrators are more likely to hire BSNs than ADNs to meet the requirements for Magnet Recognition. Finally, the Institute of Medicine and other nursing associations are recognizing the relation of better-educated nurses to better patient outcomes. To this end, there have been recommendations to have at least 80 percent of the workforce hold a baccalaureate degree by 2020. Enrolling in an accredited BSN program will help you meet the current and future standards for practice as a registered nurse.
LPN to BSN: Completion of a practical nursing program, licensure as a licensed practical nurse, and experience in health care typically qualify adults for advanced placement in a registered nursing program. LPNs can gain 10 to 20 transferable credits, which will shorten the time to complete the BSN by one to two semesters.
RN-BSN: The RN to BSN program builds upon a liberal arts foundation and expands on the registered nurse's knowledge, skills, and profession. Students learn how to provide evidence-based, holistic care to diverse populations within the complex health care environment. Upon graduation from the program, they will have an expanded view of nursing and will demonstrate clinical reasoning, leadership, and the ability to use information technology in professional practice. RN-BSN programs are offered in an online format, to accommodate the schedule of working nurses, and require completion of at least 120 credit hours. In addition to the online academics, students will also complete a clinical experience at an approved site under the guidance of an approved preceptor. The program is designed to be completed in 9 to 18 depending on the schedule.
Traditional BSN: Adults with no experience in health care can enroll in the traditional BSN program to prepare for the NCLEX-RN and licensure as a registered nurse. It requires full-time enrollment and may be completed in four to five years. The curriculum covers general education courses and nursing courses. Prerequisites courses may be completed in the first year and include science, statistics, anatomy and physiology, and communication.
Fast-track BSN: The fast-track BSN is an accelerated program designed to give adults who have completed a bachelor's degree in another field to obtain a bachelor of science in nursing and practice as a registered nurse. The program is two years in length and graduates of an accredited bachelor's program will be exempt from the general education requirements. The school's admissions department will evaluate the student's transcript and determine the courses that are eligible for transfer.
Graduates of the LPN to BSN, traditional and second-degree BSN programs will be eligible to take the NCLEX-RN to become a registered nurse.
Traditional BSN Programs
Through the study of science, general education, core nursing courses, and practical experiences in a real-world setting, students enrolled in the Bachelor of Science in Nursing program obtain a rounded education that will serve as a foundation for continuing study. Clinical experiences at institutional and community care facilities will give students the opportunity to deliver care under the guidance of an experienced preceptor.
To graduate from the program, the student will need to complete at least 120 credit hours of courses, including general education, nursing, and science. The first year will cover the prerequisite courses followed by the general education, science, and math requirements. During the third and fourth years, students will cover the nursing courses in a specified sequence. Each core nursing course will have an accompanying clinical experience.
The competitive field of health care demands this competitive degree that will produce graduates who will be capable of practicing nursing a professional ethical and legal manner, provide a safe environment for patients, collaborate efficiently with members of the interdisciplinary team, counsel patient on topics geared to restore health and promote wellness, and use research as the basis for clinical judgment and evidence based practice. Graduates are eligible to sit the National Council Licensure Examination (NCLEX) for registered nurses. To obtain a license to practice in Oklahoma, the applicant must meet all federal and state requirements, including passage of the licensure exam, criminal history clearance, and U.S. citizenship or legal residency.
Here's a list of basic requirements for admission to the BSN program:
Complete an application and interview with an admissions representative.
Complete the prerequisite courses with a GPA of 3.0 or above – varies by program.
Take the HESI A2 exam and achieve a score of 70 or greater – varies by program.
Submit your official transcript for evaluation if you're applying as a transfer student.
Submit high school transcripts or GED scores.
Prerequisite course credits are valid for a specified – typically 2 to 4 years. Prerequisites might include human anatomy and physiology, statistics, chemistry, microbiology, and pharmacology.
Second Degree BSN
Nursing provides a wealth of opportunities for growth and development. The continuous need for health professionals guarantees job security for those committed to lifelong learning and higher compensation, rewards, and responsibilities for those who pursue graduate study at the masters or doctorate level. The opportunities within nurse may be attractive to those prepared for another profession. The second-degree or accelerated BSN gives professionals trained in another field the opportunity to prepare for a career as a registered nurse. With the transfer of general education courses, the student will complete the requirements for the BSN in 24 months.
The ABSN requires a full-time commitment to complete the intensive coursework. It includes academics as well as clinical experiences that run concurrently with each corresponding academic course.
Like the traditional BSN, admission to the ABSN is competitive due to limited clinical spots and faculty. Applicants must have a bachelor's degree or higher from a regionally accredited institution, a GPA of 2.5 or above, a grade C or above in all prerequisite courses, and official transcripts of all college courses. Prerequisite courses may include psychology, nutrition, chemistry, human anatomy, physiology, and statistics.
How Much Do BSN Programs Cost?
Tuition costs an average of $185 per credit hours of Oklahoma residents enrolled in public universities. The cost does not include admission and general fees. Additional semester fees may be assessed for nursing students. These include purchase of the designated uniform, nursing shoes, and lab coat for the clinical experience, CPR certification done through the American Heart Association, immunizations (rubble, hepatitis B, rubeola, tetanus, and varicella), TB skin test, and nursing equipment such as blood pressure cuff, stethoscope, and a watch with a second hand.
Check out the following list of BSN programs that are approved by the Oklahoma Board of Nursing.
BSN Programs and NCLEX-RN Pass Rates Oklahoma:
Ada, OK BSN programs:
East Central University
1100 East 14th Street, Ada, OK 74820
580-332-8000
NCLEX-RN Pass Rate: 84.78%
Alva, OK BSN programs:
Northwestern Oklahoma State University
709 Oklahoma Boulevard, Alva, OK 73717
580-327-1700
NCLEX-RN Pass Rate: 73.33%
Bartlesville, OK BSN programs:
Oklahoma Wesleyan University
2201 Silver Lake Road, Bartlesville, OK 74006
918-335-6219
NCLEX-RN Pass Rate: 85.71%
Bethany, OK BSN programs:
Southern Nazarene University
6729 North West 39th Expressway, Bethany, OK 73008
405-789-6400
NCLEX-RN Pass Rate: 78.57%
Claremore, OK BSN programs:
Rogers State University
1701 West Will Rogers Boulevard, Claremore, OK 74017
918-343-7777
NCLEX-RN Pass Rate: 93.65%
Edmond, OK BSN programs:
Oklahoma Christian University
2501 East Memorial Road, Edmond, OK 73013
800-877-5010
NCLEX-RN Pass Rate: 85.71%
University of Central Oklahoma
100 North University Drive, Edmond, OK 73034
405-974-2000
NCLEX-RN Pass Rate: 94.85%
Langston, OK BSN programs:
Langston University
PO BOX 150, Langston, OK 73050
1-877-466-2231
NCLEX-RN Pass Rate: 68.42%
Oklahoma City, OK BSN programs:
Oklahoma City University
2501 North Blackwelder, Oklahoma City, OK 73106-1493
405-208-5000
NCLEX-RN Pass Rate: 81.18%
The University of Oklahoma Health Sciences Center
1100 North Lindsay, Oklahoma City, OK 73104
405-271-4000
NCLEX-RN Pass Rate:
Shawnee, OK BSN programs:
Oklahoma Baptist University
500 West University, Shawnee, OK 74804
405-275-2850
NCLEX-RN Pass Rate: 90.14%
Tulsa, OK BSN programs:
The University of Oklahoma – Tulsa
800 South Tucker Drive, Tulsa, OK 74104
918-631-2000
NCLEX-RN Pass Rate: 98.55%
Oral Roberts University
7777 South Lewis Avenue, Tulsa, OK 74171
918-495-6161
NCLEX-RN Pass Rate: 78.05%
Weatherford, OK BSN programs:
Southwestern Oklahoma State University
100 Campus Drive, Weatherford, OK 73096
580-774-3063
NCLEX-RN Pass Rate: 94.44%