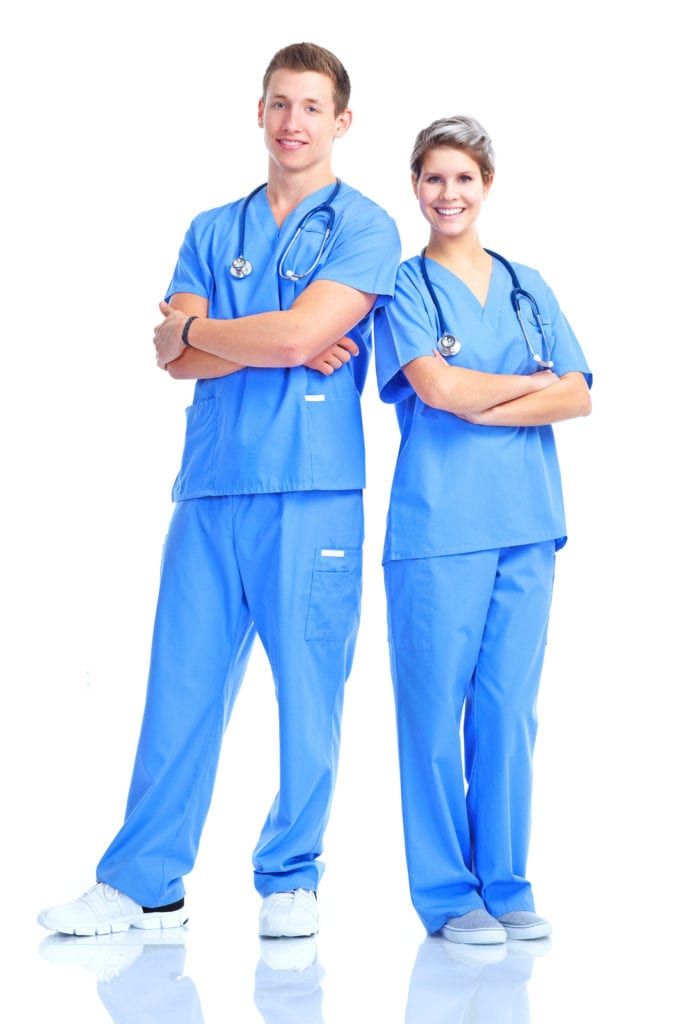 Efforts to increase the primary care workforce in Oklahoma have been futile as the state sorely lacks physicians to provide care for residents. At a rate of 75 doctors per 100,000 residents, Oklahoma has the second lowest ratio in the country. The Department of Health and Human Services identifies medically underserved populations in 71 out of 77 counties and nine counties – in their entirety – have been designated Health Professional Shortage Areas.
Lack of training facilities in the rural parts of Oklahoma is a significant contributor to the barriers to care faced by rural residents. Unless physicians are committed to care in these specific areas, there is only a slight possibility that they'll move after completing their residencies.
Money talks. Since medical graduates face an average of $155,000 in student loans, they will often choose the best options for paying down the debt they owe. Graduates reap the greatest financial benefits by accepting positions in the metro areas or pursuing specialist roles. The compensation for establishing a family practice in rural setting pales in comparison and holds no attraction for a professional seeking to pay off debt.
The Master of Science in nursing (MSN) program prepares registered nurses for an advanced practice role. Nurse practitioners form one of the four categories recognized by the Oklahoma Board of Nursing. They are a critical part of the health care system and the solution for meeting the primary health care needs of rural patients. The master's program prepares them to assess, order lab work and other diagnostic tests, treat and refer patients, and prescribe medications as needed. However, for all their education, outdated laws prevent them from practicing to the full extent of their training, which is a disservice to graduates and the patients who need primary care.
Advanced practice registered nurses must establish a collaborative agreement with a physician for prescription coverage. Although the physician does not need to sign off on prescriptions, he or she must be available for collaboration. Nurse practitioners work independently in reality, but the challenge arises from the need to secure a physician who might be willing to sign the agreement in accordance with Oklahoma laws and the cost of the agreement itself. Nurse practitioners may pay up to $50,000 annually to establish an agreement with a willing physician. Reworking the law and allowing nurses to practice to the full extent of the training covered in the graduate program will bring affordable and readily available care to rural residents.
Specialized Learning
The MSN program prepares experienced nurses with the advanced practice skills to become providers and organizers of care. Students will complete approximately 12 credits of core courses and 24 hours of specialized courses to prepare for a specialty role. Graduate study is an essential step for nurses who are committed to lifelong learning and want to have a more influential role in care from an educator, clinical, administrator, or another specialty role. Graduates are eligible to sit a national certification related to their specialty. Upon licensure from the Oklahoma Board of Nursing, they are prepared to deliver care to diverse populations and assume leadership roles in the complex health care environment.
The curriculum builds on the student's educational preparation obtained at the undergraduate level. Core courses may include introduction to graduate nursing concepts, health informatics, nursing research, evidence-based practice, management and leadership in nursing and health care, and pharmacology. Apart from the clinical requirements, students will have the opportunity to complete a lot of the academics online in the comfort of their own homes. Early in the program, students will need to choose a track that will determine the central theme of their study.
Upon successful completion of the program, graduates will be able to integrate theories in practice, use evidence-based practice to foster change, use their influence to promote safe and ethical health care, apply patient centered interventions in a specialized area of practice, demonstrate expertise in their area of specialty, and use leadership and management skills in decision making. They will also be committed to lifelong learning and professional development, demonstrate competency in information technology and management and collaborate with interprofessional teams to improve outcomes for individuals, families, and communities.
To obtain an MSN degree, you'll have to choose from one of the following options:
RN to MSN: The RN to MSN program is designed for registered nurses who hold an associate's degree or diploma in nursing to earn a master's of science in nursing. By enrolling in the program, they can develop the knowledge and skills needed for career advancement in a timely and affordable manner. Students will complete the requirements for the BSN that will set the foundation for graduate courses. At the conclusion of the program, they will be eligible to sit a national certification exam related to their area of specialty.
Direct Entry MSN: The direct entry MSN is targeted to the registered nurse who has completed a baccalaureate degree in nursing and wants to work towards a masters degree in nursing with a specialty focus. The degree prepared them for career advancement as it puts them on track to lead teams, take up educator role, or assume advanced practice roles as a certified nurse midwife, nurse practitioner, clinical nurse specialist, or nurse anesthetist. Flexible online learning formats allow busy nurses to earn the degree while they work. Graduates are eligible to sit a national certifying exam for licensure in the specialty role.
Post-Master's Certificate: The post-master's certificate option is designed for nurses to train for certification in another advanced practice role. It requires completion of 18 to 25 credit hours depending on the specialty.
Summary of Enrollment Criteria
Enrollment is MSN programs are not as competitive as the undergraduate nursing programs. Candidates who meet the admission and eligibility requirements stand an excellent chance of acceptance.
Applicants must have:
A retention GPA of 3.0 or above on all undergraduate coursework.
Hold a registered nurse license in Oklahoma.
Have a baccalaureate degree in nursing from a regionally accredited institution. For RN-NSN admission, the applicant must have an associate degree or diploma in nursing.
A grade C or above in health assessment and statistics.
Provide academic and professional reference letters.
Demonstrate English proficiency
Complete the health requirements as specified by the clinical affiliate.
Complete the background check and drug screenings required by the clinical affiliate.
Check the university's website for specific details related to the requirements for admission including entrance testing, application deadlines, and requirements for the clinical experience.
How Much Do MSN Programs Cost?
To complete a graduate nursing program of 33 credits, students will need to budget at least $13,850 for resident tuition at a state university. Additional costs include books, immunization, liability insurance, fees, supplies, background check, drug screen, and parking. Financial aid, scholarships, grants and incentives for nurses completing graduate study will help to reduce out of pocket costs.
Requirements For Advanced Practice Registered Nurses Oklahoma
In accordance with the Nurse Practice Act, the Oklahoma Board of Nursing can register suitably qualified individuals for four Advanced Practice Registered Nursing roles: Certified Nurse Practitioner (CNP), Certified Nurse Midwife (CNM), Clinical Nurse Specialist (CNS), and Certified Registered Nurse Anesthetist (CRNA). Before practicing in an APRN role that requires licensure or using the title of an APRN, candidates must hold a dated Oklahoma temporary registered nurse and APRN license or current licensure as a registered nurse and an advanced practice registered nurse. Those who do not hold active Oklahoma RN license may apply for endorsement or reinstatement as applicable.
APRNs must hold a separate license for each specialty area for which he or she is educated and certified. If is unlawful to use the title or practice in a role without permission from the Board of Nursing. Any person found in violation of the act will be guilty of a misdemeanor, which is punishable by law.
Guidelines for Initial APRN Licensure
Submit the application for initial licensure as an Advanced Practice Registered Nurse online if you have not previously held a license in Oklahoma to practice in an advanced practice role or if you're applying for an additional advanced practice role.
Applications are available online through https://www.ok.gov/nursing/licensing/app/index.php.
You may submit a request for a paper copy of the application by submitting a written request to the Board's office and including a postage paid 8 ½ x 11 return envelope for the Board to return the form.
Submit the following to the Board of Nursing:
A completed application. Fill out all sections and input your name as it appears on your license card. You must provide your social security number on the application.
Confirm your license status. Your Oklahoma registered nurse license must be active. If your application is inactive, submit an application for reinstatement or endorsement if you hold an active RN license from another state.
Provide fingerprint images to authorize a state and criminal history records check through the OSBI and FBI. The records search must be conducted by L-1 – a board-approved vendor. The results will be sent directly to the Board within two weeks. If you are residing in Oklahoma, you may have your fingerprints taken electronically through an IdentoGo center sponsored by L-1. Alternatively, you may request fingerprint cards from the Board's office and visit a local law enforcement agency to submit your fingerprints if you reside outside Oklahoma. The agency must mail the fingerprint cards directly y to L-1.
Submit certified copies of a brief summary of the incident, action taken by the court or disciplinary board, and other applicable documents if you answer "yes" to the questions on criminal charges, disciplinary action, or judicial declaration of mental incompetence.
Request official transcripts from the advanced practice educational program to be sent directly to the Board's office. The transcript must verify the degree conferred, date of issue, and advanced practice role and specialty. If you completed the program in another state, the Board would request further information to ensure that the program meets the Board's stated requirements.
Provide verification of your current certification. The certifying agency must confirm verification directly to the Board of Nursing. Ensure that the agency is one that is approved by the Board of Nursing.
Pay the $70 application fee using a Visa, MasterCard or electronic fund transfer during the online submission. If you are submitting your application by mail, you should make cashier's check, money order, or personal check payable to the Oklahoma Board of Nursing.
Endorsement Candidates
If you hold a license to practice as a registered nurse in another state, you may apply for licensure by endorsement. You must request one of the following documents from the respective authorities to verify continuing qualifications for APRN practice:
Official transcript or certificate of completion from the nursing educational program confirming completion of an APRN nursing refresher course that meets Oklahoma's Board requirements.
Official transcript to verify completion of at least 6 academic semester credit hours of APRN nursing courses in the same role and population focus as completed in a graduate-level APRN program.
A completed Employment Verification Form confirming completion of at least 520 work hours during the last two years. The employer must send the form directly to the Board of Nursing.
Verification of national certification from a board approved national certifying organization.
Temporary License
Temporary licenses are valid for 90 days. Check "Y' on the first page of the application to request the license. Eligibility requirements include:
Have an active Oklahoma RN license
Have an unrestricted APRN license or recognition in another state or territory in the same role.
No history of arrest or disciplinary action.
Provide verification of meeting the continuing qualification for practice.
Provide evidence of completing an approved nursing educational program in one of four APRN roles.
Provide evidence of current national certification from an approved certifying agency.
Submit a completed application for endorsement and temporary recognition with the required fees.
Submit fingerprints for initiating a national criminal history records search.
Applications are valid for one year once received by the Board of Nursing. If you do not complete the application within the specified time frame, you must submit another application and fee. The Board processes applications in the order of receipt. All application fees are non-refundable.
Prescriptive Authority
Approval for prescriptive authority in Oklahoma requires current licensure as a registered nurse and as a Certified Nurse Practitioner, Clinical Nurse Specialist, and Certified Nurse Midwife. The candidate must have completed graduate-level education at the advanced practice level to be eligible for initial prescriptive authority.
In addition to initial candidates, prescriptive authority is also available for endorsement candidates who hold current prescriptive authority in the same role in another state or territory.
To apply for prescriptive authority, you must:
Submit an application online using your name exactly as it appears on your license card. You may also use a hard copy of the application available by requesting one from the Board.
If you did not submit an official transcript for advanced practice licensure, you must provide verification of your advanced practice education by having your transcript submitted from the program to the Board's office. The transcript must verify an APRN role or additional information will be requested.
Verify educational preparation for prescriptive authority recognition. The official transcript must confirm completion of an academic course in pharmacotherapeutic management and didactic and clinical preparation for prescribing medications.
Provide documentation verifying three academic credit hours of coursework in pharmacotherapeutics within three years of submitting the application or completion of 45 contact hours of continuing education completed within the last three years of submitting the application. Eligible continuing education includes onsite seminar, workshop, lecture, or course approved for contact hours or continuing education units. Online continuing education from a recognized approver of continuing education is also acceptable. Verification documents include official transcripts or copies of certificates of completion indicating the date of completion, the name of the course, target audience, the name of the licensee, number of contact hours, and name of the recognized approver of continuing education.
Clinical nurse specialists who completed a pharmacotherapeutics management course in the APRN program must submit verification of completing a course a pharmacotherapeutics management application to the CNS specialty area if the program did not include didactic and clinical preparation for prescribing incorporated throughout the program. The documentation must confirm completion of a minimum of two academic credit hours or 30 contact hours of onsite or online seminar, lecture, workshop or course. The CNS must also complete 320 clock hours of preceptorial experience in providing direct care including the prescription of drugs and medicines.
Submit a completed Agreement for Physician Supervising Advanced Practice Prescriptive Authority form. The physician who will supervise your prescriptive author must complete and notarize the form and submit to the Board of Nursing. Supervision physicians must have a current Oklahoma MD or DO license and registration from the Oklahoma Bureau of Narcotics and Dangerous Drugs Control and the Drug Enforcement Agency.
Obtain and maintain registration from the DEA and OBNDD. You must cease prescribing Schedule III-V drugs if your registration lapses.
Pay the application fee of $85 using a Visa, MasterCard or electronic fund transfer if you are submitting your application online or attach a check or money order to the application if you are submitting a hard copy.
APRN Renewal Requirements Minnesota
APRN licenses must be renewed with the registered nurse license in even-numbered years. Licenses may be renewed online, or you may submit a written request for a hard copy of the renewal form from the Oklahoma Board of Nursing. You must include documentation of continued national certification to renew your license. The biennial renewal fee for APRN licensure is $40.
Your collaborating physician must submit a written statement detailing an outline of the plan for referral and collaboration, means of communication, and assistance with medical emergencies.
Continuing Education Requirements
Renewing your prescriptive authority privilege requires completion of 15 contact hours or 1academic credit hour of continuing education, or its equivalent, in pharmacotherapeutics, clinical application, and use of pharmacological agents in the prevention of illness and the restoration and maintenance of health in the two years since the last renewal.
Documentation confirming your compliance with the requirements must verify:
A certificate of completion verifying the date you completed the training and the number of pharmacological contact hours awarded.
That the pharmacology contact hours are specific to your scope of practice.
The target audience was prescriber-level.
Academic credit hours may be gained through:
Academic credit
Onsite seminar, lecture, workshop, or course approved for contact hours or continuing education units
Online seminar or workshops, or articles in professional journals
Published articles in refereed journal, book, or research project
Presenter or lecturer role where you delivered content related to pharmacotherapeutics at an advanced practice level.
Contact the Board of Nursing
Oklahoma Board of Nursing
Physical Address:
2915 N Classen, Ste. 524, OKC, OK 73106
Phone: 405-962-1800
Fax: 405-962-1821
MSN Programs Oklahoma
Bartlesville, OK MSN programs:
Oklahoma Wesleyan University
2201 Silver Lake Road, Bartlesville, Oklahoma 74006
(918) 335-6219
Bethany, OK MSN programs:
Southern Nazarene University
6729 North West 39th Expressway, Bethany, Oklahoma 73008
405-789-6400
Edmond, OK MSN programs:
University of Central Oklahoma
100 North University Drive, Edmond, OK 73034
(405) 974-2000
Oklahoma City, OK MSN programs:
Oklahoma City University
2501 North Blackwelder, Oklahoma City, Oklahoma 73106
405-208-5000
University of Oklahoma Health Sciences Center
1100 North Lindsay, Oklahoma City, Oklahoma 73104
405-271-4000
Oklahoma Christian University
2501 E. Memorial Road, Oklahoma City, OK
(800) 877-5010
Shawnee, OK MSN programs:
Oklahoma Baptist University
500 West University, Shawnee, Oklahoma 74804
405-275-2850
Tahlequah, OK MSN programs:
Northeastern State University
600 N. Grand Ave., Tahlequah, OK 74464
918-456-5511
Weatherford, OK MSN programs:
Southwestern Oklahoma State University
100 E Campus Dr, Weatherford, OK 73096
580-774-6128