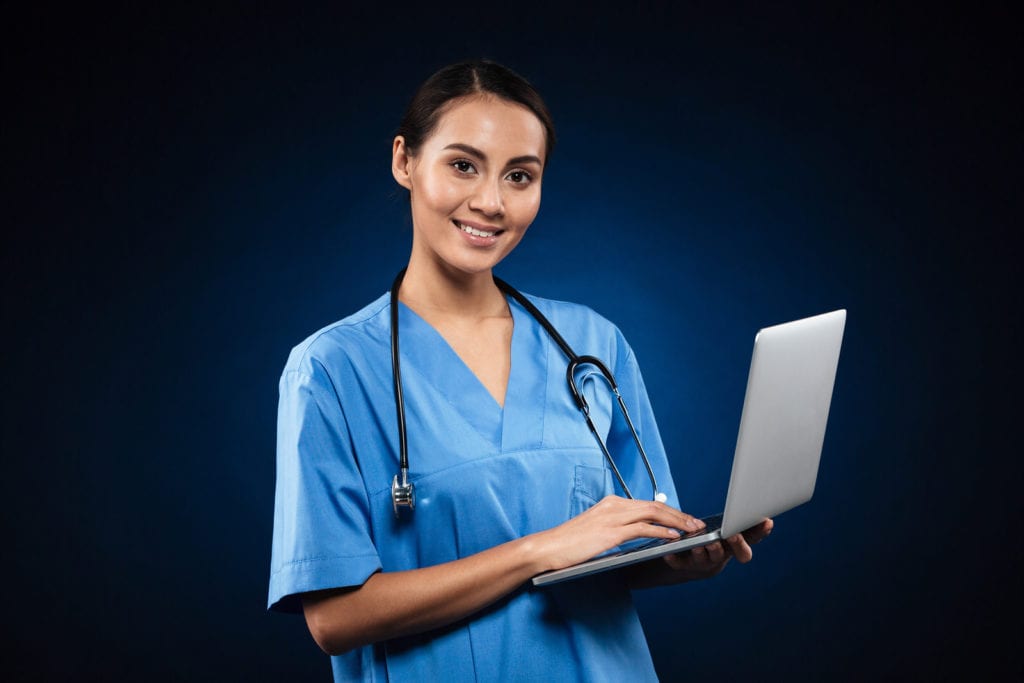 Registered nursing is one of the most in-demand profession. According to the United States Bureau of Labor Statistics, jobs for registered nurses is projected to grow 15 percent by 2026 – faster than the average for all occupations. As an aspiring nurse, you'll be happy to know that job opportunities abound for those who take the time to complete proper training and certification.
The Bachelor of Science in Nursing (BSN) program combines liberal arts and science with core nursing courses to prepare students for safe and competent patient care. Through academic instruction and practical experiences in diverse settings, students acquire an education that will help them navigate the increasingly complex healthcare environment.
The BSN is an excellent choice for new nursing students. There is increasing pressure for nurses to have a BSN. In 2010, the Institute of Medicine recommended that 80 percent of all nurses have a minimum bachelor's degree by 2020. As more nurses enroll in the pre-licensure BSN, the workforce will be closer to achieving the IOM's goal.
BSN graduates have a competitive advantage over ADN graduates. They are in a better position to leverage the degree to secure employment in multiple areas of the healthcare industry. For instance, Magnet hospitals generally employ more nurses with a BSN degree than those without. Moreover, nurses prepared at the baccalaureate level have higher pay grades than those with the associate degree. The BSN sets the foundation for graduate study needed for advanced practice positions such as nurse practitioner, nurse midwife, clinical nurse specialist, and nurse anesthetist. It is also useful if you plan to become a nurse administrator, researcher, or nurse educator.
If you're determined to enroll in the BSN to give yourself the best advantage from the get-go, be prepared to make some sacrifices to attain the benefits of this important degree. Patients place their lives in the hands of nurses, so it's not surprising that nursing programs are rigorous. Administrators want to admit students who demonstrate their ability to succeed. Registered nursing programs turn away hundreds of eligible applicants each year. With intense preparation, you can get ahead of the competition and begin the program confident in your ability to succeed. Establish short-term and long-term goals and adjust them as you go. Review the prerequisite courses and complete them before applying for the program. While you're at it, consider taking a CPR class for Healthcare Providers and a Certified Nurse Aide program. These are not always prerequisites, but they will improve your chances of admission and help you gain some experience in a healthcare environment. Finally, make sure you're physically and mentally up to the challenge of becoming a nurse. The responsibilities are taxing, and there's always the risk of infection when working in a clinical environment. Review your immunization record and compare it with the school's requirements. Mandatory immunizations include MMR, hepatitis B, TB, and varicella.
Following is a list of the various types of BSN programs available in Tennessee.
LPN to BSN: The LPN to BSN program is designed for LPNs who are interested in obtaining a Bachelor's degree to qualify for a position as a registered nurse. The curriculum will build on your previous knowledge of nursing and experience in clinical practice. It meets the unique educational needs of licensed practical nurses to facilitate a seamless transition into undergraduate nursing. Typical admission requirements include a diploma or degree from an accredited practical nursing program and a license to practice as an LPN. An administrator will evaluate your transcript and place you at the appropriate level – usually at a junior level. From the point of entry, you will follow the study plan of a pre-licensure BSN student. As a graduate of the program, you will be eligible to sit the state exam for licensure as a registered nurse.
RN to BSN: The BSN program for registered nurses is designed with the practicing nurse in mind. The fully-online course if flexible and convenient for working nurses. It requires completion of a minimum of 120 credit hours. Credit towards the degree requirements can be gained through direct transfer of the coursework from an accredited associate degree or diploma in nursing program. The total number of transferable credits will depend on the school's limits. Coursework will emphasize the development of additional skills that will help nurses manage the complex healthcare needs of patients and populations.
Traditional BSN: The traditional BSN track admits students with no prior nursing education. It requires completion of 120 credits hours of core nursing courses and general education courses. Professional nursing coursework will commence in final two years of the program. The initial two years will cover the prerequisite coursework in the humanities and sciences – physical, behavioral, and biological. These courses lay the foundation for the nursing courses. Upon satisfactory completion, students will be eligible for upper-level admission to the traditional BSN. The final years in the program will include academics and clinical experiences to prepare students for success on the NCLEX, which is required for licensure as a registered nurse.
Fast-track BSN: There's a high demand for nurses across the country. If you're considering a career in nursing and have a previous bachelor's degree in a non-nursing field, you could leverage your education and graduate with a BSN in just 16 months. The fast-track BSN takes the wait out of nursing school. It is demanding and fast-paced, so part-time or full-time employment is not recommended. The curriculum will provide the academics and clinical skills development that will help you to succeed on the NCLEX and practice confidently as a registered nurse. Before admission to the nursing program, you may need to complete prerequisite science and humanities coursework.
Traditional BSN Programs
The traditional BSN curriculum includes instruction in liberal arts, sciences, and nursing to produce professional nurses who are capable of caring for individuals, families, and communities in diverse healthcare settings. Graduates demonstrate accountability in practice and use communication, research, and leadership to meet and exceed clients' needs. Several nursing organizations advocate the baccalaureate degree as the minimum educational preparation for professional nurses. Extensive complexities in healthcare require that registered nurses have the educational preparation commensurate with their duties and role in patient care. Efforts to shift care from the hospital to primary and preventative care in communities call for nurses who are comfortable with non-traditional settings. The BSN aids the development of clinical decision making, leadership, communication, case management, and delegation skills that nurses must use to educate patients on treatment options and guide them through the maze of treatment and preventative options.
Students learn the value of lifelong learning that will help them stay current with increasing complexities in healthcare and respond to the changing needs of patients.
Nursing programs admit a limited number of students each year, so admission is selective.
Admission to the program requires:
Attend a nursing information session
Secure admission to the university
Submit a completed application before the deadline
Pay the application fee
Complete the admissions assessment with acceptable scores
Complete the general education requirements with a grade C or higher
Have a cumulative GPA or at least 3.0 on a 4.0 scale
Provide copies of all college transcripts
Attend an interview with the Director of Nursing
Liability insurance
Complete the health requirements including a health exam, immunizations, and TB clearance
Current CPR certification
Criminal background clearance will be required for participation in the clinical component of the program.
Second Degree BSN
The Second Degree or Accelerated Bachelor of Science in Nursing program prepares students to function as providers, designers, managers, and coordinators of care. Students learn how to supervise patient care, collaborate with health teams, delegate tasks, think critically, and evaluate personnel. They learn the skills and develop the confidence to thrive in multiple health care settings and succeed on the NCLEX, which they must pass to practice as a registered nurse.
Due to the program's intensity, students must be committed to working in a fast-paced environment and be committed to safe patient care. Applicants must be determined, flexible, and have excellent communication and leadership abilities. The full-time program is designed to be completed in 16 months. It is recommended that students treat the program as a full-time commitment and not pursue part-time or full-time employment for the duration. While the intensity of the program will be challenging, students will benefit from the ability to practice nursing in less than 18 months. Applicants may need to completed prerequisite courses before enrolling in the program.
Enrollment requires:
Attend a nursing information sessions
Submit a completed application and fee before the deadline
Have a bachelor's degree in a non-nursing field
Have at least 60 credit hours of transferable credits
Have a minimum cumulative GPA of 3.0
Complete the prerequisite courses and maintain the minimum GPA requirements.
How Much Do BSN Programs Cost?
Paying for the BSN will cause you some grief, but it will set you up for a rewarding career when you graduate. Fortunately, there are several ways to reduce your out-of-pocket costs if you're willing to do some research. One way to cut costs is to enroll in a public university instead of a private one. The prestige of the nursing school won't matter as much as the nursing program's NCLEX pass rate. The tuition at public schools is approximately 65 percent less than a private university.
The need to train and recruit more nurses to meet the current shortage in the profession increases the funding for loans, scholarships, and grants. Take advantage of these goldmines and you'll pay little to no money for your BSN education. Fill out the FAFSA early to determine if you're eligible for government grants or loans and how much you're likely to receive. Grants are a great source of funding because you won't have to pay back. But they are based on your financial need. Scholarships also provide free money for school. But since they are merit-based, you'll have to roll up your sleeves demonstrate your worthiness.
At the University of Tennessee, the total cost of the traditional BSN tuition is $61,600. The accelerated BSN costs $28,303 and the RN to BSN costs $21,365. The total is the rate for Tennessee residents and includes clinical course fees, RN program fees, differential tuition, and distance education fees. Additional expenses for supplies and books will apply.
Here's a list of Tennessee Board of Nursing approved BSN programs and NCLEX-RN pass rates.
Tennessee BSN Programs and NCLEX-RN Pass Rates:
Bristol, TN BSN Programs:
King University
1350 King College Road, Bristol, TN 37620
800-362-0014
NCLEX-RN Pass Rate: 85%
Chattanooga, TN BSN Programs:
The University of Tennessee at Chattanooga
615 McCallie Avenue, Chattanooga, TN 37403
423-425-4644
NCLEX-RN Pass Rate: 93%
Clarksville, TN BSN Programs:
Austin Peay State University
McCord, Room 218, P. O. Box 4658, Clarksville, TN 37044
931-221-7710
NCLEX-RN Pass Rate: 95%
Cleveland, TN BSN Programs:
Lee University
1120 N Ocoee St, Cleveland, TN 37311
1-800-LEE-9930
NCLEX-RN Pass Rate: 100%
Cookeville, TN BSN Programs:
Tennessee Technological University
1 William L Jones Drive, Cookeville, TN 38505
931-372-3101
NCLEX-RN Pass Rate: 95%
Harrogate, TN BSN Programs:
Lincoln Memorial University
6965 Cumberland Gap Parkway, Harrogate, TN 37752
423-869-3611
NCLEX-RN Pass Rate: 98%
Henderson, TN BSN Programs:
Freed-Hardeman University
158 East Main Street, Henderson, TN 38340
1-800-FHU-FHU-1
NCLEX-RN Pass Rate: 77%
Jackson, TN BSN Programs:
Union University
1050 Union University Drive, Jackson, TN 38305
731-668-1818
NCLEX-RN Pass Rate: 67%
Jefferson City, TN BSN Programs:
Carson-Newman University
1646 Russell Avenue, Jefferson City, TN
865-471-2000
NCLEX-RN Pass Rate: 100%
Johnson City, TN BSN Programs:
East Tennessee State University
PO Box 70300, Johnson City, TN 37614
423-439-1000
NCLEX-RN Pass Rate: 95%
Knoxville, TN BSN Programs:
Tennessee Wesleyan College
9845 Cogdill Drive, Knoxville, TN 37932
865-777-5100
NCLEX-RN Pass Rate: 92%
South College Tennessee
3904 Lonas Drive, Knoxville, TN 37909
1-865-251-1800
NCLEX-RN Pass Rate: 89%
The University of Tennessee at Knoxville
Knoxville, TN 37996
865-974-1000
NCLEX-RN Pass Rate: 100%
Lebanon, TN BSN Programs:
Cumberland University
1 Cumberland Square, Lebanon, TN 37087
1-800-467-0562
NCLEX-RN Pass Rate: 87%
Martin, TN BSN Programs:
University of Tennessee Martin
554 University Street, Martin, TN 38238
800-829-UTM1
NCLEX-RN Pass Rate: 100%
McKenzie, TN BSN Programs:
Bethel University
325 Cherry Ave, McKenzie, TN 38201
731-352-4000
NCLEX-RN Pass Rate: 100%
Memphis, TN BSN Programs:
Baptist College of Health Sciences
1003 Monroe Avenue, Memphis, TN 38104
901-575-2247
NCLEX-RN Pass Rate: 84%
University of Tennessee Health Science Center
920 Madison Ave., Memphis, TN 38163
(901) 448-5500
NCLEX-RN Pass Rate: 100%
University of Memphis- Loewenberg School of Nursing
100 Billy Mac Jones, Memphis, TN 38152
901-678-2003
NCLEX-RN Pass Rate: 91%
Milligan, TN BSN Programs:
Milligan College
101 Neth Dr, Milligan, TN 37682
423-461-8700
NCLEX-RN Pass Rate: 76%
Murfreesboro, TN BSN Programs:
Middle Tennessee State University
1301 East Main Street, Murfreesboro, TN 37132-0001
1-615-898-2300
NCLEX-RN Pass Rate: 98%
Nashville, TN BSN Programs:
Aquinas College
4210 Harding Pike, Nashville, TN 37205
615-297-7545
NCLEX-RN Pass Rate: 100%
Belmont University
1900 Belmont Boulevard, Nashville, TN 37212
615-460-6000
NCLEX-RN Pass Rate: 91%
Lipscomb University
One University Park Drive, Nashville, TN 37204-3951
1-800-333-4358
NCLEX-RN Pass Rate: 95%
Marian University
4220 Harding Pike suite 500, Nashville, TN 37205
866-892-4355
NCLEX-RN Pass Rate: 96%
Tennessee State University
3500 John A Merritt Boulevard, Nashville, TN 37209
615-963-5000
NCLEX-RN Pass Rate: 49%
Trevecca Nazarene University
333 Murfreesboro Road, Nashville, TN 37210
615-248-1200
NCLEX-RN Pass Rate: 80%
Pulaski, TN BSN Programs:
Martin Methodist College
433 West Madison Street, Pulaski, TN 38478
1-800-467-1273
NCLEX-RN Pass Rate: 50%