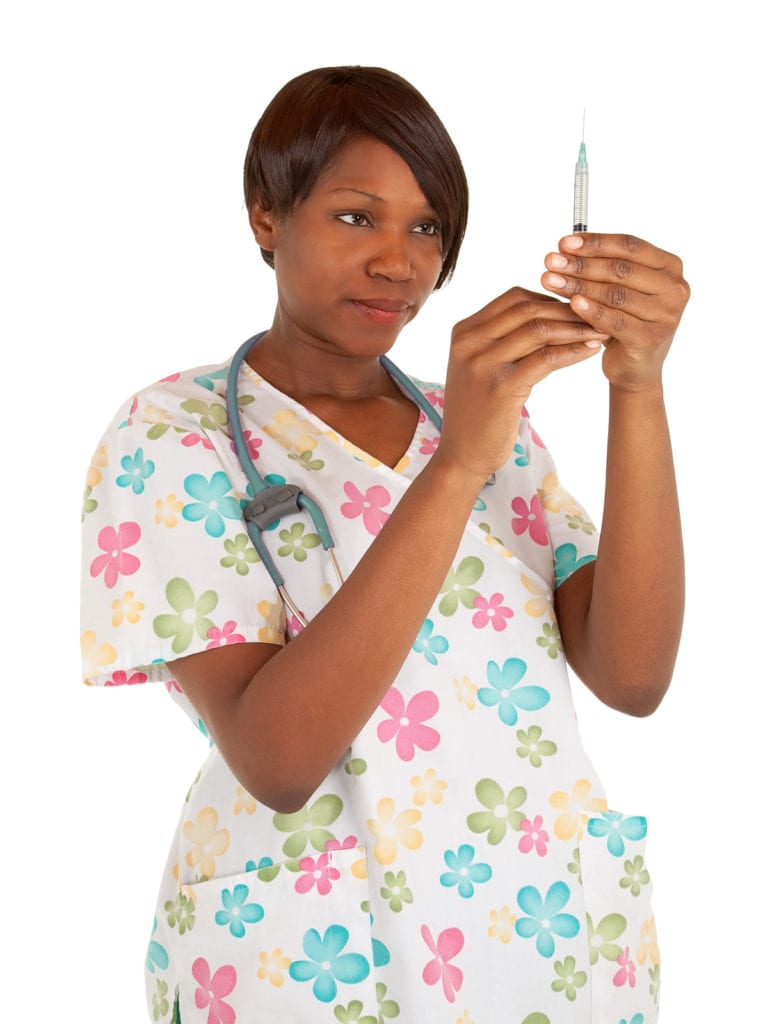 The opportunities to serve in administration, education, research, or in a clinical setting make it an exciting time to be a nurse. Nurses are essential in every area of healthcare. They're making inroads and gaining respect from leaders and healthcare professionals with the help of advanced degrees. The Bachelor's of Science in Nursing (BSN) provides a foundation for graduate study that prepares registered nurses for leadership roles. More than that, RNs with a bachelor's degree or higher can make a difference in the lives of patient. One study found that a 10 percent increase in the proportion of nurses with a BSN in hospitals reduced the risk of patient mortality and failure to rescue by 5 percent.
The Future of Nursing, a 2010 report published by the Institute of Medicine, supports this finding. The IOM recommended that the percentage of baccalaureate-prepared nurses in the workforce increase to 80 percent by 2020. It also suggested a 50 percent in the number of doctorate-prepared nurses to meet the demands of the evolving healthcare systems and manage the increasing needs of patients.
Nurses must never lose sight of the necessity of interpersonal contact and communication with those they serve. However, technology adds another dimension to care. It provides immediate access to patient histories and labs. It is a huge part of the diagnosis and treatment process. Therefore, nurses must be familiar with technology and have the motivation to stay on top of advancements in the use of the healthcare. Technology is a huge part of the BSN curriculum, so graduates feel comfortable using it as an essential function of their role.
Across the country, nursing associations, employers, and experts are recommending the BSN over the associate's degree in nursing. There are far more opportunities for BSN nurses. A review of help wanted ads reveal that the majority of employers want their RNs to have a BSN degree. Hospital employers, in particular, prefer better-educated nurses because their education has a direct impact on patient outcomes. For this reason, BSN graduates have more success getting interviews at Magnet hospitals and other leading healthcare facilities than ADN graduates. Also, BSNs are given more responsibilities and opportunities for advancement, which will result in higher compensation as they're promoted to managerial roles. According to figures from the U.S. Bureau of Labor Statistics, nurses with an associate's degree qualify for 52 percent of nursing-related jobs while RNs with a BSN qualify for 85 percent of those positions.
The BSN program improves core competencies. Nurses need more than the basic clinical skills to get by in today's complex healthcare environment. With an emphasis on leadership, research, evidence-based practice, system improvement, teamwork and collaboration, and health policy, community and public health, and technology the BSN prepares graduates to assume a significant role in the changing world of healthcare.
BSN nurses are more likely to move beyond bedside care and advance their careers. Many specialties require a BSN at a minimum. But to move into advanced practice, education, and research, a master's or doctorate degree is a must. Most masters' programs require a BSN for admission. Even those that do not stipulate a BSN will give preference to BSN holders when there's competition for enrollment.
LPN to BSN: Licensed practical nurses may apply for an advanced standing in a BSN program. Once they complete the requirements, they become qualified to take the NCLEX-RN exam to practice as a registered nurse. The curriculum is designed to meet the unique needs of practical nurses by developing the education and experience they already have. With advanced placement for one to two semesters, the LPN can complete the required credits in three years.
RN to BSN: Thanks to flexible, online RN to BSN programs, adults who completed an associate's degree or diploma in nursing can complete the BSN for career advancement and higher pay. This option provides a faster route to the BSN than through the direct entry BSN. Moreover, it is convenient for those who may not have the time or finances to enroll in a four-year program from on the onset. Students will complete the general education requirements. However, the program emphasizes the core nursing courses that enhance nurses' clinical, critical thinking, leadership, decision-making, and communication skills. Graduates are also better prepared to use evidence-based practice to improve patient outcomes.
Traditional BSN: The traditional BSN program appeals to adults who want to avail themselves of the best opportunities from the onset. Through their preparation to meet the needs of diverse patient populations they can secure opportunities in various healthcare settings. Employers value their broadened educational scope to improve patient outcomes. BSNs can expand their career options by moving into leadership, research, and other areas and are more likely to pursue an advanced degree. BSN graduates are eligible to take the NCLEX-RN for a license to practice as a registered nurse.
Fast-track BSN: The second-degree BSN admits adults with a bachelor's degree in a non-nursing discipline. Many adults looking to restart their careers in an in-demand field choose nursing for the opportunities that it affords. The accelerated program lets them build on their prior education to qualify for the NCLEX-RN in just 12 months. With the transfer of general education and science courses, the student will delve into the core nursing curriculum, which includes theory and practical experiences to develop the skills to function as a competent provider of care. Prerequisite requirements will extend the time it takes to earn the BSN degree.
Traditional BSN Programs
The BSN program is a 4-year degree program that prepares students for a career in nursing. Graduates are also eligible for continued academic advancement through graduate nursing programs. The curriculum takes a hands-on approach to education, giving students the opportunity to strengthen their clinical skills in a simulation center before moving into the real world setting.
When combined with classroom theory, the practical experiences give students the foundation to function as professional nurses in a variety of settings.
The first step to admission is to attend an information session or a one-on-one session with an admission specialist. Take copies of your transcripts to be evaluated for credit. You must complete the prerequisite courses for admission to the nursing major. The duration of the program after admission to the nursing major is approximately three years. Prerequisite courses might include anatomy and physiology, English, microbiology, psychology, college-level mathematics, and chemistry.
Students who receive the BSN are eligible to sit the National Council Licensing Examination (NCLEX) for registered nurses.
Requirements for admission include:
A completed application submitted prior to the stipulated deadline
Complete all prerequisite courses with a grade C or higher
Maintain a cumulative GPA of at least 2.5 to 2.75
Submit official transcripts of all high school and college-level courses
Letters of recommendation
Admission to nursing programs is competitive, so selection of students may be based on several factors including GPA, a written essay, recommendations, interview, healthcare experience, and preadmissions evaluation. Upon conditional acceptance, students may be required to undergo health screening, criminal background check, and drug testing. A criminal conviction may bar you from entry.
Second Degree BSN
The Accelerated BSN program is designed for adults who already have a bachelor's degree, but want to make a rewarding career change. The program delivers a nursing degree in just 12 to 15 months to prepare students for an exciting and new profession in healthcare.
A strong emphasis on the academics bolstered by immersive clinic experiences requires a full-time commitment for students to complete the requirements in the stipulated timeframe.
Graduates qualify to take the NCLEX-RN for licensure as a registered nurse. They are then fully qualified to manage the healthcare needs of individuals, families, and populations.
Applicants must have a non-nursing bachelor's degree from a regionally accredited program.
Enrollment requires:
Submission of a completed application and fee.
A bachelor degree from an accredited college or university.
A cumulative GPA of at least 2.5 to 2.75.
Completed prerequisite courses with a minimum grade C before the application deadline
A completed application to the School of Nursing
Letters or reference
A written essay and professional resume
Meet the health requirements
Complete a criminal background check and drug screen
Prerequisite courses include microbiology, statistics, psychology, pharmacology, pathophysiology, and chemistry.
It might be essential to set up an interview with a counselor to determine if prior coursework meets the prerequisite requirements for the ABSN.
How Much Do BSN Programs Cost?
The yearly cost for nursing students in Vermont is approximately $14,208 for residents and $26,424 for non-residents. Additional costs include new student registration, student fees, health insurance, textbooks, nursing supplies, health requirements, prerequisite courses, and criminal background check.
Below is a list of Vermont Board of Nursing approved BSN programs and NCLEX-RN pass rates.
Vermont BSN Programs and NCLEX-RN Pass Rates:
Bennington, VT BSN programs:
Southern Vermont College
982 Mansion Drive, Bennington, VT 05201-6002
802-447-4000
NCLEX-RN Pass Rate: 92%
Burlington, VT BSN programs:
The University of Vermont
106 Carrigan Drive, Burlington, VT 05405
802-656-3131
NCLEX-RN Pass Rate: 92%
Castleton, VT BSN programs:
Castleton University
251 South Street, Castleton, VT 05735
802-468-1230
NCLEX-RN Pass Rate: N/A
Northfield, VT BSN programs:
Norwich University
158 Harmon Drive, Northfield, VT 05663
802-485-2000
NCLEX-RN Pass Rate: 84%