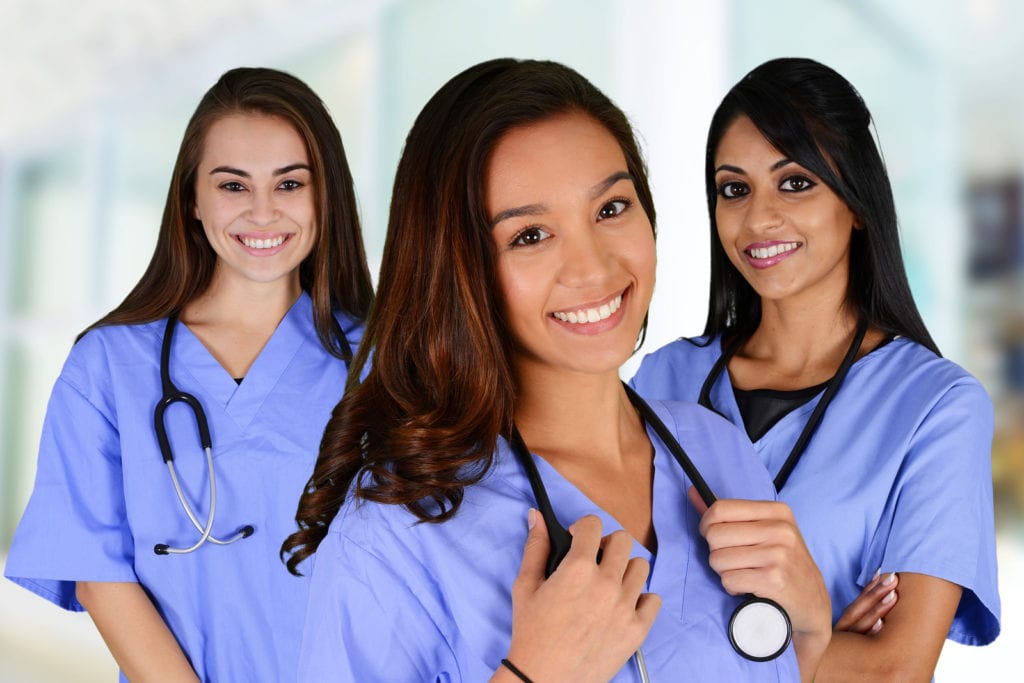 The Doctor of Nursing Practice (DNP) is a doctorate for nurses and is the highest level of academic preparation they can attain. The program integrates coursework with practical experiences and scenarios to prepare graduates for leadership roles and to bring evidence-based knowledge to clinical practice, which will improve health care outcomes.
Today's healthcare challenges demand appropriately trained health care workers to design and deliver care to an increasingly diverse society. In their evaluation of the nursing landscape, the American Association of Colleges of Nursing (AACN) strongly advocates the DNP as the terminal degree for advanced practice nurses to meet the complexity of patient care.
Nurses with an MSN can earn a DNP in just four semesters full-time or six semesters part-time with the transfer of credits from the MSN program. The courses equip students with a strong foundation in scientific principles and may be completed in an online or distance education format. Through a series of didactic courses, clinical experiences, and projects, students will learn how to translate knowledge to the benefit of patient populations in a medical setting.
While a master's degree is recommended for progressing to the DNP, some Georgia schools design the program in such a way as to let students progress seamlessly from the MSN study to the DNP program. Applicants with a BSN degree must submit an application to the MSN program and transfer seamlessly to the DNP – after earning a GPA of 3.5 or more. The class format varies by school, but may include on-campus sessions, seminars with invited lecturers, and asynchronous coursework.
The format for delivering content minimizes students' time on campus, which allows nurses to work while pursuing a DNP degree. Instead of the traditional dissertation, many schools require students to complete and present a scholarly project based on the coursework and clinical practice.
Reasons to Get a DNP Degree
Nursing is a diverse profession, and a nurse education program can take you in many different directions. An advanced degree, such as a DNP, gives you the flexibility to move into management, leadership, and teaching roles. DNP programs have been in existence for decades, but they're slowly gaining popularity due to the promotion/recommendation of the degree by leading nursing associations.
The American Association of College of Nursing clearly outlines its standpoint on degrees for prospective and working nurses. The calls for advanced practice nurses to obtain a DNP, DNSc, or Ph.D has been consistent. Nurses with advanced degrees will reduce the shortage of qualified faculty at colleges and universities and improve patient outcomes at medical facilities across the nation. They can participate in research opportunities, which are essential to the growth of the profession and beneficial to the future of nursing.
Advanced practice nurses who frequently collaborate with physicians, surgeons, and other healthcare providers will benefit from the elevated perspective of nursing and healthcare that the program provides. They will be more prepared to collaborate with medical doctors at the peer-to-peer level and with greater confidence.
The future generation of nurses is dependent on skilled faculty who deliver sound principles and practices in colleges and universities. With a DNP degree, you can influence and contribute to the future generation of nurses and improve the way health care is delivered. A DNP degree is a requirement for a faculty position.
Nurses are essentially credible, trustworthy, hardworking, and respected. However, as the healthcare industry evolves, demanding more from nurses, a higher level of education is a necessity. A DNP degree will help to improve your reputation and image in your area of practice. Leadership and management skills become more important as hospitals and state boards expand the role and functions of nursing. Advanced learning will prepare you to make decisions related to the care of patients and manage health care systems as a whole. Equipped with the learning and the expanded view of nursing, you can serve as a mentor to others and benefit the industry at large.
DNP Admission Requirements
The admission requirements depend on the school and prior education/experience of the applicant:
Applicants with an MSN degree should submit evidence of:
APRN certification (NP, CNM, CNS or CRNA)
MSN in nursing administration or nursing informatics instead of APRN certification.
Applicants with a master's degree in business or another non-MSN health degree must present evidence of:
Licensure as an RN
Leadership experience
Official transcripts from an MPH, MBA, MMHC, or MSHA program of study.
The average cost of tuition for Georgia's DNP programs is $763 per credit. Funding may be available from federal loans and other sources.
DNP Programs Georgia
Atlanta, GA DNP Programs:
Emory University
201 Dowman Drive, Atlanta, GA 30322
404-727-6123
Georgia Baptist College of Nursing
3001 Mercer University Drive, Atlanta, GA 30341
678-547-6111
Georgia State University
Address: P.O. Box-3965, Atlanta, GA 30302
404-413-2000
Augusta, GA DNP Programs:
Georgia Regents University
Address: 1120 15th Street, Augusta, GA 30912
706-721-0211
Carrollton, GA DNP Programs:
University of West Georgia
Address: 1601 Maple Street, Carrollton, GA 30118
678-839-5000
Chastain, GA DNP Programs:
Kennesaw State University
Address: 1000 Chastain Road, GA 30144
770-423-6000
Gainesville, GA DNP Programs:
Brenau University
500 Washington Street Southeast, Gainesville, GA 30501
770-534-6100
Milledgeville, GA DNP Programs:
Georgia College
Address: 231 West Hancock Street, Milledgeville, GA 31061
478-445-5004
Statesboro, GA DNP Programs:
Georgia Southern University
P.O. Box 8073, Statesboro, GA 30460
912-478-5322