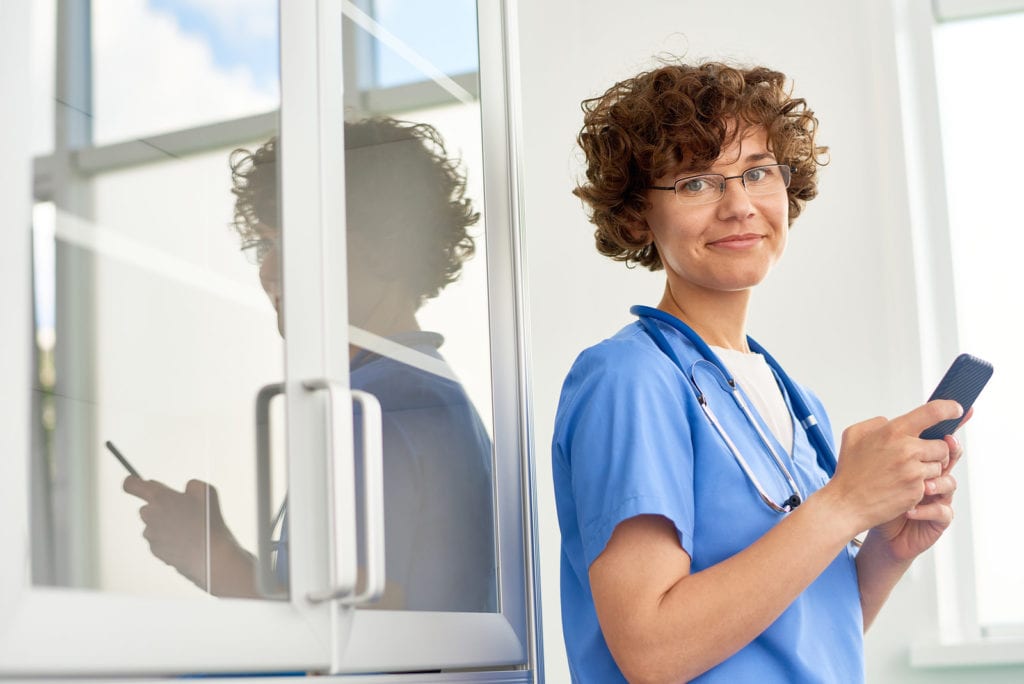 Constant changes in the profession of nursing call for nurse leaders who are capable of identifying problems before they emerge and make sound decisions to circumvent potential challenges. To lead healthcare organizations and draft policies that positively impact the profession, nurses must have a broad knowledge of advanced nursing practice, economics and finance, informatics, and healthcare policy.
The Doctor of Nursing Practice (DNP) program is designed to develop nurse leaders who can meet healthcare challenges and improve patient outcomes. The degree is an established alternative to the Ph.D. for those who plan to maintain a practice-based role in healthcare. The robust curriculum emphasizes the development of advanced skills that professional practitioners need to navigate the complex problems within the system. Enrollment in DNP programs has more than doubled in the last decade as graduates not only realize higher earning potential but also advanced opportunities, job security, and the expertise to make unique contributions to the profession and fill in-demand positions that are reserved for DNP graduates only.
Clinicians receive the knowledge and essential skills that are critical to accountability in advanced practice. Students learn how to lead teams in increasingly complex healthcare systems for culturally diverse populations. They improve the delivery of care and patient outcomes through independent practice (or sometimes collaboratively) in various healthcare environments.
The requirements for the degree can take three to six years to complete depending on the point of entry. Graduates will be capable of functioning in multiple roles, such as an executive of a healthcare organization, a manager of quality initiatives, a director of clinical programs, or in an instructor role.
Reasons to Get A DNP
The Master of Science in Nursing (MSN) covers the specialty training that prepares nurses to advance their careers in the field of nursing. For those graduates who would like to become experts in a particular area, pursuing the Doctor of Nursing Practice (DNP) should be the next step. The DNP is a terminal degree that designed for nurses who plan to stay in clinical practice. Unlike the professionals who pursue the Ph.D. to conduct research, DNP graduates are prepared to improve patient outcomes and translate evidence-based findings into clinical practice. The can also lead teams, develop and influence policies and procedures on a local and national level, and educate patients on public health and accompanying issues.
Doctoral-level nurses have career opportunities in innumerable areas of practice. From public health departments to private practice and primary care facilities and hospitals, DNP nurses can develop evidence-based solutions to current health issues. Strong leadership skills will prove valuable in mapping research, bridging the gap between research findings and the delivery of care, developing new approaches to care, and promoting nursing knowledge.
DNP graduates often have higher salaries than their MSN counterparts. According to Payscale, nurses who complete the DNP can earn up to $111,970 per year. Nurse practitioners are identified among the highest paid DNPs. Of course, there are factors, besides education, that will influence a nurse's salary. Some of these factors include the employer, geographical location, area of specialization, and experience. The job outlook for nurse practitioners is expected to increase 31 percent from 2016 to 2026. Salary expectations are likely to increase by 25 percent within that same period. Nurse practitioners with the DNP degree will earn the highest salaries.
The DNP curriculum is designed to arm nurses with the highest level of scientific knowledge and practice expertise to boost quality patient outcomes. Due to their expertise, DNP nurses are among the most valuable resources within the fast-changing health care system. Greater access to health care and the additional emphasis on preventative care have created exciting opportunities for nurse practitioners who are trained at the DNP level to focus on total wellness. Another variable that increases demand for service is the fact that Americans are living longer and require health care services to cope with chronic illnesses. DNP nurses are poised to meet the demand for wellness and primary care services. Those who are licensed as nurse practitioners will be able to examine, diagnose, and treat patients across the lifespan and earn a higher return on their investment in higher education.
As the demand for nurses grows, so will the demand for nurse educators who can guide new generations of nurses to improved patient outcomes and professionalism. A DNP with a concentration in Educational Leadership prepares students to assume the role of a nurse education and relieve the nursing faculty shortage in the United States. As educators, graduates will provide the essential platform for newcomers to the profession or BSN and graduate nurses to advance their knowledge, skills, and practice. DNP nurse educators, in particular, will develop programs of study that will expand nurses' technical skills and knowledge to promote quality care for all patients.
More and more BSN and advanced practice nurses are choosing the DNP program to hone their skills to enhance organizational structures to improve patient outcomes, safety, and satisfaction. Through the implementation of new policies and procedures, DNP nurses take a leading role in the future and direction of the profession. The opportunities and practice options are seemingly endless as graduates have taken positions as directors, nurse educators, executive leaders of healthcare organizations, clinical nurse specialists, nurse practitioners, health policy specialists, and nursing informatics.
DNP Admission Requirements Rhode Island
Nurses pursue the DNP to demonstrate mastery of advanced competencies, gain the respect of their peers, and increase their earning potential. Students learn the art of excellent care, but they also have the expertise to deliver quality in the healthcare system where technology, reforms, and consumer demands change at the pace of lightning.
Nurses, like physical therapists and other healthcare providers, are taking their continued competency to the maximum level to develop their expertise in a specialized area. The program does not require a dissertation, as the emphasis is not to conduct but the evaluation and implementation of research findings in a clinical setting. The duration of the program could be three to six years, depending on the student's point of entry, goals, and experience. Tuition is a major hindrance for many, but the investment is worthwhile as DNP-prepared nurse practitioners have earned as much as $7,688 more than those prepared at the master's level.
At the AACN Task Force's recommendation that master's level APNs earn a doctorate by 2015, enrollment in DNP programs have skyrocketed from a meager 70 persons in 2002 to more than 5,700 at this current time. Another recommendation from the Task Force surrounds the curriculum and corresponding practice. Most noteworthy is the essential content, such as leadership, management, use of technology, and quality improvement. The entire curriculum must be practice-focused and include a module for students to function as nurse educators. Registered nurses can regard the DNP as an option to prepare for advanced practice nursing in the four current APN roles: nurse practitioners, clinical nurse specialist, nurse midwife, and nurse anesthetist.
Admission Requirements – Post-BSN Entry
The College of Nursing at the University of Rhode Island admits BSN nurses to the DNP program with nurse practitioner concentrations in acute care, family, and adult-gerontological. Students are expected to complete 72 to 74 total credits – varies with practice option. The University affords them the option to earn the master's along the way – after complete 42 to 45 credits. The BSN to DNP pathway is time and cost saving as students will save at least 14 credits.
General admission requirements include:
A completed application with all required documents
A minimum GPA of 3.0
Have a BSN from an accredited program
Have a current RN license or be eligible for RN licensure in Rhode Island
Have positive recommendations from professional and academic sources
A grade C or better in statistics
Provide a curriculum vitae or resume
Submit MAT or GRE results with acceptable scores
Present a statement of purpose highlighting your goals for advanced study in nursing
Admission Requirements – Post-MSN Entry
Advanced practice nurses can enroll in the post-MSN DNP at the University of Rhode Island to prepare for the highest level of clinical practice. The goal of the program is to produce clinicians who are capable of translating scientific findings, evaluating outcomes, transforming health care systems and policies, and much more. APRNs with a master's degree in nursing will need to complete 42 credits, including 500 clinical practicum hours, to earn the DNP. The coursework emphasizes research methods, informatics, evidence-based strategies, and administration and leadership.
General admission requirements include:
A completed application with all required documents
A master's degree in nursing
A minimum GPA of 3.3
A registered nursing license
National certification as an advanced practice nurse
Three letters of recommendation (academic and professional)
Scholarly papers to demonstrate command of advanced writing
A statement of purpose that reflects writing ability and goals
A curriculum vitae or resume
Transcripts from all post-secondary institutions
Graduate tuition at the University of Rhode Island costs approximately $750 per credit for resident students. The final cost of tuition will depend on the point of entry to the program at the total number of credits required to complete the DNP requirements. In addition to tuition, students will need to budget for textbooks and personal expenses.
DNP Programs Rhode Island
 Kingston, RI DNP programs:
University of Rhode Island
45 Upper College Rd, Kingston, Rhode Island- 02881
(401) 874-1000
Newport, RI DNP programs:
Salve Regina University
100 Ochre Point Avenue, Newport, Rhode Island 02840
(401) 847-6650
Providence, RI DNP programs:
Rhode Island College
600 Mount Pleasant Avenue, Providence, RI 02908
(401) 456-8000