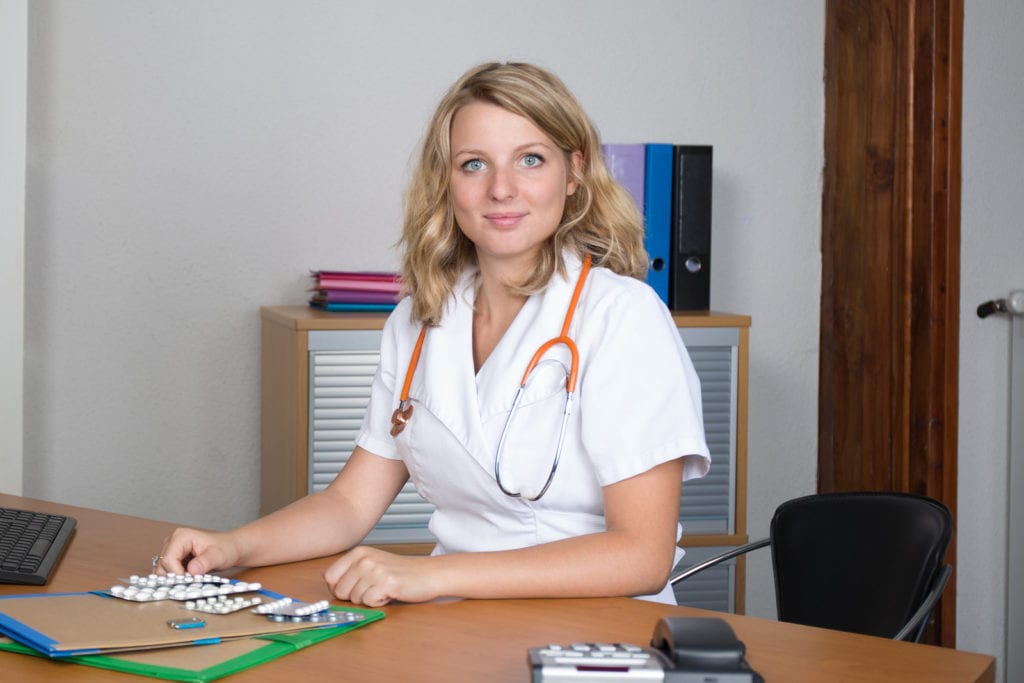 The role and capabilities of Advanced Practice Registered Nurses have expanded in the past decade to the point where they are valued as an integral part of the health care system. Several estimates suggest that there will be a shortage of 45,000 primary care physicians by 2020. Furthermore, the growth of primary care physicians annually was just 1% nationally over the last decade, compared with the 9% growth of APRNs per capita. In an effort to meet growing primary care needs, the health care system will rely on APRNs to fill the gap between supply and demand in Delaware. As more registered nurses complete the educational requirements (a master's degree in nursing at minimum), there will be greater numbers of APRNs to meet the healthcare needs of populations where there is a shortage of health professionals.
With Delaware's existing shortage of physicians in two out of three counties, there is an even greater need for qualified APRNs to help fill the gap. Over 25% of practicing physicians are nearing retirement, which will have a negative impact on the healthcare system and especially Medicaid recipients who depend on primary care in rural and low socioeconomic communities. APRNs, who work in rural and underserved areas, will have an integral role in filling the need for health care services for Medicaid populations.
Profile of a Delaware APRN
There are four APRN specialties that the Delaware Board of Nursing recognizes: Certified Registered Nurse Anesthetist, Certified Nurse Midwife, Certified Nurse Practitioner, and Clinical Nurse Specialist. All APRNs must be prepared at the master's level or above in the area of specialty and pass a national certifying exam, recognized by the Board of Nursing, to qualify for licensure. In 2015, new legislation supporting independent practice of qualified, experienced nurses was signed into law allowing APRNs to practice to the fullest capacity that their education and experience provide. The result is improved access to health care for Delawareans, especially for those living in central cities and rural areas.
Initially, APRNs must practice under a collaborative agreement with a private practice physician, clinic, or hospital for two years or 4,000 hours after completing graduate courses and securing state licensure. Their educational preparation and national certification combined with the experience gained in collaborative practice will prepare them to provide the highest standards of health care.
Nurse practitioners and clinical nurse specialists in particular have the training to focus on a patient's total health profile. A nurse practitioner, for example, can conduct physical exams, interpret medical history, order diagnostic tests, prescribe pharmacological treatments, perform minor surgeries, and counsel and educate patients and their families. In so doing, patients can access all their primary care needs from a single provider, and thereby, reduce cost. APRNs, therefore, makes healthcare more affordable for low-income populations.
Delaware's universities play a key role in preparing nurses who enroll in graduate-level programs to practice at this advanced level. The MSN curriculum emphasizes the relationship among advanced nursing practice, theory, and scholarly inquiry. Graduates will demonstrate competency in the roles of educator, leader, caregiver, and researcher and will be able to influence health policy and practice at the highest level in a variety of settings.
Here are three options to pursue an MSN degree in Delaware:
RN to MSN: The University of Delaware and Wesley College open the MSN program to registered nurses with an associate's degree. This time and cost-saving program is offered in traditional, hybrid, and online formats, giving RNs the option to complete the training as their schedule allows.
Direct Entry MSN: Wilmington University and the University of Delaware offer the MSN degree in several concentrations. Applicants must have a bachelor's degree and identify their intended area of specialty. The traditional MSN includes theory, at least 600 hours of clinical practice, and research. The duration can be anywhere from 2 years to 5 years depending on schedule and focus area.
Post-Master's Certificate: Apply to a post-master's certificate program if you already have a master's degree and want to qualify for certification in another specialty area. You can enroll in an area related to your current focus or take a different direction. The post-master's certificate takes 2 to 4 semesters to complete.
Study at the graduate level can be as flexible as you want it to be. You can arrange your study to meet your educational and professional goals without compromising your existing schedule. The program may be available in a hybrid or online format.
General outline of the enrollment criteria:
Summary of Enrollment Criteria
A current, unencumbered registered nursing license
An associate's (for RN-MSN programs) or a baccalaureate degree in nursing from an accredited program.
Official transcripts of all college-level courses.
A cumulative GPA of 3.0 or above. Conditional admission may be available if your GPA is below 3.0.
Letters of reference detailing your academic abilities.
A professional resume.
How Much Do MSN Programs Cost?
Cost shouldn't be an issue when you're pursuing an MSN degree that could open so many doors. The average tuition cost is $12,800 per semester (full-time) or $25,600 per year. The cost does not include fees, textbooks, and supplies. Scholarships, grants, loans, and work-study programs can help to reduce the cost of tuition.
Requirements For Advanced Practice Registered Nurses Delaware
Before submitting an application for APRN licensure in Delaware, you must have an active registered nurse license or apply for one with your APRN application. Provide documents to confirm that you have a master's degree or a post-basic certificate in a clinical nursing specialty with national certification from a recognized agency.
For the role and population for which you're applying, you must meet one of the following requirements:
Practice in the specialty for at least 600 hours over the past two years or 1,500 hours over the past five years, or
Graduate from the specialty program within the past two years.
APRNs with less than two years or 4,000 hours of practice must have a collaborative agreement for each business place of practice. The collaborative agreement must remain in effect until you've attained 4,000 hours or two years of practice.
Guidelines for APRN Licensure
If you wish to practice in more than one APRN specialty, you must file a separate application for each. Use the following guidelines to submit an application to the Board of Nursing:
Complete the Application for Licensure as an Advanced Practice Registered Nurse, sign, notarize, and submit to the Board's office. Answer all the questions. If a question is not applicable, enter "None." Read the affidavit section and sign in front of a notary public.
Include the non-refundable processing fee with the application. The fee for APRN licensure is $141. Make checks payable to "State of Delaware."
Complete the Authorization for Release of Information form to request a criminal background check – both State of Delaware and Federal Bureau of Investigation. The application form contains guidelines for fingerprinting.
Enclose a copy of your driver's license or DMV official identification card.
Make arrangements for the university to send your official transcript to the Board's office.
Enclose a copy of your original certification notice or re-certification card.
Complete the first section of the Verification of National Certification form and send it to the certifying organization. The organization must complete and return the form directly to the Board's office. There may be a fee for verifying your certification.
Submit a collaborative agreement for each business where you'll be practicing in the state. In the absence of a current collaborative agreement, you must obtain a collaborator and file a Report of Collaborative Agreement Change form before you begin practicing.
Submit a Request for Exemption from Social Security Number Requirement if you do not have a United States Social Security Number.
Your application will be discarded if you do not submit all the required documents within one year of filing.
Temporary Permit
You may apply for a temporary permit when you submit an application a Delaware Advanced Practice Registered Nurse license. Do not apply for a temporary permit before submitting an application for licensure. The temporary permit is an authorization to practice as an APRN until the Board issues the APRN license.
If you are awaiting national certification, you must practice under supervision while working with a temporary permit. A collaborative agreement must be in effect while working under a temporary permit if you've practiced as an APRN less than two years or fewer than 4,000 hours. The temporary permit will immediately become null and void if you fail your national certifying examination.
To apply for a temporary permit:
Complete and sign the Application for Temporary Permit for Advanced Practice Registered Nurse.
Enclose the non-refundable temporary permit fee of $40. Make check or money order payable to "State of Delaware."
Submit a copy of your original certification document or current re-certification card or verification of your eligibility to take the national certification exam if you're not yet certified.
Fill out and enclose a Report of Collaborative Agreement Change form if you did not submit a Collaborative Agreement with your APRN application – for applicants who practiced less than two years or fewer than 4,000 hours.
The Board must receive your State of Delaware and Federal Bureau of Investigation criminal history report before authorizing practice under the temporary permit. After receiving all the required documents, the Board will issue your temporary permit within seven days if you meet the requirements. Temporary permits expire 90 days from the issue date. Do not begin practicing until you receive confirmation of your temporary permit.
Prescriptive Authority
Apply for prescriptive authority to prescribe non-controlled substances as an APRN in Delaware. You may request prescriptive authority on the APRN application form or apply for it later on.
Application guidelines:
Answer "yes" to question 2 on the APRN application.
Your APRN transcript should indicate that you completed advanced health assessment, advanced pathophysiology, diagnosis and management of problem within your clinical specialty, and advanced pharmacology/ pharmacotherapeutics.
There is no fee for prescriptive authority. The Board will request further information if your transcript does not reflect the courses required for PA.
You may apply for prescriptive authority for non-controlled substances if you have:
A Delaware APRN license with prescriptive authority, and
Delaware CSR
APRN Renewal Requirements Delaware
Your Delaware APRN license will expire at the same time as your RN license. If you hold an RN license in another compact state, your APRN license will expire on September 30 of odd-numbered years.
As part of the renewal process, you must meet one of the following practice requirements in your role and population focus area:
1,500 hours of practice in the past five years, or
600 hours of practice in the past two years, or
Graduated from the specialty program within the past two years.
The Board will send a renewal notice approximately 60 days before the license renewal and indicate the renewal on the notice. A late fee (50% of the renewal fee) will apply if you renew after the expiration date but no later than 30 days after the license expires. After this time, you must pay to reinstate your license. There is a $212 fee for each license you are reinstating.
Continuing Education Requirements
There are no continuing education requirements for renewing your APRN license. However, if you're renewing prescriptive authority, you must complete 10 hours of pharmacology coursework for every two-year renewal cycle. There may be continuing education requirements for renewing your national certification.
Contact the Board of Nursing
Division of Professional Regulation
Cannon Building, Suite 203
861 Silver Lake Blvd.
Dover, Delaware 19904
Phone: (302) 744-4500
Fax: (302) 739-2711
MSN Programs Delaware
Dover, DE MSN Programs:
Delaware State University
1200 North Dupont Highway, Dover, DE 19901
302-857-6060
Wesley College
120 North State Street, Dover, Delaware- 19901
302-736-2300
Newark, DE MSN Programs:
University of Delaware
217 John M Clayton Hall, Newark, DE 19716
302-831-2792
New Castle, DE MSN Programs:
Wilmington University
320 North DuPont Highway, New Castle, DE 19720
877-967-5464