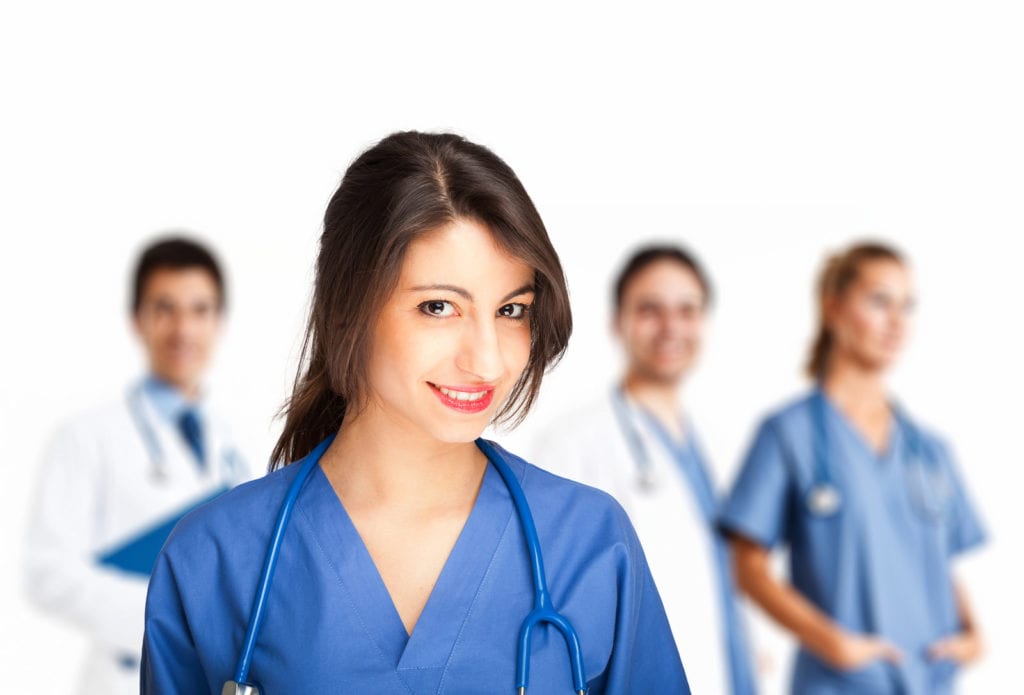 The American Association of Colleges of Nursing (AACN) doesn't expect the current nursing shortage to let up anytime soon. There are several reasons for the ongoing shortage of nurses to staff the nation's hospitals, but a lack of students is not one of them. Across the United States, BSN programs have to turn away more than 80,000 students each year due to budget constraints, competition from clinical sites, and aging faculty. So while recruitment campaigns and media advertising have boosted the interest in nursing, Delaware's three BSN programs have been unable to manage the rising number of applicants. For this reason, it is important that you apply for your preferred program as soon as possible.
Nurses are needed all over the U.S. to care for the increasing number of Baby Boomers, who will require extra care as they grow older. A bachelor's degree in nursing prepares students for terrific career opportunities in hospitals, nursing homes, government agencies and other settings. The curriculum includes training in the classroom and simulation lab as well as hands-on experience in multiple medical settings. The real-world experience and opportunities to interact with local communities give students the skills, knowledge, and confidence to succeed in the rapidly changing field of health care.
At the conclusion of the undergraduate program, successful graduates are eligible to take the NCLEX-RN to become a licensed registered nurse. Once licensed, the new RN can begin working in an entry-level position in a variety of health care settings. The most common route to registered nurse practice is through the two-year associate's degree. However, the BSN is fast-becoming the standard for practice as hospital officials back the "BSN in 10" initiative. Local hospitals, such as Nemours A.I Dupont Hospital for Children and Christiana are on board, especially after achieving Magnet status in recent years. At least 80 percent of the nursing workforce in these facilities must have a bachelor's degree or higher, so it is easy to understand why officials give preference to nurses who already have the advanced degree.
In the coming years, ADN-prepared nurses may slide into obscurity as more and more employers raise the requirements for entry-level nursing staff. At present, ADNs in Delaware and across the nation are being relegated to long-term care settings due to strict hiring practices in hospitals seeking Magnet status. Many government agencies won't hire a registered nurse below the BSN level.
If you're considering a career in nursing, don't wait until the BSN degree becomes an absolute requirement. The current nursing shortage and a corresponding demand for professionally trained nurses at the BSN level will put you well ahead of the curve.
Following is a list of the various types of BSN programs available in Delaware.
LPN to BSN: Licensed practical nursing presents an easy and affordable way to enter the profession of nursing. It takes about 12 months to complete the required training and licensure to practice as an LPN in Delaware. In the past, LPNs had a critical role in the hospital environment, but now, with the emergence of stricter standards for nursing in hospitals, the majority of LPNs work in long-term care settings. To qualify for employment in hospitals and the public sector, an LPN can enroll in an LPN-BSN program and transfer credits for advanced placement in the program.
RN to BSN: In light of the immediate demands for nurses prepared at the BSN level, RN-BSN programs provide a flexible and easy way for nurses prepared at the diploma or associate's degree level to transition to the BSN degree. Many hospitals pursuing Magnet status are also encouraging their nursing staff to achieve a BSN degree or higher to increase the percentage of the workforce with a bachelor's degree or above. There has been an emergence of the BSN completion program in response to growing interest. The easy, flexible online format is ideal for RNs, who need to balance professional and family commitments while completing the degree requirements.
Traditional BSN: The BSN program requires at least 3 years of study and prepares students to meet the AACN's minimum standard for practice as a registered nurse. Topics such as critical thinking, communication, health maintenance and restoration, health promotion, risk reduction, pharmacology, assessment of health and illness, and community health nursing produce graduates who are knowledgeable, innovative nurse leaders who are equipped with superior training to practice on the forefront of health care.
Fast-track BSN: The accelerated BSN program is designed for highly motivated individuals who have already accomplished a bachelor's degree in another field. They might pursue the accelerated BSN to change careers and enter the highly rewarding field of nursing. Full-time students may complete the program in just 12 to 18 months with the transfer of general education courses from a regionally accredited program. The program of study follows a similar sequence to that of the traditional bachelor's of science degree in nursing with educational learning opportunities in the classroom and clinical sites. The fast-paced program demands a full-time commitment.
Graduates of the LPN-BSN and traditional and fast-track BSN programs are well prepared to complete the national licensure exam to become a registered nurse.
Traditional BSN Programs
After completing 120 to 128 credits of general education and core nursing courses at an accredited university, graduates of the traditional BSN program are prepared to take the NCLEX licensure exam to practice as a registered nurse.
There are three accredited and board-approved BSN schools in Delaware. With hundreds of applicants vying for a spot each year, it is essential that you apply early and submit the required documents as soon as you identify the school you'd like to attend.
Classroom instruction and supervised clinical experiences at several different types of health care facilities are critical aspects of the learning process. Patient care opportunities in hospitals, nursing homes, and other healthcare facilities may begin as soon as the sophomore year. Students must meet the clinical site requirements, such as no disqualifying criminal offenses, TB clearance, and up-to-date immunization, before participating in the hands-on clinical experience.
General admission requirements include:
A completed application submitted before the deadline
Evidence of completing the prerequisite courses with a grade C or above
Completion of the admission test requirements with a passing score
Official high school transcripts or GED
Official transcripts of all college-level courses
Clinical site requirements may also include liability insurance, CPR certification, and a physical exam report.
Second Degree BSN
The accelerated BSN is an intensive program for students who already have a baccalaureate or graduate degrees. It is specially designed for the adult learner who is interested in changing careers and prepare for practice as a registered nurse on a condensed timeline. The majority of graduates take up entry-level positions in hospitals, medical offices, and outpatient clinics. Your schedule will determine your schedule of choice –whether part-time or full-time. Keep in mind that the accelerated pace of the program often calls for a full-time commitment, especially after the first semester.
Prerequisites for enrolling in the program will include a bachelor's degree in another discipline, anatomy and physiology, statistics, nutrition, developmental psychology, general chemistry, and microbiology.
General education and science courses may be eligible for transfer after review from an official at the college/university. Your placement in the program and requirements for earning the BSN degree will depend on the open electives, core requirements, and prerequisites that you previously completed. Only those courses completed at an accredited institute will be eligible for transfer.
To qualify for entry into the program, you must have a non-nursing bachelor's degree, a cumulative GPA of 3.0, and complete the prerequisite courses with a grade C or above – anatomy and physiology, nutrition, human growth and development, microbiology, and statistics. A personal statement, academic references, a resume, and a personal interview with a faculty member may be some other requirements.
How Much Do BSN Programs Cost?
Obtaining a college education requires an investment of time and money. Your goal should be to get an excellent education at a great value. The average rate for tuition for Delaware students is $11, 500 per year. In an effort to revitalize the nursing workforce in Delaware, the Health Resources and Services Administration (HRSA) awards a Nursing Workforce Diversity (NWD) grant to students enrolled full-time in a traditional BSN program. The grant can be applied to tuition, textbooks, fees, and related expenses. Federal financial aid, scholarships, and tuition reimbursement are some other ways to reduce out-of-pocket costs.
Following is a list of Board-approved BSN programs in Delaware with the NCLEX-RN pass rates.
BSN Programs and NCLEX-RN Pass Rates:
Dover, DE BSN programs:
Wesley College
120 North State Street, Dover, Delaware- 19901
302-736-2300
NCLEX-RN Pass Rate: 83.33%
Delaware State University
1200 North Dupont Highway, Dover, DE 19901
302-857-6060
NCLEX-RN Pass Rate: 84.00%
Newark, DE BSN programs:
University of Delaware
217 John M Clayton Hall, Newark, DE 19716
302-831-2792
NCLEX-RN Pass Rate: 84.92%