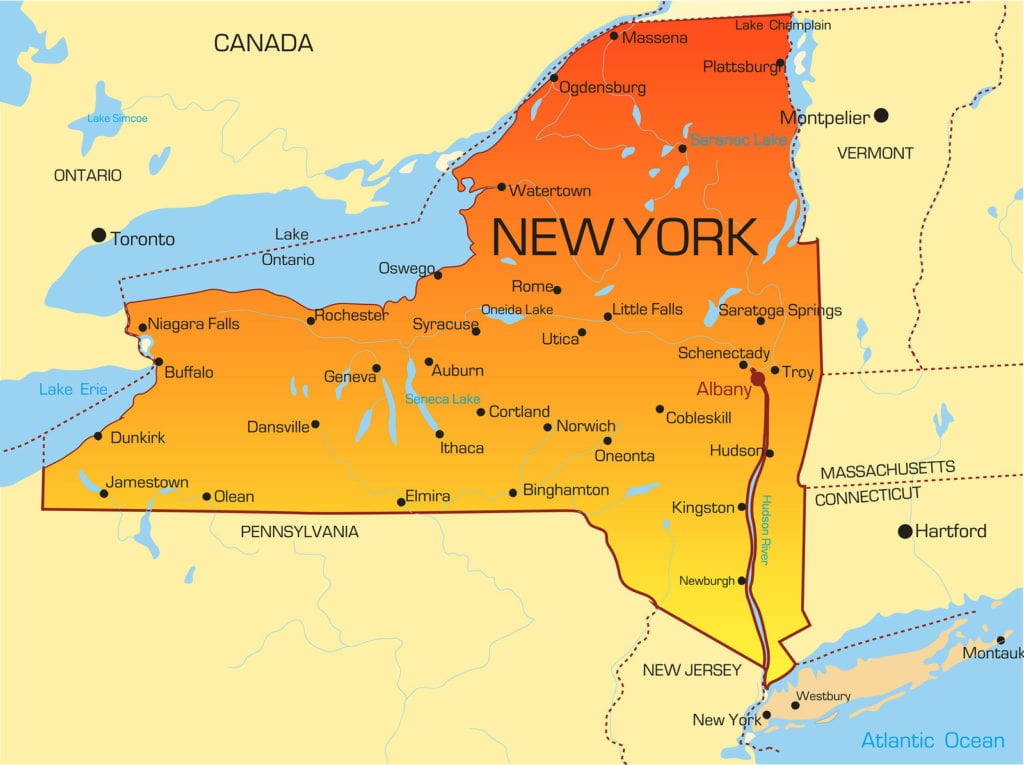 Out of all healthcare occupations expected to grow at least 21% by 2020, jobs for registered nurses will have the highest growth and salary. The increase in aging Baby Boomers and greater access to health care will drive the need for more nursing staff at medical facilities. Once considered a middle-skill job by the Bureau of Labor Statistics, the role of nurses has expanded to become a high-skill job as nurses focus on preventative care. The expanded role of nurses will require a bachelor's degree for many new positions, which is why the associate's degree in nursing should be a stepping stone to transition to the BSN degree. Many hospitals in New York will only hire nurses with a four-year degree, leaving those with a two-year degree to compete for jobs in nursing homes and assisted living facilities. In certain areas of the state, the demand for registered nurses is especially high. In those counties, new graduates can find jobs in medical offices, clinics, long-term care facilities, and patients' homes.
New York Nursing Programs
Education Requirements
The AAS or ADN program is a pre-licensure program designed to prepare students for the NCLEX-RN exam for practice as a registered nurse. In preparation for public service, students gain the professional competence and accountability that are essential for patient care. Committed faculty will provide a comprehensive nursing education that emphasizes the human component of the profession along with the additional skills, knowledge, and experiences to encourage lifelong learning.
The goal of the program is to prepare graduates who will become competent members of a health care team and have the qualification to render effective care in hospitals, long-term care facilities, and other medical settings. By combining classroom theory and clinical skills practice, students will have opportunities to put their knowledge to practice, participate in collaborative care, and develop critical thinking skills. The clinical experience may occur in several facilities to prepare students for work in a variety of clinical settings.
ADN/AAS programs require less time and money to complete than BSN programs, which cover additional learning in communication, leadership, and community care. Although the two-year degree program facilitates easy entry to the nursing, graduates should consider bridge programs to earn a BSN degree and improve their salary and employment prospects.
The requirements for completing the degree may be approximately 65 to 70 credits. Graduates will be eligible to take the NCLEX-RN, but must have a good moral character to qualify for a license as a registered nurse in New York. The Office of the Professions will review those found guilty of a crime or have pending criminal charges on a case by case basis.
Registered nurse graduates work in home healthcare, hospitals, long-term care, public health administration, and occupational health. The ADN program provides a foundation for patient care to individuals who want to embark on a career that focuses on making a difference in the lives of others.
Eligibility Criteria
Even with over 50 associate degree in nursing programs in NYS, enrollment is a competitive process. Below is a general list of requirements for enrolling in a nursing education program.
A completed application to the college and the nursing department.
Official high school transcript or a GED.
A passing score on the entrance exam.
Attendance at an information session.
Health requirements including immunization, TB test, and physical exam for clinical placement.
The clinical facility may require a criminal background report.
CPR certification for Health Care Providers.
Duration and Cost
The cost of tuition published on the school's website may not be an accurate representation of your total cost of completing the nursing degree. A consultation with a financial aid officer at the school of choice will help you to work out your cost minus any sources of aid. Submit your application for financial aid early along with any potential opportunities to receive a scholarship or grant. The average cost of tuition in New York is $7,500 per semester. Nursing students must prepare for additional expenses to cover the cost of supplies, insurance, transport to and from the clinical site, health requirements, state licensure, and the NCLEX-RN exam fee.
New York RN Licensure Requirements
To practice nursing under the title of Registered Nursing requires a license from the State of New York. As a candidate for registration, you must have a good moral character, be 18 years or older, meet the education and examination requirements, and submit an application for registration to NYSED.
As a nursing school graduate applying for the registration, you may be qualified to practice under a limited permit that the NYSED issues to qualifying nursing school graduates. If the NYSED issues the permit for temporary practice, you must practice under the supervision of a registered nurse and an employer's endorsement. The application for a limited permit and the $35 fee must be submitted to the NYSED who will consider your application after confirming that you submitted an application for licensure, the application fee, and proof of education. Once issued, the permit will expire one year later or 10 days after receiving notification of failing the NCLEX-RN. Since the permit is employer-specific, you must request another permit if changing employers. If you're ever taken the NCLEX-RN, you are not qualified to receive a limited permit.
If you graduated from an NYS approved nursing education program, you may practice for 90 days immediately after graduating without holding a limited permit. During this period, you must submit an application for licensure to the NYSED.
Licensure By Examination
To qualify for licensure by examination, you must successfully complete the NCLEX-RN administered by Pearson Vue.
To apply for the NCLEX-RN examination, submit the following to NYSED:
A completed Application for Licensure. Include your social security number and DMV ID number.
The initial registration fee of $143. Make check or money order payable to the New York State Education Department.
Verification of your nursing education. An NYS-approved program will verify your education directly with the NYSED. Use the Form 2AF if you graduated from a nursing education program conducted by the U.S. armed forces. Request the CGFNS to verify your credentials if you graduated from a nursing education program outside of the United States.
Register with Pearson Vue to take the NCLEX-RN. You must have the nursing program code, available from the school, to complete the registration. Reasonable testing accommodation is available if you have a qualifying disability, but you must request it in advance.
Registered nurse candidates must complete child abuse reporting coursework and infection control course work to practice. If you graduated from an NYSED approved program after September 1, 1990, the coursework would have been completed as part of your nursing education.
Submit the Application for Limited Permit and the $35 processing fee – optional.
If you pass the NCLEX-RN exam and meet all the other requirements for licensure, you will receive a license parchment and registration certificate from NYSED. The license is valid for life unless it is surrendered, annulled, suspended, or revoked. The certificate allows for practice for three years, and you must renew to continue practicing.
Licensure By Endorsement
If you are licensed as a nurse in another state, you can apply for licensure for endorsement by submitting the following:
A completed Application for Licensure. Include your social security number and driver's license number.
The initial registration fee of $143. Make check or money order payable to the New York State Education Department.
Verification of your nursing education using the Certification of Professional Education form. Request the CGFNS to verify your credentials if you graduated from a nursing education program outside of the United States. All verification of your education should be sent from the agency directly to the Office of Professions.
Verification of your license from another state. Register with NURSYS to verify your licensure from other states if available. If the state does not participate in NURSYS, you should use the Verification of Other Professional Licensure/Certification form to complete the verification process. The licensing agency must submit the form directly to the Office of Professions. A processing fee may apply.
NCLEX-RN Registration: Register for the NCLEX-RN online at www.vue.com/nclex or call 1-866-496-2539. You'll need your nursing program's code to complete the registration. If you applied for and received approval for special accommodation for the exam, you must attach a copy of the approval to the exam registration form. If you schedule a test date before receiving approval for special accommodation, you may lose your exam fee.
Renewal Requirements
Following the initial 3 years of your registration, you must renew your license to continue practicing. The Office of Professions will send renewal information to the name and address on file at least four months before your registration expires. It is your legal responsibility, under Education law, to notify the Department of any changes in your name or mailing address within 30 days of making the change. Failure to notify the Department of changes in your name or address is considered professional misconduct and could result in delays in renewing your licensure.
Continuing Education Requirements for New York RNs
Currently, there are no continuing education requirements for registered nurses in New York.
New York Salary and Job Outlook
According to a recent healthcare industry analyses of the job outlook for nurses in 2016 and beyond, nurses are in demand. Most healthcare employers are hiring, and that's good news for nursing graduates. A recent Bureau of Labor Statistics report pointed out that 495,000 new jobs were added in a one-year period with approximately 45,000 healthcare jobs added in one month alone. With the unprecedented growth in healthcare opportunities, the BLS predicts that the trend will continue until 2024 as the gap between job openings and available hires widen.
As more than 25% of the nursing population approach retirement, the demand for nurses to replace them will increase. However, experienced nurses with training in specialty areas will be the main target for recruitment. The influx of new graduates will increase market supply in some areas, but they will be unable to fill those positions that require experienced professionals. An HRSA report points out that emerging models of care will supply new positions for nurses in preventative care and care coordination to balance supply and demand.
The Center for Health Workforce Studies at the State University of New York University at Albany identified registered nurses, personal care aides, and home health aides as the professions for the largest job growth between 2010 and 2020 in response the expanded utilization of these healthcare workers. All reports indicate that it's a great time to follow this career path to secure employment in an important and in-demand area of the sector.
Registered nurses in New York earn an annual mean wage of $78,950 according to a 2015 report from the United State Bureau of Labor Statistics.
Contact the Board of Nursing
NYS Education Department
Office of the Professions
Division of Professional Licensing Services
Records & Archives Unit
Education Building – 2nd Floor
New York Registered Nursing Programs and NCLEX-RN Pass Rates:
Albany, NY ADN Programs:
Cochran School of Nursing
89 Washington Avenue, 2nd Floor, West Wing, Albany, NY 12234-1000
518-488-2967
NCLEX-RN Pass Rate: 84.4%
Excelsior College
7 Columbia Circle, Albany, NY 12203-5159
888-647-2388
NCLEX-RN Pass Rate: 74.5%
Auburn, NY ADN Programs:
Cayuga Community College
197 Franklin Street, Auburn, NY 13021
315-255-1743
NCLEX-RN Pass Rate: 100.0%
Bayshore, NY ADN Programs:
Touro College School of Health Sciences
1700 Union Boulevard, Bay Shore, NY 11706
631-665-1600
NCLEX-RN Pass Rate: 76.9%
Batavia, NY ADN Programs:
University Genesee Community College
1 College Road, Batavia, NY 14020,
585-343-0055
NCLEX-RN Pass Rate: 84.9%
Bayside, NY ADN Programs:
Queensborough Community College
222-05 56th Avenue, Bayside, NY 11364
718-631-6262
NCLEX-RN Pass Rate: 91.0%
Binghamton, NY ADN Programs:
Broome Community College
PO Box 1017, Binghamton, NY 13902
607-778-5000
NCLEX-RN Pass Rate: 88.6%
Bronx, NY ADN Programs:
Bronx Community College
2155 University Avenue, Bronx, NY 10453
718-289-5100
NCLEX-RN Pass Rate: 88.1%
Hostos Community College
500 Grand Concourse, Bronx, NY 10451
718-518-4444
NCLEX-RN Pass Rate: 80.0%
Monroe College
2501 Jerome Avenue, Bronx, NY 10468
718-933-6700
NCLEX-RN Pass Rate: 83.3%
Brooklyn, NY ADN Programs:
Kingsborough Community College
2001 Oriental Boulevard, Brooklyn, NY 11235-2398
718-368-5000
NCLEX-RN Pass Rate: 75.6%
New York City College of Technology
300 Jay Street, Brooklyn, NY 11201
718-260-5500
NCLEX-RN Pass Rate: 77.1%
Medgar Evers College
1650 Bedford Avenue, Brooklyn, NY 11225
718-270-4900
NCLEX-RN Pass Rate: 55.6%
Canandaigua, NY ADN Programs:
Finger Lakes Community College
3325 Marvin Sands Drive, Canandaigua, NY 14424
585-394-3500
NCLEX-RN Pass Rate: 89.3%
Corning, NY ADN Programs:
Corning Community College
1 Academic Drive, Corning, NY 14830
607-962-9222
NCLEX-RN Pass Rate: 91.0%
Dryden, NY ADN Programs:
Tompkins Cortland Community College
170 North Street, P.O. Box 139, Dryden, NY 13053
1-888-567-8211
NCLEX-RN Pass Rate: 96.6%
Farmingdale, NY ADN Programs:
Farmingdale State College
2350 Broadhollow Road, Farmingdale, NY 11735-1021
631-420-2000
NCLEX-RN Pass Rate: 90.0%
Garden City, NY ADN Programs:
Nassau Community College
One Education Drive, Garden City, NY 11530-6793
516-572-7501
NCLEX-RN Pass Rate: 75.8%
Geneva, NY ADN Programs:
Finger Lakes Health College of Nursing
196 North Street, Geneva, NY 14456
315-787-4000
NCLEX-RN Pass Rate: 86.2%
Long Island City, NY ADN Programs:
LaGuardia Community College
31-10 Thomson Avenue, Long Island City, NY 11101
1-718-482-7200
NCLEX-RN Pass Rate: 89.7%
Middletown, NY ADN Programs:
Orange County Community College
115 South Street, Middletown, NY10940
845-344-6222
NCLEX-RN Pass Rate: 95.9%
New York, NY ADN Programs:
Phillips Beth Israel School of Nursing
776 Avenue of the Americas, 4th Floor, NY 10001-6354
212-614-6110
NCLEX-RN Pass Rate: 87.3%
Helene Fuld College of Nursing
24 East 120th Street, New York, NY 10035
212-616-7200
NCLEX-RN Pass Rate: 72.2%
Borough of Manhattan Community College
199 Chambers Street, New York, NY 10007
212-220-8000
NCLEX-RN Pass Rate: 75.4%
NYU College of Nursing
726 Broadway, 10th Floor, NY 10003
212-998-5300
NCLEX-RN Pass Rate: 85.0%
Pace University- Lienhard School of Nursing
163 William Street, 5th Floor, New York City, NY 10038
914-773-3552
NCLEX-RN Pass Rate: 100.0%
Phillips Beth Israel School of Nursing
776 Avenue of the Americas, 4th Floor, NY 10001-6354
212-614-6110
NCLEX-RN Pass Rate: 87.3%
ASA Institute of Business & Computer Technology
1293 Broadway, One Herald Centre, NY 10001
877-679-8772
NCLEX-RN Pass Rate: 29.2%
Poughkeepsie, NY ADN Programs:
Dutchess Community College
53 Pendell Road, Poughkeepsie, NY 12601–1595
845-431-8000
NCLEX-RN Pass Rate: 88.2%
Queens, NY ADN Programs:
St. Paul's School of Nursing
97-77 Queens Boulevard, Queens, NY 11374
718-357-0500
NCLEX-RN Pass Rate: 55.8%
Queensbury, NY ADN Programs:
Adirondack Community College
640 Bay Road, Queensbury, NY 12804
1-888-SUNY-ADK
NCLEX-RN Pass Rate: 90.5%
Rochester, NY ADN Programs:
Monroe Community College
1000 East Henrietta Road, Rochester, NY 14623
585-292-2000
Official website: 91.6%
Schenectady, NY ADN Programs:
Ellis Hospital
1101 Nott Street, Schenectady, NY 12308
1-888-355-4746
NCLEX-RN Pass Rate: 85.7%
Selden, NY ADN Programs:
Suffolk County Community College
533 College Road, Selden, NY 11784-2899
631-451-4110
NCLEX-RN Pass Rate: 77.7%
Sheldrake, NY ADN Programs:
Sullivan County Community College
112 College Road, Loch Sheldrake, NY 12759
845-434-5750
NCLEX-RN Pass Rate: 81.8%
Staten Island, NY ADN Programs:
Wagner College
One Campus Road, Staten Island, NY 10301
718-390-3100
NCLEX-RN Pass Rate: 82.4%
College of Staten Island
2800 Victory Boulevard, Staten Island, NY 10314
718-982-2000
NCLEX-RN Pass Rate: 79.3%
Stone Ridge, NY ADN Programs:
Ulster County Community College
491 Cottekill Road, Stone Ridge, NY 12484
845-687-5000
NCLEX-RN Pass Rate: 76.0%
Suffern, NY ADN Programs:
Rockland Community College
145 College Road, Suffern, NY 10901
845-574-4000
NCLEX-RN Pass Rate: 90.0%
Syracuse, NY ADN Programs:
Crouse Hospital College of Nursing
765 Irving Avenue, Syracuse, NY 13210
315-470-7481
NCLEX-RN Pass Rate: 79.1%
St. Joseph's College of Nursing
206 Prospect Avenue, Syracuse, NY 13203
315-448-5046
NCLEX-RN Pass Rate: 90.6%
Onondaga Community College
4585 West Seneca Turnpike, Syracuse, NY 13215
315-498-2622
NCLEX-RN Pass Rate: 98.1%
Troy, NY ADN Programs:
The Sage College
65 1st Street, Troy, NY 12180
518-244-2000
NCLEX-RN Pass Rate: 86.8%
Hudson Valley Community College
80 Vandenburgh Avenue, Troy, NY 12180
518-629-4822
NCLEX-RN Pass Rate: 88.8%
Utica, NY ADN Programs:
Mohawk Valley Community College
1101 Sherman Drive, Utica, NY 13501
315-792-5400
NCLEX-RN Pass Rate: 73.8%
Valhalla, NY ADN Programs:
Westchester Community College
75 Grasslands Road, Valhalla, NY 10595
914-606-6600
NCLEX-RN Pass Rate: 97.4%