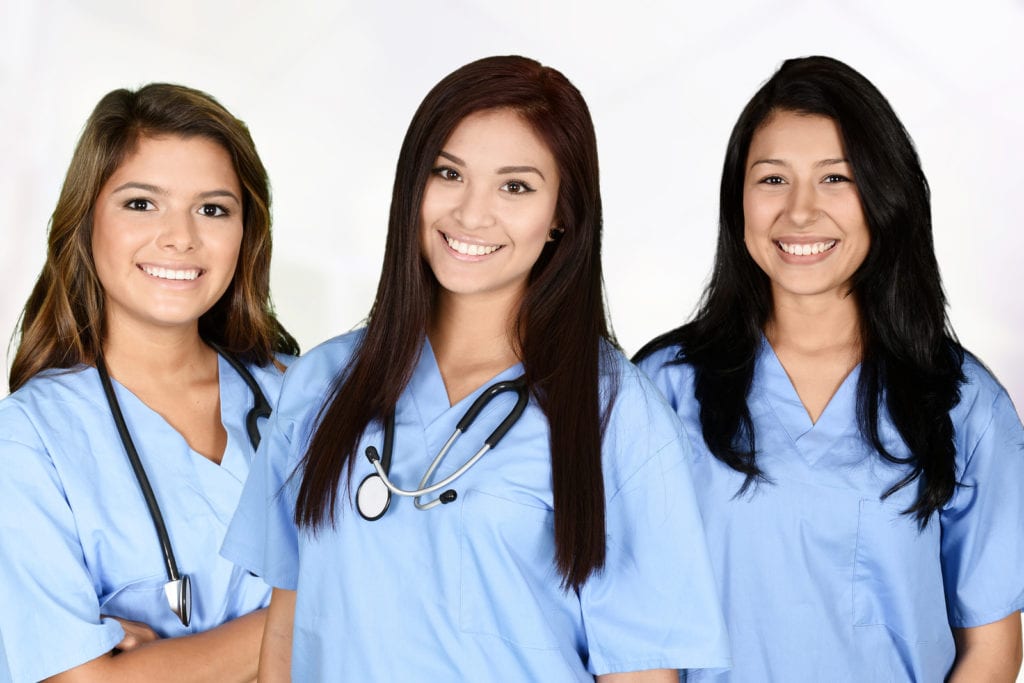 The associate's degree in nursing has been the standard for entry into nursing for the last 3 decades. Times are changing as industry leaders seek to raise the skills level of the nursing workforce by requiring nurses to obtain a BSN degree, at minimum, for entry-level practice. The effort has the endorsement of the AACN and other associations who believe that the BSN degree will increase nurses' analytical and critical thinking skills. Hospitals are also voicing support for the BSN degree and are now only hiring nurses with a BSN degree or above, citing that a better-educated workforce is in patients', nurses', and organizations' best interest.
To support the determined call for a BSN prepared workforce, there has been an increase in the number of degree completion programs in Connecticut that are designed to help nurses advance their education to the baccalaureate level. Although associate degree and baccalaureate degree graduates are both eligible to take the NCLEX-RN to become registered nurses, BSN graduates cover additional instruction in leadership, communication, social sciences, and critical thinking to take on a greater role in the clinical setting or pursue graduate study for a career in administration, teaching, research, or consultation.
Enrolling in a traditional BSN program requires a greater investment of time and money than an ADN program. The RN-BSN program provides an attractive alternative for individuals who want to begin working in the shortest possible time. They use the associate's degree for entry into practice but continue to the BSN degree or above. The list of RN-BSN programs highlighted on this page is targeted to nurse practitioners who want the extra training to receive the BSN credential.
Benefits of Progressing to a BSN Degree
Whether you go back to school after working in the field for some time or immediately after earning your license to practice, upgrading your credentials will offer untold benefits. Some of the biggest motivators for going back to school are to improve employment opportunities and salary, better patient care, greater job satisfaction and confidence in one's skills, freedom to move into other areas of practice, and employer requirements.
The shortage of registered nurses in Connecticut is in the employee's favor. It means that finding a job and earning a fair salary is easily within reach of almost every nursing graduate – for both ADN and BSN graduates. However, a few hospitals are requiring the BSN degree for entry-level nursing and it is expected that many more will adopt this hiring practice in the years to come. The BSN credential will, therefore, give you an advantage in the job market.
In line with our advantage on the job market, you can also use your upgraded skills to command higher salaries than nurses with an associate's degree. Entry-level nurses, whether ADN or BSN, earn similar salaries at the onset, but your experience as a manager and coordinator of care coupled with your advanced degree will put you in line for a salary increase.
Patient care is never predictable. Each day brings a new challenge and new opportunities to meet patient needs. However, the scope of practice as an associate's degree nurse, as determined by your employer, will limit the activities you can perform. For a wider scope of practice that will bring professional development and personal satisfaction, you must go back to school to further your education. The BSN degree provides the ticket to an expanded role and an opportunity to carve out a niche that will supply loads of satisfaction.
Advanced practice nurses are in high demand as they fill a much-needed role in the provision of primary care. They are able to bring affordable and professional care to areas where health care is not readily accessible. The value of APNs is evident from the salary they command – which can be anywhere from $75,000 to 102,000 annually based on location and experience. In Connecticut's metropolitan areas, certified nurse midwives and nurse anesthetists earn upwards of $92,000 annually. The BSN degree does not qualify a nurse for advanced practice but it is a requirement for enrolling in a graduate nursing program to specialize in a selected area of practice.
The BSN may soon become the standard for entry-level practice. The AACN and other nursing organizations are making a strong call to increase the minimum education requirement for practice to the BSN degree. The program covers communication, leadership, critical thinking, and clinical skills that are essential for nurses to function as case managers or practice in various employment settings. The RN-BSN program lets you fast-track your way to a BSN degree and stay ahead of future requirements.
Management may not be foremost on your mind as you enter the field of nursing. With time and experience, you may want to move into administration or upper-level management, or some other area of practice. Management requires graduate study, which focuses on management, leadership, communication, or some clinical specialty. The BSN degree will lay the foundation for a smooth transition to the intensive graduate nursing program.
Outlined above are just a few of many benefits to obtaining a BSN degree. Some intangible benefits, such as a sense of accomplishment, setting an example for other nurses, and personal satisfaction arising from complete control over the direction of your career may be even greater than the material gains. RN-BSN programs offer flexible schedules with the option to study online, which helps RNs boost their credentials without compromising work and family commitments.
Requirements for Enrollment in an RN to BSN Program
The RN-BSN program equips registered nurses with new skills through didactic and experiential learning opportunities. The bridge program builds on the foundational concepts provided by an associate's degree or diploma program in nursing. Students learn how to provide patient-centered care, work in inter-professional teams, demonstrate cultural sensitivity and professionalism, use clinical reasoning and critical thinking, and apply evidence-based practice.
Online programs may be completed in 2 to 3 years – based on schedule – and let RNs continue to work and balance other commitments.
Admission to the program requires an associate degree in nursing from a regionally accredited program. The applicants must also possess an active RN license or become licensed within a few months of applying for the program.
Here is a brief checklist if you're interested in enrolling in an RN-BSN program.
An associate's degree in nursing (or diploma) from an accredited program
An active license to practice as a registered nurse
Transcript of college courses including the completion date and a description of courses
Professional and academic references
Good moral character
Good physical and mental health
CPR for Health Care Providers
For specific requirements, contact the institution of choice.
Tuition varies depending on the school and schedule. Always factor in the cost of textbooks, supplies, fees, and whether financial aid is available. Remember, the tuition at public schools is sometimes lower than private schools. Employer reimbursement or assistance will help to significantly reduce your expenses.
Connecticut RN to BSN Programs:
Danbury, CT RN-BSN Programs:
Western Connecticut State University
181 White Street, Danbury, CT 06810
1-877-837-9278
Fairfield, CT RN-BSN Programs:
Fairfield University
1073 North Benson Road, Fairfield, CT 06824
203-254-4000
Sacred Heart University
5151 Park Avenue, Fairfield, CT 06825
203-371-7999
Hamden, CT RN-BSN Programs:
Quinnipiac University
275 Mount Carmel Avenue, Hamden, CT 06518
203-582-8200
New Britain, CT RN-BSN Programs:
Central Connecticut State University
1615 Stanley Street, New Britain, CT 06050
860-832-2278
New Haven, CT RN-BSN Programs:
Southern Connecticut State University
501 Crescent Street, New Haven, CT 06515
203-392-SCSU
Storrs, CT RN-BSN Programs:
The University of Connecticut
115 North Eagleville Road, Storrs, CT 06269
860-486-2000
West Hartford, CT RN-BSN Programs:
University of Saint Joseph
1678 Asylum Avenue, West Hartford, CT 06117-2791
1-860-232-4571