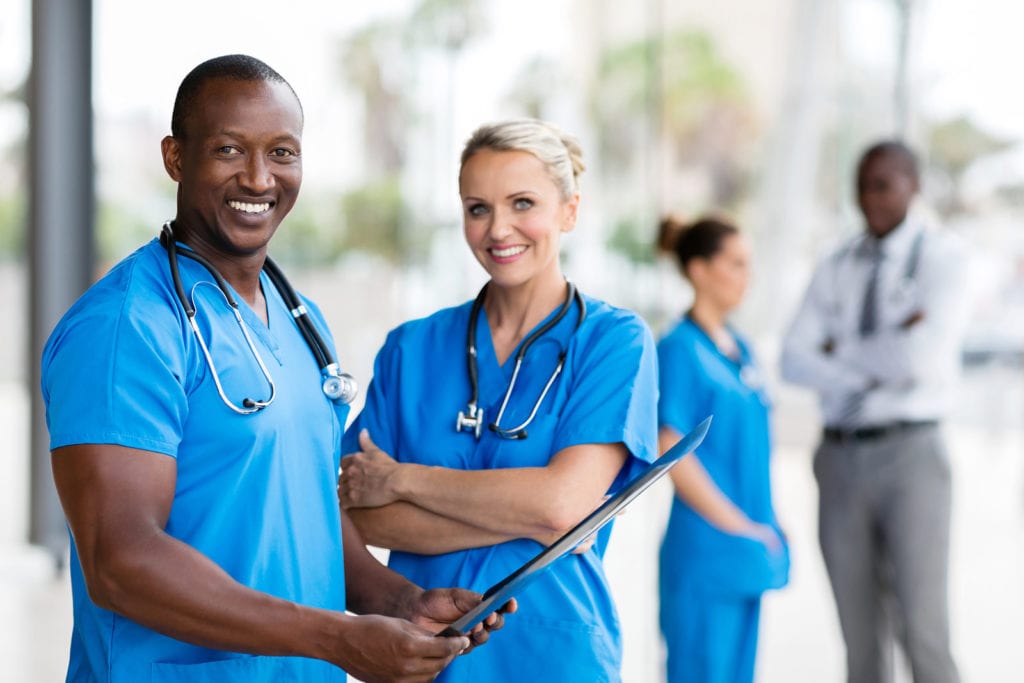 According to the Bureau of Labor Statistics, the healthcare sector will need an additional one million registered nurses by the year 2022. Connecticut is one of the states that will experience the worst shortages according to the Health Resource and Services Administration (HRSA). The HRSA projects that the nursing workforce will be 57% short of workers by 2020. State bodies are working assiduously with nursing associations, educators, and other relevant organizations to take action and relieve the burden that the shortage of nurses has on the healthcare sector. One solution is the development of more BSN programs to increase the rate of enrollment. A few universities facilitate accelerated BSN programs for individuals with a baccalaureate degree in another field to quickly make a career change and enter the nursing workforce.
The American Association of Colleges of Nursing (AACN) predicts that the nursing shortage won't end anytime soon. In fact, the intensity of the shortage will increase before it reaches a resolution. In Connecticut, as in other states, the shortage is due, in part, to the increasing Baby Boomer generation who require extra care. Nurses nearing retirement will also need to be replaced. However, efforts to increase the workforce is limited by overcrowding in the classroom and lack of faculty and clinical spots, which force nursing programs to turn away hundreds of applicants each year.
Any prospective student should research the job market before pursuing the degree. However, earning a BSN is more than just about the current shortage. Eligibility to sit the NCLEX-RN exam is granted based on completing a diploma, associate's degree, or baccalaureate degree in nursing. In recent times, the BSN degree has become the industry standard for practice but it was an "extra" in times past. The AACN and other leading organizations endorse the BSN as the minimum requirement for practice and create initiatives to encourage RNs to upgrade their education through BSN-completion programs. In the face of changing times and higher standards within healthcare, there's no reason to wait until the degree becomes a requirement for practice.
The current nursing shortage has not affected hiring practices in hospitals and government agencies, where preference is given to BSN prepared nurses. The "advanced" degree will put you ahead of the curve when it comes employment in the Public Health Service, branches of the military, and leading hospitals. The rationale behind the practice comes down to patient outcomes. Several studies link higher education with better patient outcomes. BSN RNs have the tools and education to provide the best patient care and serve as better patient advocates.
Following is a list of the various types of BSN programs available in Connecticut.
LPN to BSN: Along with the increased demand for nurses, there comes a paradigm shift in the workforce. Hospitals are requiring a higher level of education from their nursing workforce, which gradually forces LPNs to move into long-term care settings. An LPN desirous of working in the fast-paced hospital setting can apply for advanced placement in a BSN program and earn the degree in 2 to 3 years.

RN to BSN: RN-BSN programs have a critical role in preparing qualified nurses to boost the health care system. As more nurses are set to retire, some leaving leadership roles, nurses with a BSN will have the knowledge and critical thinking skills to fill those positions. As more health care facilities require a minimum BSN for employment, RNs are enrolling in online RN-BSN programs to achieve the higher-level education without compromising work hours or other commitments. The additional training prepares them to take up positions left by experienced retiring nurses and make a meaningful contribution to the lives of their patients.

Traditional BSN: BSN graduates are professionally capable of providing general patient care and recognize their need for further personal and professional development throughout their career. BSN RNs have the educational foundation to pursue graduate study for specialized nursing. Traditional BSN programs cover four years of full-time study, which includes pre-nursing courses in the first year. Students develop leadership skills, critical thinking skills, knowledge of modern technologies, cultural sensitivity, and communication skills throughout the program.
Fast-track BSN: The accelerated BSN program is designed for persons with a baccalaureate degree in a non-nursing discipline who can complete the curriculum in just 12 months – not including the nursing prerequisites. The curriculum is similar to that of the traditional nursing program so graduates emerge as highly motivated professionals capable of real-world nursing practice in a variety of settings.
Graduates of the LPN-BSN, accelerated BSN, and traditional BSN programs are eligible to take the NCLEX-RN for licensure as a registered nurse.
Traditional BSN Programs
A traditional four-year program gives graduates the eligibility to take the licensure exam for registered nurses. The degree requires completion of 128 credits that focus on general education, and nursing courses to promote critical thinking, communication, and leadership.
Choosing the right program is key to your success. Make sure the program is accredited by the Accreditation Commission for Education in Nursing (ACEN). Experienced faculty who are active in the field will provide sound advice from your freshman years to the final months of study. Visit the school's nursing labs before enrolling. Will you have access throughout the day to practice and develop clinical skills? Is it equipped with patient care equipment, mannequins, IV supplies, cardiac monitors, and other necessary equipment? Quality instructors, advisors, and labs are essential to your development as a registered nurse.
The clinical experience is a necessary part of the learning process. Opportunities to provide hands-on care and work as a part of a healthcare team may commence during the sophomore year. Clinical hours will vary depending on the facility. Many programs facilitate practice in a variety of settings, including hospitals, community clinics, day care centers, and long-term care facilities.
General admission requirements include:
A completed application for admission as a degree-seeking student.
A grade C or above in prerequisite nursing courses.
An admission test
Official transcripts of all college level courses with the date included
Professional and academic references
A cumulative GPA of 3.0 or above.
Nursing students must submit to a background check and drug screen. The tuition may or may not cover the cost for the checks. Some criminal convictions could affect future licensure. Additionally, the clinical site may object to the results of a negative background check making it difficult for a student to complete the program.
Malpractice insurance, a medical examination report describing your emotional and physical health, immunization, and AHA or ARC CPR are other student requirements.
Second Degree BSN
Many applicants to the second-degree, accelerated BSN are new graduates of a non-nursing program who want to transition into a career in nursing. To apply for the program, you must have an undergraduate degree prior to the start of classes and complete the prerequisite courses, which include anatomy and physiology, microbiology, psychology, and statistics. To receive credit for the prerequisite courses, you must earn a grade C or above.
The college/university will evaluate your official transcripts for core requirements, open electives, and prerequisites to determine your placement in the program. You'll only receive transfer credit for courses completed from a regionally accredited institution. Once credited, you'll begin the program from the traditional junior year and complete it in 12 consecutive months.
Working a full-time or part-time schedule is not recommended during the intensive program. Classes are five days a week and students must commit time for assignments, reading, test preparation, and lab and clinical experiences. Graduates are eligible to take the NCLEX-RN for licensure as a registered nurse.
Requirements for admission include a baccalaureate degree, professional and academic references, CPR certification, liability insurance, physical exam, immunization, and a grade C or above on prerequisite courses.
How Much Do BSN Programs Cost?
The cost of tuition for a traditional BSN program is $6,246 per year for an in-state student enrolled at public universities in Connecticut. The average cost of tuition at a private university is $45,350. Additional expenses for fees, insurance, orientation, parking, transport, technology fee, orientation, graduation, and textbooks apply. Nursing students will have additional costs for uniform, shoes, CPR, and clinical supplies.
Summary
Nursing offers both monetary and emotional rewards. Professional nurses make a difference in the lives of patients through the restoration of health, prevention of disease, and the delivery of hope and cheer in their time of need. The demand for registered nurses, particularly BSN prepared nurses, is expected to rise by 2022. Connecticut's shortage of nurses means ready employment for all nurses, but BSNs will access the best wages, have opportunities to work in different environment, and qualify for promotions when they're available.
Following is a list of Board-approved BSN programs in Connecticut with the NCLEX-RN pass rates.
BSN Programs and NCLEX-RN Pass Rates Connecticut:
Danbury, CT BSN Programs:
Western Connecticut State University
181 White Street, Danbury, CT 06810
1-877-837-9278
NCLEX-RN Pass Rate: 94%
Fairfiled, CT BSN Programs:
Sacred Heart University
5151 Park Avenue, Fairfield, CT 06825
203-371-7999
NCLEX-RN Pass Rate: 94%
Fairfield University
1073 North Benson Road, Fairfield, CT 06824
203-254-4000
NCLEX-RN Pass Rate: 84%
Hamden, CT BSN Programs:
Quinnipiac University
275 Mount Carmel Avenue, Hamden, CT 06518
203-582-8200
NCLEX-RN Pass Rate: 96%
New Britain, CT BSN Programs:
Central Connecticut State University
1615 Stanley Street, New Britain, CT 06050
860-832-2278
NCLEX-RN Pass Rate: 71%
New Haven, CT BSN Programs:
Southern Connecticut State University
501 Crescent Street, New Haven, CT 06515
203-392-SCSU
NCLEX-RN Pass Rate: 93%
Storrs, CT BSN Programs:
The University of Connecticut
115 North Eagleville Road, Storrs, CT 06269
860-486-2000
NCLEX-RN Pass Rate: 95%
West Hartford, CT BSN Programs:
University of Saint Joseph
1678 Asylum Avenue, West Hartford, CT 06117-2791
1-860-232-4571
NCLEX-RN Pass Rate: 77%