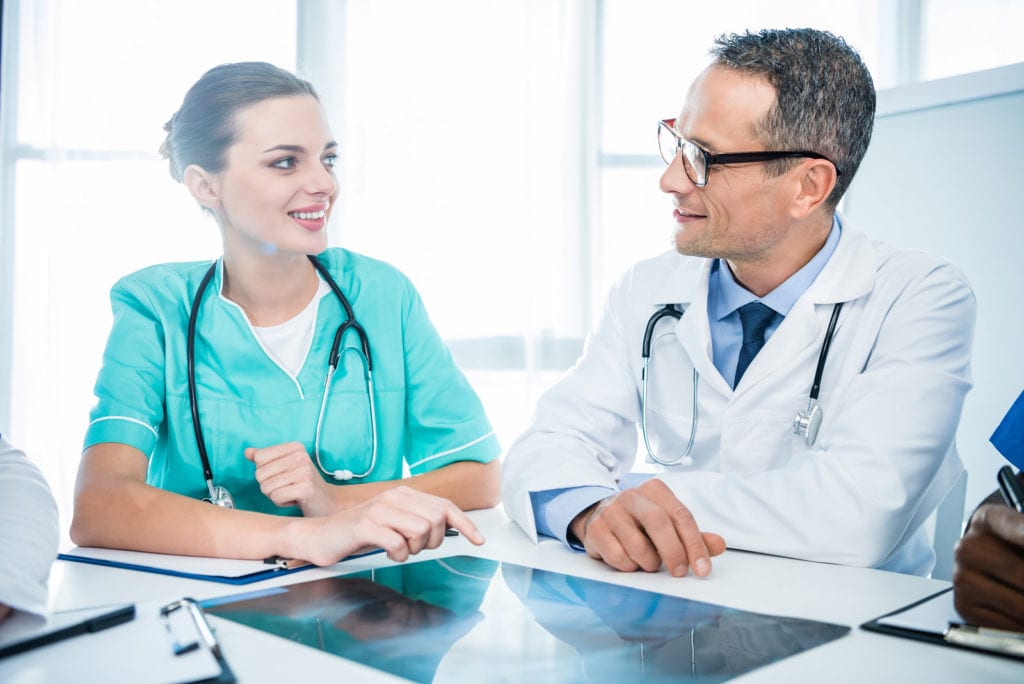 More and more hospitals are establishing higher standards of education for nurses in response to rapid advances in healthcare and increasing complexities in patient cases. Many of them will only hire nurses who hold a bachelor's degree in nursing or higher. Key among these is Magnet-designated hospitals, recognized by the American Nurses Credentialing Center for excellence in care. More than limiting their new hires to nurses holding a BSN degree, they are requiring existing staff to get a BSN, at a minimum, to qualify for positions in management.
As employers seek to raise the bar on educational standards, more nurses are returning to school to stay competitive. The associate degree in nursing provides the basic skills needed to provide bedside care, but graduates might not have the critical thinking to make necessary decisions in practice. Enrollment in RN to BSN programs has increased 62% on a national level as nurses seek to cultivate the advanced skills and education to develop skills in evidence-based practice, decision-making, public health, and leadership.
A primary concern for nurses considering going back to school is the lack of time. They worry about balancing work and family commitments with the study. Most RN to BSN programs are offered online, which will allay their fears. The course content is delivered online allowing them to complete their studies anywhere there is an internet connection. They won't have to commute or adjust their work schedules to attend classes.
The decision to pursue the BSN is, of course, an individual choice. If you're doing it for the money, you might be sadly disappointed as there's no guarantee of an immediate pay hike. However, your increased responsibilities will eventually translate to more money. The concern is that in the future, the degree might become obsolete or job opportunities might not be available for existing RNs. Continuing your education to the BSN degree will improve your employment outlook and opportunities for career progression. It will also pave the way for professional certification and specialty practice confirming your ability to be a provider, manager, and coordinator of care. Most prominent is the ability to meet the complex needs of a changing healthcare system.
Benefits of Progressing to a BSN Degree
The nursing shortage has not diminished demand for nurses to obtain a Bachelor of Science degree in nursing. As nurses respond to the Institute of Medicine's call for increasing the number of nurses holding a BSN or higher to 80% by 2020, the workforce is less than 10 percent shy of meeting that goal. The RN-to-BSN program is an excellent option for RNs who want to advance their education to meet their career goals. More than career goals is the mandate for nurses to hold the educational preparation to meet their diverse responsibilities in the complex health care environment. Nurses must demonstrate key competencies in primary and preventative care and case management and the flexibility to work in multiple settings. They must also be proficient managers of care, leaders, educators, researchers, decision-makers, and communicators.
A call to professional nursing includes a commitment to lifelong learning to stay current with increasing complexities in patient needs and the health care system itself. The BSN degree is the next step for ADN prepared nurses to better serve patient needs. In acknowledging the complexity of patient care, the IOM recommended higher education for nurses to improve the quality of care delivered. BSN graduates have the knowledge and proficiency to function as proficient providers of care. Research proves that nurses with a BSN garner better patient outcomes as evidenced by mortality and failure-to-rescue rates that are lower than ADN-prepared nurses.
Due to better patient outcomes, BSN nurses have better employment opportunities than ADN-prepared nurses. Most specialty and management roles, and even bedside positions in hospitals, require at least a BSN. It is required for employment at most hospitals and healthcare facilities as employers recognize the value of better-educated nurses. This trend in hiring is now so common that in order to qualify for basic positions more nurses are going back to school. Hospitals seeking Magnet designation must ensure that nurse managers and supervisors have at least a BSN degree. They deliver excellence in care associated with Magnet designation; they must also ensure that at least 80 percent of their staff hold a BSN or higher. These higher-educated nurses will know how to deliver culturally sensitive and evidence-based care for better patient satisfaction and outcomes.
In line with employment trends in the industry, nurses who want to qualify for positions in leadership will naturally understand the need for continued education. Every nurse starts at the entry-level, which often requires some bedside care. The established hierarchy in the sector places those with the higher education and specialty training at the top and associate degree and diploma nurses at the bedside level where they deliver patient care and supervise unlicensed staff such as Certified Nursing Assistants. Nurse manager and similar positions require a BSN, so you must go back to school if upward mobility is a part of your career plan.
You may not see an immediate bump in your salary after you earn the BSN, but it will come. If you stay in the position that you held before and during the RN to BSN program, it's unlikely that you'll recognize a significant salary increase. You'll reap the financial benefits of your BSN degree when you use to qualify for higher-paying positions. These positions will require greater responsibilities, but you'll have the confidence and competencies to fill the role. Nurse practitioners, nurse midwives, and other advanced practice nurses are among the highest paid nurses, but you need a BSN to get into graduate programs and open the door to higher salaries.
If you're not convinced that you need a BSN to get hired at the top hospitals, get a better salary, improve your practice, or get into graduate school, then initiatives to increase the workforce education should capture your interest. States like New Jersey, New York, and Rhode Island have introduced BSN in 10 bills to require RNs to acquire the BSN within 10 years of licensure. The bills might set the tone for future trends in nursing, especially as leading organizations and employers recognize the value of the contributions that BSNs make to the workforce. While that change might be far distant, it's better to get the degree to remain competitive before someone takes your place.
Requirements for Enrollment in an RN to BSN Program
Efforts to improve healthcare delivery and patient outcomes spur demand for BSN-educated nurses. The RN-to-BSN program makes up for the deficiencies in the ADN program as students complete courses in nursing management, nursing research, and public health. The curriculum is designed to improve critical thinking and leadership skills, understanding of the issues that affect patient outcomes, and the ability to care for patients in diverse inpatient and outpatient settings. Course topics include nursing research, information technology, assessment, gerontological nursing, health promotion, leadership in nursing, healthcare policy, clinical prevention, illness and disease management, and teaching and learning concepts. The stated desire for nurses with a bachelor's degree or higher is reason enough to enroll in the transitional RN to BSN program. But if you're concerned about the time commitment, an online program might be the solution.
With an online program, you'll enjoy the convenience of attending class anytime and anywhere. It will give the flexibility to attend an institution of your choosing, with no ties to location. An online program is also cost saving, and time saving as you'll eliminate the commute and keep expenses down. Completing an online program requires discipline, self-direction, and commitment. Some familiarity with technology is essential to receive and send assignments, view lectures, and interact with students and teachers. Practicum requirements may be arranged at a location that is convenient to your home and work locations.
Eligibility requirements:
Complete an application for admission
Have an associate degree in nursing from an accredited institution
Submit official transcripts from all colleges or universities attended
Have an unencumbered license to practice as a registered nurse
Complete all general education prerequisite courses with a grade C or above
Letters of recommendation
Clean criminal background check and drug screen
The tuition for undergraduate students enrolled in the nursing program at the University of South Dakota is $335 per credit hour. The tuition rate is subject to change and does not include the cost of textbooks, nursing supplies, uniform, fees, insurance, and administrative costs for entry to the program. Financial aid is available to eligible students.
South Dakota RN to BSN Programs:
Aberdeen, SD RN-BSN programs:
Presentation College
1500 North Main Street, Aberdeen, SD 57401
800-437-6060
Brookings, SD RN-BSN programs:
South Dakota State University
1015 Campanile Ave., Brookings, SD 57007
605-688-4121
Mitchell, SD RN-BSN programs:
Dakota Wesleyan University
1200 West University Avenue, Mitchell, SD 57301
800-333-8506
Sioux Falls, SD RN-BSN programs:
The University of Sioux Falls
1101 West 22nd Street, Sioux Falls, SD 57105
800-888-1047
Vermillion, SD RN-BSN programs:
University of South Dakota
414 East Clark Street, Vermillion, SD 57069
1-877-269-6837
Yankton, SD RN-BSN programs:
Mount Mary College
1105 West 8th Street, Yankton, SD 57078-3725
605-668-1545