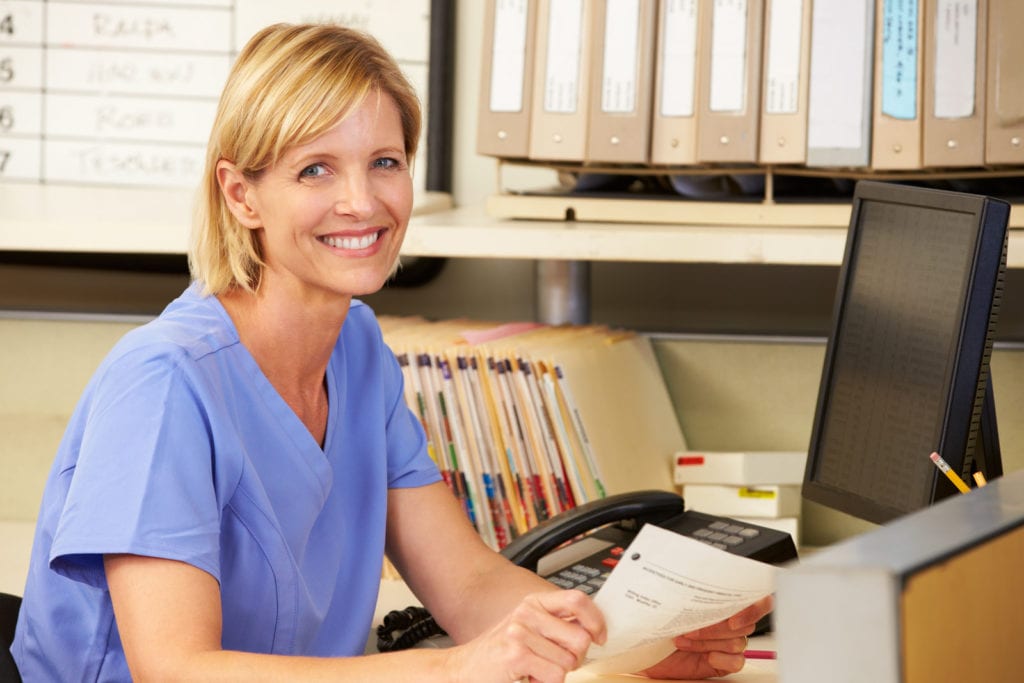 Several studies indicate that a nursing workforce composed primarily of BSN-prepared nurses will improve the quality of healthcare delivered to the nation's population. A key recommendation of the Institute of Medicine's landmark report, The Future of Nursing: Leading Change, Advancing Health, is to have at least 80 percent of nurses with a bachelor's degree or higher by 2020. The report and successive changes to meet the recommendations should propel nurses into action. However, there are multiple internal and external factors that determine whether a registered nurse will pursue a bachelor of science or higher degree. The desire for professional advancement, professional achievement, personal and professional satisfaction as well as advanced knowledge are key motivators for pursuing a BSN degree.
According to experts, the changing health care systems demands nurses with a bachelor's degree. Nurses have to manage patients with increasingly complex conditions. The preparation in BSN programs or the bridge RN to BSN option helps nurses meet patients' needs. Nurses must also be prepared to use information technology which features heavily in health care.
RN to BSN programs offer on-campus and web-based learning as well as convenient schedules and affordable tuition to promote learning. The student-friendly format is encouraging to nursing professionals who need to overcome numerous barriers to learning. As the associate's degree remains the main point of entry to the profession, RN to BSN programs will remain relevant to help nurses accomplish academic progression. With support from employers, in the form of tuition reimbursement, flexible work schedules, and paid sabbaticals, many nurses are returning to school to earn BSN and MSN degrees. Upon completion, they can accept lead roles in patient care coordination in a variety of medical settings and improve the delivery, safety, and efficiency of patient care.
Benefits of Progressing to a BSN Degree
If you're making a good living as an experienced associate-degree nurse, you're probably wondering at the benefits of acquiring a baccalaureate degree. Your goals should guide your decision. If the degree helps you to achieve your goals, then go for it. You might decide that you can achieve your goals without the advanced degree. However, it is important to monitor industry trends as there might be a mandate for a baccalaureate degree in the future.
Obtaining a baccalaureate degree is a way to better yourself. Health care reform legislation, colleagues, the Magnet Recognition Program, and your employer may drive your decision, but advancing your education will most significantly impact you. When you reinforce your experience and knowledge as a registered nurse with the critical thinking and leadership skills the BSN education provides, you'll have a more rewarding career and more positive patient outcomes.
Your self-esteem will go up as you use your existing knowledge and advanced understanding of practice to provide better care and positive patient outcomes. You'll see the difference right away as your professional development helps you to improve your practice in a way your employer will notice. As you move from a position of executing tasks to becoming a knowledge worker, you'll develop the confidence to design specific solutions, implement new practices, and mentor your co-workers. Moreover, the degree will help you to understand the need for change. Where once you would have resented change, your improved perspective will help you to embrace research that proves there are better and safer ways to execute a specific task.
If you plan to become a clinical specialist or nurse educator, a BSN degree may be a first step. A nurse with a baccalaureate degree is more likely to pursue higher degrees to move into management or specialty nursing, such as infection control, informatics, or case management. It will give you the foundation to grow, learn, and move forward when the time comes.
No one will doubt that you're a good, even excellent, nurse without a BSN degree. However, further education will make you a better nurse. The exposure to holistic nursing, community nurse, change management, conflict resolution, and leadership will provide a different perspective to better manage patients' needs. As you embrace nursing theories and evidence-based practice, you'll recognize a renewed enthusiasm for the profession.
Your renewed confidence and attitude backed by your experience and the degree employers want will open the door to job security, improved hours, greater options, and better pay. Empowering yourself through an RN to BSN demonstrates your commitment to your patients, employer, coworkers, and yourself.
Requirements for Enrollment in an RN to BSN Program
The RN to BSN program builds upon the foundation provided by the Associate's degree. The program admits registered nurses with an associate's degree who will complete the upper division courses to fulfill the BSN degree requirements. The curriculum includes management principles, leadership skills, and evidence-based practice methodologies. Experiences in community health nursing prepare students for lead roles in this area. Apart from increasing job potentials, a BSN degree lays the foundation for entry into MSN study for opportunities in management.
Graduates can apply for a California Public Health Nursing Certificate to work in community health settings. Most California schools offer an online learning option with a mandatory clinical component in community health settings. Since applications to this degree exceed availability, admission is a competitive process.
The minimum admission requirements are as follows:
A completed university application and a nursing major application.
An ADN degree from a regionally accredited program. The graduate must be in good standing at the last college/university.
A current and active RN license in California.
A cumulative GPA 3.0 or above GPA
Completed prerequisite courses with a minimum 3.0 GPA and no repeats.
A passing score on the written assessment/personal statement.
Sealed, official transcript from all colleges attended.
CPR certification.
Prerequisite courses may include English composition, critical thinking, speech, general chemistry, human anatomy, microbiology, human physiology, and statistics. Students must transfer a minimum of 60 credits to complete the BSN degree requirements to avoid repeating lower division courses.
The requirements for enrollment is specific to each school, so check individual websites for complete information. The following list of RN to BSN programs in California should help you get started.
California RN to BSN Programs:
*Denotes private colleges.
Adelphi, MD RN to BSN Programs:
University of Maryland University College (Online)
3501 University Blvd. East
Adelphi MD, 20783
(800) 888-8682
Anaheim, CA RN to BSN Programs:
*West Coast University – Orange County
1477 South Manchester
Anaheim CA, 92802
1-877-505-4928
Angwin, CA RN to BSN Programs:
*Pacific Union College
One Angwin Avenue
Angwin CA, 94508
(707) 965-7262
Arlington, CA RN to BSN Programs:
University of Texas at Arlington
701 South Nedderman Drive
Arlington, TX CA, 76019
(866) 489-2810
Azusa, CA RN to BSN Programs:
*Azusa Pacific University
901 E. Alosta Avenue
Azusa CA, 91702
(626) 815-5386
Bakersfield, CA RN to BSN Programs:
California State University, Bakersfield
9001 Stockdale Highway
Bakersfield CA, 93311
(661) 664-2506
Blaine, CA RN to BSN Programs:
*Rasmussen College
3629 95th Avenue NE
Blaine, MN CA, 55014
(952) 230-5085
Camarillo, CA RN to BSN Programs:
California State University, Channel Islands
One University Drive
Camarillo CA, 93012
(805) 437-3367
Carson, CA RN to BSN Programs:
California State University, Dominguez Hills
1000 East Victoria Street
Carson CA, 90747
(310) 243-2005
Chicago, CA RN to BSN Programs:
*Kaplan University School of Nursing
550 West Van Buren, Suite 700
Chicago, IL CA, 60607
(312) 777-6404
Chico, CA RN to BSN Programs:
California State University, Chico
Holt Hall Room 369
Chico CA, 95929
(530) 898-5891
Chula Vista, CA RN to BSN Programs:
*United States University
830 Bay Blvd.
Chula Vista CA, 91911
(619) 477-6310
Costa Mesa, CA RN to BSN Programs:
*Pacific College
3160 Red Hill Ave.
Costa Mesa CA, 92626
(800) 867-2243
*Vanguard University of Southern California
55 Fair Drive
Costa Mesa CA, 92626
(714) 668-6130
Erie, PA RN to BSN Programs (online):
*Gannon University
109 University Square
Erie, PA, 16541
(877) 497-5854
Fremont, CA RN to BSN Programs:
*Unitek College
4670 Auto Mall Parkway
Fremont CA, 94538
(888) 762-2761
Fresno, CA RN to BSN Programs:
California State University, Fresno
2345 East San Ramon Avenue
Fresno CA, 93740
(559) 278-2041
*Fresno Pacific University
1717 S. Chestnut Ave.
Fresno CA, 93702
(559) 453-2000
Fullerton, CA RN to BSN Programs:
California State University, Fullerton
800 North State College Boulevard
Fullerton CA, 92834
(714) 278-3336
Hayward, CA RN to BSN Programs:
California State University, East Bay
Department of Nursing, College of Science, 25800 Carlos Bee Boulevard, SC-N143
Hayward CA, 94542
(510) 885-3481
Indianopolis, IN RN to BSN Programs (online):
*Harrison College
500 N. Meridian St.
Indianapolis, IN, 46204
(800) 999-9229
Irvine, CA RN to BSN Programs:
*Concordia University Irvine
1530 Concordia West
Irvine CA, 92612
(800) 229-1200 x3010
*Stanbridge University
2041 Business Center Drive, Suite 107
Irvine CA, 91612
(888) 789-6208
Jersey City, NJ RN to BSN Programs:
*Saint Peters University
2641 John F. Kennedy Boulevard
Jersey City, NJ CA, 7306
(877) 497-5857
La Jolla, CA RN to BSN Programs:
*National University
11255 North Torrey Pines Road
La Jolla CA, 92037
(858) 521-3911
Lancaster, CA RN to BSN Programs:
*University of Antelope Valley
44055 North Sierra Highway
Lancaster CA, 93534
(661) 726-1911
Loma Linda, CA RN to BSN Programs:
*Loma Linda University
11262 Campus Street
Loma Linda CA, 92350
(909) 558-7718
Long Beach, CA RN to BSN Programs:
California State University, Long Beach
1250 Bellflower Blvd.
Long Beach CA, 90840
(562) 985-4463
Los Angeles, CA RN to BSN Programs:
California State University, Los Angeles
5151 State University Drive
Los Angeles CA, 90032
(323) 343-4700
*Mount St. Mary's University – Los Angeles
12001 Chalon Road
Los Angeles CA, 90049
(310) 954-4230
*Shepherd University
3200 N. San Fernando Road
Los Angeles CA, 90065
(323) 550-8888
North Hollywood, CA RN to BSN Programs:
*West Coast University – Los Angeles
12215 Victory Blvd
North Hollywood CA, 91606
1-877-505-4928
Northridge, CA RN to BSN Programs:
California State University, Northridge
18111 Nordoff Street
Northridge CA, 91330
(818) 677-7533
Oakland, CA RN to BSN Programs:
*Holy Names University
3500 Mountain Boulevard
Oakland CA, 94619
(510) 436-1369
Redding, CA RN to BSN Programs:
*Simpson University
2211 College View Drive
Redding CA, 96003
(530) 226-4760
Riverside, CA RN to BSN Programs:
*California Baptist University
8432 Magnolia Avenue
Riverside CA, 92504
(951) 343-4700
Rohnert Park, CA RN to BSN Programs:
Sonoma State University
1801 East Cotati Avenue
Rohnert Park CA, 94928
(707) 664-2465
Sacremento, CA RN to BSN Programs:
California State University, Sacramento
6000 J Street
Sacramento CA, 95819
(916) 278-6525
San Bernardino, CA RN to BSN Programs:
California State University, San Bernardino
5500 University Parkway
San Bernardino CA, 92407
(909) 880-5380
San Diego, CA RN to BSN Programs:
*Point Loma Nazarene University
3900 Lomaland Drive
San Diego CA, 92106
(619) 849-2425 or 7055
San Diego State University
5500 Campanile Drive
San Diego CA, 92182
(619) 594-2540
San Francisco, CA RN to BSN Programs:
San Francisco State University
1600 Holloway Avenue
San Francisco CA, 94132
(415) 338-1801
San Jose, CA RN to BSN Programs:
The Valley Foundation School of Nursing at San Jose State University
One Washington Square
San Jose CA, 95192
(408) 924-3131
San Marcos, CA RN to BSN Programs:
California State University, San Marcos
333 S. Twin Oaks Valley Road
San Marcos CA, 92096
(760) 750-4020
South Euclid, OH RN to BSN Programs (online):
*Notre Dame College
4545 College Road
South Euclid, OH, 44121
(216) 373-5173
Tampa, CA RN to BSN Programs (online):
*Jacksonville University Online School of Nursing
9417 Princess Palm Ave.
Tampa, FL, 33619
(855) 300-1472
*Villanova University
9417 Princess Palm Ave.
Tampa, FL, 33619
(813) 612-4296
Tempe, AZ RN to BSN Programs (online):
*University of Phoenix
1625 Fountainhead Parkway
Tempe, AZ, 95282
(480) 966-9577
Turlock, CA RN to BSN Programs:
California State University, Stanislaus
One University Circle, DBH 260
Turlock CA, 95382
(209) 667-3141
Vallejo, CA RN to BSN Programs:
*Touro University California
1310 Club Drive
Vallejo CA, 94592
(707) 638-5846