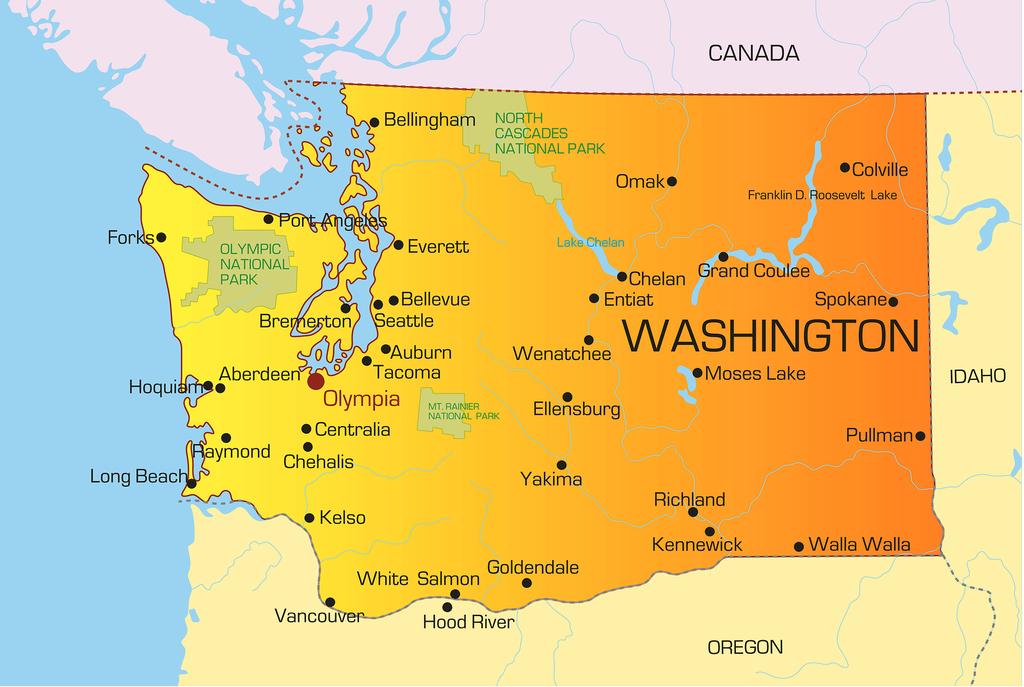 Washington State is facing a challenge to maintain an adequate registered nurse workforce to met population needs for the present and coming decades. Hospitals, long-term care facilities, clinics, physicians' offices, and other healthcare institutions have to compete for nursing professionals by offering higher salaries, sign-on bonuses, open shifts, and other incentives. Within the health care system, nurses face heavy workloads as there are just not enough hands on deck. The American Nurses Association reports massive short staffing in hospital units, forcing many nurses to work overtime.
In spite of the burdens, nurses remain motivated by their passion for patient care and their commitment to promoting health. On a positive note, the shortage bodes well for anyone interested in a career in nursing as there are jobs available for newly licensed individuals – even graduates of associate's degree programs. The demand is not likely to change, as the state works with affected parties to produce, recruit, and retain RNs. Several factors will contribute to a rise in employment opportunities, including an aging RN workforce, population growth especially among the elderly, the Affordable Care Act that gives previously uninsured persons access to health care, and increasing cases of chronic diseases.
Washington Nursing Programs
Education Requirements
Nursing education is a continuous process that supports the development of clinical, critical thinking, communication, and collaborative skills. The associate's degree program prepares students for entry-level clinical practice as a registered nurse. Graduates are eligible to take the National Council Licensure Examination for Registered Nurses (NCLEX) for registered nurses. They must apply to the Washington State Nursing Care Quality Assurance Commission for authorization to take the exam and receive a license to practice as a registered nurse.
The ADN curriculum includes general education and prerequisite courses that may need to be completed before the core nursing courses commence. Its goal is to provide a foundation on which to build lifelong learn and support growth and development in the area of nursing care. Classroom lectures are designed to impart knowledge of nursing and scientific principles while the hands-on lab sessions and clinical externship in a real-world setting will support the development of practical nursing skills that will ease the transition into the ever-changing healthcare environment.
Course topics include human anatomy and physiology, general psychology, microbiology, pathophysiology, adult health, maternal-child health, geriatric health, mental health, pharmacology, communication, public health, and transition to nursing. The clinical externship will be conducted under the supervision of a registered nurse. Students will work in teams to assess patients, develop patient care plans, and care for patients.
After completing the prerequisite courses, a full-time student can complete the nursing courses in two years. The associate's degree in nursing should be stepping stone to the BSN degree or higher, especially since plans are underway to make the BSN the minimum requirement for practice.
Eligibility Criteria
The best place to start when seeking enrollment requirements in a nursing program is to attend planned information sessions. These sessions are scheduled during the application period of before the beginning of a scheduled semester. The university's admission department will have a schedule of sessions for your convenience. During the session, you'll learn more about the requirements for entry, the admissions process, the schedule for the clinical rotation, prerequisite course requirements, and financing your education. Most programs require a criminal record check, immunizations, and physical exam for participation in the clinical externship. The complete requirements will be determined by the clinical site and program administrator. A high school diploma or equivalent is the minimum educational requirement for enrolling in the associate's degree program.
Submit the application on time along with the following:
Your scores on the admission assessment.
Copies of your social security card, driver's license, and birth certificate.
High school transcript or GED scores.
Immunization records, a physical exam report, and TB test results.
A criminal background check report.
CPR for Health Care Providers card.
A history of criminal convictions could not only affect your ability to enter the program but also your participation in the clinical experience and eventual licensure as a registered nurse.
Duration and Cost
Nursing school is expensive. In addition to tuition, nursing students must also budget for the clinical externship, which will require uniforms, tools, proper shoes, and other nursing gear. Transport to the clinical site will be the student's responsibility. The choice of program will not affect the cost of supplies and uniforms. However, tuition varies widely with the programs at public colleges and universities costing 25 to 45 percent less than private schools. Moreover, grants offered by public universities can further reduce out-of-pocket costs. Financial aid and scholarships made available to qualifying students are some other means of covering the rising cost of tuition.
Washington RN Licensure Requirements
Washington State does not participate in the Nursing Licensure Compact, so any licenses issued will be valid for practice within the state only. All persons submitting an application with an out-of-state address must submit to a state and FBI criminal background check. Spouses or domestic partners of military personnel may qualify for expedited processing of their applications.
Licensure By Examination
Apply for licensure by examination if you completed an approved training program and have not taken the NCLEX exam. A current application for licensure is available online.
For licensure by exam, complete the following steps:
Complete the application clearly in blue or black ink.
Fill out the demographic information completely, including your social security number, legal name, birth date, address, email, contact numbers, and other names.
Sign and date the application indicating that you read and understand the application.
Enclose the application fee of $88 for initial licensure.
Supply an appropriate explanation and certified document referencing the question if you answer "yes" to any of the personal data questions.
List the name of the nursing school where you completed your nursing education. Indicate the degree/diploma awarded and the graduation date.
Read and sign the AIDS education and training attestation if you completed training via direct patient care, self-study, courses, or formal training.
Register for the licensure exam at Pearson Vue.
If you a spouse or registered domestic partner of a military service member, you may be eligible for an expedited processing of your application to receive your credential. You must submit a copy of your spouse's military transfer or and a copy of the marriage certificate or state's declaration or registration showing domestic partnership.
You will have to submit fingerprints for a criminal background check, through the State Patrol and the Federal Bureau of Investigation, if you list an out-of-state address on your application.
The Board will issue a temporary permit pending completion of the background check if you meet all other requirements for licensure.
Graduates of Foreign Nursing Programs:
If you were trained outside the United States, you must complete the following additional steps to obtain licensure in Washington.
Have your transcripts evaluated in a course by course evaluation by the Graduates of Foreign Trained Nursing Schools (CGFNS), or Education Records Evaluation Service (ERES), or the International Education Evaluation Service (IEEF).
Pass the Test of English as a Foreign Language (TOEFL) or International English Language Testing System (IELTS) of you received your education outside the United States – some countries are exempt. Check the Board for exemptions.
Register for the NCLEX after the Nursing Commission approves your application.
Submit fingerprints for the background check if you list an out-of-state address on the application.
Licensure By Endorsement
A registered nurse who is licensed to practice in another state can apply for licensure by endorsement to work in Washington. The nurse's license should be unencumbered and active.
Use the following guidelines to apply for endorsement:
Complete the application clearly in blue or black ink.
Fill out the demographic information completely, including your social security number, legal name, birth date, address, email, contact numbers, and other names.
Sign and date the application indicating that you read and understand the application.
Enclose the application fee of $88 for initial endorsement.
Supply an appropriate explanation and certified document referencing the question if you answer "yes" to any of the personal data questions.
Verify your RN license by visiting Nursys.com and paying for the service. If your state of licensure does not participate with NURSYS, use the Non-NURSYS verification form to complete the verification.
Submit transcripts to verify your education if it cannot be verified using NURSYS. The nursing program must send transcripts directly to the Board of Nursing.
Submit proof of English proficiency if you received your nursing education outside the United States.
Submit a copy of your current or active RN license.
Renewal Requirements
Registered nurses must renew their licenses annually on or before their birthday. Registration every year on or before their birthday. The Board will mail a courtesy reminder 90 days before the expiration date. If renewing by mail, the renewal must be postmarked or received by midnight of the expiration date or a late fee will be applied.
To renew by mail without a renewal notice, send your payment and documentation of your name, credential, and mailing address to the licensing unit.
To renew in person, visit the office on the Tumwater campus Monday through Friday to submit your renewal fee. The office accepts cash, check, money order, and debit or credit cards.
Renew your application online if your license is active.
The renewal fee is $97. The late renewal penalty is $50.
It is important that you maintain updated contact information with the department to receive notices related to your license.
Continuing Education Requirements for Washington RNs
A continuing competency requirement is in place for registered nurses. You must complete 531 practice hours and 45 hours of continuing education hours every three years. You must keep documentation of the continuing education hours and attest to meeting the practice and continuing education requirements. The documents should not be submitted to the Nursing Commission unless requested for an audit.
Washington Salary and Job Outlook
The provision of grants to help Washington state colleges training more nurses is a sign of a shortage of qualified nursing professionals. Organizations, such as the Robert Wood Foundation, provide grants to states where the aging population places pressure on the health care system by increasing demand for services. Grants not only target up and coming nurses but also practicing nurses who need to advance their education. There are more than 81,000 licensed registered nurses in Washington, but with current demands, the state needs an additional 3,800 nurses. There will be a 21 percent vacancy rate by 2031 meaning 18,000 will be needed to care for the population.
The nursing shortage presents opportunities for potential nursing educators as much as for practicing nurses. As a nurse with a bachelor's degree or higher, you may have the opportunity to teach other nurses and earn extra money. Teaching opportunities for BSN nurses may be limited, but they are available. As a member of faculty, you may also benefit from loans and other incentives for continuing your education.
Since demand is so great, nurse graduates have no trouble finding a job. Moreover, local employers are using sign on bonuses, competitive salaries, tuition reimbursement, and other incentives to get the best-trained nurses on board.
Washington RNs earn a salary of $76,420 annually.
Contact the Board of Nursing
Department of Health
Address: P.O Box 1099,
Olympia, WA 98507-1099
Phone: 306-236-4703
Washington Registered Nursing Programs and NCLEX-RN Pass Rates
Aberdeen, WA ADN Programs:
Grays Harbor College
1620 Edward P. Smith Drive, Aberdeen, WA 98520
360-538-4148
NCLEX-RN Pass Rate: 91.43%
Bellevue, WA ADN Programs:
Bellevue College
3000 Landerholm Circle Southeast, Bellevue, WA 98007-6484
425-564-1000
NCLEX-RN Pass Rate: 94.37%
Bellingham, WA ADN Programs:
Bellingham Technical College
3028 Lindbergh Avenue, Bellingham, WA 98225
360-752-7000
NCLEX-RN Pass Rate: 83.02%
Whatcom Community College
237 West Kellogg Road, Bellingham, WA98226
360-383-3000
NCLEX-RN Pass Rate: 94.12%
Bremerton, WA ADN Programs:
Olympic College
1600 Chester Avenue, Bremerton, WA 98337-1699
360-792-6050
NCLEX-RN Pass Rate: 85.94%
Centralia, WA ADN Programs:
Centralia College
600 Centralia College Boulevard, Centralia, WA98531-4099
360-736-9391
NCLEX-RN Pass Rate: 88.46%
College Place, WA ADN Programs:
Walla Walla University
204 South College Avenue, College Place, WA 99324
800-541-8900
NCLEX-RN Pass Rate: 90.52%
Des Moines, WA ADN Programs:
Highline College
15-1, Des Moines, WA 98198-9800
206-592-3502
NCLEX-RN Pass Rate: 78.79%
Everett, WA ADN Programs:
Everett Community College
2000 Tower Street, Everett, WA 98201
425-388-9100
NCLEX-RN Pass Rate: 93.81%
Kirkland, WA ADN Programs:
Lake Washington Institute of Technology
11605 132nd Avenue Northeast, Kirkland, WA 98034
425-739-8100
NCLEX-RN Pass Rate: 92.42%
Lakewood, WA ADN Programs:
Clover Park Technical College
4500 Steilacoom Boulevard Southwest, Lakewood, WA 98499-4004
253-589-5800
NCLEX-RN Pass Rate: 65.22%
Longview, WA ADN Programs:
Lower Columbia College
1600 Maple Street, Longview, WA 98632
360-442-2311
NCLEX-RN Pass Rate: 88.89%
Pasco, WA ADN Programs:
Columbia Basin College
2600 North 20th Avenue, Pasco, WA 99301
509-547-0511
NCLEX-RN Pass Rate: 91.67%
Port Angeles, WA ADN Programs:
Peninsula College
1502 East Lauridsen Boulevard, Port Angeles, WA 98362
360-452-9277, 877-452-9277
NCLEX-RN Pass Rate: 100%
Payallup, WA ADN Programs:
Pierce College- Puyallup
1601 39th Avenue Southeast, Puyallup, WA 98374
253-840-8400
NCLEX-RN Pass Rate: 94.12%
Moses Lake, WA ADN Programs:
Big Bend Community College
7662 Chanute Street Northeast, Moses Lake, WA 98837
509-793-2222
NCLEX-RN Pass Rate: 100%
Mount Vernon, WA ADN Programs:
Skagit Valley College
2405 East College Way, Mount Vernon, WA 98273
360-416-7600, 877-385-5360
NCLEX-RN Pass Rate: 92.45%
Olympia, WA ADN Programs:
South Puget Sound Community College
Mottman Road Southwest, Olympia, WA 98512
360-754-7711
NCLEX-RN Pass Rate: N/A
Renton, WA ADN Programs:
Renton Technical College
3000 Northeast, 4th Street, Renton, WA 98056
425-235-2352
NCLEX-RN Pass Rate: 70.37%
Seattle, WA ADN Programs:
North Seattle College
9600 College Way North, Seattle, WA 98103
206-934-3600
NCLEX-RN Pass Rate: 93.10%
Seattle Colleges
1500 Harvard Avenue, Seattle, WA 98122
206-934-4100
NCLEX-RN Pass Rate: 81.48%
Spokane, WA ADN Programs:
Spokane Community College
1810 North Greene Street, Spokane, WA 99217-5399
509-533-7000
NCLEX-RN Pass Rate: 72.53%
Shoreline, WA ADN Programs:
Shoreline Community College
16101 Greenwood Avenue North, Shoreline, WA 98133-5696
206-546-4101
NCLEX-RN Pass Rate: 89.32%
Tacoma, WA ADN Programs:
Tacoma Community College
6501 South 19th Street, Tacoma, WA 98466
253-566-5000
NCLEX-RN Pass Rate: 75.00%
Vancouver, WA ADN Programs:
Clark College
1933 Fort Vancouver Way, Vancouver, WA 98663
360-699-NEXT (6398)
NCLEX-RN Pass Rate: 90.91%
Wenatchee, WA ADN Programs:
Wenatchee Valley College
1300 Fifth Street, Wenatchee, WA 98801
509-682-6800
NCLEX-RN Pass Rate: 98.15%
Yakima, WA ADN Programs:
Yakima Valley Community College
South 16th Avenue & Nob Hill Boulevard, Yakima, WA 98902
509-574-4600
NCLEX-RN Pass Rate: 91.84%