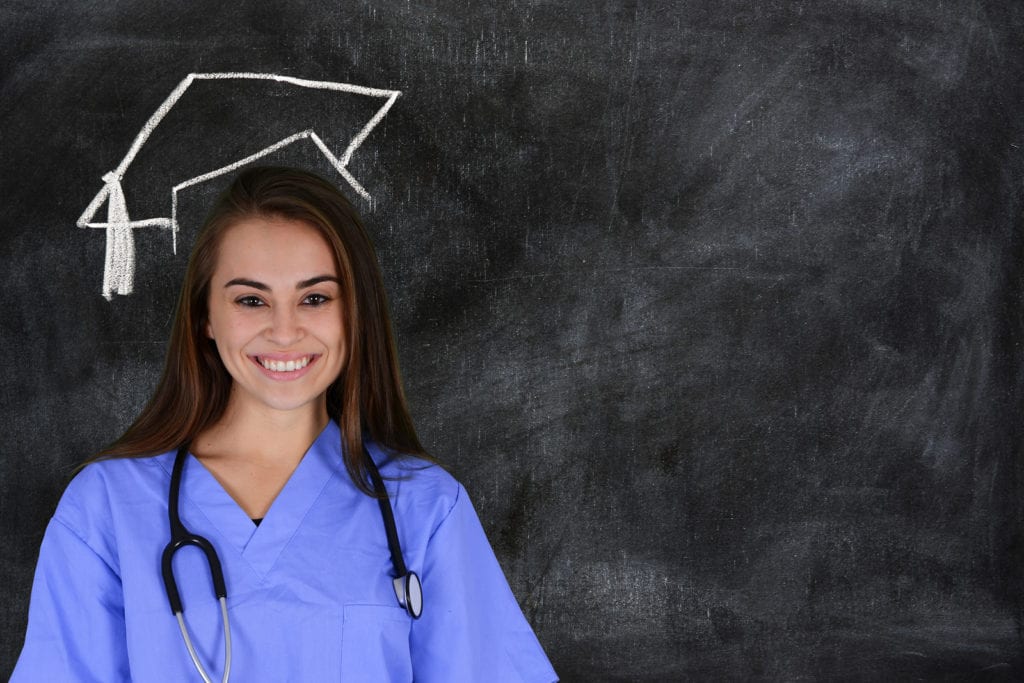 A bachelor's degree in nursing is an excellent option for current nurses seeking to expand their career options. A National Council of State Boards of Nursing report indicates that BSN-educated nurses qualify for 88 percent of available jobs. In contrast, those with an associate's degree qualify for just 55 percent of advertised positions. There's a huge push for RNs to earn their BSN as the degree is fast becoming the industry standard for entry-level nurses.
Employers favor nurses with a BSN due to their professionalism, critical thinking skills, independence, administration and leaderships skills, and ability to manage a wider scope of responsibilities.
The four years required to complete a BSN program may pose a challenge to some, especially those who need to get started with a career in nursing right away. There are several pathways to obtaining a BSN – some options allow experienced nurses with an associate's degree to complete the program in less time:
LPN to BSN programs are approximately four semesters
RN to BSN programs are also 18 to 24 months for nurses with an associate's degree.
Direct entry option (BSN) which requires four years to complete
Second degree BSN
RN-to-BSN Programs
RN-to-BSN programs are designed for nurses who want to improve their skillset to deliver superior care in the complex healthcare system. The bridge program focuses on three fundamental areas: professional development, skill building, and cultural awareness. Students develop leadership, critical thinking, and communication skills and core competencies that enable them to collaborate with other members of the healthcare team.
Most RN-to-BSN programs are approximately 2 years (120 credit hours). RNs with an associate degree may be able to transfer credits and complete the program in less time.
The following is a list of the general criteria for enrolling in an RN-to-BSN program – check the institution of your choice for specific criteria.
A current nursing license issued after successfully passing the NCLEX-RN exam.
Enrollment exam – HESI Admission Assessment (A2)
Criminal background check, physical examination, and drug screen for participation in the clinical component of the program
Cumulative GPA of 2.0 or higher
Official transcripts
Traditional BSN Programs
The traditional (direct entry) option for earning a BSN is open to individuals who do not have prior education or training in the field of nursing. LPNs can also enroll in a direct entry program if an LPN to BSN bridge program is not available.
The BSN generally takes four years to complete. The curriculum includes courses in the essentials of nursing as well as varied clinical experiences in outpatient clinics, nursing homes, and community health centers. A heavy emphasis on critical thinking, socioeconomic context and needs of patients, and communication and leadership skills give BSN graduates a broader experience and a unique advantage in the healthcare setting.
Admission to BSN programs is competitive, so selection for admission may be based on:
Grade point average – minimum of 2.0
TEAS scores
Experience in the field
Admission test scores and interview
Completion of general education courses
Second Degree BSN
The second degree BSN program is an innovative approach to reducing the current shortage of qualified nurses. The accelerated degree program prepares non-nursing degree holders to take the NCLEX-RN and start a new career in nursing. Students use their previous learning experience in other disciplines to earn a BSN in 2 years or less and transition into nursing.
The admissions standards for second degree programs are high. Applicants may need to present a minimum 3.0 GPA and undergo a thorough screening process as administrators seek candidates who are most likely to succeed in the intense coursework. Due to the rigors of completing the degree requirements in a short space of time, full-time employment is not recommended.
How Much Do BSN Programs Cost?
The biggest factor that will affect the cost of your BSN degree is the education path you pursue: the longer the program, the higher the cost. Bridge and second degree programs typically cost less than traditional BSN programs. The tuition for a four-year BSN can cost $52,000 or more for all four years, depending on the location in Georgia, school's reputation, and whether the school is public or private.
Apart from tuition, you need to factor in the cost of textbooks, clinical supplies, uniforms, lab fees, and other school fees. Make sure to inquire about enrollment fees, location of clinical sites (to work out the cost of transport), and the costs of meeting the enrollment requirements – liability insurance, criminal background check, physical exam.
Although the costs will add up quickly, there are numerous sources of financial assistance for nursing students. Your employer may reimburse some or all of the tuition in exchange for your continued employment.
Professional organizations offer scholarships based on specific requirements and targeted to specific individuals. Check with various organizations to see if you qualify. Loans and financial aid are just some other ways to fund the cost of obtaining a BSN degree. A Nursing degree is expensive, but it's a worthwhile investment.
Benefits of a BSN Degree
As the Bureau of Labor Statistics projects a need for more than a million nurses to fill new positions and replace retirees, a prospective nurse might question the value of a BSN when an RN (ADN) degree is cheaper and provides a faster pathway for entry into the industry. While the ADN program remains the preferred entry point for more than 41 percent of nursing students, BSN graduates earn professional benefits that are not available to RNs with an associate's degree. Better job opportunities, higher salaries, and professional advancement are some distinct advantages of being an RN with a bachelor's degree.
Georgia BSN Degree Programs
Albany, GA BSN Programs:
Albany State University
504 College Drive, Albany, GA 31705
229-430-4600
NCLEX-RN Pass Rate: 91.95%
Americus, GA BSN Programs:
Georgia Southwestern State University
800 Georgia Southwestern State University Drive, Americus, GA 31709
877-871-4594
NCLEX-RN Pass Rate: 90.60%
Atlanta, GA BSN Programs:
Georgia State University
P.O. Box-3965, Atlanta, GA 30302
404-413-2000
NCLEX-RN Pass Rate: 92.31%
Emory University
201 Dowman Drive, Atlanta, GA 30322
404-727-6123
NCLEX-RN Pass Rate: 85.87%
Georgia Baptist College of Nursing
3001 Mercer University Drive, Atlanta, GA 30341
678-547-6111
NCLEX-RN Pass Rate: 93.98%
Augusta, GA BSN Programs:
Georgia Regents University
1120 15th Street, Augusta, GA 30912
706-721-0211
NCLEX-RN Pass Rate: 89.88%
Brunswick, GA BSN Programs:
College of Coastal GA
One College Drive, Brunswick, GA 31520
912-279-5700
NCLEX-RN Pass Rate: 87.36%
Carrollton, GA BSN Programs:
University of West Georgia
1601 Maple Street, Carrollton, GA 30118
678-839-5000
NCLEX-RN Pass Rate: 87.72%
Cleveland, GA BSN Programs:
Truett-Mcconnell College
100 Alumni Drive, Cleveland, GA 30528
706-865-2134
NCLEX-RN Pass Rate: N/A
Columbus, GA BSN Programs:
Columbus State University
4225 University Avenue, Columbus, GA 31907
1-866-264-2035
NCLEX-RN Pass Rate: 88.45%
Demorest, GA BSN Programs:
Piedmont College
P.O. Box 10, 1021 Central Avenue, Demorest, GA 30535
706-778-3000
NCLEX-RN Pass Rate: 94.80%
Gainesville, GA BSN Programs:
Brenau University
500 Washington Street Southeast, Gainesville, GA 30501
770-534-6100
NCLEX-RN Pass Rate: 79.38%
Kennesaw, GA BSN Programs:
Kennesaw State University
1000 Chastain Road, Kennesaw, GA 30144
770-423-6000
NCLEX-RN Pass Rate: 93.94%
LaGrange, GA BSN Programs:
Lagrange College
601 Broad Street, LaGrange, GA 30240
706-880-8000
NCLEX-RN Pass Rate: 95.51%
Lawrenceville, GA BSN Programs:
Georgia Gwinnett College
1000 University Center Lane, Lawrenceville, GA 30043
678-407-5000
NCLEX-RN Pass Rate: N/A
Macon, GA BSN Programs:
Middle Georgia State College
100 College Station Drive, Macon, GA 31206
478-471-2700
NCLEX-RN Pass Rate: 91.14%
Wesleyan College
4760 Forsyth Road, Macon, GA 31210
800-447-6610
NCLEX-RN Pass Rate: N/A
Milledgeville, GA BSN Programs:
Georgia College
231 West Hancock Street, Milledgeville, GA 31061
478-445-5004
NCLEX-RN Pass Rate: 95.73%
Morrow, GA BSN Programs:
Clayton State University
2000 Clayton State Boulevard, Morrow, GA 30260
678-466-4900
NCLEX-RN Pass Rate: 90.60%
Rome, GA BSN Programs:
Shorter University
315 Shorter Avenue, Rome, GA 30165
800-868-6980
NCLEX-RN Pass Rate: 62.82%
Savannah, GA BSN Programs:
Armstrong Atlantic State University
11935 Abercorn Street, Savannah, GA 31419
800-633-2349
NCLEX-RN Pass Rate: 83.54%
Statesboro, GA BSN Programs:
Georgia Southern University
P.O. Box 8073, Statesboro, GA 30460
912-478-5322
NCLEX-RN Pass Rate: 90.58%
Thomasville, GA BSN Programs:
Thomas University
1501 Millpond Road, Thomasville, GA 31792
800-538-9784
NCLEX-RN Pass Rate: N/A
Valdosta, GA BSN Programs:
Valdosta State University
1500 North Patterson Street, Valdosta, GA 31698
229-333-5791
NCLEX-RN Pass Rate: 82.07%
Georgia Accelerated Second Degree BSN
Americus, GA Accelerated Second BSN Programs:
Georgia Southwestern State University
800 GA Southwestern State University Drive, Americus, GA 31709
877-871-4594
NCLEX-RN Pass Rate: 90.60%
Atlanta, GA Accelerated Second BSN Programs:
Emory University
201 Dowman Drive, Atlanta, GA 30322
404-727-6123
NCLEX-RN Pass Rate: 85.87%
Georgia State University
P.O. Box-3965, Atlanta, GA 30302
404-413-2000
NCLEX-RN Pass Rate: 92.31%
Kennesaw, GA Accelerated Second BSN Programs:
Kennesaw State University
1000 Chastain Road, Kennesaw, GA 30144
770-423-6000
NCLEX-RN Pass Rate: 93.94%
Valdosta, GA Accelerated Second BSN Programs:
Valdosta State University
1500 North Patterson Street, Valdosta, GA 31698
229-333-5791
NCLEX-RN Pass Rate: 82.07%