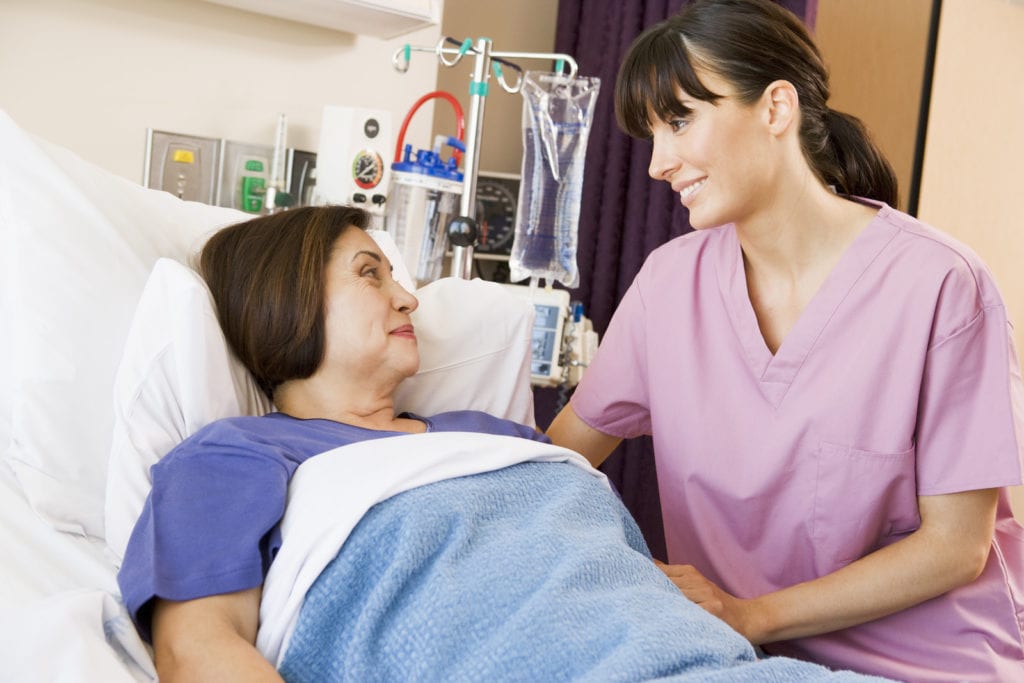 The nursing shortage in Missouri and other states across the nation is difficult to stop. According to the Bureau of Labor Statistics, employment for registered nurses will increase by 26 percent between 2010 and 2020, which places nursing among the top 30 professions with the largest job growth. The nursing workforce is aging right along with the population and increases the need for more nursing staff in hospitals and other medical facilities. What's more, there are not enough new graduates to replace retiring nurses. In an American Journal of Medical Quality report, it was projected that Missouri would be short of 1,757 nurses by 2030. The current state of the workforce means there will be lots of new jobs for new graduates.
One of the most obvious ways to boost the current workforce is to increase enrollment in nursing programs. However, due to limited space and faculty, Missouri's colleges and universities turn away 15 percent to 36 percent of qualified candidates. Admission is competitive, so applicants must do all they can to get an edge during the process. Certification as a nurse assistant, experience in healthcare, and completion of the foundational courses are just some ways to gain admission.
There are more than one ways to become a registered nurse. The diploma and associate's degree in nursing provide the fastest routes to becoming a registered nurse as students can complete the programs in just two years. However, the majority of new jobs require more education for incoming nurses. Therefore, the Institute of Medicine recommends that nurses seek higher education, such as a Bachelor's Degree in Nurse (BSN) or Master's Degree in Nursing (MSN). The program goes beyond the associate's degree and diploma in nursing program to equip students with the leadership, research, communication, and clinical skills that will make a significant impact in how they practice. Several studies reveal a close relationship between nurses' education and mortal rates, which decline as a nurse's education increases.
Following is a list of the various types of BSN programs available in Missouri.
LPN to BSN: Licensed practical nurses form an important part of the nursing workforce, caring for patients under the supervision of registered nurses. Changes in the hiring practices in hospitals due to a need for nurses with higher education have forced LPNs into long-term care settings. In an effort to remain in acute care, many LPNs are returning to school. The LPN-BSN route eliminates the need for nurses to repeat courses, which their prior training and education covered. With advanced placement in the BSN program, an experienced LPN can begin nursing courses and graduate to 2 to 3 years.
RN to BSN: RN-BSN programs aid the seamless transition from an associate's to bachelor's degree in nursing. RN-to-BSN programs are on the rise to support nurses who need to return to school to maintain the educational standards in the nation's hospitals. Students complete the bulk of the coursework online in 1 to 2 years and are prepared to fill supervisory roles left vacant by retiring nurses.
Traditional BSN: The traditional BSN option is targeted to undergraduate students seeking to complete a nursing program designed for undergraduate students who plan to complete a four-year degree. The student will complete general education courses and electives during the freshman and sophomore years and are considered pre-nursing students. Core nursing courses and the clinical practicum commence in the junior year. The time to become a registered nurse is, indeed, longer than completing an associate's degree, but the benefits are worthwhile, especially in light of employers' preference for bachelor's degree nurses.
Fast-track BSN: This accelerated option is designed for students who already hold a college degree in a non-nursing discipline. With the transfer of general education and science courses, the student may be able to complete the fast-track BSN in 12 to 18 months – based on nursing courses and clinical requirements only.
To qualify for licensure as a registered nurse in Missouri, graduates must apply to take the NCLEX licensure exam for registered nurses.
Traditional BSN Programs
The BSN degree program equips students with the general knowledge and skills required for practicing within the full scope of nursing. Applicants must have the emotional, mental, motor, sensory, and critical thinking abilities to secure admission and progress through the entire program of study. The curriculum will emphasize the development of compassionate and competent nurses who are capable of meeting all the requirements for licensure and post-graduate work in nursing.
During the clinical component of the program, students will work directly with patients under the supervision of faculty. Applicants must, therefore, demonstrate regard for patient safety and well-being during the admission process. Most students can complete the program in 10 semesters, including summer study, assuming no failed classes, remedial coursework, and continuous full-time enrollment. Course topics may include nutrition, human anatomy, human physiology, microbiology, concepts in nursing, the art and science of nursing, introduction to pharmacology, health assessment, human pathophysiology, the pediatric, adult, and mental health client, and family health nursing.
High school students may need to complete chemistry, psychology, human anatomy, and statistics as prerequisites.
Admission to a nursing program is always competitive and selective as there is limited space at most schools. All applications must be submitted before the deadline with documentation of meeting al the requirements.
General admission requirements include:
Admission to the university as a degree-seeking student.
A completed application to BSN program at the School of Nursing.
A current resume.
Official transcripts of all college coursework.
Completion of prerequisite courses/ general education requirements with a grade C or higher.
A minimum GPA of 2.75 in all completed college coursework – GPA varies by school.
Documentation of current immunizations, including MMR, Varicella, and Hepatitis B.
Current Basic Life Support for Healthcare Providers.
Current health insurance.
A criminal background check may be required in addition to the health requirements in order to ensure patient safety and well-being during the clinical component of the training. A criminal record may exclude an applicant from entry and future licensure with the Missouri Board of Nursing.
Second Degree BSN
The Second Degree BSN is designed for students who hold a non-nursing bachelor's degree or higher from an accredited college or university. They will complete the required 54 to 62 credits of nursing courses and practicum in approximately 15 months to enter practice as a BSN prepared nurse.
The curriculum supports the development of knowledge and skills for graduates to improve the health and well-being of patients and populations. An academic advisor will develop a plan for study for students based on the previous course of study. The nursing courses follow a specific sequence as each course builds on the areas covered in the previous courses – both nursing and non-nursing.
An essential aspect of the program is the hands-on practice in a simulation center followed by a clinical experience at nearby health care facilities. Students develop skills during the clinical experiences as they work in a variety of long-term, community health, acute, and sub-acute health care settings. Graduates are prepared for success on the NCLEX-RN and employment in acute or long-term care settings.
Due to the rigorous nature of accelerated nursing programs, applicants must demonstrate their ability to progress to completion. Full-time employment is not recommend during the program.
How Much Do BSN Programs Cost?
The tuition for a four-year BSN program at Missouri's public universities is approximately $30,600 for in-state students. Fees are approximately $3,100 including nursing course fees. Uniform and books cost $1,050 to $1,500. Additional costs include lab supplies, background check, health requirements, BSN application fee, drug screen, NCLEX application fee, CPR training, nursing pin, state board fee, and professional liability insurance.
BSN Programs and NCLEX-RN Pass Rates Missouri
Girardeau, MO BSN Programs:
Southeast Missouri State University
One University Plaza, Cape Girardeau, MO 63701
573-651-2000
NCLEX-RN Pass Rate: 95.38%
Columbia, MO BSN Programs:
Sinclair School of Nursing,
S 235 School of Nursing, Columbia, MO 65211
573-882-0277
NCLEX-RN Pass Rate: 92.05%
Fayette, MO BSN Programs:
Central Methodist University
411 Central Methodist Square, Fayette MO 65248
877-CMU-1854
NCLEX-RN Pass Rate: 85.11%
Independence, MO BSN Programs:
Graceland University
1401 West Truman Road, Independence, MO 64050-3434
816-833-0524
NCLEX-RN Pass Rate: 87.18%
Joplin, MO BSN Programs:
Missouri Southern State University
3950 Newman Road, Joplin, MO 64801-1595
417-625-9300
NCLEX-RN Pass Rate: 97.22%
Kansas City, MO BSN Programs:
Avila University
11901 Wornall Road, Kansas City, MO 64145
816-942-8400
NCLEX-RN Pass Rate: 74.0%
Research College of Nursing
2525 East Meyer Boulevard, Kansas City, MO 64132
816-995-2800
NCLEX-RN Pass Rate: 88.12%
Saint Luke's College of Health Sciences
624 Westport Road, Kansas City, MO 64111
816-932-6700
NCLEX-RN Pass Rate: 83.24%
University of MO Kansas City
Kansas City, MO 64110
816-235-1000
NCLEX-RN Pass Rate: 87.91%
Kirksville, MO BSN Programs:
Truman State University
100 East Normal Avenue, Kirksville, MO 63501
660-785-4000
NCLEX-RN Pass Rate: 94.34%
Liberty, MO BSN Programs:
William Jewell College
500 College Hill, Liberty, MO 64068
816-781-7700
NCLEX-RN Pass Rate: 89.77%
Marshall, MO BSN Programs:
Missouri Valley College
500 East College, Marshall, MO 65340
660-831-4000
NCLEX-RN Pass Rate: 80.00%
Point Lookout, MO BSN Programs:
College of the Ozarks
9900 Academic Avenue, Point Lookout, MO 65726
417-690-2636
NCLEX-RN Pass Rate: 100.0%
Springfield, MO BSN Programs:
Cox College
1423 North Jefferson Avenue, Springfield, MO 65802
417-269-3401
NCLEX-RN Pass Rate: 91.14%
Missouri State University
901 South National Avenue, Springfield, MO 65897
417-836-5000
NCLEX-RN Pass Rate: 96.43%
St. Joseph, MO BSN Programs:
Missouri Western State University
4525 Downs Drive, St. Joseph, MO 64507
816-271-4200
NCLEX-RN Pass Rate: 86.02%
St. Louis, MO BSN Programs:
Goldfarb School of Nursing at Barnes-Jewish College
4483 Duncan Avenue, St. Louis, MO 63110
314-454-7055
NCLEX-RN Pass Rate: 84.99%
Maryville University
650 Maryville University Drive, St. Louis, MO 63141
314-529-9300
NCLEX-RN Pass Rate: 93.40%
Saint Louis University
One North Grand, St. Louis, MO63103 USA
1-800-758-3678
NCLEX-RN Pass Rate: 89.90%
University of Missouri
One University Boulevard, St. Louis, MO 63121-4400
314-516-6066
NCLEX-RN Pass Rate: 89.90%
Warrensburg, MO BSN Programs:
University of Central Missouri
UCM, P.O. Box 800, Warrensburg, MO 64093
877-729-8266
NCLEX-RN Pass Rate: 83.33%