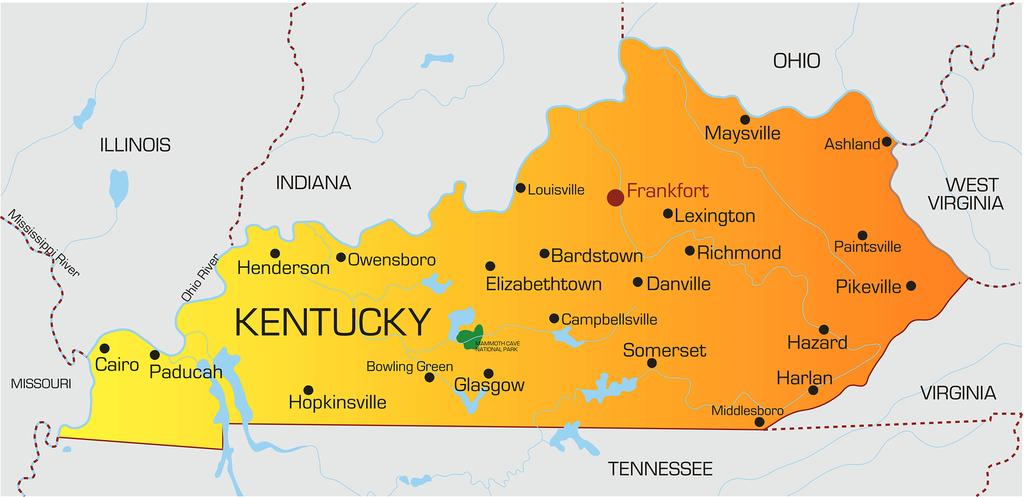 As people seek to live longer lives and cope with chronic illnesses, healthcare professionals are tasked with providing the tools to promote health and wellness. In the case where demand exceeds supply, the population will be affected. The aging population and greater access to care are identified as the primary reasons for the demand for professionals to care for people suffering from chronic conditions such as diabetes and Alzheimer's.
According to the American Nursing Association, nurses form the largest segment of the healthcare workforce. There are approximately 45,500 full-time employed registered nurses in Kentucky. The Kentucky Board of Nursing reports 69,300 active RN licenses. According to the state's Occupational Outlook, the state would need at least 16,100 more full-time nurses between 2014 and 2024 to meet demands. As hospitals and other health care employers feel the pressure of recruiting nurses in the competitive job market, nursing graduates can be confident of employment after they secure state licensure.
There's never been a better time to enter the field of nursing. The associate degree in nursing facilitates quick entry into the field. But those who are in it for the long-term should consider the bachelor's or master's degree in nursing to qualify for hospital or government jobs, or even positions in the prison system or home health. State and national nursing agencies are using programs to revive interest in the field of nursing. Meanwhile, those who have a genuine interest in caring for others can breathe a sigh of relief as competition diminishes, giving them the assurance of stepping out of the classroom and into their new career as a professional nurse.
Kentucky Nursing Programs
Education Requirements
The associate degree in nursing is a first step to a rewarding career in nursing. Students who successfully complete the degree are eligible to take the National Council Licensure Examination (NCLEX-RN). Those who are successful in this exam will qualify for a license to practice as a registered nurse providing all the other requirements outlined by the Kentucky Board of Nursing are met. More than preparation for success on the exam, the ADN program gives students the tools to succeed in a clinical setting and lays the foundation for lifelong learning.
The curriculum uses two primary components to disperse knowledge. In the classroom, students will learn the theoretical and technical aspects of nursing. A clinical experience conducted under the supervision of a licensed nurse will give students the opportunity to practice their skills at health care facilities in Kentucky. Courses in nursing and science emphasize the importance of providing holistic and culturally sensitive care to patients, families, and communities. The liberal arts studies make up approximately 35 percent of the total semester credit hours to help students develop the critical skills English composition and math. They also emphasize the acquisition of a basic understanding of the social, biological, and behavioral sciences. Students must complete a minimum of 70 semester credit hours with a GPA of 2.0 or above to satisfy the graduation requirements for an associate degree in nursing.
In your search for a program, make sure to select one that is accredited by the Accreditation Commission for Education in Nursing, Inc. and approved by the Kentucky Board of Nursing.
Eligibility Criteria
Admission to an associate in nursing degree program may be selective. A shortage of faculty and space availability forces colleges to turn away hundreds of eligible candidates each year. Some colleges maintain waiting lists to accommodate candidates. In preparation for acceptance into the program, you must analyze your educational background and preparation, which are important factors in the selection process. Check with the department of nursing to determine the criteria used for selecting candidates.
Admission usually requires admission to the college before submitting another application to the nursing department. Information sessions are available for prospective students and outline the enrollment process, requirements, and expectations. A high school diploma, letters of reference, and a criminal free background are common requirements for entry. Experience in healthcare, as an allied health care professional, can improve your chances of acceptance.
For acceptance into the ADN program, the student must:
Submit a completed application and fee.
Submit high school and official college transcripts to be submitted to the college.
Attend an admission interview with a representative from the nursing department.
Have a minimum GPA on all college coursework – determined by the college
Submit ACT scores.
Provide documentation of immunization in MMR, hepatitis B, and varicella, a negative TB skin test, CPR certification, and health insurance.
Submit to a criminal background check.
Submit copies of driver's license, birth certificate, and social security card.
A history of criminal convictions could preclude you from admission to the program due to clinical site restrictions.
Duration and Cost
The average cost of completing the two-year associate degree is approximately $37,985 at public colleges in Kentucky. Students may be eligible for a variety of funding to help pay for the program, including Title IV funding available through the US Department of Education. Nursing student loans and grants specific to nursing school may also be available. An officer in the financial aid office will provide information for processing the application for financial aid. Some popular sources of funding include direct loans, Federal Pell Grants, Federal SEOG Grants, state grants and scholarships, veteran education benefits, employer reimbursement, and payment plans.
Kentucky RN Licensure Requirements
Practice as a registered nurse in Kentucky requires a license issued by the Kentucky Board of Nursing. Applicants must submit an application online and mail the required documents to the Board's office. Applicants for licensure by exam may be eligible for a provisional license while those applying for endorsement may be eligible for a temporary permit. All applicants must undergo a criminal background check as part of the licensure process.
Licensure By Examination
Applications for licensure as a registered nurse must be submitted online.
For licensure by exam, complete the following steps:
Submit the application online – Firefox or Internet Explorer is the preferred browsers for best viewing. Answer all the questions accurately. Applications are valid for one year.
Pay the non-refundable fee of $125.
Follow the instructions to request a criminal background check report. The Kentucky Board of Nursing will receive an electronic copy of the report if you request it online. Complete the fingerprint card and mail it with a check or money order in the amount of $12 and made out to KSP. The card should be mailed to the Kentucky State Police.
Submit your details to take the Kentucky Jurisprudence Exam.
Submit verification of completing an approved nursing program. Nursing schools in Kentucky submit a Certified List of Graduates at the conclusion of each program. Out-of-State programs may also submit an approved list or you may request an official transcript, indicating degree and date or degree, to be sent from the program directly to KBN.
Register online for the NCLEX. You may also register by phone. Provide your social security number and a valid email address to receive the Authorization to Test.
The Board of Nursing reviews applications and documents within 14 days of submission. If you respond "yes" to the criminal history questions or disciplinary actions, your application may take up to 3 months to process. Monitor the status of your application online as it will list any additional documents needed before your license is issued.
Provisional License
After meeting all the application requirements, you will receive a provisional license, which is valid for six months from the date issued. You must not begin employment as an RNA until you receive confirmation of the provisional license from KBN. Practice under the provisional license requires direct supervision of a registered nurse. The supervisor must be physically present in the facility and be immediately available to the RNA during working hours. The RNA must be supervised by a registered nurse or an advanced practice registered nurse. The licensee may assume full practice after the full license is issued. It will be invalidated after unsuccessful completion of the NCLEX.
Graduates of Foreign Nursing Programs:
If you graduated from a nursing education program outside of the United States, you must complete following additional steps:
Complete the VisaScreen® for Kentucky Licensure. This process requires an assessment of your education for its comparability to that of US nursing programs. It will also verify any current nursing licenses, your English language proficiency, and verify that you passed the CGFNS Qualifying Exam, NCLEX-RN, or SBTPE.
Pass or have passed the NCLEX-RN.
Provide a valid U.S. social security number.
Meet all the other requirements for licensure by examination or endorsement.
Licensure By Endorsement
A registered nurse who is licensed to practice in another state can apply for licensure by endorsement to work in Kentucky. The nurse's license should be unencumbered and active.
Submit the following to the Board's office:
Submit the application for endorsement online – Firefox or Internet Explorer is the preferred browser for best viewing. Answer all the questions accurately. Applications are valid for one year.
Pay the non-refundable fee of $165.
Follow the instructions to request a criminal background check report. The Kentucky Board of Nursing will receive an electronic copy of the report if you request it online. Complete the fingerprint card and mail it with a check or money order in the amount of $12 and made out to KSP. The card should be mailed to the Kentucky State Police.
Submit your details to take the Kentucky Jurisprudence Exam.
Complete verification of your original license from the state where you took and passed the NCLEX. If the state does not participate in the NURSYS, you must use the Verification of Original Licensure form.
Request the nursing program to send official transcript of your education directly to the KBN if you were licensed in California, Connecticut, Hawaii, Kansas, and Washington. The transcript must indicate the degree and graduation date.
Complete 120 continuing education hours or a refresher course if you have not practiced at least 500 hours within the past five years leading up to the application for endorsement. This requirement does not apply to new graduates.
NOTE: Your endorsement application is valid for six months. Therefore, you must submit all the required documents before the application expires. You will not be eligible for a temporary permit if your application expires before the temporary permit has been issued. You can check the application status online to determine what documents are needed to complete the endorsement process.
Temporary Permit (TP)
The Kentucky Board of Nursing may issue a one-time Temporary Permit to endorsement candidates who meet the regulatory requirements. Under the provision of the TP, the candidate is authorized to practice while awaiting a full license.
You will be eligible to receive a TP after submitting the following to the Board:
A completed application and fee of $165.00
Kentucky Criminal Background Report
Federal Background Report
An official transcript of your nursing education if you completed the program and obtained your original license in California
Confirmation that you completed the Kentucky Jurisprudence Exam
Verificaton of licensure from the original board of nursing.
Supervision is not necessary for nurses practiciung under a temporary permit.
Renewal Requirements
The renewal period for registered nurses begins September 15 and ends October 31 at midnight EST. Renewals must be completed online or you may submit a request for a paper renewal form. Paper renewal incurs an additional cost. If you do not renew before midnight on October 31, your license will lapse and you cannot practice until the license is renewed.
If you answer "yes" to the disciplinary or criminal history questions, you must submit letters of explanation and certified court documents to the Board before midnight October 31. To renew your license online, you must have your license number, date of birth, the last four digits of your social security number. The renewal fee is $65 and is payable using a credit care, debit care, or checking or savings account.
Continuing Education Requirements for Kentucky RNs
Nurses must complete 14 contact hours of continuing education from an approved provider for licensure renewal. These hours will include 3 contact hours related to domestic violence, 1.5 hours in paediatric abusive health trauma, and 5 hours in sexual assault forensic medicine or domestic violence.
Kentucky Salary and Job Outlook
In the rural and metropolitan areas of Kentucky, hospitals are eager to hire nurses to meet the demand for healthcare. Rapid growth in healthcare and increasing demand for providers has employers posting ads to recruit general and specialty nurses to fill vacancies. Some leading hospitals offer sign on bonuses to attract nurses and even promise a housing allowance to those who are willing to move. The nursing shortage in Kentucky and across the nation is evident from employers' efforts to pump more resources into attracting and retaining registered nurses. The U.S. Bureau of Labor Statistics projects employment to grow 16 percent from 2014 to 2024. The projected demand is attributed to an aging population and greater access to health care. More than 37 percent of the current workforce is expected to retire in the next decade, and since the value exceeds the volume of new nursing graduates, there has been a cause for concern. The shortage of nurse educators impacts the state's ability to more graduates. Nursing schools in Kentucky turn away hundreds of eligible applicants each year due to the lack of qualified faculty.
Those students who make it into the program and successfully complete the requirements will have no difficulty securing employment – even in hospital settings. Graduates of the bachelor's degree in nursing have the best opportunities and salaries, but even associate degree nurses can benefit from the current state of the industry. The mean annual wage for registered nurses in Kentucky is $59,810.
Contact the Board of Nursing
Kentucky Board of Nursing
Address: 312 Whittington Parkway, Suite 300,
Louisville, KY 40222-5172
Phone: 502-429-3300
Toll-Free: 1-800-305-2042
Fax: 502-429-3311
Kentucky Registered Nursing Programs and NCLEX-RN Pass Rates:
ADN Programs Kentucky
Ashland, KY ADN Programs:
Ashland Community & Technical College
1400 College Dr, Ashland, KY 41101
606-326-2000
NCLEX-RN Pass Rate: 79%
Bowling Green, KY ADN Programs:
Western Kentucky University
1906 College Heights Boulevard, Bowling Green, KY 42101-3576
270-745-0111
NCLEX-RN Pass Rate: 97%
Southcentral Kentucky Community and Technical College
1845 Loop Drive, Bowling Green, KY 42101
270-901-1000
NCLEX-RN Pass Rate: 79%
Campbellsville, KY ADN Programs:
Campbellsville University
1 University Drive, Campbellsville, KY 42718
270-789-5000
NCLEX-RN Pass Rate: 82%
Cynthiana, KY ADN Programs:
Maysville Community and Technical College
319 Webster Avenue, Cynthiana, KY 41031
859-234-8626
NCLEX-RN Pass Rate: 100%
Elizabethtown, KY ADN Programs:
Elizabethtown Community and Technical College
600 College Street Road, Elizabethtown, KY 42701
270-769-2371
NCLEX-RN Pass Rate: 94%
Florence, KY ADN Programs:
Gateway Community and Technical College
500 Technology Way, Florence, KY 41042
859-441-4500
NCLEX-RN Pass Rate: 100%
Beckfield College
16 Spiral Dr, Florence, KY 41042
859-371-9393
NCLEX-RN Pass Rate: 88%
Frankfort, KY ADN Programs:
Kentucky State University
400 East Main Street, Frankfort, KY 40601
502-597-6000
NCLEX-RN Pass Rate: 70%
Hazard, KY ADN Programs:
Hazard Community and Technical College
One Community College Drive, Hazard, KY 41701
606-436-5721
NCLEX-RN Pass Rate: 100%
Henderson, KY ADN Programs:
Henderson Community College
2660 South Green Street, Henderson, KY 42420
270-827-1867
NCLEX-RN Pass Rate: 100%
Hopkinsville, KY ADN Programs:
Hopkinsville Community College
720 North Drive, Hopkinsville, KY 42241-2100
270-707-3700
NCLEX-RN Pass Rate: 97%
Lexington, KY ADN Programs:
Spencerian College
2355 Harrodsburg Road, Lexington, KY 40504
859-223-9608
NCLEX-RN Pass Rate: 69%
Bluegrass Community & Technical College
470 Cooper Dr, Lexington, KY 40506
859-246-6200
NCLEX-RN Pass Rate: 92%
ITT Technical Institute
3020 Old Todds Rd, Lexington, KY 40509
859-246-3300
NCLEX-RN Pass Rate: 69%
Pikeville, KY ADN Programs:
University of Pikeville
147 Sycamore Street Pikeville, KY 41501
606-218-5250
NCLEX-RN Pass Rate: 100%
Prestonsburg, KY ADN Programs:
Big Sandy Community & Technical College
1 Bert Combs Dr, Prestonsburg, KY 41653
606-886-3863
NCLEX-RN Pass Rate: 79%
Louisville, KY ADN Programs:
Galen College of Nursing
1031 Zorn Avenue, Suite 400, Louisville, KY 40207
502-410-6200
NCLEX-RN Pass Rate: 91%
Jefferson Community & Technical College
109 East Broadway, Louisville, KY 40202
502-213-5333
NCLEX-RN Pass Rate: 88%
Midway, KY ADN Programs:
Midway College
512 East Stephens Street, Midway, KY 40347
859-846-4421
NCLEX-RN Pass Rate: 85%
Morehead, KY ADN Programs:
Morehead State University
150 University Boulevard, Morehead, KY 40351
1-800-585-6781
NCLEX-RN Pass Rate: 78%
Owensboro, KY ADN Programs:
Owensboro Community and Technical College
4800 New Hartford Road, Owensboro, KY 42303
270-686-4400
NCLEX-RN Pass Rate: 92%
Paducah, KY ADN Programs:
West Kentucky Community and Technical College
4810 Alben Barkley Drive, Paducah, KY 42001
270-554-9200
NCLEX-RN Pass Rate: 90%
Pikeville, KY ADN Programs:
American National University
50 National College Boulevard, Pikeville, KY 41501
606-478-7200
NCLEX-RN Pass Rate: 71%
Richmond, KY ADN Programs:
Eastern Kentucky University
521 Lancaster Avenue, Richmond, KY 40475
859-622-1000
NCLEX-RN Pass Rate: 100%
Saint Catherine, KY ADN Programs:
St. Catharine College
2735 Bardstown Road, Saint Catharine, KY 40061
859-336-5082
NCLEX-RN Pass Rate: 86%
Somerset, KY ADN Programs:
Somerset Community College
808 Monticello Street, Somerset, KY 42501
606-679-8501
NCLEX-RN Pass Rate: 85%