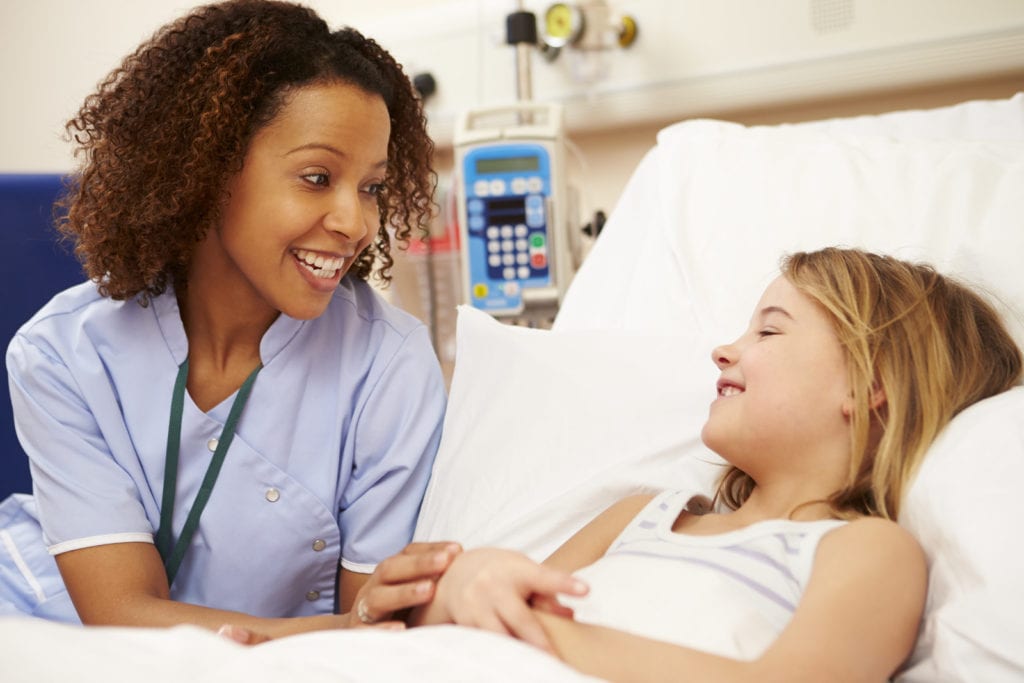 Advanced practice registered nurses, APRNs, are specially trained nurses who serve as primary care providers in medically underserved areas, such as the inner cities and rural areas. APRNs earn the privilege to practice after completing a master's, post-master's, or doctorate degree and receive certification in one or more of the four specialties of advanced practice: Certified Nurse Anesthetist (CNA), Certified Nurse Practitioner (CNP), Clinical Nurse Specialist (CNS), or Clinical Nurse Midwife (CNM). Nurse practitioners in Minnesota make up 58% of the APRN workforce, followed by CNAs (29%), CNSs (9%), and CNMs (4%). According to Minnesota's Nurse Practice Act, nurse practitioners can diagnose, directly manage, and prevent acute and chronic illnesses and promote wellness including non-pharmacological treatment. The state is one of 34 states that restrict NPs ability to practice independently. In spite of the restrictions, NPs, and other APRNs help to fill an urgent need for primary care in medically underserved areas.
The IOM's recommendation to increase the minimum educational requirement from the master's degree to the DNP degree for advanced practice has little bearing on Minnesota's nursing workforce. In September 2013, more than 81 percent of APRNs used the master's degree to register for practice. The University of Minnesota, in 2007, converted the master's program to a DNP, making it the terminal degree for advanced practice. Other universities may soon follow, leaving up and coming APRNs with no choice but to enroll in the DNP program.
Specialized Learning
The increasing health care costs drive the need for APRNs to take the place of other medical professionals. With 30 percent of APRNs eligible for retirement in the next 7 to 10 years, graduates will be needed to fill the vacuum.
A growing number of universities offering the MSN program in Minnesota give students the opportunity to exit with the MSN degree or continue studies to obtain the DNP degree. The curriculum targets both entry-level and advanced practice nurses, equipping them with the competencies to serve diverse communities. It builds upon and extends the body of knowledge provided by the baccalaureate education. The program's faculty create an environment to promote critical thinking and creativity; two essential traits for success as an advanced practice nurse.
Through a coordinated sequence of theoretical and clinical experiences, students will be able to evaluate and translate research to improve practice, evaluate and apply actions that improve health care outcomes for patients, use the conclusions from the analysis of nursing actions that create positive health care outcomes to improve delivery of health care in various settings, and translate evidenced-based practice to implement health policies.
Some of the advanced practice nursing courses that may be included in the curriculum are advanced health assessment, advanced pharmacology, diagnostics and procedures for APNs, child and adolescent health, adult and older health, advanced pathophysiology, reproductive health, advanced nursing actions, health care informatics and data management, and health promotion.
To obtain an MSN degree, you'll have to choose from one of the following options:
RN to MSN: A registered nurse with an associate's degree can continue on the upward path to learning using the fast-track RN-MSN pathway. The program eliminates the duplication of content, which can be costly and time consuming. In most situations, the student will commence the master's level courses from the onset. The university may or may not award a BSN degree depending on the approach to the curriculum. Similarly, one school may commence the graduate-level courses while another may have a defined sequence of prerequisite courses for the student to complete before commencing graduate studies.
Direct Entry MSN: A BSN-prepared nurse can take the next step in the nursing career path by applying for direct entry in the MSN program. The baccalaureate studies provide a solid foundation so students can dive right into the core courses and complete the program with two years of part-time study. The applicant must have a BSN degree from an accredited institution and an unencumbered license to practice as a registered nurse. An individual with a bachelor's degree in a non-nursing discipline may have to complete nursing related courses before applying to the program.
Post-Master's Certificate: The post-master's certificate program is a short-term program designed for individuals who already have a master's degree in nursing and want to pursue a certificate track. The student will complete the theoretical and clinical requirements to prepare for national certification in the focus area. The prospective student must have a master's degree in nursing, a registered nursing license, and the Board's approval for advanced practice.
The educational track will define the basic requirements for enrolling in an MSN program. To enroll in the RN-MSN track, the applicant must have an associate's degree in nursing and RN experience at minimum. A bachelor's degree in a nursing or non-nursing discipline is the minimum criteria for direct entry. The enrollment process is competitive due to a shortage of space and faculty. As other leading universities join the University of Minnesota in replacing the MSN program with the DNP, it will become increasingly difficult to secure a spot in the remaining schools. Here's a basic summary of the enrollment criteria for the MSN program.
Summary of Enrollment Criteria
Secure approval for graduate study at the University.
Possess a bachelor's degree or associate's degree in nursing from an accredited institution.
Official transcripts of all post-secondary studies with a cumulative GPA of 3.0 or above.
Academic and professional references.
A valid license to practice as a registered nurse.
A personal statement outlining career goals for the chosen field of study.
A personal interview with the admissions personnel.
Complete the requirements for clinical placement, including a criminal history report, drug screen, CPR certification, and physical exam.
Check the program's guidelines at your school of choice to determine the specific requirements, including deadlines for submitting an application and accompanying documents.
How Much Do MSN Programs Cost?
Your nursing education will pay for itself in just a few years as you begin practicing as an advanced practice nurse in your area of specialty. Part-time, resident students can pay up to $1,320 per credit. With full-time enrollment, some universities will offer a credit band and charge a per-credit rate for credits above the plateau – usually 12 to 14 credits. The average cost of tuition for full-time students is $7,922 per semester. Tuition does not include expenses for textbooks, fees, supplies, and other miscellaneous costs. Students should budget an additional $500 to $700 per semester to cover these additional expenses. The total cost of attendance varies by university, so you should compare programs to find one that meets your budget. Financial aid, grants, and scholarships will reduce your out-of-pocket expenses when they're available. Check the AACN's website for a list of scholarship opportunities for graduate study.
Requirements For Advanced Practice Registered Nurses Minnesota
Before applying for a license to practice as an APRN in Minnesota, you must be licensed as a Registered Nurse in the state or have a current RN license with multistate privilege from a participating compact state. You must apply for APRN licensure as a Nurse Anesthetist, Nurse Midwife, Nurse Practitioner, or Clinical Nurse Specialist.
Guidelines for APRN Licensure
Submit the following to the Board of Nursing:
A completed application.
The APRN licensure fee of $105 payable using a money order or cashier's check. Personal checks will not be accepted.
Documentation of completing a graduate level APRN program. You should complete the first page of the Confirmation of Graduation form and have the school complete the second page and mail to the Board of Nursing.
Evidence of current certification from a national certifying body.
Clinical Nurse Specialists (CNS) and Nurse Practitioners (NP) must complete 2,080 hours of practice with a licensed Minnesota Certified Clinical Nurse Specialist, Certified Nurse Practitioner, or licensed Minnesota physician. Submit the Post-Graduate Verification form and submit to the Board of Nursing.
The Board will issue a license after receiving the completed application, all the supporting documents, and fee. The determination process is approximately 1 to 3 days after receiving the required documents. The registration period depends on the APRN's date of birth and time of licensure and registration. The application will remain on file for 12 months. After this time, you must submit another application and fee if you did not submit the required documents within the 12-month period.
APRN Renewal Requirements Minnesota
The Board will mail a reminder postcard approximately three full calendar months before your registration expiration date. If you maintain a valid email address on record at the Registry, you'll also receive the reminder notification via email. The initial licensure period is determined by your birth month and year, so the first licensure period may vary from 6 to 29 months. Following the initial period, your renewal will be every two years. You must renew your APRN registration with your RN licensure.
To renew your license, you must:
Submit a completed application.
Enclose the application fee of $93.50, which includes the eLicensing surcharge.
Submit documentation of current certification by a national certifying body.
Have a current RN license.
There are no continuing education requirements for APRNs.
Contact the Board of Nursing
Minnesota State Board of Nursing
2829 University Ave SE Suite 200
Minneapolis, MN 55414
Phone: 612-317-3000
Fax: 612-617-2190
Email: Nursing.Board@state.mn.us
MSN Programs Minnesota
Duluth, MN MSN Programs:
College of St. Scholastica
1200 Kenwood Avenue
Duluth, MN 55811
218-723-6046
Mankato, MN MSN Programs:
Minnesota State University, Mankato
228 Wiecking Center
Mankato, MN 56001-6062
1-800-722-0544
Minneapolis, MN MSN Programs:
St. Mary's University of Minnesota
2500 Park Avenue
Minneapolis, MN 55404-4403
1 507-452-4430
Walden University
College of Health Sciences, School of Nursing
100 Washington Ave S., Suite 900
Minneapolis, MN 55401
1 612-312-1200
Rochester, MN MSN Programs:
Mayo Clinic
College of Medicine Nurse Anesthesia Graduate Programs
200 First Street SW
Rochester, MN 55905
St. Louis Park, MN MSN Programs:
Minneapolis School of Anesthesia
6715 Minnetonka Boulevard
St. Louis Park, MN 55426
1 952-925-5222
St. Paul, MN MSN Programs:
Bethel University
3900 Bethel Drive
St. Paul, MN 55112
1 651-638-6400
Metropolitan State University
700 East Seventh Street
St. Paul, MN 55106
1 651-793-1300
St. Catherine University
2004 Randolph Avenue
St. Paul, MN 55105
1 800-945-4599