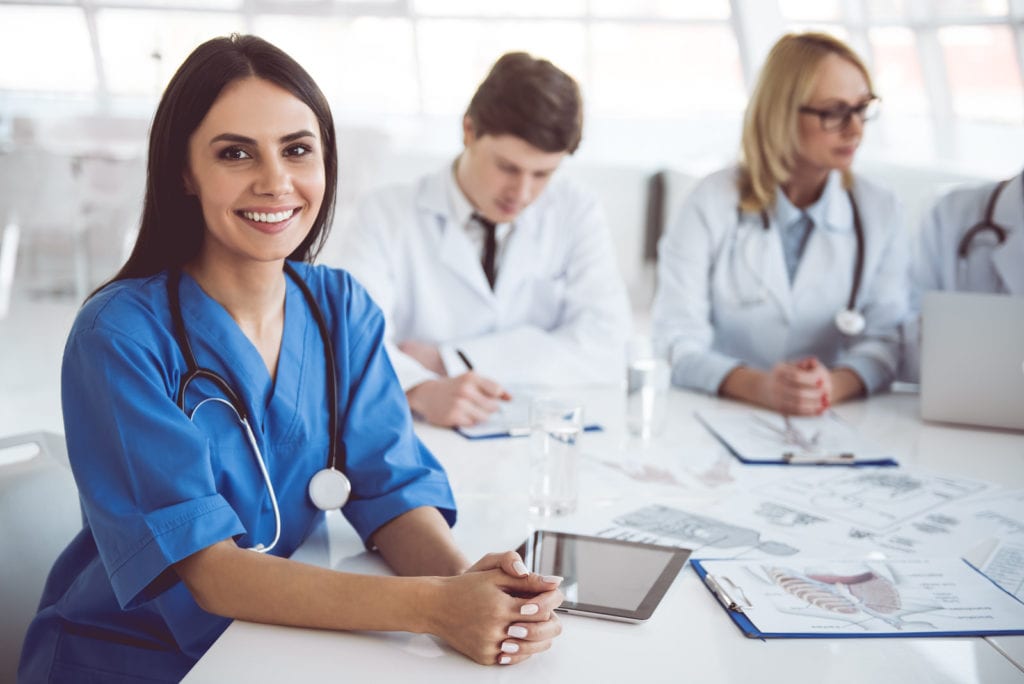 There's a definite trend among healthcare employers to hire more nurses trained at the baccalaureate level and encourage associate degree staff to complete the higher degree. Nurses at every level add value to patient care, but the findings of several studies report that those trained at the BSN of higher are better prepared to meet the challenges in today's healthcare environment. For employers, it boils down to positive patient outcomes, which, according to studies, improves with the nurses' level of education. The trend among hospital administrators to boost their BSN staff has trickled down to other medical institutions. Changes in their hiring policies have been attributed to the Institute of Medicine's report, The Future of Nursing: Leading Change, Advancing Health, which makes a strong call for increasing the education of the workforce.
Registered nurses who obtain licensure based on the merit of their associate's degree face the tough decision of going back to school to maintain their role. Their perspective and experience in nursing employers value, but greater education is vital to upward mobility. The current and future predictions for the healthcare demand that nurses receive the advanced training to boost positive patient outcomes, provide evidence-based care, and use innovation and technology to enhance practice.
In the Future of Nursing Report, the IOM recommended increasing the number of nurses having at least a BSN to 80 percent by 2020. To meet this requirement, hospital employers, in particular, developed policies requiring nurse coordinators, supervisions and other mid-level managers to hold a BSN at minimum. Some employers take it a step further and require even entry-level staff to hold a BSN. Existing staff at the entry-level and supervisory level are given time to obtain the BSN. To assist current RNs in this undertaking, many employers offer tuition reimbursement or paid leave. Nursing schools also support this venture by bringing the programs to nurses' worksites. The RN-to-BSN program allows for the seamless completion of the BSN in an easy and convenient online format.
Benefits of Progressing to a BSN Degree
The complex health care system creates an urgent need for a better-educated nursing workforce. Although there's a shortage of nurses, employers are holding out for nurses who can demonstrate the strong body of knowledge needed to adapt to the changing health care environment and deliver the best patient outcomes. Nurses who enroll in the RN-BSN program will acquire the knowledge and skills to meet current demands as well as prepare for more advanced education, such as the master's degree in nursing or the doctor of nursing practice. They learn how to effectively practice across the continuum of health care environments, apply clinical reasoning in more complex situations, collect and synthesize patient information, collaborate with other professionals to deliver quality patient care, embrace technology in practice, and understand the impact of health care policy in practice.
The American Association of Colleges of Nursing has put forward countless studies to show the relationship between nurses' education and better patient outcomes. Facilities where BSN prepared nurses were in the majority had higher positive patient outcomes than those where the majority of nurses held an associate's degree or diploma in nursing. Similar studies, not conducted by the AACN, arrived at the same conclusion, showing decreased mortality rates with an increasing number of BSN-prepared nurses.
The IOM's report calling for an increase in the number of nurses practicing with a BSN degree or higher has made a distinctive mark on the industry. The report especially recommended the BSN for supervisory positions, but employers are giving BSN graduates the first nod even for entry-level graduates. New BSN graduates have a better chance of snagging a position that new and experienced nurses trained at the associate's degree level. Moreover, the call to increase the BSN workforce in the US from 50 percent to 80 percent by 2020 is having a significant impact on current hiring practices. BSN graduates have a deeper understanding of the cultural, economical, and political influences in health care and adapt their practice to provide the best quality care.
Another key factor influencing the demand for BSN nurses is the Magnet® recognition program. Hospitals seeking this status hire more nurses with a high level of education to meet this "gold standard" for nursing excellence. Hospitals who achieve the Magnet status have demonstrated that 100 percent of their nurse management staff holds a baccalaureate degree or graduate degree. Oftentimes, their direct patient care workforce also holds a BSN degree even though it is not specifically mandated by the program.
Employers, educational institutions, state boards, and nursing associations all provide incentives for nurses to go back to school. Nursing is a commitment to lifelong learning, so RNs should be open to opportunities to advance their education. The RN-to-BSN program makes it easy as possible for nurses to achieve the BSN in spite of the challenges of work and personal commitments. Tuition reimbursement, salary differentials, paid time off, and flexible schedule designed to support study are just some of the incentives available to working RNs who want to improve care clinically. At the conclusion of the program, graduates may earn better salaries and benefits, have a higher level of job security, receive opportunities for professional advancement, and have the qualification to practice in diverse health care settings.
Legislative reforms, the prevalence of chronic illnesses among the aging population, and the incorporation of collaborative care all contribute to an increasingly complex healthcare system. The BSN program equips students with an understanding of public health nursing, technological trends, and evidenced-based practice, which will help them to play an active role in the patient care team.
Veteran nurses have been putting off their retirement for a myriad of reasons. According to one study, 75 percent of retirement-aged nurses were working past their retirement. They are experienced, knowledgeable leaders who will leave the industry in waves. Employers need trained and capable replacements. Based on the current standards, nurses trained at the BSN or graduate level will have the leadership skills, knowledge, and technical competencies to fill these vacant roles. Registered nurses who complete the BSN through the BSN program will acquire the knowledge to match their experience, which will make them ideal candidates for managing teams and supervising student nurses. They also have the foundational preparation to progress to the graduate study to increase the volume of nurses capable of practicing at the advanced level.
BSN graduates earn more. The difference in salary between new baccalaureate and associate degree graduates is negligible. However, experienced nurses who complete the BSN degree have the opportunity to earn more than associate degree nurses who are similarly experienced. Furthermore, as graduates take on an expanded role, they will most likely see a bump in their salaries.
The preference for BSN prepared nurses in many healthcare settings, studies that level better education to positive patient outcomes, and the influence of nursing associations who make the call for more nurses trained at the bachelor's level or higher will have an impact on licensure requirements in the future. They will also affect employment opportunities and sustainability of nurses who hold the associate's degree. Leading hospitals give existing nurse staff up to three years to complete the BSN. In such cases, it is best for RNs to take the lead and enroll in the BSN completion program to ensure their longevity in the marketplace.
Requirements for Enrollment in an RN to BSN Program
The RN to BSN program is targeted to nurses who completed an associate degree in nursing in a community college of a hospital-based diploma program. It gives them the opportunity to further their education on the basis of their previous course of study. The curriculum is typically taught in online format for convenience and flexibility.
The goal of the program is to give students an education that meets the industry's standards, develops critical thinking related to nursing care delivery across the lifespan, facilitates the development of clinical decision-making based on legal and ethical principles, and create a commitment to lifelong learning.
The time it takes to complete the program will depend of the number of credits transferred. Students enrolled on a part-time basis can complete the requirements in an estimated five semesters.
Nurses seeking to enroll in the program must have:
At least 58 transferable semester credit hours
An associate degree in nursing from an accredited program or a diploma from an accredited school
A minimum cumulative GPA of 2.5 for all college-level coursework
Documentation of an unrestricted and unencumbered RN license
Tuition for the RN-BSN program is an affordable $9,450. Students will also incur additional costs for textbooks, uniforms, health requirements, lab supplies, and transport to and from clinical sites.
Michigan RN to BSN Programs:
Adrian, MI RN-BSN programs:
Siena Heights University
1247 East Siena Heights Drive, Adrian, MI 49221
517-263-0731
Allendale, MI RN-BSN programs:
Grand Valley State University
1 Campus Dr, Allendale, MI 49401-9403
616-331-2025
Detroit, MI RN-BSN programs:
University of Detroit Mercy
4001 West McNichols Road, Detroit, MI 48221-3038
313-993-1245
Wayne State University
5557 Cass Avenue, Detroit, MI 48202
313-577-4082
East Lansing, MI RN-BSN programs:
Michigan State University
1355 Bogue Street, East Lansing, MI 48824-1317
800-605-6424
Hancock, MI RN-BSN programs:
Finlandia University
601 Quincy Street, Hancock, MI 49930
800-682-7604
Kalamazoo, MI RN-BSN programs:
Western Michigan University
1903 W Michigan Ave, Kalamazoo, MI 49008-5345
269-387-8150
Rochester, MI RN-BSN programs:
Oakland University
2200 North Squirrel Road, Rochester, MI 48309-4401
248-370-2100
Rochester College
800 West Avon Road Rochester Hills, MI 48307
800-521-6010
University Centre, MI RN-BSN programs:
Saginaw Valley State University
7400 Bay Road University Centre, MI 48710
989-964-4000