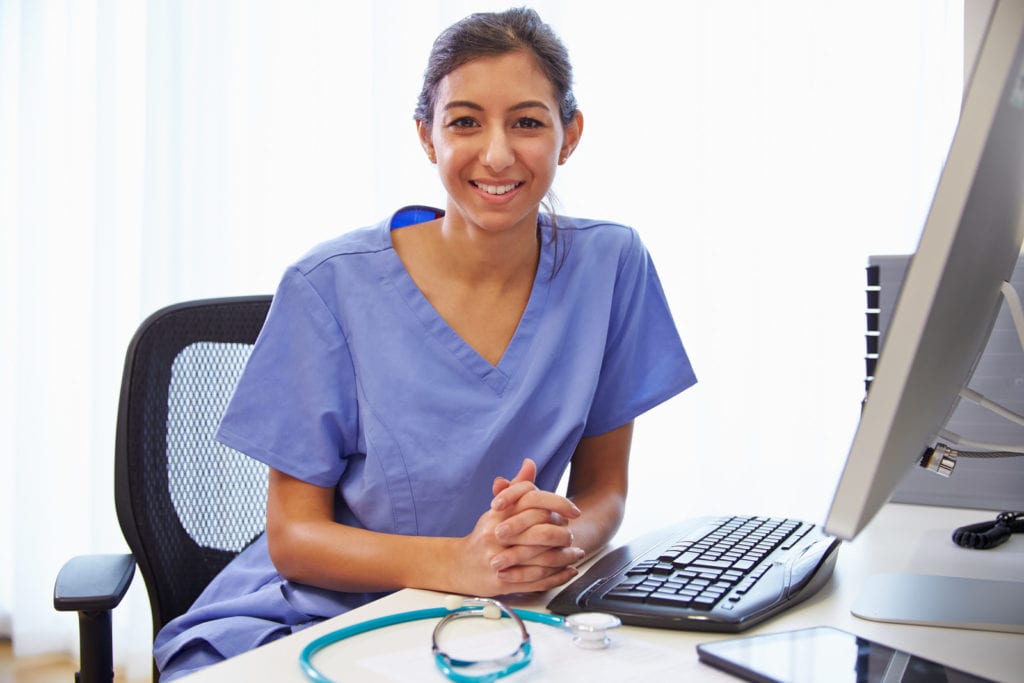 Although registered nurses' training, education, and skill sets vary, they have one thing in common: they are all registered and licensed through their passage of the National Council Licensure Examination for RNs (NCLEX-RN). There are three training pathways – the diploma, associate's degree or bachelor's degree in nursing – to prepare for licensure as a registered nurse. In light of the expanded role of nurses and the complexities within healthcare, nursing organizations highly recommend the bachelor's degree. Even so, many students opt for the associate's degree as it provides the fastest and most affordable path to the NCLEX. The ADN degree is offered at community colleges, vocational schools, and universities and may be completed in as little as two years. Students acquire the skills to provide direct patient care and other duties within the scope of nursing. The training also sets the groundwork for advanced study, such as the baccalaureate or master's in nursing.
The traditional BSN takes approximately four years to complete. The curriculum, more focused than the ADN, prepares students to work in multiple medical environments. Graduates have additional preparation to assume clinical roles, management positions, leadership, research, and administration. Moreover, they can take advantage of numerous opportunities to advance their careers by enrolling in a master's program to assume a role in health care administration or specialty roles, such as a nurse practitioner, nurse midwife, clinical nurse leader, or nurse anesthetist. Employer preference for BSN nurses presents gives graduates a competitive advantage especially for positions in the military or public health.
The ongoing debate over the education of nurses has been settled by studies that provide conclusive evidence that better patient outcomes can be had by improving the education of the workforce. This understanding forms the basis of the IOM's recommendation to have at least 80% of registered nurses hold a BSN or higher by 2020. The report examines the performance of the workforce with respect to the changing demands in healthcare. The BSN program provides higher levels of preparation to meet industry expectations for nurses in the areas of disease management, community health, public health and policy, and prevention and health promotion. This built-in preparation will set the BSN as the educational standard for nurses.
If you're still weighing the benefits of the BSN vs the ADN degree, consider that the latter is a great way to get started with nursing and earn an income quickly. It also provides an opportunity to test the waters before committing four or more years of study. Keep in mind that your salary options may be limited and finding a job as a new ADN graduate is not always smooth sailing. Choose the BSN option if you're concerned about future requirements for nurses, plan to pursue graduate study, and want to practice with a broader view of the profession. Healthcare will continue to change to meet the diverse needs of communities, institutions, and patients. The BSN prepares nurses to meet these changes.
Following is a list of the various types of BSN programs available in Massachusetts.
LPN to BSN: The LPN-to-BSN track helps students transition from licensed practical nursing to the role of a baccalaureate-prepared registered nurse. The prospective student must have graduated from a program accredited by the National League for Nursing and have some experience as a licensed nurse. To graduate from the program, students will need to earn at least 120 credits including credits transferred in. The curriculum will emphasize respect for cultural diversity, accountability in nursing, and a commitment to excellence. Graduates have the skills to meet patients' needs in a multitude of health care settings.
RN to BSN: RN-to-BSN programs are almost always completely online – with the exception of the clinical requirements. The format is flexible and convenient for busy RNs to complete the BSN for career advancement. With the transfer of credits, students are able to complete the requirements in 3 to 5 semesters of full-time attendance. As the BSN takes its place as the industry standard for practice, enrollment in the RN-to-BSN program will rise to increase the competitiveness of admission. The applicant must have a valid and unencumbered registered nurse license and an associate's degree in nursing from an accredited program.
Traditional BSN: The traditional bachelor of science in nursing (BSN) degree includes academic and experiential instruction to prepare students for professional nursing practice. The robust curriculum also sets the foundation for future study to earn an advanced nursing degree. Students will learn the principles of science and nursing and liberal arts and will develop a commitment to excellence in nursing. Hands-on learning in a modern nursing lab will prepare students for the field where they'll have opportunities to provide real care to patients under the direction of a registered nurse. Graduates will be eligible to take the NCLEX-RN exam to become a registered.
Fast-track BSN: Unlike the RN-to-BSN program, the accelerated BSN is usually campus-based and requires a full-time commitment. The program is specially designed for students who hold a bachelor's degree in another discipline. The program may be completed in 17 to 24 months and may require completion of prerequisite courses. Students will complete approximately 60 credits of nursing and science courses to graduate with a major in nursing. Graduates are eligible to take the NCLEX-RN for licensure as a registered nurse.
Traditional BSN Programs
The traditional BSN prepares nurses for medical practice. It leads to a baccalaureate degree with a major in nursing as well as licensure after graduates sit and pass the NCLEX-RN exam. Experienced faculty provides academic and experiential instruction to aid students' growth and advanced in the fast-changing health care sector. The curriculum includes physical, biological, and behavioral sciences to set the foundation for future study, instruction in liberal arts to improve students' perspective of the work environment, and extensive clinical activities in key areas, such as medical-surgical nursing, maternity, geriatrics, pediatrics, mental health, and community health. The program also prepares students for success on the NLCEX-RN for initial licensure as a registered nurse. Upon licensure, graduates are eligible to practice in a variety of health care settings, including hospitals, schools, nursing homes, and long-term care facilities.
Admission to the program requires:
A completed application and fee.
Complete the prerequisite courses. Examples include high school chemistry, biology and anatomy and physiology,
An official high school transcript or GED.
Official transcripts of any post-secondary courses. Transfer courses must have a cumulative GPA of 2.5 or better.
Current CPR Certification.
Immunization and TB clearance.
A personal essay.
Academic letters of recommendation.
Criminal convictions may pose a barrier to participation in the clinical experience and licensure as a registered nurse in Massachusetts. Students must make transport arrangements to get to and from the clinical sites.
Second Degree BSN
The second-degree or accelerated Bachelor of Science in nursing is designed for persons who already have a bachelor's degree in a non-nursing discipline. They are able to complete the program in 17 to 24 months based on full-time attendance. Following successful of the program, graduates will become eligible to sit the NCLEX-RN with approval from the Massachusetts Board of Nursing.
The curriculum will combine academic coursework with hands-on experiences, including lab experiences and supervised clinical experiences to prepare students for success in the fast-paced healthcare environment. Students may need to complete prerequisite courses in growth and development, anatomy and physiology, chemistry, nutrition, basic statistics, and nutrition and earn a 3.0 or above overall GPA.
Applicants must have a bachelor's degree in from an accredited college in a non-nursing program.
Enrollment requires:
A complete application and fee.
Attendance of the school's information session.
Official transcripts of all college courses, including prerequisite courses.
An overall minimum GPA of 3.0 or above.
How Much Do BSN Programs Cost?
The total cost of completing a BSN program will depend on your point of entry. For the traditional BSN, you'll need to complete 120+ credits, which will cost more than completing the RN-BSN or accelerated BSN. The tuition at public universities can be as much as 45 percent lower than private schools. If you're attending full-time, a flat rate for tuition will be more affordable than paying per credit. The average cost per credit at public universities is $225. Nursing students must factor in the cost of meeting the clinical agency requirements, uniform, and nursing equipment and supplies.
Here's a list of Massachusetts Board of Nursing approved BSN programs and NCLEX-RN pass rates.
Massachusetts BSN Programs and NCLEX-RN Pass Rates:
Amherst, MA BSN Programs:
University of Massachusetts – Amherst
181 Presidents Drive, Amherst, MA 01003
413-545-011
NCLEX-RN Pass Rate: 86%
Beverly, MA BSN Programs:
Endicott College
376 Hale Street, Beverly, MA 01915
1-978-927-0585
NCLEX-RN Pass Rate: 80%
Boston, MA BSN Programs:
Northeastern University
360 Huntington Avenue, Boston, MA 02115
617-373-2000
NCLEX-RN Pass Rate: 85%
MGH Institute of Health Professions
Charlestown Navy Yard, 36 First Avenue, Boston, MA 02129-4557
617-726-2947
NCLEX-RN Pass Rate: 91%
Simmons College
300 The Fenway, Boston, MA 02115
617-521-2000
NCLEX-RN Pass Rate: 88%
University of Massachusetts – Boston
100 Morrissey Boulevard, Boston, MA 02125-3393
617-287-5000
NCLEX-RN Pass Rate: 88%
Chestnut Hill, MA BSN Programs:
Boston College
140 Commonwealth Avenue, Chestnut Hill, MA 02467
617-552-8000
NCLEX-RN Pass Rate: 100%
Chicopee, MA BSN Programs:
Our Lady of Elms College
291 Springfield Street, Chicopee, MA 01013-2839
413-594-2761
NCLEX-RN Pass Rate: 78%
Dartmouth, MA BSN Programs:
University of Massachusetts – Dartmouth
285 Old Westport Road, Dartmouth, MA 02747-2300
508-999-8000
NCLEX-RN Pass Rate: 81%
Fitchburg, MA BSN Programs:
Fitchburg State University
160 Pearl Street, Fitchburg, MA 01420-2697
978-665-3000
NCLEX-RN Pass Rate: 94%
Lowell, MA BSN Programs:
University of Massachusetts – Lowell
One University Avenue, Lowell, MA 01854
978-934-4000
NCLEX-RN Pass Rate: 89%
Milton, MA BSN Programs:
Curry College
1071 Blue Hill Avenue, Milton, MA 02186
617-333-0500
NCLEX-RN Pass Rate: 90%
Paxton, MA BSN Programs:
Anna Maria College
50 Sunset Lane, Paxton, MA 01612
508-849-3300
NCLEX-RN Pass Rate: 78%
Salem, MA BSN Programs:
Salem State University
352 Lafayette Street, Salem, MA 01970
978-542-6000
NCLEX-RN Pass Rate: 74%
Springfield, MA BSN Programs:
Springfield Technical Community College
One Armory Square Suite 1, Springfield, MA 01102-9000
413-781-7822
NCLEX-RN Pass Rate: 76%
Weston, MA BSN Programs:
Regis College
235 Wellesley Street, Weston, MA 02493
781-768-7000
NCLEX-RN Pass Rate: 93%
Worcester, MA BSN Programs:
University of Massachusetts Medical School
55 Lake Avenue North, Worcester, MA 01655
508-856-8989
NCLEX-RN Pass Rate: 92%
Worcester State University
486 Chandler Street, Worcester, MA 01602
508-929-8000
NCLEX-RN Pass Rate: 100%